Amaretto Cheesecake
This is a wonderful and delicious cheesecake with mascarpone, amaretto, and pomegranate. A wonderful cheesecake, with a ladyfinger base, a fine and fragrant cream, and a little bit of added freshness from the pomegranate seeds. It gets wide acclaim any time it is served.
The cheesecake itself is not difficult to make, but making the ladyfingers from scratch is a bit of a challenge. You could use store-bought ladyfingers, but that wont give you anything like the satisfaction of producing your own.
Find the detailed amaretto cheesecake recipe below!
Amaretto Cheesecake
Ingredients
Base:
ladyfingers for the base and edges
Cheesecake filling:
500

g

cream cheese

250

g

mascarpone cheese

200

ml

heavy cream

3

eggs

1

tbsp

amaretto extract

2

tbsp

sweetener

or 150 g sugar

1

tsp

vanilla extract

2

tbsp

lemon juice
Decoration:
100

ml

whipping cream

1

tsp

vanilla sugar

pomegranate seeds
Instructions
Base:
Preheat the oven to 200 °C (390 °F) and line a 21/23 cm (8×9 inches) diameter pan with parchment paper.

Prepare half a portion of ladyfinger dough according to the recipe here.

Line the bottom of the pan with a thin layer of the ladyfinger dough. In another pan, also lined with parchment paper, use the rest of the dough to form smaller ladyfingers, about 6 cm (2.5 inches) long, close together so they are touching each other. Sprinkle powdered sugar over both and bake for 12-13 minutes until lightly golden.

Remove from the oven. Leave the base in the round pan and carefully remove the ladyfingers from the other pan using a knife if necessary. Cut off the ends to make them even and, while still warm enough, stick them round the sides of the round pan, forming the edge of the cheesecake.

If using store-bought ladyfingers, simply trim to fit the pan, filling in any gaps, and cut to the size of the edges and place them side by side.The tricky part is over, so we can move onto the standard cheesecake procedure.
Cheesecake filling:
Using a mixer, combine the cream cheese with the mascarpone, heavy cream, and sugar (or sweetener), mixing for 3 minutes until you get a creamy consistency. Incorporate the eggs, one at a time, mixing for a minute after each one. Finally, add the amaretto essence, vanilla extract, and lemon juice and mix. Pour the mixture over the ladyfingers.

Wrap the edge of the cheesecake, the tops of the ladyfingers, in aluminum foil to prevent them from burning. Bake for about an hour in a preheated oven at 160 °C (320 °F).

Leave to cool in the oven, and then refrigerate for at least 6 hours.

Whip together the whipped cream and vanilla sugar until it has the consistency of thick cream. Use this to decorate the cheesecake then sprinkle pomegranate seeds over the top and serve!
Notes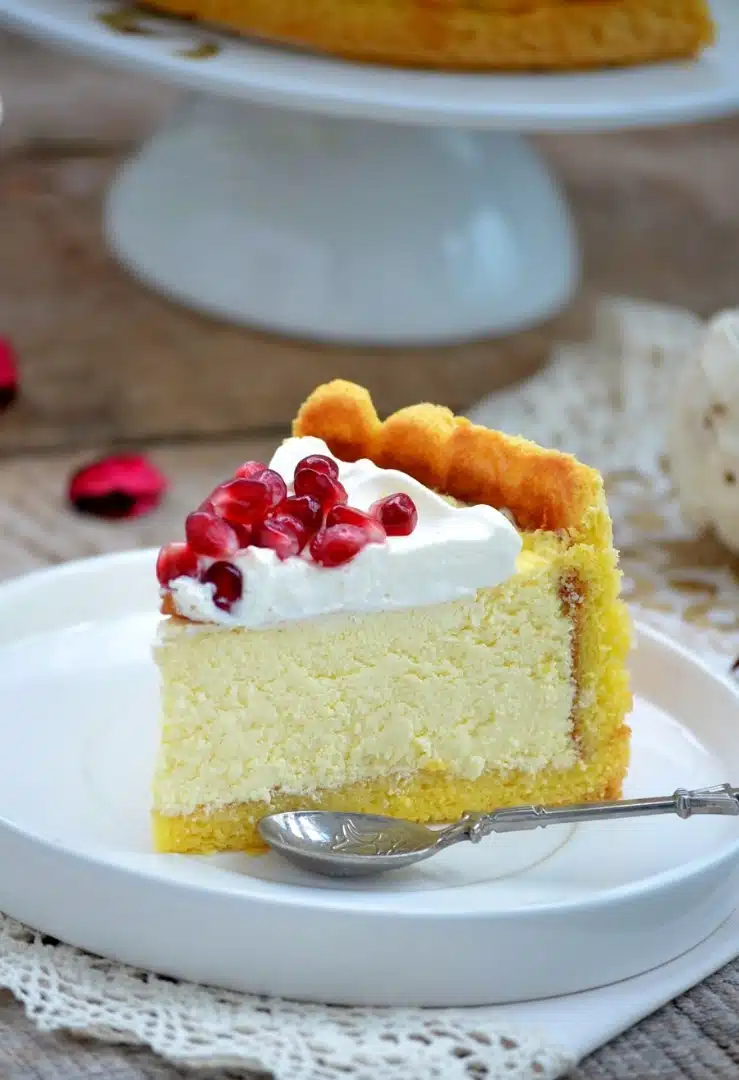 Related: Amaretto Chocolate Cake
Related: Blueberry Banana Cheesecake
Related: Snickers Cheesecake
Related: Mango & Chocolate Cheesecake
Related: Blackberry Cheesecake