Flavors of Puerto Rico: Exploring Locally Grown Fruits
Puerto Rico, nestled in the heart of the Caribbean, is not only known for its stunning beaches and rich cultural heritage, but also for its lush, fertile soil that yields an abundance of unique and delicious fruits.
These locally grown treasures play a significant role in Puerto Rican cuisine, offering a burst of flavor and vibrancy to dishes both sweet and savory. This article delves into the most beloved Puerto Rican fruits and how they are commonly consumed in the island's culinary landscape.
1. Mango
Mangoes, often referred to as the King of Fruits, are a tropical delight that thrive in Puerto Rico's warm climate. They are commonly consumed in their raw, ripe form, with the succulent flesh offering a sweet and juicy explosion of flavor.
Mangoes are also used in desserts such as sorbets, ice creams, cheesecake, and pies. Additionally, they find their way into salsas, adding a tangy twist to savory dishes.
2. Banana
Banana, known as guineo, is a staple in Puerto Rican households, where they are enjoyed both raw and cooked.
Ripe bananas are eaten as a snack, while green bananas are used to make tostones (fried green plantains) or mofongo (a dish made from mashed green plantains). Bananas also find their way into desserts, adding a natural sweetness to ice cream, cakes and puddings.
3. Guava
With its fragrant aroma and sweet-tart flavor, guava is a beloved fruit in Puerto Rico. It is commonly consumed in jams, jellies, and pastries.
Guava paste is used as a filling in pastelón, a traditional Puerto Rican dessert. Additionally, guava juice is a popular beverage, especially when mixed with other tropical fruits.
4. Pineapple
Pineapples, known as piñas in Spanish, are synonymous with tropical goodness. They are commonly consumed fresh, either sliced or in fruit salads. Pineapple juice is a refreshing drink, and the fruit is often used in desserts like cakes, tarts, pizzas, cocktails, and piña coladas.
5. Papaya
The vibrant orange flesh of papaya is a common sight on Puerto Rican tables. It is often eaten fresh, scooped out with a spoon. Papaya is also blended into juices and smoothies, providing a burst of tropical flavor. In desserts, papaya is used in ice creams, sorbets, and custards.
6. Avocado
Avocado, or aguacate in Spanish, is a versatile fruit in Puerto Rican cuisine. It is mashed with lime and garlic to make guacamole, a popular dip.
Sliced avocado is a common addition to salads, rice and beans, sandwiches, and wraps. In Puerto Rican households, it is also used as a creamy filling for various dishes.
7. Passion Fruit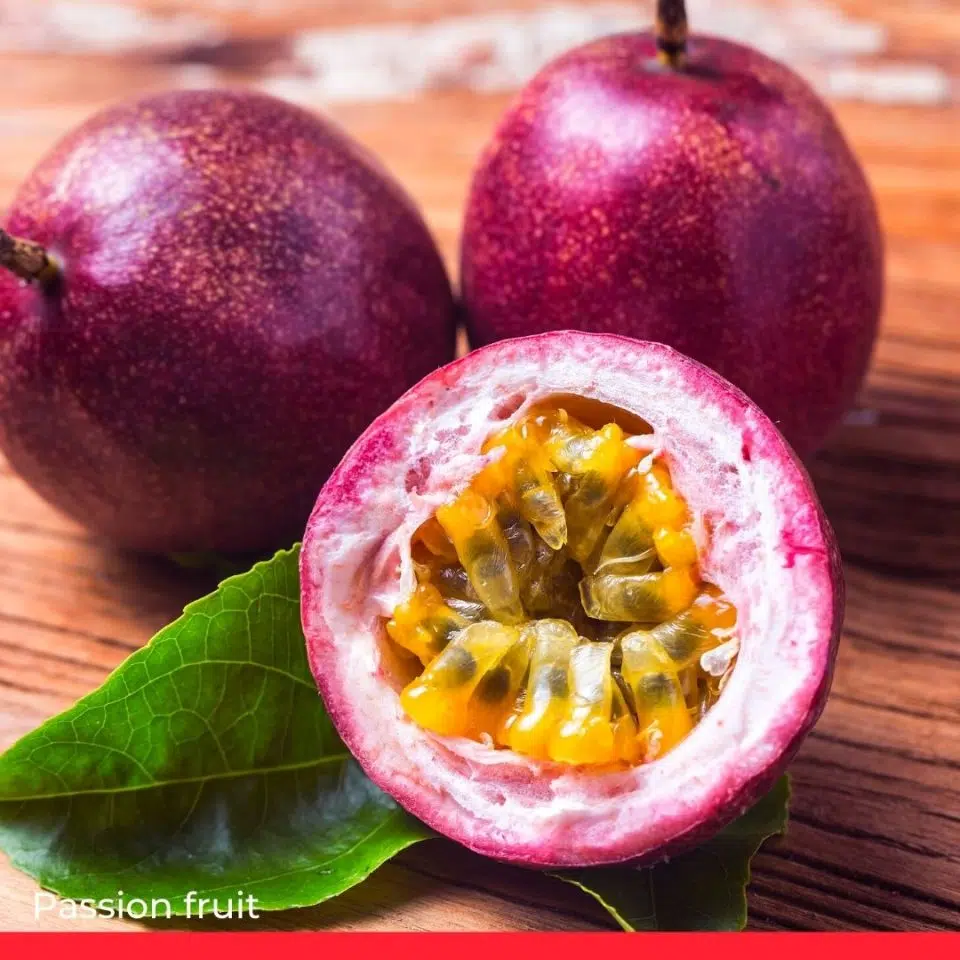 Known as parcha in Puerto Rico, passion fruit is characterized by its wrinkled skin and aromatic interior. It is commonly consumed as a juice, its tangy flavor providing a refreshing beverage. Passion fruit is also used in desserts, adding a unique and zesty twist to puddings, tarts, and cakes.
8. Dragon Fruit
Dragon Fruit, also known as pitaya, has gained popularity in recent years due to its striking appearance and unique taste. It comes in various colors, including vibrant pink and yellow. This exotic fruit not only adds a splash of color to dishes but also offers a refreshing and mildly sweet flavor.
9. Guanabana
The guanabana, or soursop, is another tropical delight that thrives in Puerto Rico. This green, spiky fruit hides a soft, white pulp with a distinctively tangy and creamy taste. Guanabana is often used in beverages, desserts, and even savory dishes.
10. Jobo
Jobo, a fruit native to the Caribbean, is a lesser-known gem in Puerto Rico. It has a tough outer shell that protects a sweet, fleshy interior. Jobo is enjoyed fresh or used to make traditional desserts and beverages.
11. Coconut
The coconut, or coco, holds a special place in Puerto Rican culture. Its versatile uses range from coconut water, a refreshing drink, to coconut milk, a creamy base for many dishes. The sweet, white flesh is a common ingredient in desserts and savory recipes alike.
12. Tamarindo
Tamarindo, also known as tamarind, is a pod-like fruit with a sweet and tangy flavor. It is commonly used in Puerto Rican cuisine to add a unique zing to sauces, candies, and beverages. Tamarindo is cherished for its distinctive taste and versatility in culinary applications.
13. Breadfruit
Breadfruit, also known as panapen, is renowned for its starchy, potato-like texture. It is a culinary marvel, cherished worldwide, that is very versatile.
It can be roasted or grilled, yielding a smoky, tender interior within a crisp, charred shell. Unripe slices can be transformed into tostones or chips, which are a popular snack in Caribbean and Pacific Island cuisines. Boiled and mashed variations offer a creamy base adaptable to diverse seasonings.
In savory dishes, its starchy consistency imparts heartiness to soups and stews, and as a dried flour, it becomes a nutritious foundation for baked goods. When ripe, breadfruit's inherent sweetness shines, enhancing desserts such as pies and cakes, and its subtle, creamy texture makes it a delightful addition to juices and smoothies. This fruit's remarkable adaptability solidifies its place as a cherished staple in global cuisine.
14. Quenepas
Quenepas, known locally as mamoncillos, are a beloved fruit in Puerto Rico. These small, round fruits have a tough outer skin that encases a juicy, translucent pulp with a sweet flavor. Quenepas are typically enjoyed fresh, and they're often sold in bunches by local vendors.
Locals commonly consume quenepas by peeling back the skin to reveal the succulent pulp inside. The fruit's combination of sweetness and tartness makes it a refreshing treat, especially during hot Caribbean days. Quenepas are also a popular ingredient in refreshing beverages, where their juice is extracted to create juices, smoothies, and cocktails.
AS well as being a fresh snack, quenepas find their way into various culinary creations. Their tangy pulp can be used to add a burst of flavor to sauces, salsas, and desserts. Some even use quenepas to make jams or preserves, preserving the fruit's unique taste for enjoyment throughout the year. They reach their peak ripeness during the summer and are cherished across the entire island.
Conclusion
The locally grown fruits of Puerto Rico are not just ingredients; they are a reflection of the island's natural bounty and cultural heritage. From the succulent sweetness of mangoes to the tangy zing of passion fruit, each fruit brings its own unique flavor profile to the Puerto Rican table.
Whether enjoyed fresh, blended into beverages, or incorporated into a wide array of dishes, these fruits are an integral part of the island's culinary identity, and a testament to the richness of its soil and culture.
---
Related: Popular Christmas Foods in Puerto Rico
Related: Most Popular Caribbean Foods