20 Stunning Orange Fruits To Try Out
If orange is your favorite color, you'll be delighted to know that there are plenty of fruits to brighten up your fruity recipes. In our list of 20 of the best we've included familiar favorites as well as some surprising new choices that will add novelty as well.
The good news is that all orange fruits are loaded with vitamins and minerals, so they're not only delicious, they're a valuable addition to any healthy diet.
1. Apricots
With their velvety orange skin and rosy pink blush as they mature, apricots make an excellent addition to any fruit bowl.
They're sweet and delicious raw or cooked in pies and baked goods. They make lovely coulis, jams or delicate orange smoothies and mousses. Apricots also complement meats such as pork and lamb, complementing the fattiness of the meat with their sweet tang and soft, sticky texture.
Like most orange fruits, apricots are high in beta-carotene, vitamin A, and minerals such as calcium, potassium, and iron.
2. Cantaloupe
The floral fragrance and sweet juiciness of orange cantaloupe flesh are unmistakable. As well as a delicious snack, it's a fantastic addition to breakfast dishes such as cereals and yogurts. It also makes refreshing low-calorie smoothies and shakes and can be used to flavor cocktails.
Cantaloupes are incredibly rich in nutrients. In addition to high levels of antioxidant vitamins A and C, they're packed with fiber and potassium, which help regulate the body's fluid levels.
3. Oranges
Ok, these are a no-brainer on a list of orange fruits. They're one of the world's best-loved fruits for lots of reasons.
First, they're so versatile. They add a splash of vibrant color to your fruit bowl and make healthy, refreshing, fresh juices. They're the basis for luscious, jeweled marmalades studded with peel.
Oranges can be baked into pies and cakes and even served with meats to cut through the fattiness of pork or lamb. Almost nothing is wasted: their peel and zest also add tang to a whole range of dishes.
A single medium orange contains 92% of the daily RV of vitamin C. They also have reasonable amounts of folate, calcium, potassium, and fiber.
4. Cape Gooseberry
Hailing from South America, sweet and tangy Cape gooseberries are also known as physalis, goldenberries, husk cherries, Peruvian ground cherries, or poha berries.
Although they became wildly popular as garnishes for desserts, the tart flavor of cape gooseberries is equally suited to raw and cooked dishes. Boiling or baking them really brings out their taste, and they can even replace tomatoes in gazpacho or rice dishes.
Always discard the inedible husks before preparing. Cape gooseberries are a fantastic source of vitamins A and C and contain phosphorus, calcium, potassium, iron, and riboflavin.
5. Clementines
Clementines are simply sweet and juicy seedless tangerines, sweet and juicy. A seasonal treat, they typically appear around the winter holidays. They're very easy to peel and give off an aromatic, floral fragrance when torn open.
They pair well with cheeses, nuts, and meats such as pork and lamb.
Clementines have fewer calories than tangerines, but ounce for ounce, they contain more vitamin C.
6. Dalandan
Dalandan oranges have a deep green peel, which conceals the bright-orange, sour-sweet juiciness of the flesh inside. Popular in the Philippines, they're typically enjoyed raw or juiced, although they are also used to flavor baked goods, as marinades for savory dishes, and in cocktails.
These unusual oranges are rich in vitamins A and C and potassium, phosphorus, magnesium, iron, calcium, and anti-inflammatory flavonoids.
7. Gấc
Gấc is more commonly known as "Baby Jackfruit", though it tastes nothing like its namesake. Although its flesh is deep ruby red, it's used to give turn rice and other dishes a rich shade of orange.
Outside its native Vietnam, it can be challenging to locate fresh fruit. However, you may be able to track down some frozen Gấc in specialty stores. And this exotic fruit contains ultra-high levels of beta-carotene and lycopene, so it's worth adding to any healthy diet.
8. Orangelos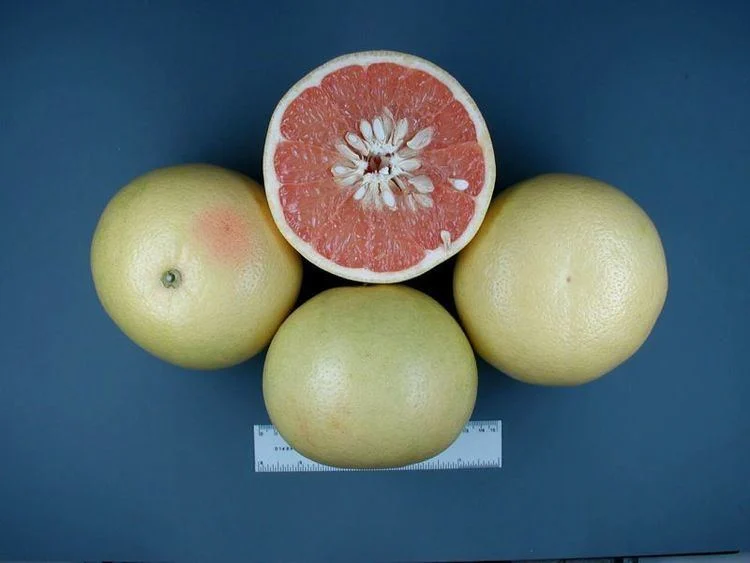 Do you dutifully eat grapefruits for their low-calorie goodness and health-giving nutrients but wish they were a bit sweeter, not as bitter, and less of a bland yellow color? Then orangelos could be just what you're looking for.
This grapefruit/orange cross, originally from Puerto Rico, will elevate your breakfast experience with its sweet tang and vibrant orange flesh.
They're easier to peel than grapefruits, but if you prefer, cut them in half and lift the segments out with a spoon.
9. Papayas
The creamy orange flesh of the papaya is sweet, with a fragrant, sometimes peppery, tang.
Papaya makes a mouth-watering addition to breakfast dishes or a delicious tropical snack. Packed with nutrients, you can use it in salads, pies, mousses, smoothies, and desserts. Because it's low in acid, it's often mixed with lime to make refreshing juices.
Like most orange fruits, papaya is packed with vitamins A and C and contains additional vitamins and minerals. In particular, the enzyme papain is believed to aid protein digestion, relieve pain, and reduce inflammation.
10. Peaches
The velvety orange or blush skin of a peach conceals the juicy sweetness of the soft flesh and a sizable inedible pit. A refreshing snack, they're also found in a wide range of baked goods, cakes, ice creams, sauces, smoothies, and cocktails.
Raw peach flesh contains around 89% water, but it also offers essential nutrients such as vitamins C, E, and K, niacin, folate, iron, choline, potassium, magnesium, phosphorus, manganese, zinc, and copper.
11. Nectarines
Nectarines are nothing more than bald peaches. What distinguishes them is their smooth and glossy skin. They tend to be smaller than peaches, and the lack of fuzz makes their skin look a deeper red than the pale-looking peach.
However, inside they are bursting with the same thirst-quenching, juicy orange flesh.
Use nectarines in all the same ways as peaches. They provide the same nutrient levels. as their fuzzy counterparts.
12. Persimmons
Persimmons come in two types: sweet and astringent. Sweet varieties are more common and ideal for bars, pies, and cookies. Round and slightly flattened, their flesh is meltingly soft with a somewhat grainy texture. They should be eaten when fully ripe and almost ready to fall apart.
Persimmons are a fantastic source of vitamins A and C. A single fruit provides 55% and 21% daily RV, respectively. However, a word of caution. Don't try to eat unripe persimmons because they can cause serious gastric obstruction, which could even require surgery.
13. Tamarillos
This small juicy orange fruit is full of tender, edible seeds, like a tomato. The flavor is tangy, citrusy, and slightly bitter. Unfortunately, the skin has an unpleasant taste, so it's rarely eaten. Instead, tamarillos are used to make chutneys, sauces, or dessert toppings. They can also be juiced, baked, or pickled.
They're an excellent source of vitamins A, C, and E. They also contain essential minerals, including potassium, phosphorus, copper, magnesium, and iron. In their native South America, tamarillos are valued for their detoxing qualities and as an immunity booster in the cold and flu season.
14. Orange Kumquats
Kumquats are unique among citrus fruits because the whole fruit is edible. This includes the peel, flesh, and seeds – nothing must go to waste. Strangely, the peel is sweet and fruity, while the flesh is sharp and sour. Eat both together for a fantastic sweet-tart blend with a burst of fresh citrus.
They can be used as exciting alternatives in any sweet or savory citrus recipe.
Kumquats are a valuable source of fiber, vitamins A and C, manganese, and calcium. In Asia, kumquats are traditionally mashed with ginger, salt, and honey to make a tea that wards off colds and flu and is helpful for the gastric system.
15. Orangeglo watermelons
With their neon orange-yellow flesh and tropical taste, Orangeglo watermelons make an unexpected summertime refresher. These fruits are massive: averaging around 25lbs.
While watermelons are typically enjoyed raw, sliced, and chilled, there are other ways to use them. For example, the flesh can be dried for future use by leaving slices for a few hours in a warm oven. And the rinds can be pickled!
They're still not easy to find on sale, so the fastest way to get hold of one to try may be to purchase some seeds from a specialist grower and raise your own!
Watermelons, mainly water, can't claim to be packed with nutrients. However, they do contain significant quantities of vitamins C and A, as well as lycopene, a powerful antioxidant.
16. Minneola Tangelos
These large, round citrus fruits have a pronounced navel at the stem end. The orange rind is easy to peel, and the flesh contains few or no seeds. Minneola tangelos have a sweet-tart juiciness that combines the acid tang of grapefruit with the fragrant sweetness of tangerines.
Although they're best enjoyed raw, they can be used in the same ways as other citrus fruits, in juices, desserts and baked goods, and savory dishes.
They're high in fiber to stimulate digestion, vitamin C, and folate.
17. Mangoes
Mangoes have been a symbol of love, pleasure, and prosperity for millennia. Although the flavor depends on the variety, the succulent orange flesh is incredibly aromatic and juicy.
The texture can be similar to that of a peach or more fibrous. Mango flavors are complex, perhaps carrying tropical coconut, vanilla, or caramel notes, and occasionally balanced with a slight sharpness.
Mangoes are an excellent source of fiber, vitamins A and C, and potassium. They also contain natural enzymes that help to digest proteins, so you can use them to tenderize meats and make a welcome dessert after a heavy meal.
Related: Mango & Chocolate Cheesecake
18. Mila orange pear tomatoes
As the name suggests, these weird tomatoes are not only bright orange but pear-shaped! They're sweet, with just the right hint of acidity that makes them suitable for all the ways you'd use boring regular tomatoes.
But it's a shame to waste them like that, so they're better added to your fruit bowl to spark some curiosity about what they are.
19. Tangerines
A winter favorite. When selecting tangerines, don't think the ones with the brightest orange skins will be the sweetest. Instead, look for those that seem heavy for their size. If their skin seems too big for what's inside – they're the ones that will be at the peak of sweet-tart juiciness.
Tangerines are packed with all those familiar orange-fruit nutrients – vitamins A and C, potassium, calcium, and phosphorus, with lower amounts of other good stuff, including zinc, manganese, folate, and B vitamins.
20. Marian plums
The whole fruit is edible, including its pale orange skin. Marian plums (aka mango plums) have a sweet-sour flavor, sometimes compared to mangoes, persimmons, or apricots, and a faint smell that's been likened to 'turpentine'.
They're high in vitamins A and C, and loaded with healthy fiber.
---
If you love orange fruits then you'll probably enjoy discovering some amazing orange foods as well. Check them out.
Related: Green Fruits to Add to Your Diet
Related: Stunning Red Fruits to Try
Related: 20 Tasty White Fruits to Try Out