Discover These 20 Tasty Yellow Fruits
Add a touch of sunshine to any dish or fruit display with a splash of brilliant yellow. There are so many yellow fruits to choose from. And the best thing is that they don't only look fantastic but are also packed with health-giving nutrients.
In this article, we've selected 20 of the best. So join us as we journey into the fantastic world of yellow fruits – and be inspired!
1. Bananas
Who doesn't love bananas? With their easy-to-peel yellow skins, and soft, pale flesh, they're a popular fruit for all ages. Not to mention their sweet fragrance that gets ever stronger as they ripen.
They're not only the perfect snack when you're on the move but also make the perfect contrast to the texture of crisp fruit salads.
In addition, bananas contain an impressive range of nutrients, including vitamins A, C, and B6, as well as good amounts of dietary fiber. They also have notably high potassium levels, so they can help regulate sodium levels and assist heart health.
2. Papples
Papples, as the name suggests, are a hybrid between a pear and an apple. The edible yellow peel typically has a pinkish blush.
Their flesh is softer than an apple's, and their grainy texture is more like that of a pear. They're deliciously juicy and very sweet, with a floral perfume.
Papples are a valuable source of dietary fiber and vitamin C. They also provide certain antioxidants.
3. Durians
Durians, available everywhere in Southeast Asia, are controversial. But, love or hate them, there's no getting away from their notoriously pungent smell. That's why we included durians among the most weird foods out there.
Under the spiky green rind, a white cocoon protects the vivid yellow flesh. If you bring yourself to try it, you'll find it surprisingly rich, custardy, and sweet. The fruit can also be cooked into sweet or savory dishes.
Durians are very nutritious, with high levels of B-complex vitamins, vitamin C, fiber, and a range of essential minerals.
4. Canistel
Canistel is an unusual fruit the size of an egg, with hard skin and a jelly-like center. It's also widely known as eggfruit due to the vibrant egg-yolk yellow of its flesh.
It's perfect for creating delicious custards, ice cream, and pie fillings. It's also a great smoothie base, especially if you add a pinch of nutmeg and some fresh vanilla. Canistel also partners well with lime and honey, so experiment by adding a few drops.
5. Lemon
Lemons are the most versatile and widely used fruit, with the rind, flesh, and juice of the lemon used to flavor and perfume a wide range of foods and drinks.
A bowl of fresh lemons will fill any room with color and fragrance. And of course, there's nothing more refreshing on a hot summer's day than fresh, chilled lemonade, perhaps garnished with a few sprigs of mint.
In addition, lemons are packed with health-enhancing nutrients, most noticeably vitamin C, fiber, minerals, and essential oils.
6. Mango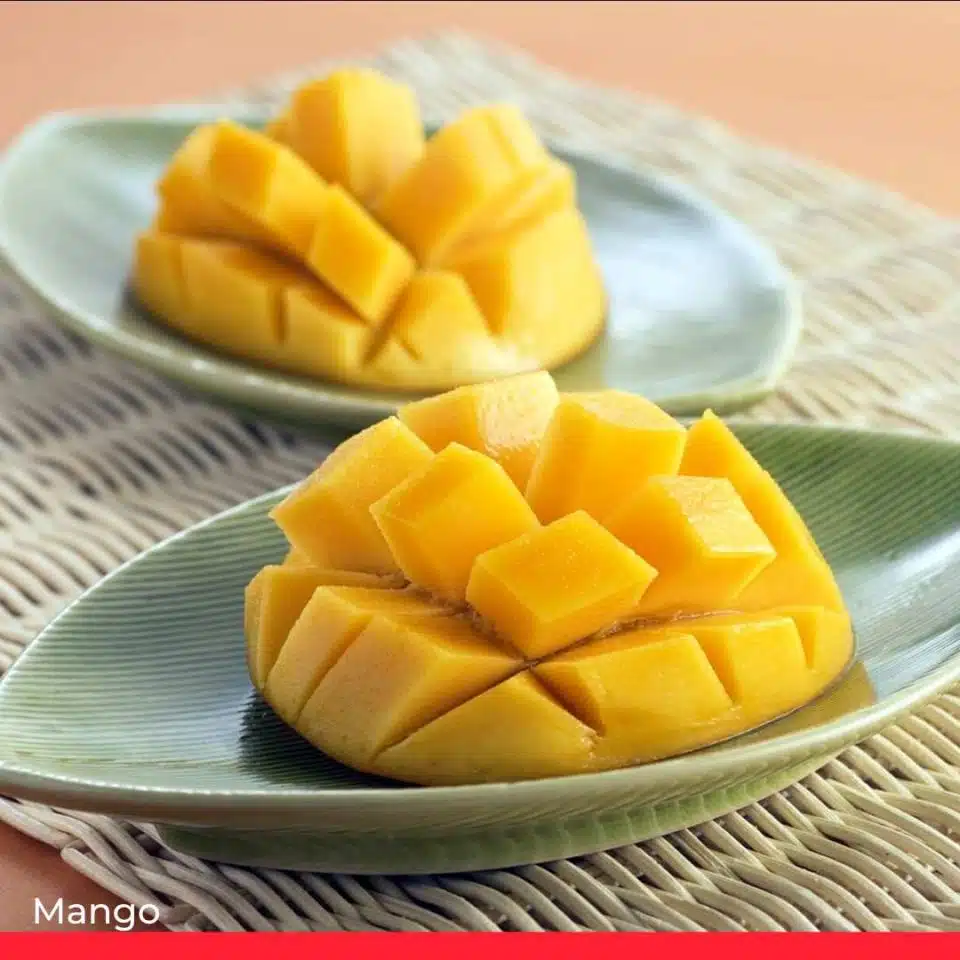 The king of tropical fruits – sweet, juicy, and delicious. The color, flavor, and texture of mangoes vary according to the variety. Those worldwide favorites Alphonsos, for example, are soft, sweet, and pulpy. In contrast, others may be firm, tart-sweet, with a texture resembling avocados or melons.
To eat mango, slice lengthwise along each side of the pit, score the flesh into cubes, then turn the peel inside out. Eat the chunks as they are, and add them to fruit platters, salads, or smoothies.
A single cup of mango (165 grams) provides almost 67% of the DV of vitamin C, and it's also a valuable source of copper and folate, which are crucial during pregnancy.
A mango variety which is grown in Japan and called taiyo no tamago counts among the most expensive fruits in the world.
7. Passion Fruit
The passion fruit's wrinkled purple skin indicates that it's ripe and at its peak of sweet juiciness.
Cut open to reveal jelly-like yellow pearls, each covering an edible black seed. Passion fruit has a tart-sweet tropical flavor.
It's typically eaten raw. The pulp can be strained to make delicious juices, smoothies, and coulis. They are also a popular ingredient in cheesecakes, roulades, and other baked goods.
Passion fruit is an excellent source of B vitamins and antioxidants. In addition, studies have shown that it is richer in polyphenols that may offer health benefits than many other tropical fruits.
8. Starfruit
Aka carambola. With its almost fluorescent lemon-yellow color and striking 5-pointed shape, this Southeast Asian native makes a fantastic addition to fruit plates and salads. Eaten raw, it's bursting with fresh juice. The firm, crunchy flesh is refreshingly sweet-sour and sometimes slightly salty.
Starfruits provide a fantastic range of nutrients. In addition to vitamins B2, B6, B9, and C, they contain essential minerals such as magnesium, zinc, iron, phosphorus, and potassium.
9. Ugli fruit
Ugli fruits aren't so named because they're less attractive than other fruits. The name is a trademark for this Jamaican variety of tangelo, a cross between a grapefruit and a tangerine.
That gives a clue about their sweet-bitter taste. Half of an ugli fruit provides almost the daily RV of vitamin C, plus a range of other vitamins and minerals.
10. Pineapples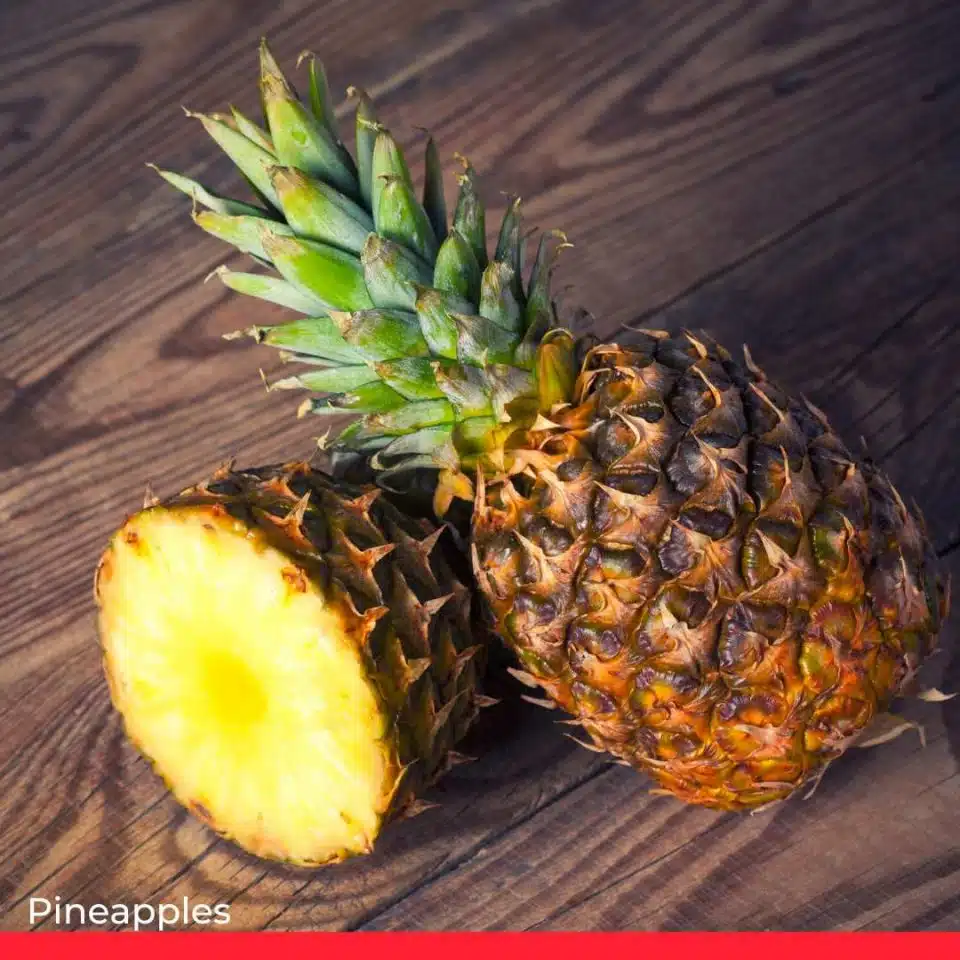 Pineapples are amazingly versatile. A staple of Asian and Caribbean cuisines, you'll find them in salads, desserts, savory dishes, and even pizza toppings.
Pineapples are commonly enjoyed raw. Look for ones that are an even yellow color (without green or red patches).
Few fruits are as loaded with nutrients. They're especially rich in vitamin C and manganese.
11. Loquats
Native to China, these small, sweet yellow fruits are related to apples, pears, roses, and quinces. Although there are over 900 varieties, they generally resemble yellow apricots.
Their flavor is often compared to cherries, pears, or apricots. They're at their best when slightly tender.
Loquats are delicious eaten as a snack or poached in syrup, made into chutneys, or even added to bourbon cocktails. These low-calorie fruits are nutrient-rich, providing provitamin A, and B vitamins, magnesium, potassium, and manganese.
12. Bartlett pears
Bartlett pears turn from green to yellow and become soft to the touch as they ripen. Their flesh is sweet, with a slightly musky perfume and a grainy texture.
Use them in all the same ways as other varieties. They cook well and partner beautifully with cheese.
Pears provide valuable levels of vitamin C, folate, and dietary fiber, as well as iron and potassium. They also contain pectin, a soluble fiber that may help control cholesterol levels.
13. Gold Kiwis
It's not only the gold flesh of this fruit that makes it stand out from regular kiwis. The brownish skin is smooth, bald, and edible.
With a sweet, tropical flavor reminiscent of mangoes or pineapple, they're far less acidic than their green counterparts. Still, they can be used in all the same ways. Try them with avocadoes, stewed meats, or mature cheeses.
Gold kiwis are bursting with vitamin C. A single fruit contains almost twice as much as the daily RV.
14. Rainier Cherries
These big plump cherries have yellow skin, a pink blush, and yellow flesh that can be streaked with red.
Rainier's have one of the highest sugar contents of any cherry, so they are beautifully sweet and juicy, with subtle floral, peach, and even caramel notes.
They're best enjoyed fresh or made into preserves. While they can be baked, they don't withstand the process as well as darker varieties.
Rainier cherries are a useful source of potassium which helps balance the body's fluid levels. They also contain vitamins A and C.
15. Yellow dragon fruits
Smaller than regular dragon fruits, but no less weird. Their thick yellow rind is covered in small spines, which fall off as the fruit ripens, leaving knobbly geometric shapes that wouldn't look out of place as the armor of an alien reptile. The dense white flesh inside is dotted with tiny edible black seeds.
Yellow dragon fruit is a crisp and juicy texture with an incredible sweetness and a delicious floral fragrance.
It's a valuable source of magnesium, phosphorus, and potassium. It also contains more calcium than its red-skinned cousins. In addition, it provides small quantities of iron, vitamins A and C, and niacin. The seeds are rich in omega-3 fatty acids, which benefit heart health.
16. Yellow figs
Yellow-skinned figs contain the same honey-sweet flesh as darker varieties and can be used in all the same ways.
They're not always easy to find, but check out farmer's markets or specialty stores.
However, yellow figs are a delicious and low-calorie way to increase your calcium and dietary fiber intake. They're also loaded with minerals, including magnesium, potassium, copper, calcium, and manganese. As if that's not enough, they're also rich in vitamins B and K.
Related: Dalmatian Fresh Fig Tart Recipe
17. Yellow watermelon
This will make a stunning surprise for your guests on a hot summer's day. On the outside, yellow watermelons look just like your common or garden variety. But cut one open and, oh my – you'll reveal succulent, juicy flesh that can be anything from pale yellow to rich gold.
And the taste is also surprising, as the delicate sweetness comes with notes of apricot and honey. Yellow watermelons contain vitamins A and C, potassium, and magnesium.
18. Himrod Seedless Yellow Grapes
These large clusters of sweet, golden-yellow grapes are ideal for snacking, eating with cheese, or just used to create sumptuous table decorations. With their floral aroma, they also make beautiful juices.
Like all grapes, they are valuable in any healthy diet due to their high nutrient profile. They're especially rich in antioxidants.
19. Yellow Bahri Dates
The skin of these golden delights is typically solid yellow. If you see brown patches, don't worry; they're continuing to ripen. Their sweet, juicy flesh is also a delicate yellow, somewhat fibrous, and crunchy.
Like all dates, they're incredibly nutritious, containing high levels of dietary fiber, iron, and other vitamins and minerals.
20. Golden Raspberries
Golden raspberries come in shades, from the palest yellow to pink-tinged gold, depending on the type. Like other raspberries, their flesh is tender and juicy. However, as each berry can contain over 100 seeds, they can also be crunchy.
Golden raspberries have a mild sweetness with nuances of honey and flowers. They're a great source of nutrients, including vitamin C, calcium, fiber, and iron.
---
If you enjoyed this article, check out our round-up of the most popular yellow foods out there.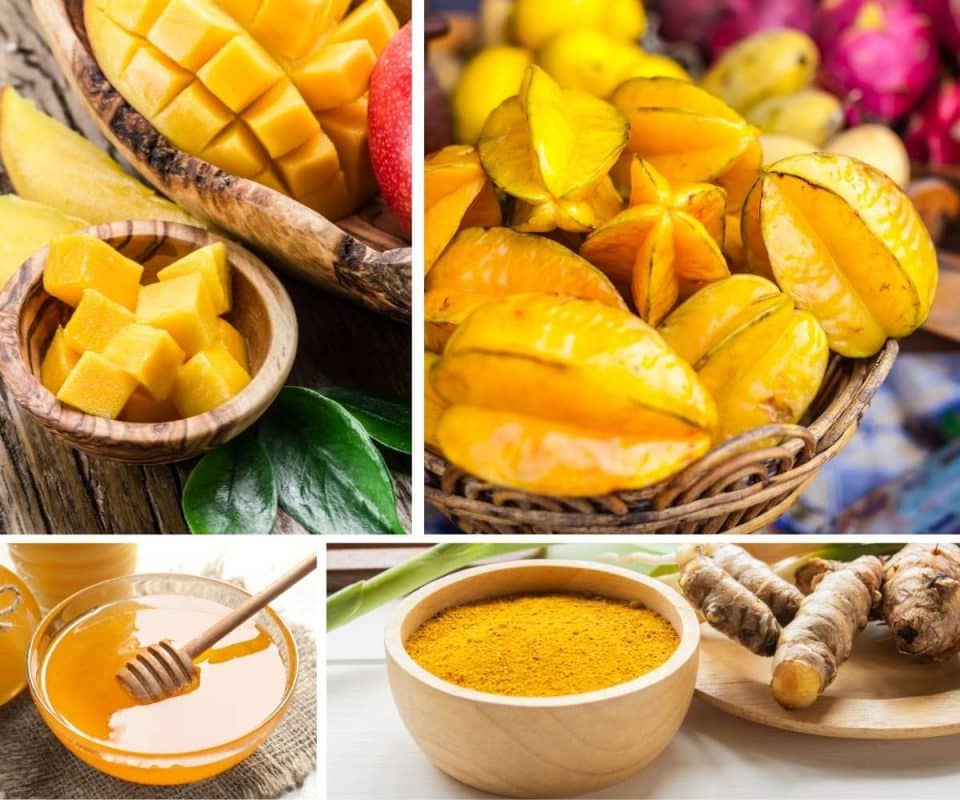 Related: Delicious Orange Fruits to Add to Your Diet
Related: Discover 20 Tasty Green Fruits
Related: Stunning Black Fruits to Add to Your Diet