Popular Christmas Foods in Puerto Rico
Puerto Rico boasts the longest Christmas season in the world, with Christmas lasting a whopping 45 days, starting right after Thanksgiving Day around the end of November, extending through mid-January.
Right after Thanksgiving, Puerto Ricans start putting up their Christmas decorations, lights. In every single town thousands of religious-themed lights go up, commemorating Baby Jesus.
Another important day is Nochebuena (Christmas Eve). Dressed in their finest attire, Puerto Ricans get together with friends to enjoy and exchange traditional food, drinks, and presents. While the celebration usually lasts till Christmas morning, many families go to a Catholic Church at midnight, to celebrate midnight mass, the misa de Gallo, which celebrates the birth of Jesus.
The local people love the celebration, gathering together to to sing aguinaldos (traditional Christmas carols), accompanied by instruments like panderos, güiros, cuatros, maracas and guitars. Another holiday custom of Puerto Ricans is las parrandas, whereby, late at night, friends and families meet on the doorstep of someone's house and surprise the inhabitants with musical instruments, traditional drinks, and homemade food.
Another most important holiday on the Puerto Rican calendar is El Día de Reyes, celebrated on January 6. This day commemorates the visit of the Three Wise Men, who came to bring Jesus gifts. The night before this special day, Puerto Rican children put grass in a shoebox for the camels, and place the box under their bed in exchange for presents. For hundreds of years, the town of Juana Díaz, located on the southern coast of the island, has celebrated a parade and festival that gathers over 25,000 people.
From Jan 7-14 Puerto Ricans carry on the party with las Octavitas, an extension of Puerto Rican Christmas. This period culminates with la San Se, where hundreds of thousands of people soak up a feast of music, art, traditional events, dance, and food. This Catholic festival takes place in Old San Juan, in honor of Saint Sebastian.
Now let's jump in and take a look at some of the amazing food and drink that we can find in Puerto Rico at this time of year.
1. Spit-Roasted Pork (Lechón Asado)
One Christmas dish that Puerto Ricans can't go without is lechón asado, pork that is roasted on a vara (a type of spit). Typically eaten at dinner on Christmas and New Year's, it is usually seasoned two days before cooking with adobo (paprika stock), salt, oregano, cumin, white wine, vinegar, olive oil, basil, garlic, achiote, and black pepper.
2. Pasteles (Tamale-like Patties of Green Banana and Meat)
Pasteles are a delicious traditional dish served in Puerto Rico. While the exterior comprises a mixture of yautia (taro root), green plantain, green banana, and achiote, inside they are filled with pork, chickpeas, red pepper. The whole thing is wrapped in banana leaves.
They are believed to originate from the Taíno, a native Caribbean tribe. Today, a dozen pasteles will cost you $30 – $40.
3. Morcilla (Rice Stuffed Blood Sausages)
On the island, rice-stuffed blood sausages are known as morcilla. Incorporating pork and secret spices, morcilla is especially popular as an appetizer during the holiday season.
Tembleque, which in Spanish means "wiggly", is a dessert of Puerto Rican origin. A common dessert in restaurants, it is also very popular at Christmas festivities. Ingredients include coconut milk, thick cream, cornstarch, sugar, and coconut, topped with cinnamon. One of my favorite Christmas desserts!
5. Arroz Con Dulce (Sweet Rice Pudding)
Another dessert choice for Christmas in Puerto Rico is arroz con dulce. This dessert has warm flavors of cinnamon, raising, clove, and fresh ginger, but the flavor that gives it its sweetness is desiccated coconut.
Arroz con dulce can be eaten warm or chilled. Either way, it is exquisite!
Arroz con gandules accompanies many dishes during the Christmas season in Puerto Rico. To make this tasty rice, Puerto Ricans take their essential base sauce, sofrito, and mix it with tomato paste, oregano, olives, diced ham, and, of course, gandules (pigeon peas).
It's one of Puerto Rico's national dishes, also very popular in northern South America and the Caribbean.
Coquito is a Puerto Rican beverage made only for Christmas holiday. This delicious drink is a blend of coconut milk, coconut cream, cinnamon, and one of the most famous Puerto Rican rums: Don Q.
For a twist, some people add like to add other ingredients: Nutella, strawberry, pistachio, chocolate, or strawberry, among others. Coquito is served cold and is the perfect tool for toasting with friends and families. Christmas is not the same without this creamy drink.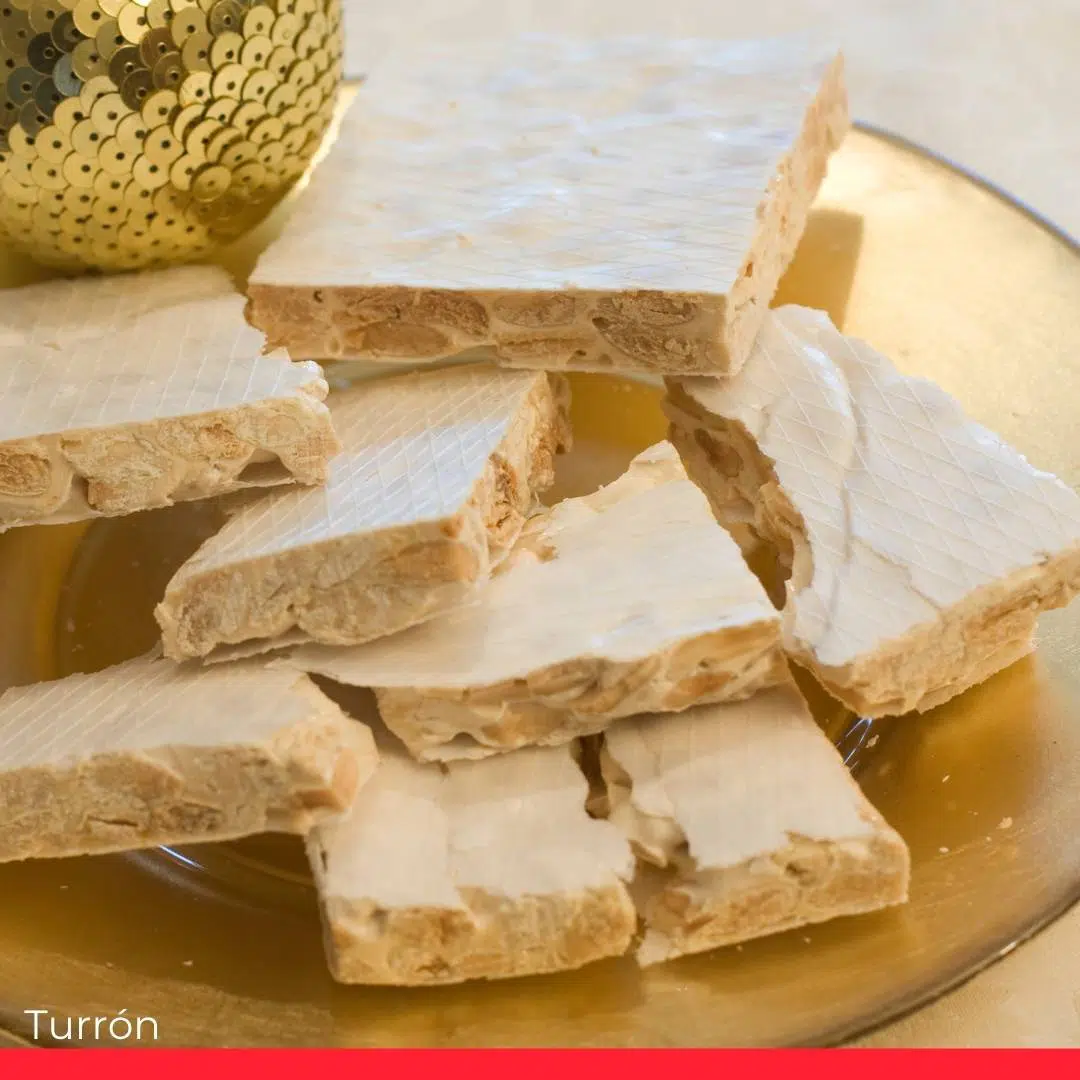 Turrón is a traditional candy bar made from roasted almonds, honey, and wafer. Turrón is consumed around the world in countries like Spain, Perú, the Philippines, and Cuba. Excellent for Christmas parties.
Flan is another Puerto Rican dessert classic. It's eaten all year round, but in the Christmas season, it cannot be missed. This sweet dish consists of a lusciously creamy custard filling topped with homemade caramel and comes in different flavors, such as Nutella, pistachio, chocolate, coconut, mango, coffee, or the classic varieties: cheese or vanilla. Delicious!
Yuca al mojo is a dish traditionally served as a side at Christmas dinner. It's a popular recipe in Caribbean countries such as Cuba and the Dominican Republic. The Puerto Rican version uses yuca (cassava), black pepper, onions, olive oil, garlic, parsley, and vinegar. This one is one of the best sides to accompany pork or turkey.
Guineos en escabeche (pickled bananas) are a common side dish in summer, but during the Christmas season they are everywhere! In order to make this delicious dish you'll need: greens bananas, vinegar, olives, bell peppers, olive oil, garlic, black pepper, bay leaves, parsley flakes, and onions.
Mollejas en escabeche uses the same recipe as guineos en escabeche but with a meaty twist: gizzards, which are chicken intestines that taste like dark meat.
13. Cuajito
Cuajito is a native recipe from Puerto Rico featuring pig's stomach, and is normally eaten with green bananas on the side. You can find it everywhere on the island.
This is a typical Puerto Rican dessert where coconut and cinnamon are the protagonists. Some people add a little bit of lime to give it a more authentic flavor. It is very easy to make and even easier to eat!
15. Bizcocho de Frutas (Fruit Cake)
The fruit cake is one of those emblematic things that most evoke Christmas. Of probable Roman origin, there are now endless varieties of fruit cake. The essential step is to soak the dried fruits in some liquor, usually Brandy. Some people do this a few weeks before incorporating the fruits into the cake.
Another great dish at Puerto Rican Christmas parties is pineapple ham. As the name suggests, pineapple slices and cherries are placed on top of the meat, but the key to its authentic taste is whole cloves and sticks of cinnamon. It is a combination of sweet and savory. So tasty!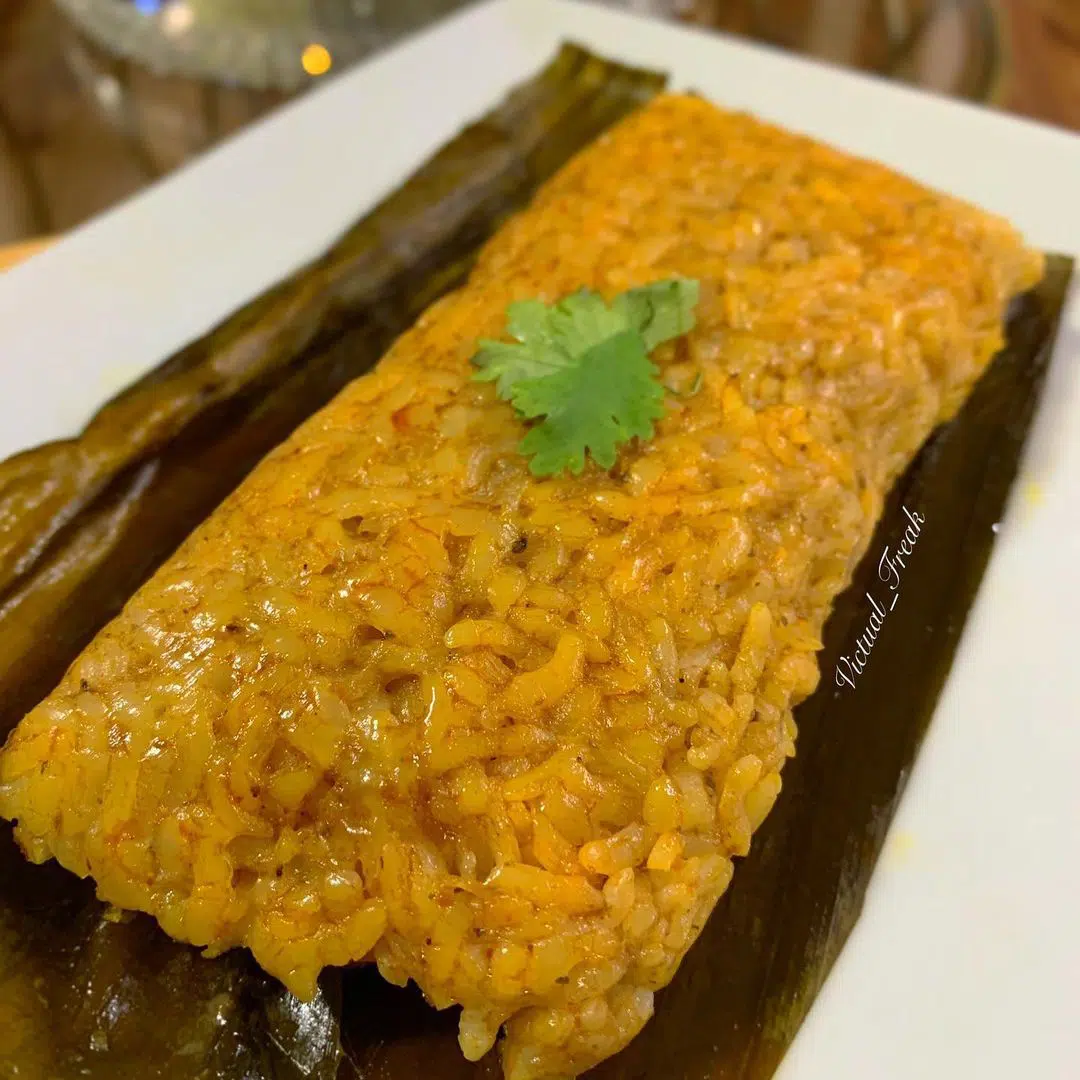 Pasteles de arroz are common in the mountain towns of the island, and are a culinary icon of Puerto Rican gastronomy. They are usually eaten as an appetizer, and are made from rice, green plantain, salt, adobo, banana leaves. They are stuffed with chicken and boiled in salted water for an hour.
Potato salad is a classic Christmas side dish. It's creamy, loaded with herbs and spices, while apple chunks and red peppers add a sweet dimension. This dish is so popular that it has crossed the sea to the mainland, for good reason.
19. Pitorro
This delicious rum is aged underground and gives off a fruity aroma. Pitorro has been part of Puerto Rican tradition for decades. Principally made from sugar cane, incorporating fruits, nuts, and citrus, it is fermented, distilled, and aged for over a year. It is produced clandestinely and illegally. A legal version, however, was produced and sold by El Coquí distillery, located in Mayagüez, a town located on the west coast.
Pitorro comes in many flavors such as coconut, almond, acerola, pistachio, passion fruit, and tamarind. If there is no Pitorro, it is not a Puerto Rican Christmas party!
20. Nueces – Walnuts
Walnuts are often part of the Christmas season. It is a tradition to have a large bowl of nuts in the kitchen during the holiday season for visits, family, or friends.
Bonus: Traditional Candies of Puerto Rico
The Jíbaro are Puerto Rican mountain folk, with a long tradition of making fruit candies, or dulces típicos. This tradition continues today and you can find these sweet treats in festivities, fairs, or in souvenir stores. They also make a great Christmas gift.
They come in many flavors: sweet potato, coconut, orange, pineapple coconut, mampostial (dark Coconut / citrus), coconut milk, white coconut, sesame, papaya, guava, and pilones ajonjili (lollipops with sesame).
In conclusion, Puerto Rico is known as la isla del encanto (Island of Enchantment) for its wonderful places, foods, traditions, culture, and people. While you can make these wonderful dishes anywhere in the world, nowhere will they taste as good as in a Puerto Rican Christmas party.
---
Related: Most Popular Puerto Rican Dishes
Related: Most Popular Puerto Rican Desserts