The Most Popular Snacks to Try this Diwali
Sweets may be the pinnacle of every Diwali celebration, but savory snacks are close to every Indian's heart. A range of delicious snacks is skillfully crafted and served in almost every household, with regional specialties taking the prime spot on everyone's plate.
Fireworks, diyas made of ghee, people dressed in colorful traditional clothing, and delicious food set the tone for one of the brightest and most vibrant celebrations in India.
The victory of Lord Ram over King Ravana of Lanka is a fabled legend and is one of the most important literary and spiritual works in Hinduism – The Ramayana.
To celebrate this auspicious day, families spend days in advance preparing sweets and savory snacks, making this a communal event bringing every member of the family to the table.
Let's take a look at some of the most popular savory snacks typically found on a Diwali platter. Some are solely made of ghee, and some use varieties of vegetables deep fried into fritters, toasted spiced nuts, and… well, the list goes on. Don't miss out on these wonderful treats this festive season.
1. Benne Murukku
Butter murukku or vennai murruku or benne chakuli is a popular savory snack made across the Indian peninsular. A star item in any traditional Indian snack shop, it can be seasoned and flavored in a myriad of ways, making it the perfect blank canvas to play with flavors.
But the most common and favoured version is simply a dough made with rice flour, which is combined with chickpea flour and ghee and pressed into various shapes ranging from concentric rings to long, finger-like pieces ranging from a couple of inches to even 5 to 6 inches long. The mellow flavor of cumin complements the rich ghee well.
Other popular versions also include a variety which has palak or spinach leaves blended into the dough. Usually made for festivals and celebrations, it is a must-try, though is not one of those savory snacks to fire up your palette.
2. Kara Murukku
Kara murukku is similar to benne murukku. It is made with similar ingredients but stands apart in flavor thanks to the dry red chili powder and asafoetida, which gives it an earthy yet robust and spicy flavor.
Some recipes down south prefer using black pepper, which imparts a totally different flavor and heat profile to the dish.
Food fanatics be weary as this is a spicy dish and isn't for the faint hearted. If you're used to eating Mexican chili then this should be a walk in the park, but if you can't handle black pepper, beware and tread cautiously.
The color is one way you can differentiate this dish from its milder cousin as the dry red chili imparts an orange tinge to the snack.
3. Urad Dal Murukku
Another deep-fried snack made using white or black lentils, these are usually thinner compared to the previous two on our list and have a nuttier flavor. They are made using rice flour and urad dal or black lentils. The lentils are boiled mashed and blended along with rice flour to form the dough.
Sesame seeds and ajwain seeds are added to the dough, which is usually fried in groundnut oil. Known for its bright white color, it is one of the quintessential dishes for any Diwali celebration.
This is a popular snack made specifically for Diwali and can be found in large mounds across the various snack stores in the country.
4. Onion and Garlic Flavoured Murukku/Vengaiayam Poondu Murukku
Shallots and garlic are roasted in sesame oil before being blended into a smooth paste along with dry red chilies and cumin seeds.
This forms the main flavoring base which is then prepared in a similar way to the previous snacks, with rice flour forming the base, along with urad dhal flour. This combo can also be replaced by switching out the urad dhal or black lentil flour for besan or roasted chickpea flour, each giving the dish its own unique flavor and texture.
This spicy robust paste is blended into a dough and deep fried till crisp. This is then stored in an air-tight container and can be shelved for weeks, if stored properly.
The roasted shallots and garlic add a burst of umami to this dish and is a winner on my list any day. The modern version has swapped out the carb-rich rice flour in favor of leaner grains such as finger millet and little millet.
5. Lehsuni Sev/Garlic Sev
Sev refers to savory noodles made of besan and seasoned with a variety of ingredients. The thickness of the sev can vary from as thin as vermicelli to as thick as tagliatelle or linguini, and even thicker at times.
Like murukku that dominates the South, sev has a quite a following up North and is usually served as an accompaniment along with varieties of chaat.
Lehsuni sev is made by coming to a roasted purée of garlic, along with turmeric, cayenne pepper, and ajwain seeds into a dough primarily made of besan or roasted chickpea flour. It is then combined with salt, oil, and water and then shaped using a traditional brass press.
These noodles are immediately deep fried till crisp before being broken down into their appropriate sizes. It is perfect for snacking on the go and a neat treat for picnics.
It is also called oma pudi down south, symbolizing the importance of ajwain in the recipe.
6. Karam Gavvalu
This is a dish that originates from the state of Andhra Pradesh, known for its fiery and spicy dishes. Gavvalu means shell, and is similar to conchiglie pasta, shaped like a tiny conch shell.
Karam refers to the spicy or savory nature of the dish, so as to not be confused with the sweeter version which involves deep frying the snack before soaking it in sugar syrup.
The dough is made by combing rice flour, refined wheat flour, and semolina. Water combines all the ingredients together, spicy Guntur red chilies season the dish, along with cumin and turmeric, and it is then shaped like a shell before being deep fried.
Some even like to take it up a spicy level by sprinkling more red chili powder over once deep-fried.
7. Namak Para / Diamond Cuts
Namak para, as the name suggests, is a salty snack – namak being the Hindi word for salt. It also goes by the name nimki or nimkin, giving rise to savory snacks with the distinctive name namkeen.
It is a light and crispy snack made using refined wheat flour and seasoned with mild spices. It has a crunchy texture and is perfect as a tea time snack.
It is difficult to find these in most confectionaries, though it is a common sight in most households owing to its simplicity.
Ghee, refined flour, ajwain seeds or carrom seeds, and cumin seeds are combined with water to form a pliable dough that is then rolled out and cut into the classic diamond shape before being deep fried. Modern versions generally go in the oven, baking them to reduce the amount of calories.
8. Chivda/Savory Puffed Rice
Chivda is a popular snack made from puffed rice on a traditional clay stove top. The rice is puffed using fine beach sand that is collected, cleansed, and dried, and then heated in a deep Kadai or a Tava.
The sand allows the heat to transfer gradually into the kernel or rice without burning the starch. Continuously stirring the rice leads to the starch expanding and puffing it.
Some forms of Chivda are made with flattened or beaten rice, which is pounded till it is thin and almost transparent. This flattened rice is then combined with roasted peanuts, cashew nuts, kahara boondi or chickpea caviar. Roasted chickpeas are added to give the mix added nutrition, plus salt, sugar, sesame seeds, curry leaves, turmeric powder, chilli powder, salt, and chat masala.
It is a light snack which is usually made at home, although you can find major brands that sell variations of the traditional chivda in modern supermarkets around the world. It is one of the healthier snacks on our list, with on average just a teaspoon of oil contained in 500gms.
9. Ribbon Pakora
This is a much loved, crunchy and delectable South Indian snack made especially for Diwali. It is made with a combination of rice flour and besan or gram flour that is combined with fried Bengal gram, providing a nutty and earthy flavor.
It is seasoned mildly with sesame seeds, cumin seeds, ajwain or carrom seeds, turmeric, and salt. Asafoetida adds a bit of umami to the whole mix, giving it a mild yet irresistible flavor. Some recipes call for the addition of green chili and ginger for added flavor.
The prepared dough is made into ribbon-like shapes, giving it its name.
10. Navratan Mixture
Imagine your trail mix taking a trip down to India and coming back with a load of species. That's precisely what this is. It is an Indian trail mix that consists of a mix of 9 lentils, protein-rich nuts, and dried fruits. It is seasoned with a mix of chili powder, chaat masala, amchur, and sugar.
It has a crunchy bite and a savory flavour, and can be eaten at any time of the day. It is a popular snack that often accompanies a pint of larger. It can be prepared in advance and stored for upwards of a month. It also can be found in most major Indian food stores globally.
The lentils and nuts are dry roasted and seasoned with spices before being mixed together with the other ingredients. Another common ingredient in these mixes are sev and flattened rice.
11. Kaju Pakora/Cashew Pakoras
Pakora is a hearty and delicious snack usually reserved for the most special of occasions. You will know that pakoras are made with vegetables, such as potatoes, onions, and even chilies. But this recipe is especially made for festivities and guests.
It is a rich mix of whole roasted cashews combined with chickpea or besan flour, rice flour, and a host of other spices depending on your palette. The most common are coriander seeds, cumin seeds, dry red chilis, and asafoetida. Fresh coriander and mint may also be added, and some recipes even call for thinly sliced onions too.
The rice flour and besan are combined together with a little water before incorporating the spices and nuts and forming them into a sort of crumbly pastry, which is loosely shaped before being slowly deep fried on low heat.
12. Masala Kaju/Spiced Cashew Nuts
Another famous and equally delectable snack on our list is roasted masala kaju, It is a simple recipe that calls for a few spices, some clarified butter, and a whole lot of roasted cashew nuts.
Cumin, cloves, fennel, dry red chili, black pepper, and chat masala are typical seasonings, but your imagination is the only limit and you can even find cashews coated with an onion and garlic seasoning. Healthier version use palak or spinach.
It is very simple to make. Simply roast, and grind all your spices to taste, then heat some ghee or clarified butter in a deep Kadai, add the seasoning and allow the spices to bloom before adding the cashews, sautéing them till they are evenly coated.
13. Nippattu
These are savory and slightly spicy crackers made in South India. Rice flour forms the base, and wheat flour and fine semolina are added to add some gluten to make the dough pliable. Peanuts, desiccated coconut chunks, roasted chickpeas, and sesame seeds are added to give this dish its distinctive flavor.
Spices are adding depending on the required flavour, but it is best to keep it simple with chili powder, asafoetida, and turmeric, though curry leaves can add some umami. The dough is carefully rolled out into thin wafers before being poked with a fork to prevent puffing up. It is then deep fried till crisp. They can be stored for a month in an air-tight jar.
Mint, coriander, spinach, and a wide variety of green or fresh herbs can also be added to the mix, with dill being my favourite.
14. Bakarwadi/Bhakarwhadi
A sweet and savory snack, this is traditionally made along the west coast of India, stretching up to the Gulf of Kutch in Gujrat. It is very popular in the Gujarati community, where you will find a wide variety of bakarwadi.
It is a disc-shaped snack that stuffed with a sweet and savoury filling, made primarily from nuts and lentils seasoned with savoury and sweet spices, and deep-fried. They look like mini cinnamon rolls but have a sweet and savory kick.
Chickpea flour is the primary ingredient, plus poppy seeds, grated coconut, and sesame seeds. The dough is stuffed, cut into roundels, and deep fried.
15. Khara Boondi
This is one of the most versatile snacks in an Indian Mithaiwalas cookbook. It can be eaten for breakfast, lunch or dinner and can even be munched on through the day or as an evening teatime snack.
Khara refers to the savory or spicy nature of the dish. It does have a sweeter cousin prepared and served plain or in the form of ladoos or sweet truffle-shaped spheres.
A batter is made using besan or gram flour, which is then seasoned with a host of spices including chili powder, turmeric, garlic powder, hing or asafoetida, cumin powder, etc. This batter is skilfully poured into a large kadai using a steel strainer, which allows the batter to fall in drops, creating the iconic caviar shape.
The deep-fried boondi is then topped with spicy peanuts, curry leaves, and roasted cashews. Boondi is commonly served as an accompaniment to raita, the crunchy, spicy condiment perfectly complementing the cold, sweet, mushy raita.
It can be eaten as it is or with rice or raita.
16. Methi Farsi Puri
This is a light, deep fried flatbread similar to the breakfast variety. But this one is smaller and crispier and made with fenugreek leaves for more flavor. Though methi or fenugreek leaves can be replaced with spinach or palak for an ever tastier dish.
Plain wheat flour or atta is kneaded with ghee, chili powder, cumin seeds, fenugreek leaves, coriander leaves, salt, and turmeric. Sugar or jaggery is also added to give it a sweet and savory flavor.
It is usually eaten on its own but goes well with a fresh mint and coriander chutney.
17. Besan Ki Papdi/Fafda
The people of Gujrat are notorious for their love of sweet and savory dishes. There is no other dish that comes close to satisfying a Guju craving than fafda and jalebi. Fafda is rectangular yellow strips of besan seasoned lightly with cumin, asafoetida, ajwain, and a mix of other spices generally known as papad khar.
The dough is rolled into a sheet, deep fried, and served with spicy shredded vegetables, locally called sambharo. It can also be served with a chutney and salty fried green chilies.
18. Vanela Gathiya
Gathiya refers to a deep-fried Gujurati snack that is similar to a South Indian murukku, minus the rice flour. Vanela refers to the gathiya being rolled and twisted into its iconic shape before being deep fried.
It has a mild, creamy flavor and is usually accompanied by a fiery chutney, which complements it well.
Black pepper, ajwain or carrom seeds, and salt are the most basic seasonings used, although one can always improvise to suit their taste.
Baking soda is also required here as this is what leaven's the dough, giving it an airy and light texture.
19. Khasta Kachori
Mini kachoris are a treat that should not be missed on any Diwali platter. These dough-based snacks are prepared by stuffing a wheat-based dough ball with a mix of black lentils, peanuts, cashews, and dried fruit. This is then deep fried to perfection and served with an array of chutneys.
Some recipes even call for a mix of just nuts and dried fruit, giving the dish a rich and decadent overall feel. The perfect finger food to grab and pop as you go. They range in spice level and are usually a mix of sweet and savory flavours that are mild on the palette.
20. Kaju Badam Mini Samosas
With these, the humble samosa takes on a more decadent and opulent avatar. These mini samosas are stuffed with a variety of fillings, ranging from cashews to spiced nuts, dried fruit and a high protein lentil mix. 
They have a mild and flavorful filling that is packed with spices and fresh herbs. The pastry is made with wheat flour, oil, salt, cumin seeds, and carrom seeds. The stuffing can be seasoned as required with most choosing a mild and savory mix of dry mango powder, tamarind jelly, and spiced cashews.
Serve with creamy yoghurt and mint chutney or sweet tamarind and chili chutney or the classic tomato ketchup.
---
Related: 20 Tasty Diwali Sweets and Desserts to Try this Year
Related: 50 Famous Indian Foods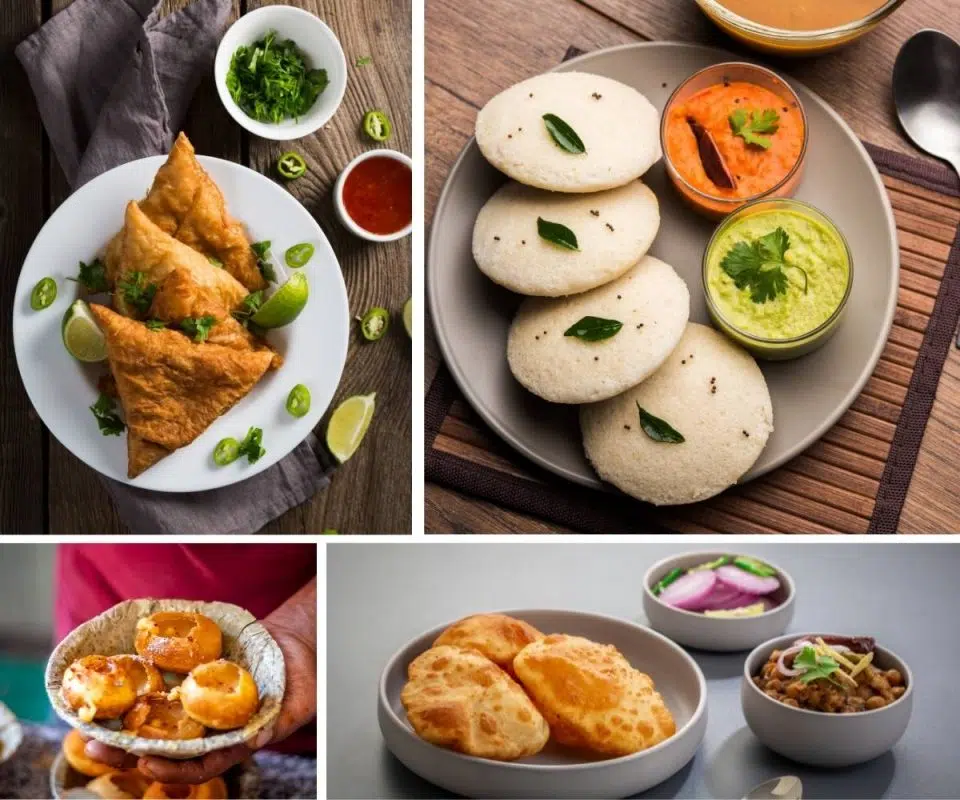 Related: 20 Famous Indian Chutneys and Sauces