Top 20 Most Popular Desserts in South Africa
South Africans love, and I mean LOVE, their sweets and sauces. It's no wonder that many of their desserts combine oodles of sugar with plenty of saucy, and sweet, sauces!
With a rich and diverse culture, South Africa's most popular desserts reflect a variety of palettes for a tantalizing buffet of dessert options. Here are the top 20 most popular South African desserts and sweets.
1. Malva pudding
Possibly the most iconic South African dessert, malva pudding is served just about everywhere. A soft and springy cake with flavors of apricot jam and caramel is topped with a sweet creamy sauce and served with a thin custard and ice cream.
It was brought to SA by the Dutch but made famous by Maggie Pepler, who taught cooking and even worked for South Africa's ambassador in London, where she served the pudding to dignitaries and celebrities, to their delight.
2. Melktart (Milk Tart)
Lighter and more delicate than a custard pie, a well-made Melktart is divine. The milk-based custard is flavored with cinnamon, sometimes with orange peel, and set in a shortcrust pastry.
Like any good dessert debate, there are strong opinions about whether the custard should be baked or left to set in the fridge. Each method has its own merits, so let's just enjoy them all!
3. Aartappel poeding (Potato pudding)
Simple white potatoes are transformed into a creamy, smooth pudding sprinkled with cinnamon and served with deliciously spiced stewed fruit. A favorite in the Cape Malay community, you will find it at basically any family function or traditional gathering.
4. Hertzoggies
Hertzoggies are pastry tartlets filled with a delightful mix of apricot jam and coconut. They were invented when General JBM Hertzog was campaigning for to become prime minister, promising that he would give women the right to vote and that the Cape Malay people would have equal rights to white people.
It is said that the Malays were so excited, they created and named this treat for him. He won, but sadly he only made true on his promise to women.
While this fine little treat has a messy political history, it maintains its elegance by being the perfect delicious accompaniment to English tea.
5. Tameletjie (Sticky Toffee)
One of the country's oldest confections, tameletjie has been popularized across cultures, resulting in many variations, originally including pine nuts, then expanding to almonds or other nuts, or coconut.
Tameletjie is an expression often used in South Africa to describe a tough or sticky situation. But this toffee is not something you will quickly want to rid yourself of, although it may happen inadvertently through sheer enjoyment!
6. Pampoenkoekie (Pumpkin fritters)
These little guys are so delicious and versatile, they can be served as a dessert, appetizer, side dish, or snack. They're made simply by mashing cooked pumpkin with flour, brown sugar, egg, and vanilla, then frying until crispy.
Sprinkle with lemon juice and cinnamon mixed with caster sugar, or have them with a caramel sauce. Season them with salt instead of sugar, and make them savory. Lekker!
7. Melkkos
A great traditional dish made with simple and inexpensive ingredients; many regularly grannies make this milk porridge.
Quick preparation of milk cooked with flour until thickened and flavored with cinnamon and sugar, and sometimes topped with butter and a little naartjie or orange zest. A great way to warm up on a cold day.
8. Asynpoeding (Vinegar pudding)
Similar in texture to malva pudding, asynpoeding uses vinegar in its sauce. Surprisingly it refreshingly balances the pudding's sweetness. Hmm! Hazard a try, and you'll be sure to ask for more!
9. Boeber
Similar to melkkos but with Cape Malay origin, this milk porridge involves spices such as cardamom or cinnamon, rose water, vermicelli, and sometimes sago to thicken the mix.
Boeber is traditionally served on the 15th day of Ramadaan to mark the middle of the Fast, but it is so loved, it is enjoyed throughout the year and by people of all religions.
10. Koeksisters
While it has a somewhat debated past, most agree that the recipe for koeksisters was brought to to South Africa by the Dutch.
Doughnut dough properly proofed, then rolled out into ropes and braided, deep-fried, and dunked in ice-cold sweet syrup while still hot. While a little tricky to perfect, they are worth the effort. Dough and sticky sweet syrup – even the imperfect ones must be delicious!
11. Koesisters
This is the koeksisters' more relaxed and exotic cousin. No need for braiding or rushing for syrup, this doughnut is formed simply into a big ball, fried, and let to cool before the final dressing and unveiling.
Since it is of Cape Malay origin (brought to the Western Cape of South Africa by Malaysians and other East Indians), fragrant spices like ginger, cinnamon, and cardamom are added before it is soaked in syrup, with the look completed with a dusting of desiccated coconut to make it an attractive and elegant treat.
12. Vetkoeks (Fat cakes)
In general, these deep-fried dough balls are a very popular treat in many African countries. They are basically a lazy doughnut, crispy outside and soft and chewy inside, without the hole. They are a common sweet breakfast or snack for many South Africans.
The name fat cakes, however, inspires many different thoughts about what they are cooked in and just how good they are for you if you eat too many. Oops!
13. Crunchies
South Africans love their tea-time treats, and crunchies are high on the list. With base ingredients of oats, dried coconut, and golden syrup, you'll have a great time taste testing this recipe the whole time you are making them.
Like a simple granola bar but way better, they can be crunchy, chewy, or somewhere in between, and made into myriad healthy, and not-so-healthy, flavor combinations. Oh, the fun you will have!
14. Peppermint Crisp Tart
Besides being famous for the first heart transplants and inventing the CT scan, South Africa changed people's lives with the invention of the Peppermint Crisp.
This creamy blend of caramel, coconut biscuits, and Peppermint Crisp chocolate bars comes together with dollops of whipped cream into a super sweet, save-room-for-seconds kind of dessert.
15. Pannekoek (Pancake)
Pancakes are not originally South African, of course, but they play such a big part in the cuisine here, they may as well have been.
Thicker than crepes but thinner than flapjacks, they are rolled up with many kinds of sweet and savory fillings, but most often just with cinnamon sugar. You can use a knife and fork though if you're feeling fancy.
16. Jalebi
Some Indian dishes are only found in South Africa, especially in Durban (try the Bunny Chow!), where the largest concentration of people of Indian descent in the country is found, and one of the largest Indian populated cities outside of India. With such a cultural influence, you will of course find many traditional Indian sweets.
Jalebi is one of the best known, found in shops, home kitchens, and restaurants. It is simply fried batter soaked in honey or sugar syrup. You can infuse the syrup with spices and fragrances like cardamom or rose water. It is crisp, crunchy, syrupy, and sweet. Yum!
17. Queen cakes
These simple cakes are as elegant as their name implies. A soft dough-like batter comes together with basic baking ingredients to create a light and fluffy cross between a vanilla muffin and a scone.
You can jazz it up with currants or icing sugar, or leave them plain. A staple in many households.
18. Trifle
South Africans love their custard and have it with cake, biscuits, fruit, jelly, or on its own. Of course, if you can have all of this wonderfulness together in one dessert, then even better! And then voila! Trifle!
19. Rusks
Rusks are simply double-baked biscuits and are a staple in many South African homes, especially in Afrikaaner communities, another legacy from the Dutch.
Although technically not a dessert, you can now find this biscuit in a variety of tantalizing, sweet flavors and the best way to have them is by dunking them in your tea or coffee for just the perfect amount of time. Too short and you'll BE gnawing away, too long and you'll be fishing it out of your cup. Sweet and fun, sounds like dessert to me!
20. Bombay Crush
Another tip of the hat to Indian culture rounds up this list. The Bombay Crush is said to originate from Persia but has seen a modern revitalization in Durban.
It's basically a milkshake, but way better! Milk or cream, rose water or syrup, elachie (cardamom) syrup, sabja seeds (these look like chia seeds but are from the sweet basil plant), and loads of vanilla ice cream make this a refreshingly heavenly dessert drink on a hot day.
---
These are but 20 reasons to plan your trip to South Africa! Oh, but one last treat for you. Make sure your visit to SA is complete by trying Amarula. Debatably, nothing is more quintessentially South African than the creamy tipple Amarula, the beloved liqueur made from the marula fruit. Add it to cocktails, your morning coffee by the fire, have it straight on the rocks after dinner, or browse the many recipes for Amarula-infused desserts, like Amarula ice cream, Amarula cheesecake, Amarula Tiramisu, Amarula Malva Pudding, or Chocolate and Amarula trifle. You can't really go wrong!
No matter where in this large and lush country you visit, you are sure to be welcomed with warm smiles, and great desserts.
---
If you're interested in South African cuisine, check out our story on the top South African foods (sweet and savory).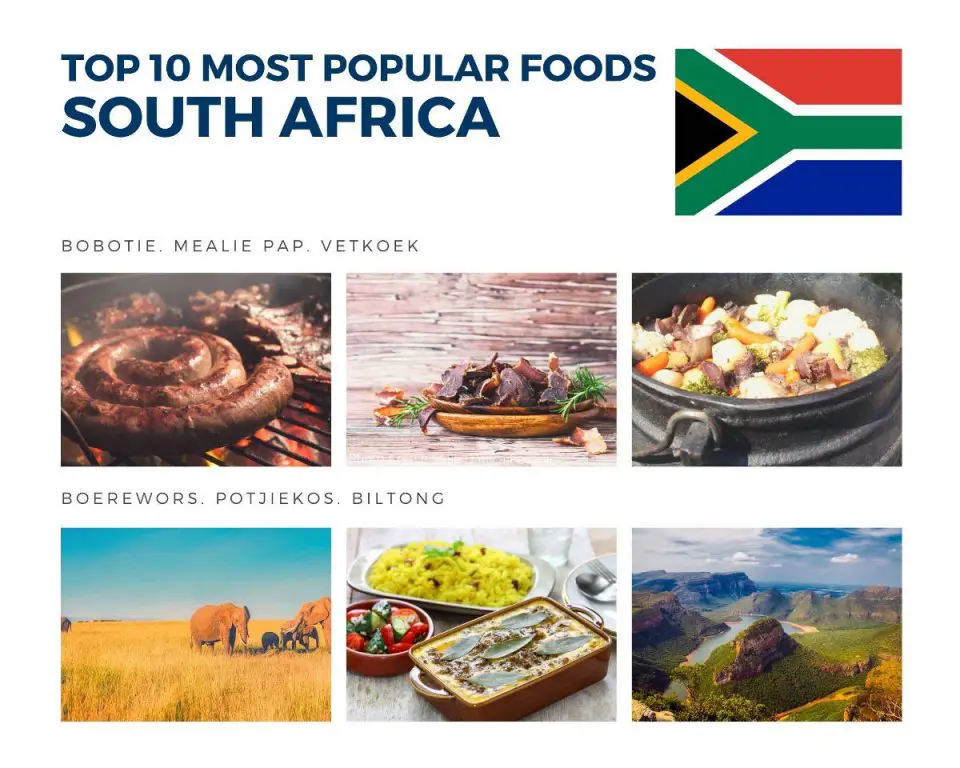 Related: Popular South African Christmas Foods