20 Popular Desserts in Singapore
Borrowing from various cultures, Singapore's dessert scene is inspired by a diverse mix of Asian flavors. This multi-ethnic city features a wide selection of sweet and savory treats, many of which are traditional staples for family gatherings and cultural holidays.
Although many share common ingredients that are popular across Southeast Asia, each dessert has its own unique and distinctive personality. More than taste, the texture and color are important elements. From refreshing cold desserts to warm comfort foods, you won't find yourself short of after-meal options here in Singapore.
Let's round up the 20 most popular desserts in Singapore.
1. Nyonya Kueh
Nyonya refers to the Peranakan culture, which can still be seen today from the multi-colored shophouses scattered around Singapore. Nyonya kueh (cakes) comprise an equally colorful selection of bite-sized treats.
They are usually made with rice flour and coconut milk, with sweet additions such as gula melaka (palm sugar), pandan juice, and coconut flakes. These common ingredients create a wide variety of colors, textures, and flavors that make nyonya kueh a simple, yet classic dessert.
2. Ondeh Ondeh and Tutu Kueh
A popular choice of nyonya kueh is ondeh ondeh – glutinous rice balls winfused with pandan juice and coated with grated coconut. It is advisable to eat these in one go as, upon biting into its soft, chewy exterior, the rice ball bursts open in a sweet flavor explosion of gula melaka syrup.
Another well-loved sweet is tutu kueh. These are made by packing rice flour and gula melaka (or peanuts) into stainless steel molds, which are then covered with a small square of pandan leaf and steamed. The end result is a round white cake with a distinctive flower-shaped imprint.
Served hot and freshly-made, this is a dessert that is soft to the bite, with a fun crunch from the gula melaka or peanut filling.
3. Chendol
The name chendol refers to the soft, pandan-green jelly noodles that are unique to this dessert. The chendol jellies are served with kidney beans on shaved ice, which is soaked in coconut milk, and an aromatic syrup made with gula melaka and pandan leaves – a sweet and refreshing treat that can be enjoyed as a cold dessert or drink.
4. Ais Kacang/Ice Kachang
Ais kacang (Malay for bean ice) is a Malaysian dessert traditionally consisting of red beans and a mound of shaved ice which is saturated in sweet, colorful syrups to make for a refreshing, vibrant treat.
Adding to the flavor and texture of this dessert, condensed or evaporated milk and gula melaka syrup can also be drizzled on top, along with other popular ingredients like sweet corn, jellies, ice cream, and peanuts.
5. Cheng Tng
Cheng tng translates as clear soup and is a Chinese dessert consisting of ingredients such as dried longan, red dates, white fungus, and pearl barley – all of which have various nutritional properties.
These are boiled with sugar and pandan leaves to enrich the flavor and aroma of the soup, which can be further sweetened with candied winter melon and sago pearls. This is a healthy and refreshing dessert that can either be served warm or chilled with ice.
6. Tau Huay
Tau huay is a dessert of soya beancurd in sweet syrup. It has the soft, silky smooth texture of a tofu pudding and is a popular supper go-to in Singapore.
This is a simple, satisfying dessert that can be served hot or cold, and is popularly eaten with you tiao (fried dough fritters) as a savory, crispy side dish. Soya bean desserts are a refreshing and comforting dessert fix. Aside from the classic tau huay, popular variations include almond beancurd and soya milk.
7. Cincau (Grass Jelly)
Cincau is a traditional Chinese herbal jelly that comes in various shapes and sizes, such as cubes or worm-like noodles. It possesses a sweet, mildly bitter flavour and can be eaten on its own or added as an ingredient to desserts such as ice kachang and chendol.
It is also a popular topping for drinks such as soya milk and bubble tea (also known as boba tea), adding a unique flavor and texture.
8. Pulut Hitam
Pulut hitam is a dessert of black glutinous rice, although its color is closer to a dark shade of purple. The rice is sweetened with gula melaka and pandan leaves and has a thick, sticky consistency like porridge. It is served with coconut milk drizzled on top to add a rich, creamy note to this warm and comforting dessert.
9. Bubur Cha Cha
Bubur cha cha is a Nyonya dessert known for its quirky name and appearance. Common ingredients include orange and purple sweet potatoes, taro, sago pearls, and tapioca jellies. These are served in a rich, pandan-infused coconut milk cream – a myriad of colors, flavors, and textures in one sweet, wholesome dessert.
10. Orh Nee
Commonly served at Chinese gatherings and wedding dinners, orh nee is a rich, sweet yam paste of Teochew origins. It has a pale purple color and a thick, yet smooth and creamy consistency. Ginko nuts are a popular addition, which impart a subtle bitterness. A traditional comfort food, orh nee is a warm, simple dessert, perfect for ending a heavy meal.
11. Mango Desserts
Hong Kong-inspired mango desserts are popular in Chinese restaurants, such as mango pudding – a soft and creamy jelly with a smooth, silky texture. Another is mango pomelo sago, which is a sweet and sour dessert of mango purée combined with coconut milk and evaporated milk to make a rich and creamy soup.
This is served with chewy sago pearls and pomelo pulp, which burst in your mouth for an added citrusy punch.
12. Goreng Pisang
Goreng pisang translates simply as fried bananas. The name speaks for itself – ripe bananas are coated in batter and deep-fried until they are golden and crispy on the outside, but soft and creamy on the inside.
These fritters combine the sweetness of the bananas with the light saltiness of the batter, making them a simple and flavorful snack.
13. Tissue Prata
The name tissue prata refers to its paper-thin quality – this is a crispy, delicate flatbread, which is rolled into a tall conical shape. While roti prata is often eaten as a meal, tissue prata can double up as a dessert when paired with condiments such as chocolate sauce or ice cream, making it both a sweet and savory treat.
14. Ice Cream
Marked by large red umbrellas, traditional ice cream pushcarts can still be found on Singapore's modern streets, selling classic flavors such as chocolate while featuring flavors unique to Southeast Asia such as yam, durian, and red bean.
Blocks of ice cream are precisely cut into small, rectangular slabs, which are then enveloped between two thin, crispy wafers or in rainbow-colored bread. It is a simple but nostalgic dessert that for many is reminiscent of childhood.
15. Tang Yuan
Tang yuan is a dessert of glutinous rice balls – either plain or with fillings such as sesame or red bean – served in a sweet, warm soup. Its name translates as soup round, and sounds similar to another Chinese term – 团缘 (tuan yuan), meaning reunion.
The round shape of tang yuan symbolizes wholeness, and it is thus an important dessert at family gatherings and during traditional holidays such as the Lunar New Year and mid-autumn festival.
16. Gulab Jamun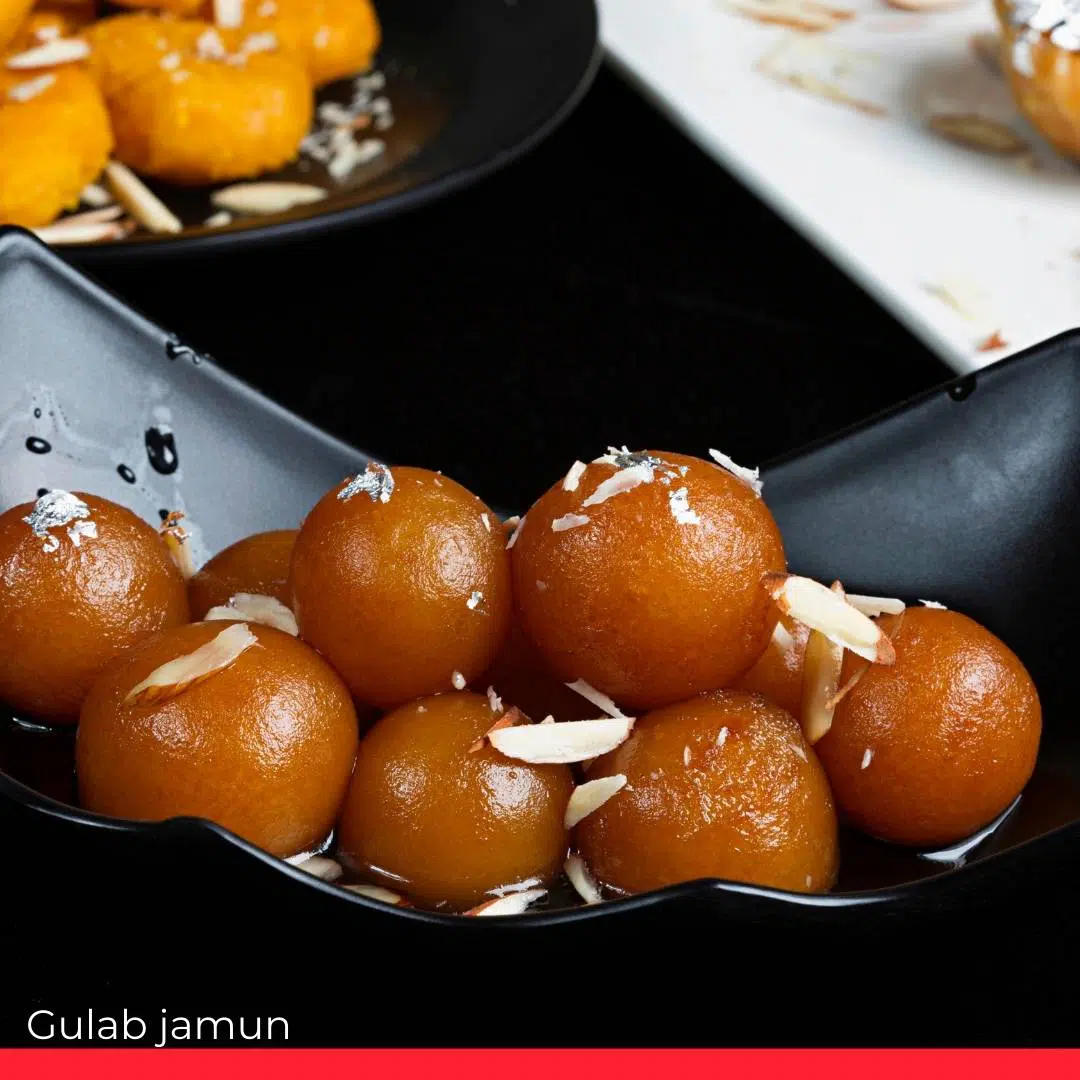 Of Indian origins, gulab jamun is a dessert of dough balls made from milk solids known as khoya, fried to give a soft, chewy texture. The fried dough balls are then soaked in a sugar syrup perfumed with saffron and other spices – a simple but flavorful and aromatic dessert.
17. Durian Puffs
Durian, known for its spiky husk and potent odor, takes on a more palatable appearance in the form of durian puffs – soft, airy pastries filled with a silky-smooth durian custard. For those who are curious about durian but find it off-putting, this sweet, bite-sized dessert can be a good alternative for a subtler taste of the King of Fruits.
18. Pandan Cake
This is a simple chiffon cake infused with pandan leaf flavoring. It has a soft and velvety golden-brown exterior with a lightly toasted flavor. The inside of the cake is incredibly light and springy, and boasts the subtle sweetness and pale green color of pandan leaves ­– a simple and wholesome dessert.
19. Sugee Cake
A dessert with Eurasian influences, sugee cake is baked with semolina, creamed butter, eggs, and almonds to give a moist and fluffy cake. This has a sweet and nutty flavor, which can be enhanced with a dash of brandy or some icing on top – a rich, homey dessert perfect for the holiday season.
20. Muah Chee
Muah chee, or peanut mochi, is a simple but nostalgic dessert. This bite-sized snack of glutinous rice cubes used to be sold by pushcart vendors – now a less common sight in Singapore – and eaten using toothpicks. They have a soft and chewy texture and are powdered with sugar and crushed peanuts, giving a light sweetness and saltiness that melts in your mouth.
---
Related: 25 Most Popular Foods in Singapore
Related: 25 Most Popular Indonesian Desserts
Related: 20 Popular Desserts in Malaysia