20 Popular Malaysian Street Foods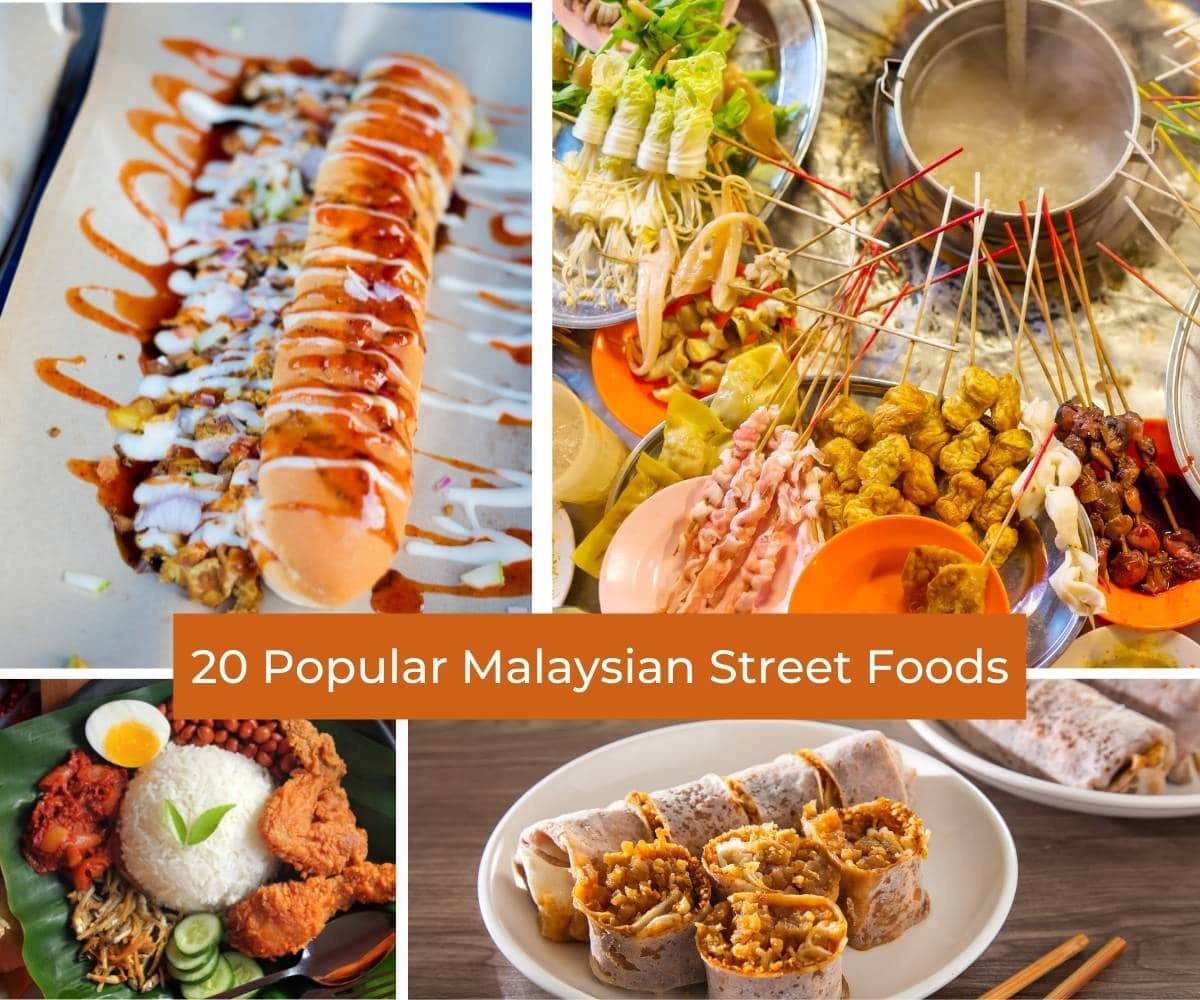 Whether you're in the capital city of Kuala Lumpur, a foodie paradise like Penang or Malacca, or a nondescript small town, street food is a ubiquitous part of Malaysian life.
While streetside hawkers are still easily found – even in the skyscraper-studded heart of Kuala Lumpur, they wait for office workers to take the lift down for their lunch or coffee break – many hawkers have relocated to more comfortable and convenient settings.
Today, street food can be found at weekly outdoor markets (e.g. pasar malam), the ground floor of restaurants (typically shared by several hawkers), and air-conditioned food courts within both major and minor shopping malls. It is also not uncommon for successful hawkers to set up a restaurant (or even a chain of restaurants) after years of craft-perfecting, capital- and brand-building.
This means that there isn't a clear line between "street food" and "restaurant food" in the Malaysian context. There are thus many popular Malaysian foods that clearly fall into the general definition of street food (foods prepared for immediate consumption without requiring a dedicated kitchen), even if many Malaysians aren't necessarily eating them on the streets these days.
1. Nasi Lemak (Coconut Milk Rice)
It's quite fitting that one of Malaysia's most iconic dishes is a commonplace – yet treasured – street food. You can find more upscale versions of nasi lemak in many restaurants and trendy cafes these days. The latest reiteration to hit the market (and social media channels) is one that's served with lobster.
But sometimes it's better to go back to the basics. Imagine unwrapping a palm-sized, pyramid-shaped mould of rice that's skillfully packaged in a cut of banana leaf for breakfast. The fragrant rice (cooked in coconut milk), half a boiled egg, cucumber slices, peanuts, fried anchovies, and sambal paste might not seem like a lot of food. But there's more than enough energy (and flavor) in there to keep you going until lunch.
2. Lok-lok
Lok lok literally translates as "dip dip". The idea here is to dip bamboo skewers of meat, seafood, meatballs, fish balls, sausages, and vegetables into your favorite sauces and soup broths. These sticks are usually tagged to indicate different prices. After you're done, the number of sticks on your table are counted before you get your bill.
It's a similar culinary experience to sitting down for a steamboat or hot pot (with a more budget-friendly price tag). With lok lok, however, all the cooking takes place at the back of the truck. Meanwhile, the eating typically takes place at night (preferably with a cool breeze and a nice view).
3. Char Kway Teow
Smoky in flavor and rich in aroma (and calories), this dish of stir-fried flat rice noodles used to be a staple meal for the toiling Chinese coolies of British Malaya.
The rice noodles are usually fried in crispy pork lard, seasoned with soy sauce, and topped with bean sprouts, prawns, egg, spring onions, cockles, and slices of Chinese sausage. It takes skill for a hawker to expertly cook the noodles in a large wok over a high flame without burning them at all.
4. Satay
While satay is believed to originate from the densely-populated island of Java, it has spread far and wide – well beyond Indonesia's national borders and even beyond the region of Southeast Asia. It is a highly popular dish in Indonesia, Singapore, Bali, Thailand and even Oman.
The idea of satay is simple and timeless. A variety of meat (chicken, beef, goat, mutton, fish) is sliced and diced, and then skewered. Vegetarian alternatives like tofu can also be prepared in the same way, although these are harder to find. These are then grilled over a wood or charcoal fire, with the satay vendor expertly fanning the flames to ensure that each skewer is perfectly cooked.
Once cooked, satay is usually consumed with a sweet and mildly spicy dipping sauce (a combination of soy and mashed peanuts).
5. Rojak
There are two main types of rojak that are popularly consumed in Malaysia. The most popular type involves sliced fruit and vegetables: cucumber, turnip, bean sprouts, pineapple, jambu air (watery rose apple), guava, and unripe mangoes. Some versions also have slices of deep-fried tofu (taupok) and cut-up youtiao (Chinese fritters).
The tangy dressing (made of ground chili, crushed peanuts, and lime juice) brings all the flavors and textures together.
The second type (rojak mamak aka Indian rojak aka pasembur) is usually found on Muslim Indian stalls and in restaurants. This version is more savory and less sweet. It usually consists of tofu slices, prawn fritters, hard-boiled eggs, cucumber slices, bean sprouts, and potatoes. The dish is completed with a thick and mildly sweet-and-spicy chili sauce.
6. Otak-otak (Grilled Fish Cakes)
Otak-otak is believed to originate from Palembang, South Sumatra. While it is also commonly found throughout Indonesia, the Malaysian variant is usually distinctly reddish-orange in colour (due to the blend of chili and turmeric used to season the fish cake).
Otak-otak is best eaten fresh, right after it has been grilled in a banana leaf parcel. It can be consumed as a side dish or as a standalone snack.
7. Popiah
Popiah is believed to originate from the province of Fujian and and the region of Chaoshan (both are in south-eastern China, where many Malaysian Chinese citizens trace their origins). Popiah bears similarities with lumpia (which is popular in Indonesia and the Philippines) and the Vietnamese spring roll.
You can also think of it as a daintier burrito. The ingredients are carefully rolled in a soft and crepe-like wheat pancake. Popiah traditionally contain slices of turnip, jicama, bean sprouts, carrots, lettuce leaves, and chopped peanuts.
There are endless variations, of course, which also involve the use of minced meat, Chinese sausage, seafood, and tofu. Popiah may be served fresh or after being deep fried. It is usually consumed with a sweet sauce (e.g. hoisin sauce) and a spicy chili sauce.
8. Hokkien Mee
The phrase "Hokkien mee" is often used interchangeably to refer to noodle dishes that are popular in Kuala Lumpur, Penang, and Singapore. The noodles in question are indeed the same and easily identified by their thickness and bright yellow colour.
While the Penang and Singapore variants use prawns as a key ingredient, the KL version derives its meaty flavour from pork lard. The KL variety is also much darker in colour, due to the thick and dark soy sauce. Slices of cabbage, pork, and fish cake are usually stir-fried alongside the noodles.
9. Ramly Burger
The Ramly Burger gets its name from Ramly bin Mokni, the founder and managing director of Malaysia's largest halal frozen and fast-food processing company. The Ramly Group produces 1 million patties each day, with 70% of daily production consumed within the local market.
Street stalls bearing the company logo (and its signature burger patties) can be easily found across the country, offering diners a localized burger that wraps the eponymous patty in a fried egg.
The Ramly burger franchise has created job opportunities and livelihoods for approximately 30,000 micro-entrepreneurs. Given the relatively low costs of starting up a stall on the streets, the pandemic led to an increase in the number of food entrepreneurs applying for permits for burger stalls.
10. Economy Rice (aka Mixed Rice)
This budget-friendly food spread goes by many names: cài fàn (Hokkien), jaahp faahn (Cantonese), zá fàn (Mandarin). Its more colloquial name – "Point Point Rice", the subject of a recent comedic song from across the Johor-Singapore Causeway – perfectly encapsulates what the typical ordering process is like.
Most people simply stand in front of the vast assortment of dishes in front of them (usually kept warm by the steam emitted by the boiling water below the metal food troughs) and point to the dishes they want. A typical serving usually involves rice, a meat dish, an egg or tofu dish, and a vegetable dish. Some establishments offer free hot soup to go along with the meal.
Though economy rice is usually associated with Chinese vendors, the concept is cross-cultural. The Malay and Indonesian analogues – nasi padang and nasi campur – also involve a similar buffet-style spread, with each diner being billed individually for what they have chosen to add to their plate.
11. Roti Canai
This popular Indian-influenced flatbread can be eaten at any time of day, although it is particularly popular for breakfast. You can eat the standard version with a serving of dal (lentil curry) or other types of curry (usually chicken, fish, or mutton). You can also order customized versions that come with onions, egg, cheese, and sardines. There are also variants that tip the scale from savory to sweet through the use of sugar and slices of banana.
12. Vadai (aka Vada and Wadeh)
Vadai is a broad category of savoury fried snacks that trace their origin to the Indian subcontinent. There are two particularly popular variants in Malaysia, simply referred to as vadai. Both versions are often eaten during breakfast or teatime, or as a snack throughout the day.
The first is the doughnut-shaped medu vadai, which is made from spiced black lentil batter. These are usually eaten with a serving of coconut chutney.
The second variant is the disc-shaped masala vadai. The primary ingredient here is split chickpeas and onions, which are flavored with a mixture of spices and herbs. They can be eaten on their own or dipped in coconut chutney.
13. Fried Bee Hoon (aka Fried Bihun)
Fried bee hoon is a humble yet delightful dish that can be found in Malay, Chinese and Indian establishments alike. Most versions keep it simple, stir-frying the rice vermicelli with a few ingredients (usually egg and bean sprouts). The difference often lies in the specific blend of spices and sauces that are used to add flavor and aroma. Mee Siam ("Siamese noodle" in Malay), for example, refers to a specific variant that draws influence from Thai cuisine.
Fried bee hoon can be eaten on its own, but it usually comes with a small serving of sambal or chili. For a fuller meal, it can be eaten with a selection of side dishes (e.g. curry, a serving of meat or vegetables, a sunny side egg).
14. Keropok Lekor
This traditional Malay fish sausage – with its tubular shape and greyish color – may not look particularly appetizing. But it has spread from the eastern state of Terengganu to the rest of Malaysia for a reason. Its chewy texture comes from the mix of fish meat with sago flour, which is deep-fried in hot oil.
Some vendors cut the sausages into slices before frying, resulting in thinner keropok with a crispier texture. Though traditionally eaten with a special chili sauce, keropok lekor can be eaten on its own, or with more unconventional options like ketchup, cheese, or mayonnaise.
15. Wan Tan Mee (aka Wonton Noodles)
Wonton noodles are Cantonese in origin. Most hawkers offer both the traditional version and a more localized version. The traditional version features thin egg noodles in a hot broth, alongside a serving of vegetables, some spring onions, and wontons, which usually contain pork, chicken or shrimp.
The localized version is served dry, with the egg noodles dressed in oyster sauce. The noodles are usually eaten with slices of char siew (Cantonese barbecued pork) and a serving of leafy vegetables. The wontons are then served in a separate bowl of broth. In some places, the dry version features deep-fried wontons.
16. Roti John (Baguette Omelette Sandwich)
Like the Ramly burger, the roti john is a popular localized version of western fare. This flavourful, maximalist sandwich is prepared by pouring a mixture of raw egg, minced meat, and chopped onions onto a frying pan. The baguette-type bread roll is then sliced in two, and each half is pressed into the mixture as it cooks.
Once the mixture is fully cooked, the sandwich is served with liberal amounts of salad, chili sauce, and mayonnaise.
17. Oyster Omelette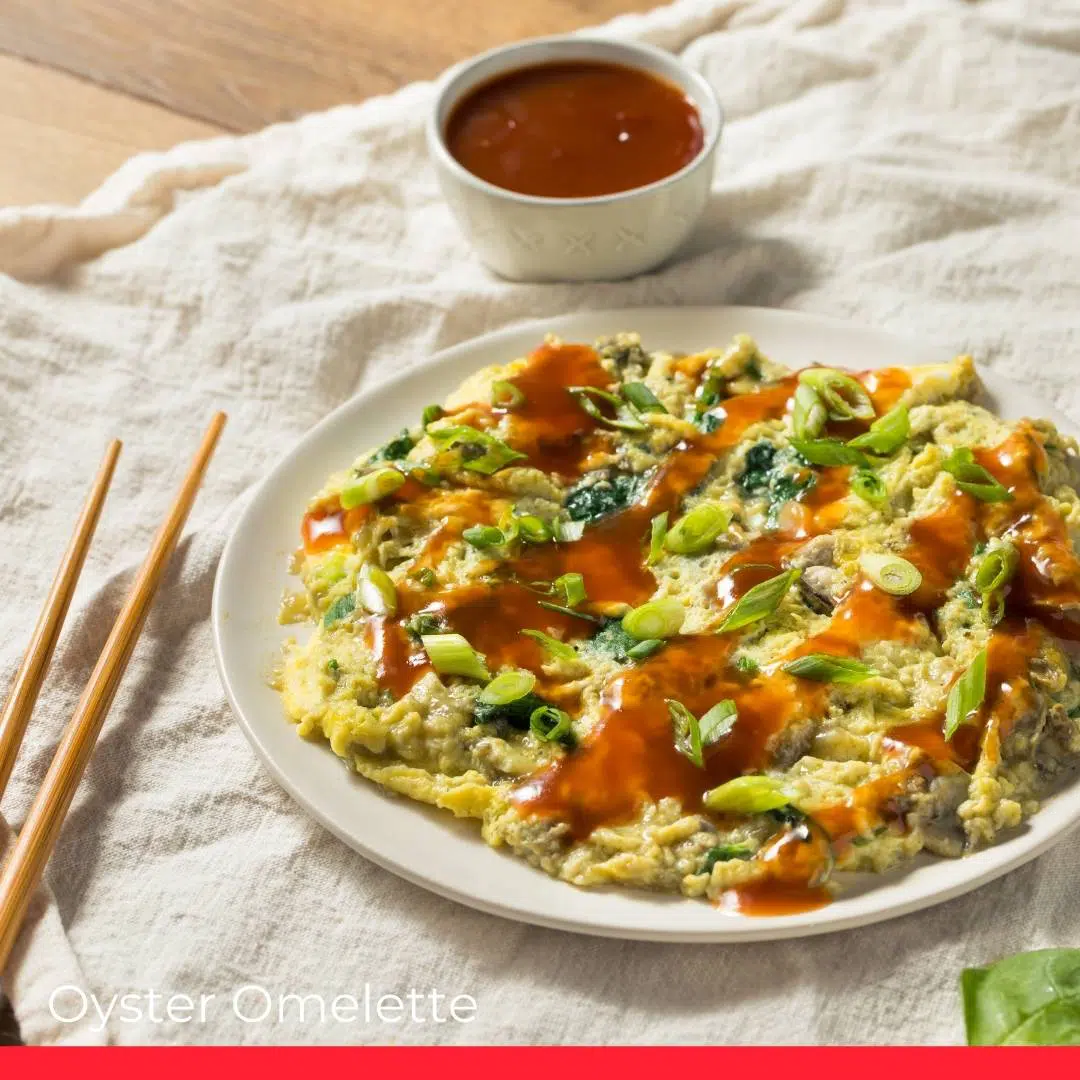 Like many other Chinese-influenced Malaysian foods, oyster omelette originates from the south-eastern provinces of mainland China. It is also popular in Taiwan, Singapore, Thailand, and the Philippines.
It is made by mixing the egg batter with starch, which gives the egg a thicker consistency. The egg is then stir-fried with small oysters (the fresher the better).
18. Durian
Durian is a seasonal fruit, so it is typically consumed in June and December in Malaysia. During this time, many vendors will set up makeshift stalls at the side of the road or in weekly markets.
It's much more convenient to eat durian where you bought it. Cutting open its thick and thorny shell requires skill, and cutting open durians in your kitchen comes with the risk of its distinct smell lingering there for several days.
19. Teh Tarik ('Pulled' Tea)
This popular milk tea beverage can be drunk hot or cold, although the hot version is more aromatic. Its name comes from the preparation process, where the mixture of black tea and condensed milk is poured back and forth between two large metal cups. This "pulling" process cools the tea, evens out the mixture, and gives each cup a memorably thick and frothy top.
20. Cendol
Beat Malaysia's perennial heat and humidity with this cheap and refreshing streetside dessert. Cendol consists of shaved rice, coconut milk, green rice flour jelly, and gula melaka (palm sugar syrup). This list is just a starting point for anyone interested in exploring Malaysia's diverse and colorful street food scene.
While a new generation of hawkers and food entrepreneurs are pursuing new recipes, ingredients, flavors, textures, influences, and inspirations that will undoubtedly change the tastes and preferences of future foodies, these are some of the crowd favorites that have withstood the test of time.
---
Related: Most Popular Street Foods in Indonesia
Related: Most Popular Korean Street Foods
Related: Most Popular Filipino Street Foods
Related: Most Popular Japanese Street Foods