6 Great Fish Sauce Substitutes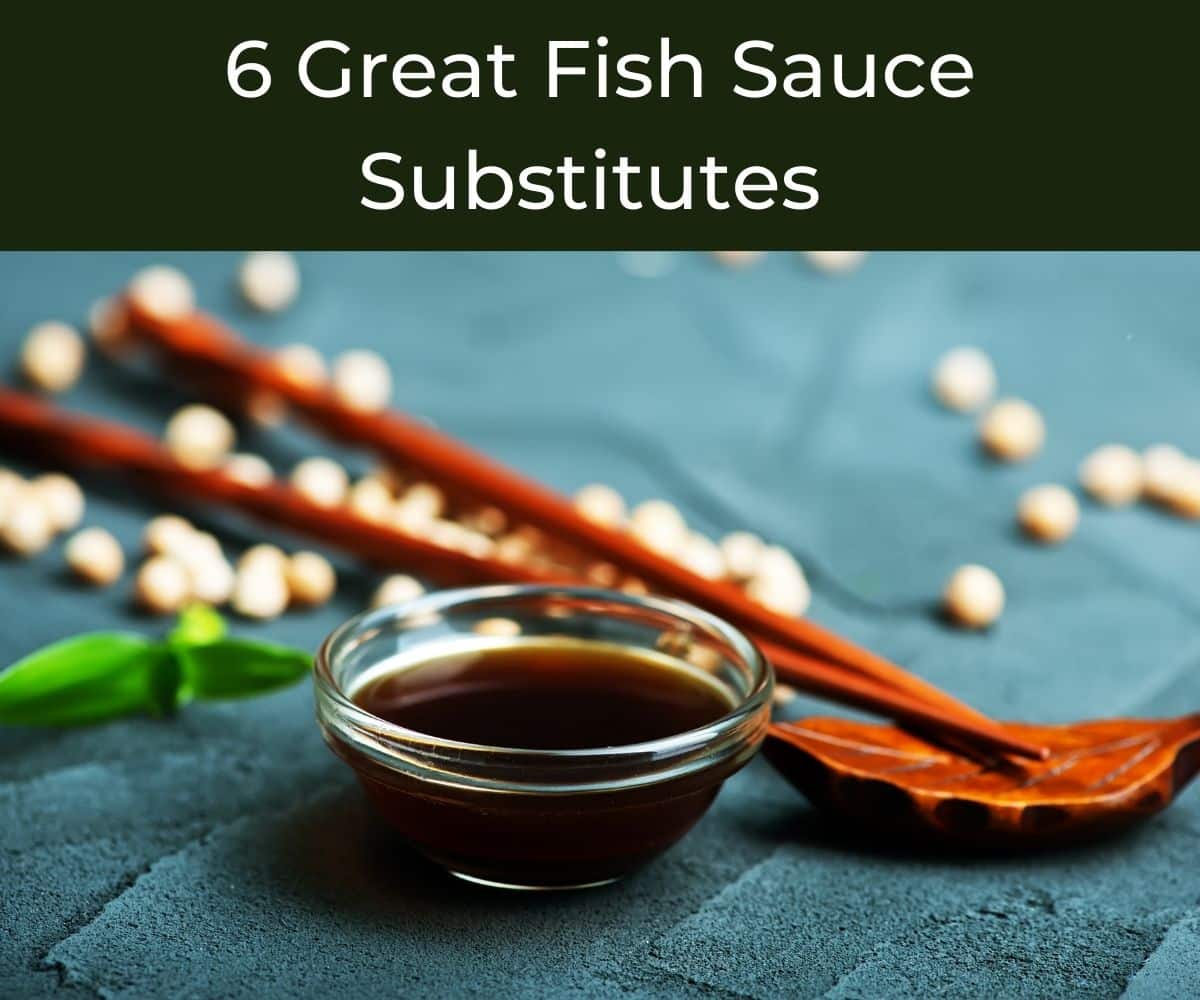 Fish sauce is a popular condiment in East Asian cuisine, particularly in Thailand, Vietnam, Laos, and the Philippines, as well as in Europe especially in the Mediterranean.
Fish sauce is made primarily from fermented fish (or krill) that have been salted and aged. The result is a highly salted, rich-flavored liquid that is prized for its umami flavor. It is most commonly used in combination with other condiments as a salty component in sauces but is also used on its own as a dip or finishing sauce.
Fish sauce is liquid and often as thin as water. It ranges from dark brown to light amber, and its salt content ranges too, depending on the brand and aging process. It is also dependent on what type of fish is used. Although anchovy is the most common in the big brands of fish sauce production, some other common sources include shrimp, squid, mackerel, sardines, and more. Typically the whole fish is used, and it is fermented for up to two years.
In commercially made fish sauces, the fermented solution is often boiled, to remove any parasites. It is sometimes manufactured by adding caramel color, sugar, molasses, soy, or roasted rice. All of these factors will affect the flavor and quality of the fish sauce, but ultimately, any fish sauce you buy will have a few things in common: it should be used sparingly as it is very salty, and it will add umami flavor to just about anything!
Fish sauce can be found in most grocery stores, especially in Asian supermarkets. It is often quite affordable and keeps for years, even at room temperature. If you don't have fish sauce, or cannot consume it for religious, cultural, or ethical reasons, here are some great fish sauce alternatives!
1. Soy Sauce
Like fish sauce, soy sauce is a rich, brown, salty sauce. It is also fermented, meaning it has a deep umami flavor. In fact, like fish sauce, soy sauce is basically pure salt and umami, so you can basically use soy sauce 1:1 with fish sauce.
Soy sauce doesn't have as much flavor as fish sauce and is less complex. You can always add a spoonful of miso paste, minced anchovy, or nutritional yeast to soy sauce, to make it taste richer, and more like fish sauce.
Be mindful that soy sauce is also very dark, and may discolor certain recipes, whereas fish sauce can come in light amber hues. Soy sauce does come in a variety of types, ranging from light to dark, and there are also sweet varieties available, so keep this in mind if you're using it as a direct substitute for fish sauce.
Soy sauce is a great vegan alternative to fish sauce but does contain soy and wheat so may not be suitable for certain allergens. If you're looking to keep your recipe free from gluten, you can also use tamari, which is a wheat-free version of soy sauce and is readily available at most shops.
2. Black Bean Sauce
Black bean sauce is also fermented (made from fermented beans) and is a delicious sauce predominantly used in Asian food.
Black bean sauce is full of salt and umami but is not quite a liquid condiment like fish sauce is but is instead a thick paste that is sometimes chunky or gritty.
It works great when stirred into noodles or rice dishes at the end of cooking, or can be cooked down into sauces, especially in combination with miso paste and soy sauce. Both will work great in sauces and add the same rich flavor you're looking for with fish sauce.
3. Oyster Sauce
Oyster sauce is made from fermented seafood and tends to be more pungent and thicker than fish sauce. You can use oyster sauce as a stir fry sauce or marinade, a dip, or on noodles and rice. There are vegetarian options available for oyster sauce.
Oyster sauce can be used as a 1:1 replacement for fish sauce. However, it is important to note that oyster sauce is much thicker than fish sauce (more similar to a teriyaki sauce or ketchup) and is also very dark in color.
Oyster sauce also often contains sugars and other spices. Teriyaki, on the other hand, is a mix of soy sauce, acid, and sugar and is slightly thicker than fish sauce but thinner than oyster sauce. It also makes a good substitute in a pinch but has a different flavor profile because it is primarily sweet, not salty.
4. Worcestershire Sauce
Worcestershire, like soy sauce and fish sauce, is all salt and umami. This deep, brown sauce is very popular in England and Europe and is used primarily for adding flavor to marinades, soups, stocks, and sauces.
Worcestershire is available everywhere and is perfect if you cannot find fish sauce, especially if your recipe requires a small amount.
Worcestershire does contain some other flavorings so its flavor will not be exactly the same, but it will add a nice color and flavor to any recipe that requires fish sauce. It is also an ingredient you likely already have on hand as it never goes bad. So have a look in your pantry before heading out to the store to stock up.
5. Miso Paste
If your recipe requires fish sauce, miso paste is a good option. Miso paste is a deeply rich, complex condiment and flavoring that adds a lot of depth to recipes that need a flavor punch and some added salt. Miso might be made from soybeans, chickpeas, or other legumes or beans.
Miso paste is quite thick, so you'll want to thin it out with some soy sauce or water if this is likely to affect your recipe drastically. It is quite salty, like fish sauce, and will also not discolor whatever you're making, so it may be a better option than soy sauce.
Miso paste is quite healthy too (when eaten in moderation) and doesn't typically contain other ingredients. It is the epitome of savory when it comes to condiments and is a great alternative to fish sauce… and a great addition to your pantry!
6. Seaweed
Another vegan alternative to fish sauce is seaweed! Seaweed contains a lot of umami (along with other benefits such as trace minerals and vitamins) and adds that 'from the sea' flavor.
When making a sauce that requires fish sauce, you can add finely ground nori, or steep a sheet of kombu in water and use this liquid instead. Seaweed is often very affordable and can be found just about anywhere.
It is naturally salty, but may not be as salty as a fish sauce so you will need to adjust your seasoning to account for this.
---
Fish sauce is an important part of so many recipes because it adds richness and complexity to any dish, including soups, stews, noodles, and rice.
You can use fish sauce to add flavor to any dish, at any time. It should be easy to find, especially at Asian stores (which will also carry most of the substitutes on this list that you might want to add to your pantry!) and very affordable.
We highly recommend giving fish sauce a try, and if you cannot get your hands on some, any of the items from this list will work wonders in your next Asian-inspired recipe.