Top 20 Eastern European Desserts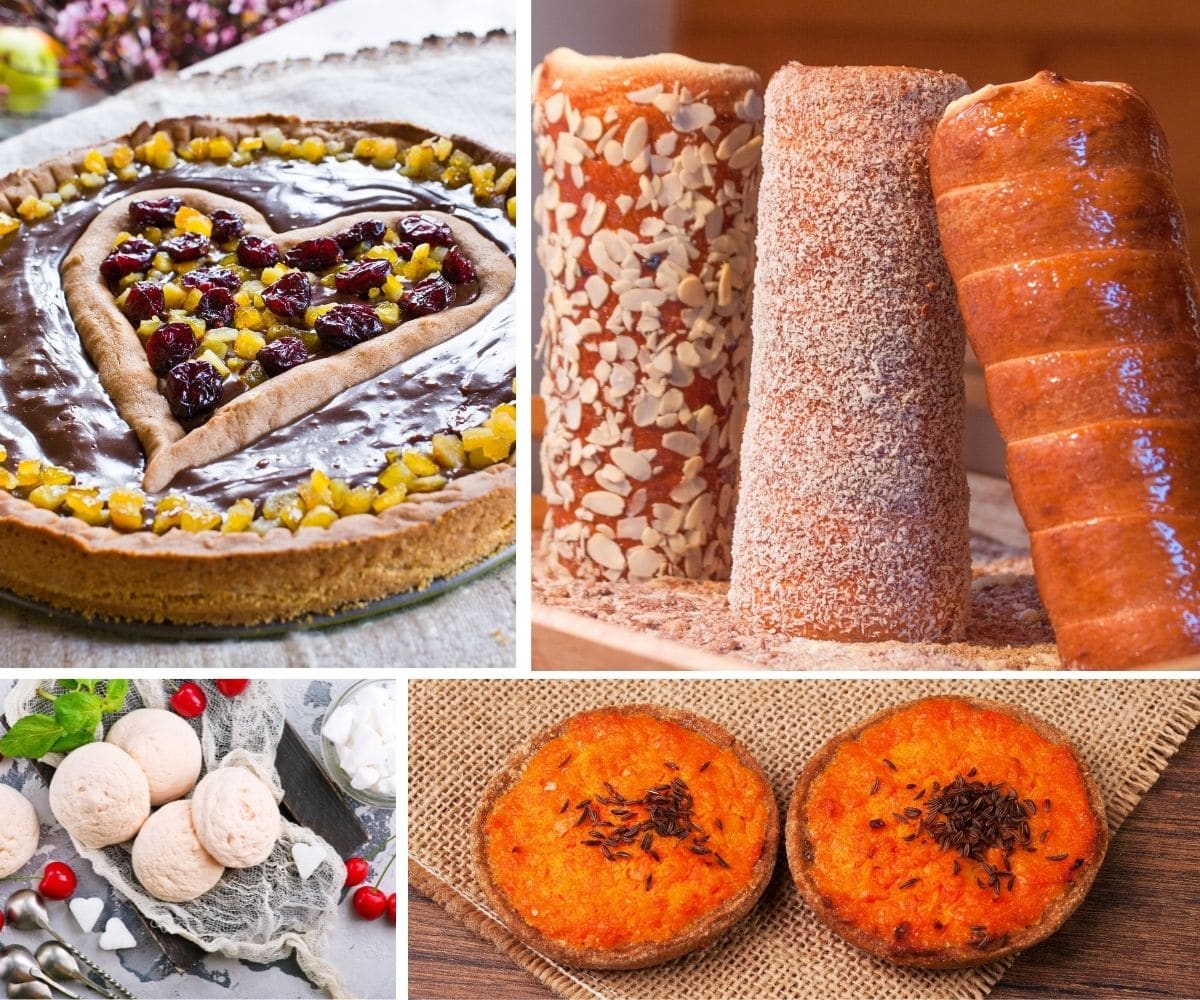 The Eastern European region is large, so the diversity of its cuisine is self-explanatory. While every nation has its own signature dishes and desserts that they treasure and pass on down the generations, they also share many recipes and adopt those of their neighbors. The contemporary world is a shrinking place where foods travel just as fast as people, making the borders between ethnic cuisines more and more blurred.
Still, we have tried to create a list of 20 top-notch Eastern European desserts that are an absolute must on your foodie journey. Whatever your foodie soft spot, Eastern Europe will surely hit it. The choice is truly amazing.
Editor's Note: There is no consistent definition of the term Eastern Europe, and it has a wide range of cultural, political, and ethnical connotations. Many countries that Westerners label as Eastern Europe are actually geographically located in Central or South-East Europe, and may or may not share strong cultural or culinary links with countries located on the far east of the continent.
For the sake of simplicity, we have included in this story desserts from all countries that were once part of the Eastern Bloc.
1. Curd Snacks
These curd bar desserts are claimed as unique in pretty much every country across the Baltics and Eastern Europe. Regardless of the heated arguments over who invented them, these snacks remind everyone of their childhood and serve as the best coffee companion when you have a craving for something sweet.
Traditionally, the chocolate-coated curd bars also have infusions of jam. You can find them in any supermarket fridge, and they are the treat every expat misses.
2. Bird's Milk
Popular in Russia (ptichye moloko), Ukraine (ptashyne moloko), Poland (ptasie mleczko), Estonia (linnupiim), and Romania (lapte de pasăre), this dessert is available either as a cake, custard or as chocolate candy.
In English, this name would be hen's tooth but the treat refers to something exceptionally delicious. There is a good reason behind this: bird's milk is indeed sinfully yummy and absolutely different from anything you will have tried before. It is a weightless and fluffy, silky mousse topped with a thin layer of chocolate. A true iconic gift from the region.
3. Chocolate Salami
This sweet variety of sausage is a scrumptious heritage of the Soviet Union. Its ingredients are pretty basic: pieces of tea biscuits, ground walnuts, sugar, cocoa, and butter.
In some regions, you might also encounter raisins as part of this dessert. In any case, the recipe for chocolate salami is very simple and doesn't even require baking. The taste-to-cooking ratio is unbelievable, just like the price-to-taste ratio. Easy, cheap, and yummy.
4. Cream-filled Rurki
Polish rurki, Bulgarian funiiki, Romanian rulouri, and Ukrainian trubochky are all cream rolls. Their shapes and fillings may differ from country to country, though. Thus, those in Poland and Ukraine are usually long, pastry tubes stuffed with thick whipped cream that's not too sweet.
In Bulgaria, they are flaky, buttery bread rolls. Either version is scrumptious and totally worth a try. Get them in any local bakery and have them on the go while fresh.
5. Zefir
Originally from the Soviet Union, zefir has spread across the region and is often viewed as an iconic dessert of Eastern Europe. These fruit-flavored marshmallow pillows remind you slightly of meringue but they aren't as crispy. You would expect to find zefir plain white as well as in pastel pink, green, and beige hues. Some varieties come coated with chocolate.
Although sweet and tasty, this dessert is a healthy choice: it has no fat and is made using pectin, puréed fruit, and egg whites. It melts in your mouth like a fluffy edible cloud.
6. Syrniki/ Cottage Cheese Pancakes
Cottage cheese is popular in Eastern European cuisine as an ingredient for main dishes and desserts alike. These pan-fried pancakes are creamy and slightly crunchy, with added raisins or other dried fruit inside. They are a popular sweet breakfast choice, either at home or at a restaurant. Expect them served topped with jam and sour cream as well as fresh berries.
7. Russian Oladi Pancakes
Another traditional breakfast favorite, Russian oladi or Ukrainian oladky are served piled up on a large plate. They are made with kefir for a chewy inside and fried in oil or butter for pleasant crunchy edges. Oladi are typically topped with jam or honey and served with tea. They definitely remind you of granny's kitchen.
8. Cottage Cheese Donuts
Dainty counterparts of American donuts, these Lithuanian varškės spurgos are filled with cottage cheese and made without yeast. Ponchyky in Ukraine (with addition of kefir) and oponki in Poland are similar to varškės spurgos but have a hole in the center, unlike their Lithuanian ball-shaped variety. Either version is quick to make and tasty to eat. Great comfy food for cold seasons and quick coffee breaks.
9. Papanași
These crunchy fried donuts are heavenly bites that are slightly reminiscent of the cottage cheese donuts above. They're also stuffed with soft cheese and topped with blueberry jam and sour cream. However, they look very unique: puffy rings with small dough balls on top. Eye-catching.
Papanasi is one if not the most popular dessert in Romania. You can be sure to find it on the menu of pretty much every traditional Romanian restaurant.
10. Mazurek
Traditionally reserved for Easter, mazurek is now enjoyed by Polish families all year round. It is a thin, flat shortcrust pie topped with nuts, dried fruit, Polish-style caramel (kajmak), and marmalade.
This dessert is so sweet and filling it's a real showstopper.
Known as makowiec in Poland, mákos beigli in Hungary, makivnyk in Ukraine, makavy rulet in Belarus, and štrudla sa makom in Serbia, this poppyseed roll features layers of dough in a spiral pattern spread with a poppyseed paste.
You may also find raisins, nuts, and other ingredients as part of the filling for a more particular taste. Disclaimer: You'll need a toothpick.
12. Gomboce (Gomboti)
Looking like American munchkins, these Serbian treats are plums covered with dough. What is special about them is the dough itself: it is made with flour, eggs, and potatoes. Gomboce are boiled in water and generously rolled in breadcrumbs mixed with sugar. Fruity and hearty.
Gomboti are also a popular dessert in Romania.
13. Tree Cake
As the name suggests, this dessert is reminiscent of a cake with branches. Being a signature cake for Poland (sękacz) and Lithuania (šakotis), this treat has also become adopted in Belarus (bankukha), Romania (colac), and Hungary and Transylvania (kürtőskalács).
Traditionally, the tree cake is prepared over an open fire and reserved for festive occasions due to the time-consuming process. It looks and tastes amazing though, so every minute spent making it totally pays off in the end.
14. Tikvenik
A sweet version of the popular banitsa, Bulgarian tikvenik features thin dough stuffed with ground walnuts and grated pumpkin seasoned with cinnamon.
This dessert is sliced and topped with powdered sugar. Traditionally served as comfort food in winter, it is accompanied by a glass of yogurt.
15. Anthill Dessert
Polish mrowisko ciasto or Lithuanian skruzdelynas is a hill-shaped dessert made with fried dough sheets topped with honey and sprinkled with poppyseeds. The dessert looks like a pile of nachos with a honey topping to replace guacamole. Sweet and fancy.
16. Sklandrausis
Uniquely Latvian, this vegetable dessert may be defined as a rye pastry tart. Its filling is a caraway-seasoned mixture of potatoes and carrots. Sour cream and butter lend the dish its smooth and pleasant texture. Sklandrausis is typically served cold with a glass of milk.
17. Maizes Zupa
A great way to use leftover rye bread, this Latvian dessert may be defined as a sweet soup. The boiled rye bread acquires its special taste from dried fruit and gets some tanginess from brown sugar, cloves, and cinnamon. The dish is served in a bowl topped with whipped cream.
18. Kürtőskalács
Hungarian and Transylvanian kürtöskalács, or chimney cake, is also popular in the Czech Republic and Slovakia (as trdelnik) and often sold at winter fairs.
The dough dessert is a sugar-coated, cylinder-shaped pastry rolled in crumbled nuts and cinnamon. Popular toppings to go with it are ice cream or whipped cream dotted with colorful sprinkles.
19. Kakaós Csiga
The name of this Hungarian delight can be translated as chocolate snails. They are swirl rolls made of dough with a crispy edge and a soft inside. This pastry is reminiscent of croissants but, unlike the latter, made with eggs. Kakaós csiga is a typical breakfast choice in coffee shops and a popular takeaway in bakeries.
20. Rolled Crepes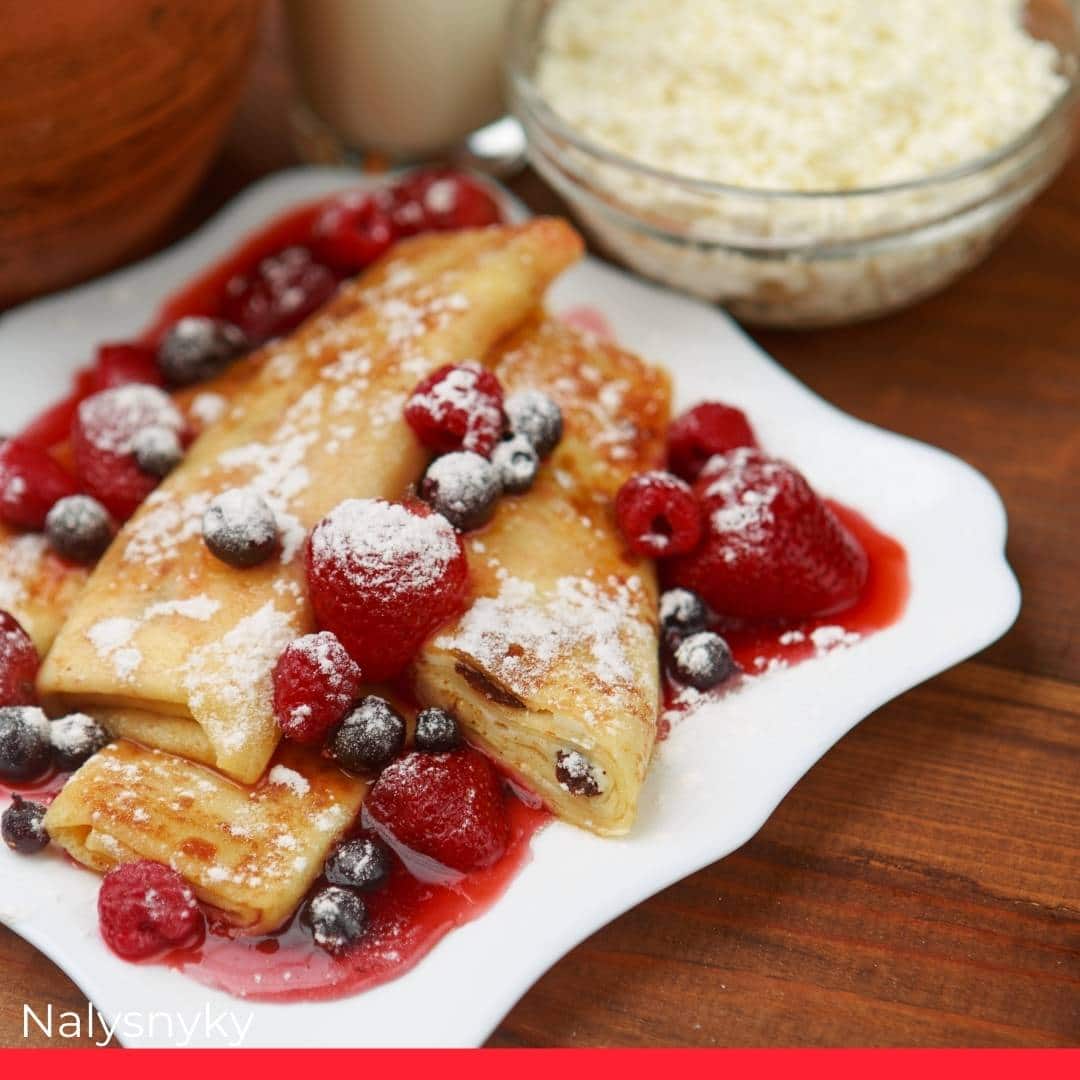 These crepes have different names throughout Europe, e.g., palascinta in Hungary and nalysnyky in Ukraine. What distinguishes the Eastern European crepes from French crepes is that the former are rolled not folded. Although they may be served with chocolate or jam, the regional twist for this dessert is the cottage cheese filling. You cannot spoil anything with cottage cheese, can you?
I bet you've developed a craving for something sweet after reading this list… So, what is the dessert of your dreams? If it has cottage cheese in, you should move to Eastern Europe and have it on a daily basis. If it doesn't… well, you still have to travel to this region – it has plenty of other options to make your mouth water and your eyes sparkle.
---
Related: Most Popular Ukrainian Desserts
Related: Most Popular Romanian Desserts
Related: Top 25 Polish Desserts & Sweets
Related: Most Popular Eastern European Foods
Related: Top 20 Russian Desserts
Related: 15 Delicious Russian Cakes