20 Popular Ukrainian Dessert Recipes
If there is just one reason to visit Ukraine, it's the desserts. There is a variety of them, starting with the sweet version of varenyky and ending with chocolate covered salo. Ukrainians like indulging in lazy weekend mornings with a cup of coffee accompanied by something sweet and home-made.
Ukrainian grannies love making scrumptious pastry for the extended family and inviting them over, and everyone likes grabbing a sweet to-go dessert from a local bakery. So, what's on your must-try Ukrainian dessert list?
1. Syrnyky
The legend has it that syrnyky are the most ancient Slavic dessert. It's no wonder – you only need cottage cheese, flour, sugar, and eggs for the basic recipe. Today, these round cottage cheese pancakes are a traditional breakfast choice, both at home and in restaurants.
They are thick, fluffy, nutritious, and just sweet enough. Often made with raisins and served with sour cream and fruit jam, they are loved by the old and the young. Easy to make but absolutely scrumptious.
2. Nalysnyky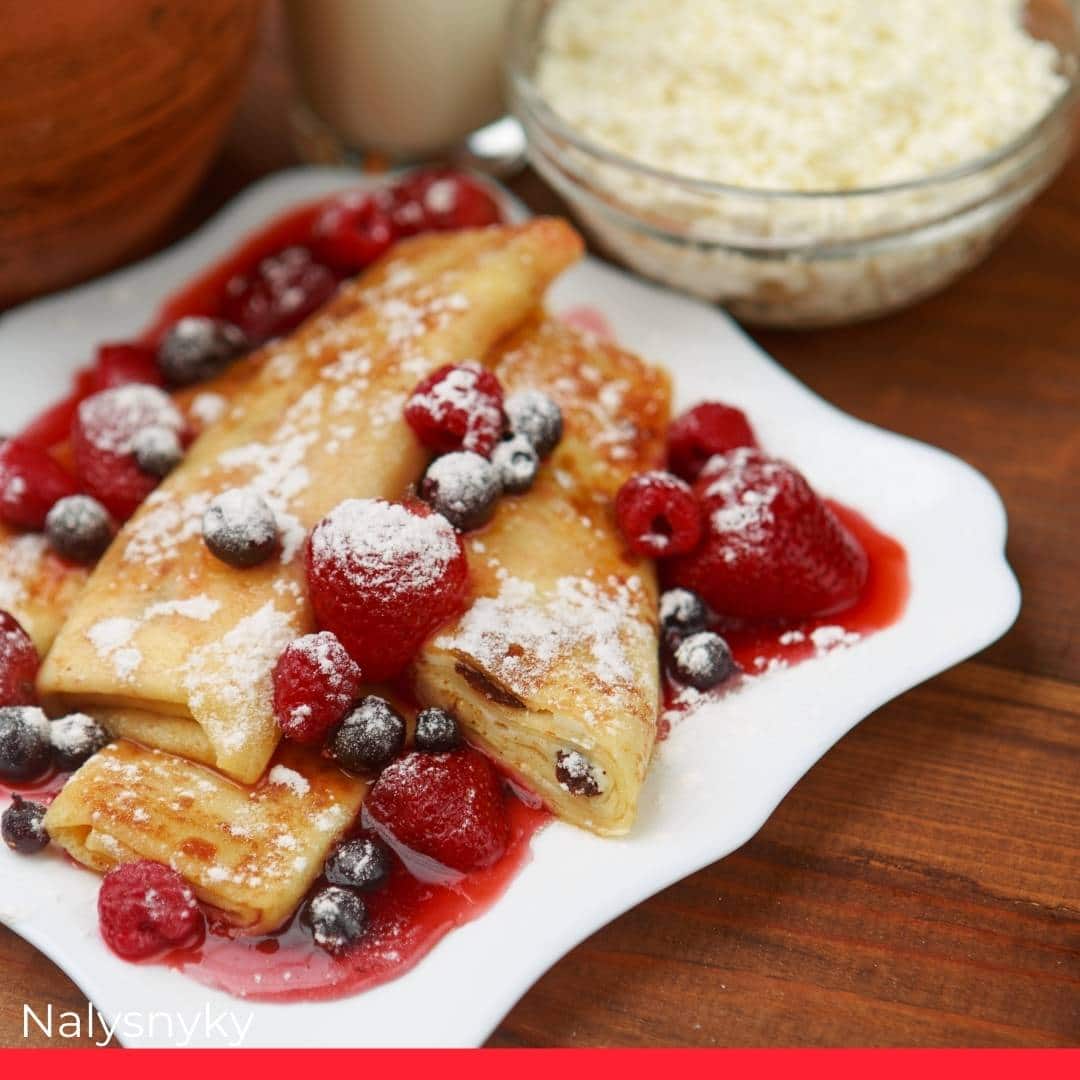 These Ukrainian crepes are just as traditional as syrnyky and also made on the basis of cottage cheese and raisins or pitted cherries (although apple and cinnamon nalysnyky are just as yummy). As you'll be rolling them, there's no pressure to make them perfectly round.
You will need to master the art of flipping nalysnyky over with a spatula and removing them from the pan – the batter is pretty thin and tears easily. As soon as the crepes are ready, just use the cottage cheese mixture with some sugar and vanilla extract and spread them on top to form crepe rolls. Enjoy!
We cannot talk about Ukraine and forget varenyky. While everyone would typically think of these as potato- or cabbage-stuffed dumplings, cherry filling is just as great. One dumpling ca be filled with a few pitted cherries, either fresh or canned, and sprinkled with sugar.
You can expect sweet varenyky to be topped with melted butter and served with sour cream. Some people use sugared blackberries, gooseberries, and rhubarb for stuffing, but they are less common.
If you're after traditionally Ukrainian cottage cheese desserts – go for sweet cottage cheese varenyky. They're to die for, I promise.
A signature Christmas dessert, Ukrainian donuts are a favorite for having with coffee. The stuffing is up to you: sweetened cherries, poppyseeds, apple jam (or any other jam for that matter). I'd absolutely recommend the rose petal jam; every Ukrainian will tell you that's the best taste of their childhood.
Pampushky are usually deep fried, but some people prefer baking them in the oven as a healthier choice. Ukrainian donuts are served generously sprinkled with icing sugar.
Translated as Easter, this sweet round bread is traditionally baked at Easter and taken to church along with other dishes to be sprinkled with holy water. Contemporary paskas are filled with raisins and various nuts. They are decorated with frosting made of powdered sugar and water, topped with colorful sprinkles, and decorated with religious symbols.
Paskas vary in size: from large ones to feed the entire family to dainty ones to fit kids' baskets. Usually, paskas are made in large batches of 5-15, exchanged between relatives, and enjoyed with a morning beverage a few days after Easter Day.
Translated as walnut shaped cookies, these dough pastries are so irresistible you cannot stop after you've had one. They truly represent every major Ukrainian holiday and are, without a doubt, signature cookies of the Ukrainian cuisine.
Horishky are crumbly cookies stuffed with condensed milk cream and walnuts and glued together with condensed milk. They look mouth-watering, especially when coated in powdered sugar.
7. Trubochky
Along with horishky, trubochky are a dessert to die for. Well, they are also quite similar. Both are filled with a condensed milk mixture and covered in powdered sugar. The main difference lies in the dough: while the basis of the walnut-shaped cookies is shortbread pastry, wafer rolls are made with puff pastry.
They are slightly reminiscent of the Italian cannoli, albeit having a unique filling.
8. Khrustyky
Another type of sweetish Ukrainian pastry, khrustyky – meaning crunchy things – are just as tasty as the name suggests. Making them is also fun: the kneading doesn't take long, and the shaping process is exciting (just look at how cute they are!).
Khrustyky are not the healthiest choice as they are deep-fried. But who cares when the taste is so heavenly?
9. Kiflyky
These crescent-shaped cookies will satisfy your craving for sweets when you have nothing else to make a fancy dessert at home. You only need flour, sour cream, and dairy butter.
While Ukrainians would normally bake kiflyky with nuts and jam, they're not mandatory; just very scrumptious additions.
10. Meat Grinder Cookies
As you can see, Ukrainians love sweet pastries. What I'm sharing here is not even 1% of all the varieties.
This recipe has nothing to do with meat, so don't let the name confuse you. It's just that the cookie dough goes through the meat grinder to acquire its characteristic shape. You can ask your kids to help with these shortbread cookies as the process is quite engaging and the result is totally worth it.
11. Snow Cap Cookies
These impressive royal-looking cookies are reserved for parties and may be viewed as a distant relative of the Kyiv Cake. They have a meringue cap on top of the shortbread base. Snow Cap cookies look fantastic as part of a dessert bar and make a great marriage with any beverage you serve.
12. Vatrushkas
Just another cottage cheese dessert – cottage cheese is definitely the dessert king in Ukraine. If you haven't tried fresh, right-from-the-over vatrushkas, I envy you – you still have the chance to take a heavenly bite for the first time.
These fluffy brioche buns are made of sweetened yeast dough and feature a crater inside that is filled with smooth, sweet cottage cheese. You'll often find raisins there to, for a more particular taste.
13. Black Eyes Dessert
This is a recipe passed down the generations and has never lost its popularity. While you'd expect to find it in any restaurant in Ukraine, it's also the solution if you want to prepare something easy or to impress your guests.
You just need to water-soak and paper-dry large prunes, stuff them with walnut halves, and top them generously with whipped sour cream and sugar. Sprinkle the dessert with shredded dark chocolate and soar above the earth while tasting it.
14. Glazed Cheese Bars
These syrky are yet another cheese-based dessert popular across Eastern Europe. It is basically bar-shaped cottage cheese glazed with chocolate and featuring a jam filling. Hardly anyone makes them at home, but they may be found in any supermarket of the country. Everyone who visits Ukraine at least once asks their travelling friends to bring glazed syrky as a gift.
15. Baked Apples
The healthiest dessert on Earth, these whole apples are oven-baked. They are infused with honey, and stuffed with a mixture of cottage cheese, raisins, and cinnamon. Your house will smell like Christmas after you've made them, the kids love them, and well, they don't harm your figure like other sweets.
16. Fruit Baskets
You'll typically encounter any tarts if invited over for a dessert bar. The base – baskets – are made of shortbread pastry, filled with whipped cream and pieces of any berries and fruits of your liking. Yummy.
17. Cheesecake Tarts
These cottage cheese (yes, once again) tarts also look like small baskets. What they are in reality are petite relatives of a Ukrainian cheesecake, oven-baked in silicone muffin molds, and infused with raspberry or cherry jam.
18. Hrybochky
Translated from Ukrainian as mushroom-shaped cookies, they are as eye-catching as they are tasty. Hrybochky look very realistic. The mushroom heads are covered with dark chocolate ganache, the stems are dipped in white glaze, and the roots are sprinkled with poppyseeds.
19. Byte Sklo
Broken Glass in English, this dessert is a milk jelly block cooled down with cubes of colorful jelly and crumbles of sweet cookies inside. It's so easy to make that chances are it will become a weekend family favorite.
20. Salo in Chocolate
#20 here but definitely #1 in the unique dessert rating, pork lard covered in chocolate is to die for. It might sound repulsive, but it's the best eclectic dessert out there. It looks like a chocolate bar or candy and has an amazing aftertaste. I bet you'd never even guess you're eating salo unless you were told.
Last but not least, Ukraine is the country to try chocolate candy even if you're not a fan. A former Ukrainian president's factory, Roshen, produces the best candies, and that's not an ad. Make sure you try as many as possible and spare some room in your baggage to get just enough to bring home to your family and friends.
---
Related: Most Popular Ukrainian Cakes
Related: Most Popular Ukrainian Foods
Related: Most Popular Ukrainian Christmas Dishes