Top 20 Most Popular Russian Desserts
It is important to know that Russian dessert culture starts with tea!

It is a country where the love for tea is deeply rooted and widespread. The invitation to come to visit in the evening is often phrased as "Come to have a cup of tea." This passion is self-explanatory: Russia is a cold country where any means to keep warm are welcome. Tea is a go-to drink any time of the day, but most commonly in the evenings or after a solid family meal with… a dessert!

Hence, it's why a variety of sweets and desserts have taken hold in this country's culture. It's not customary but often expected of a guest to bring something "for tea" along with them. You can always opt for some cookies from a shelf in a supermarket, but if you'd like to be creative and inquisitive, here's a list of the top 20 Russian sweets and desserts.
Take note: Not only will this article come useful when meeting Russians, but also our desserts are plain delicious!
1. Sweet Russian pies
Russians love their pies, which come in a multitude of sizes and forms! Pastry in general is so common that it is often considered a snack, and is sold conveniently in grocery stores and small kiosks all over the place.
Sweet pies are usually made with berries, fruit, poppy seeds, or tvorog ("quark"). Pies are simple, affordable, and good for the soul!
2. Pryaniki
Pryaniki must be one of the most iconic Russian sweets. They have a rich and extensive history, and they are still very popular today. Pryaniki might not look like much, but anyone with an opportunity to try them should do so.
Pryaniki are a particular variety of cookies, and their main ingredients are honey and spices. Try making them yourself, especially if you've ever tried store-bought ones. They will definitely earn a spot in your heart if they haven't yet done so.
3. Napoleon Cake
The Napoleon cake recipe entered Russian cuisine around two centuries ago when Russian forces held a victory over Napoleon Bonaparte. The French history of this cake, I must say, is very different, although also related to Napoleon. Their recipes and ingredients, though, remain very similar to this day.
The French name of the cake translates to "a thousand layers," which describes the texture of the cake perfectly. It is made of a multitude of thin slices of dough and delicate flavorful cream. Many people opt for the store-bought Napoleon cake nowadays, even though it is not as good as a homemade one. It's understandable, as making this cake requires a lot of time and patience.
4. Charlotte Pie
Charlotte pie might not surprise you, as it is in a sense just a plain apple pie, but it is definitely one of the most popular desserts across entire Russia. It has some strong advantages: It's easy to make, the ingredients are affordable and easy to find in any region, and it's plain delicious!
To make the dough, you'll need to mix eggs, flour, water, and sugar. Spread some oil in a baking form of choice and put your slices of apples in it. Then pour the dough over it, and pop the form into the oven for half an hour or so. Let the pie cool off, turn it over to get it out of the form, and slice it up before serving.
5. Bliny with toppings
Although bliny are broadly viewed as a breakfast or Sunday/holiday dish, they make a perfect dessert as well! It all really depends on what toppings you serve with them, and there are plenty to choose from: honey, vareniye (traditional Russian whole-fruit preserve, similar to jam), smetana (sour cream), fresh fruit, chocolate, or plain sugar.
To make classic Russian bliny, you need to mix eggs, sugar, salt, and flour. Do not forget to also add baking soda with vinegar or yeast to make the texture of bliny light. Fry each of your bliny in a pan with a small amount of oil, serve them with your toppings of choice, and enjoy!
6. Kulich
Kulich is a holiday dessert widely consumed around Easter time. It's a delicious sweet bread with a cylindrical shape and frosting on top of it. According to tradition, kulichi should be blessed in the church and eaten before breakfast, yet many people enjoy it in the evening with a cup of tea.
It is hard to imagine a Russian household without a kulich on their table during Easter time, whatever their religious affections might be!
7. Zefir
Even the name of this confection can hint at its taste and texture, as it refers to the Greek god of the most gentle west wind, Zephyrus.
It is very light in texture and quite similar to pastila (in fact, it was first based on it). Zefir consists of a delicate fruit or berry puree, whipped egg whites, and a gellant. Sometimes zefirs are also coated with chocolate.
8. Muraveynik
Muraveynik literally translates as "anthill," and this delicious cake does indeed resemble one. It has become increasingly popular over the course of the last century, because its ingredients are accessible and inexpensive, which were important criteria for the go-to meals during the Soviet Union.
It consists of crushed cookies and cream, made from condensed milk and butter, which are mixed and piled into the form of a hill. After a few hours in the fridge, the cake is ready to be sliced and served. Anyone with a sweet tooth will surely enjoy this delightful dessert!
9. Pastila
Pastila is probably the best option on this list for those who like to keep track of their calories. It is completely natural and can be made from berries or fruit. There are two versions of it: the first is like a thick list of baked pressed fruit paste and the other looks like airy fruit puffs. Either way, it's sweet and rich in flavor, and on top of that 100% natural.
10. Bird's milk
Bird's milk comes in two types — it can be either candy or cake. In many cultures and languages, bird's milk has been associated with something mythical, unachievable.
The texture of this cake (or candy) is also fairytale-like: it's light, exciting, and finished in an instant. Once you crack the chocolate frosting, the souffle inside feels like bird's wings: so tender and soft it is.
Smetannik is another one of the layered creamy cakes in Russia. The essence of its recipe can be found even in the title of the cake: it is smetana or sour cream in English.
Love for this ingredient transcends the entire Russian cuisine, so it is no surprise that it is used for making desserts as well. Especially since it is so perfect for making cream!
The recipe for smetannik is really easy: a few layers of crust, half of which are made with the addition of cocoa powder for the color. Each layer of crust is generously frosted with tasty cream and then cooled in the fridge to let it settle in the dough. It is decadent and moist. Try to make it yourself, and it just might become your next favorite dessert.
12. Vatrushka
Vatrushka is a specific sort of pastry that looks like a round bun baked with tvorog (quark) as its open filling in the center.
Sometimes vatrushkas are made with fruit spread. It is one of the most ancient Russian pastries whose recipe remained fairly unchanged throughout the centuries. It is popular both as a dessert and as a snack, and it goes well with tea, milk, and kefir.
13. Medovik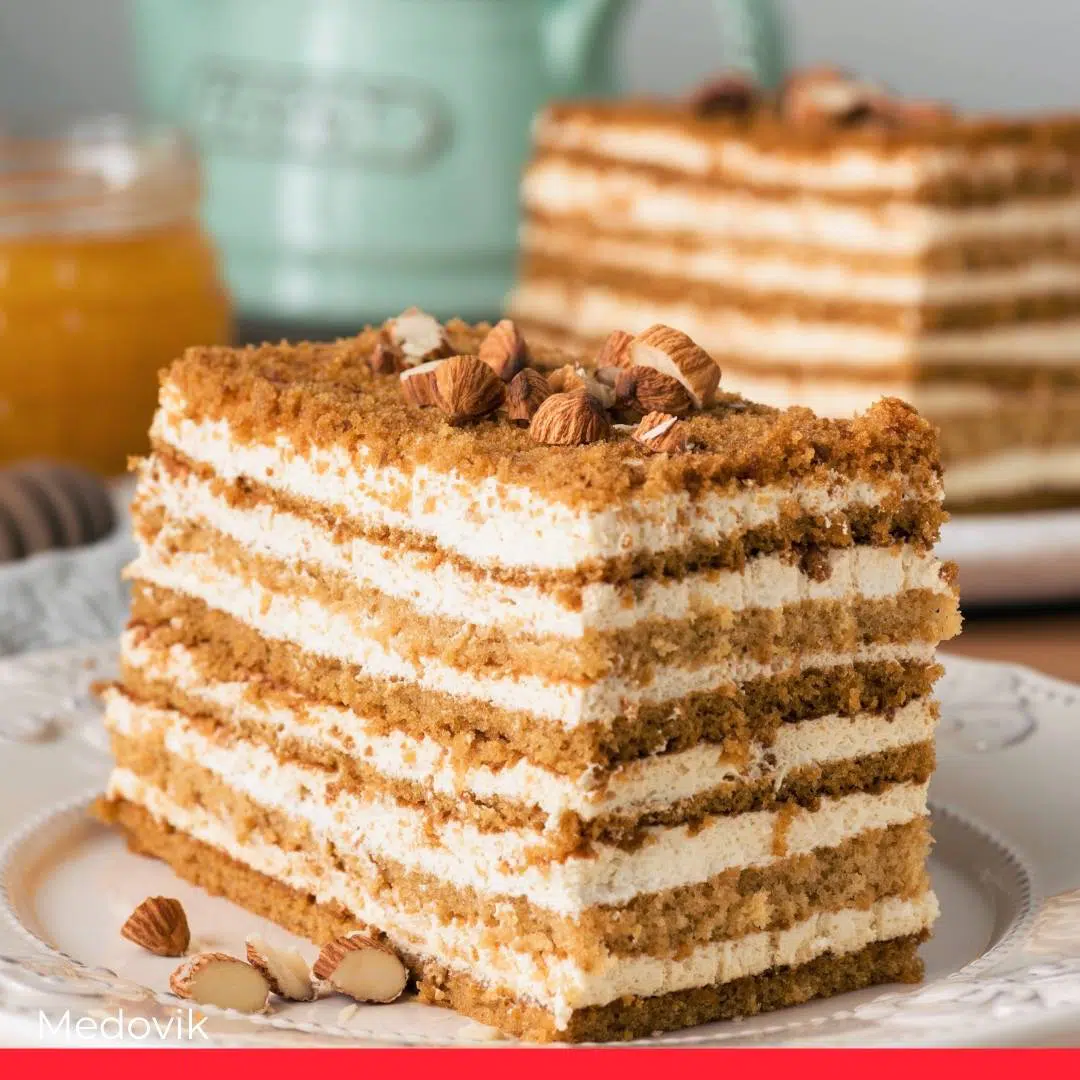 Medovik literally translates to "honey cake," so it's not hard to guess what is its most essential ingredient. It is a layered cake that was made popular by one of the Russian Empress' confectionaries.
Modern recipes vary from one household to another, and as long as they have the honey-based dough, they all qualify for being a medovik. It is another cake that requires a lot of effort to prepare, yet it is very rewarding in its juiciness and creaminess.
14. Khvorost
Khvorost is a deep-fried, crunchy, and dry pastry. Hence the name: khvorost translates to "brushwood" in English. It is one of those foreign dishes that entered Russian cuisine centuries ago and had been made Russian.
The process of making khvorost is very fun and engaging. There is no strict shape that it has to adhere to, as long as the dough is right, so tag your kids along for the preparation and let them get creative!
15. Sushki
Sushki are some of the most popular sweets among children. It is made from slightly sweet dough and formed into a ring shape. In the earlier days sushki were put on string and sold in the local markets, but nowadays they can be found in packages in any supermarket around the country.
Pour yourself a cup of tea and dip your sushki in it, to make sure not to crack your teeth. Sushki can be hard to bite, but that is what makes up their essence.
16. Churchkhela
This candy is often associated with the holiday season in Russia since it comes from Georgia, which is located to the south of Russia and is a favored holiday destination for many Russians. As of today, the production of churchkhela has spread out to southern regions within Russia as well.
It is made from nuts, which are threaded onto a string and then dipped into thickened fruit juice (usually grape, apricot, or pomegranate). It is common to see churchkhela hanging on the racks around the resort areas, where they are being dried in the shape of a sausage, and sold in a blink of an eye.
17. Syrniki with toppings
Although syrniki are usually eaten for breakfast, it'd be wrong to overlook them in the Top 20 Russian Desserts list.
Since their core ingredient is quark, they only go well with sweet toppings (aside from sour cream), which is why many people enjoy them with a cup of tea in the evenings. They feel light on the stomach, and the variety of vareniye, honey, and jams make them all the more appealing as a dessert.
18. Chak-chak
It's hard to talk about the most popular desserts of Russia and not mention chak-chak — a traditional Tatar sweet. Russian food culture (as in the country's culture) has been formed by multiple ethnicities that comprise its cultural diversity. And Tatar chak-chak has truly won a place in many Russians' hearts. It's made of unleavened, deep-fried dough, drenched in honey, sometimes with the addition of nuts.
"Chak-chak" translates to "little", "barely", and it is called this probably because of how the fried dough is broken into tiny pieces before serving. It's crispy and very sweet, yet its texture will make it melt inside your mouth. Just try it. You won't forget its taste for sure!
19. Pyshki
Pyshki is probably a favourite of mine as they are now associated with my home city Saint Petersburg. The central pyshki bakery in the city has people lined up in a queue every day! Pyshki are often described as deep-fried donuts that are made from very "airy" and light dough.
They are most often served with a pinch of powdered sugar on top. Although they will not do well for you if you are on a diet, they will surely secure a spot in your heart.
20. Baked Apple
Baked apple is a dessert that is almost a thing of the past at the moment, but it is still quite popular in the more rural parts of Russia and among older people. Since almost any other fruit except for apples were really scarce and hard to grow and harvest regularly until recent decades, people adapted apples for nearly every need they had.
To make a baked apple you really just need to… bake one with sugar syrup on top. Sprinkle some cinnamon and powdered sugar once it's out of the oven and dive in!
---
Check out next our round-up of the most popular savory Russian dishes.