The Best Russian Cake Recipes You Need to Try Out
Listing traditional Russian cakes is not the easiest endeavor. Countries that belonged to the former Soviet Union share many popular desserts, but their origin is sometimes disputed. What you see labeled as a Russian cake may have been an original Uzbek recipe, or the other way around.
Still, we have done our best to navigate these sometimes controversial gastronomic waters and showcase the crème de la crème of traditional Russian cake mastery. From sinfully sugary to fairly sour, from high sponge layers to thin crusty biscuits, from light-weight meringue to heavy syrup infusions, these Russian cakes cater for every sweet tooth.
1. Prague Cake
You might hastily conclude that Prague Cake comes from Prague; but that is wrong. Invented as Praga by Vladimir Guralnik, a renowned Russian chef and inventor of many famous desserts, it is one of the signature desserts in Russia.
And it's probably the most chocolate cake out there. It consists of many layers, but they are so weightless and soft that your fork basically sinks in when you touch it. Luscious.
2. Ptichye Moloko: Birds' Milk Cake
As the name suggests, this cake is exclusive and unique – just as is birds' milk. Its century-old recipe has never been changed, and its thick, cloudy, soufflé filling between delicate thin sponge biscuits melts in your mouth like marshmallow.
It is also available as a box of chocolates, ptichye moloko, which is arguably the most widely gifted sweet present from Russia. Try both versions to find your favorite.
3. Cheremuha: Bird Cherry Cake
What is absolutely idiosyncratic about this cake is the cheremuha (bird's cherry) flour used for the sponge.
Striking a perfect balance with sour cream as well as adding an interesting crunch and sweetish aftertaste, it distinguishes this dessert from everything you have tried before. Make sure to get yourself a slice of this when in Russia as you'll not find it anywhere else.
4. Medovik: Russian Honey Cake
Medovik is a highly treasured post-Soviet cake enjoyed all across Eastern Europe and has acquired a few quite modern variations. In the contemporary Russian version, you can expect to find berries, for a tangier taste.
The traditional sponge layers soaked with honey and butter cream make this cake a definite must-try.
5. Skazka: Fairy Tale Cake
This skazka cake will take you back on a childhood journey with its plethora of pleasant experiences and sweet tastes. Moist, fluffy, and sprinkled lavishly with orange liquor, it makes a perfect accompaniment to tea or coffee. The most traditional version is shaped into a roulade and served in slices.
6. Nevsky Pie
This loaf-shaped pie is the grandfather of Russian desserts. With buttery creams generously spread between two hemispheres of a large syrup-infused cake, it looks like a large loaf of bread but tastes like a piece of heaven. You'll not be able to stop after one piece, really. They should have called the cake 'Good-bye waist'.
7. Mishka na Severe: Bear in the North Cake
An absolute signature cake, mishka na severe steals the heart of every sour cream lover. With full-fat sour cream densely covering its sour cream layers, this dessert takes Russians to their childhood and introduces newcomers to a fantastic world of a simple yet unforgettable taste.
Traditionally served with a cup of tea, mishka is an authentic Russian experience that you just cannot miss. By the way, one of the most popular chocolate candies goes by the same name – and yes, you totally need to try them too.
8. Smetannik: Russian Sour Cream Cake
At this point you've probably noticed the Russian love sour cream. Although this cake is also claimed by Ukraine, the two recipes differ a bit.
The Russian version normally has poppyseeds added to the sponge layers, and smetannik itself would be typically baked in a deep pan. The simplest sour cream dessert that never loses popularity.
9. Korolevskiy: Royal Cake
As you can expect judging by the name, korolevskiy cake is impressive. High and elegant, it consists of a number of sponge biscuits covered with thick layers of sour cream and condensed milk, cherries, nuts, poppyseeds, and chocolate chips – well, royal it is!
This cake is a perfect solution for those who cannot choose what they want in a dessert – it just has it all.
10. Polyot: Flight Cake
A definite favorite for those who long for Kyiv Cake, polyot also is a meringue and nut dessert. It is so fluffy and lightweight it could just fly away, as the name suggests. With a ridiculously large amount of sugar, polyot is not the healthiest choice, of course. But who cares about calories when it's so delectable, right?
11. Zebra Cake
A perfect recipe for those who don't enjoy cream and frosting. A striped black-and-white (well, chocolate-and-vanilla) sponge cake, it makes a perfect match for a hot drink and serves as a sweet snack rather than a festive dessert. That doesn't downgrade its absolutely gorgeous taste though.
12. Count's Ruin Cake
You'll fall for the taste of this meringue cake if you cannot choose between condensed milk and chocolate in your dessert. It has both, sprinkled with a handful of crunchy nuts. A slight vanilla undertone adds some elegant flavor, and the chocolate drizzle on top makes for a fancy decoration. It is love at the first sight and bite.
13. Cherepaha: Turtle Cake
One of the most popular kid's birthday cakes, this dessert consists of multiple circular layers assembled like a turtle, cherepaha. The dessert is crunchy, moist, and weightless. Not too sugary owing to the added zest and raisins, it goes well with sweet beverages.
14. Pancho Cake
One more cake with lots of sour cream mixed into the chocolate and vanilla sponges, this pancho recipe is quite young, from the 2000s.
The dessert is known for its pyramid shape, which features cubed sponge biscuits and chopped pineapple. The entire structure is generously topped with whipped cream. The pineapple juice balances the creamy texture of the cake and moistens the sponge perfectly.
15. Leningradskiy: Leningrad Cake
As well as liking sour cream, Russians also like giving their cakes city names. As this one suggests, the dessert originated in Leningrad (the former St. Petersburg). Festive, simple to make, and affordable, it has risen to fame owing to being a budget-friendly option and doesn't lose its popularity today. Leningradskiy features four short-crust layers spread with butter cream and infused with cognac.
16. Moskva: Moscow Cake
Created to represent the Russian capital, Moskva is a must-try even for natives. It looks and tastes different from all Soviet-time counterparts, although it might at first seem to be a re-worked version of polyot cake.
The base for Moskva is a few layers of meringue and the cream is whipped butter or mascarpone (you see, it's getting more contemporary than the usual sour cream frosting). What is most important, however, is the color. Moscow has to be red inside out, so you have to add a drop of food dye to the cream and outer frosting.
If you're not after cakes, don't stop reading just yet. Here's the absolute top 5 sweet desserts.
17. Kartoshka Pastry: Sweet Potatoes
That's right: Russians love potatoes so much they've actually turned them into a dessert. In reality, what sweet potatoes have in common with non-sweet ones is the look.
Kartoshka pastry is a mixture of condensed milk, butter, and cookie crumbs shaped into a ball and rolled generously in cocoa powder. It sounds simple, but once you have tasted this dessert, it's possible it will become your favorite.
18. Shekoladnaya Kolbasa: Sweet Salami
Popular all-over Eastern Europe, shekoladnaya kolbasa is a dessert made without baking. The ingredients are pretty simple: walnuts, cocoa, tea cookies, sugar, and milk. The crumbled cookies look like salami fat flecks when you mix the ingredients and let the sausage-shape dessert cool down in the fridge. Help yourself!
19. Trubochki: Russian Wafer Rolls
In this dessert, the crispiness of the wafer and the sweet taste of the stuffing make a perfect marriage. Originally made in a special the trubochki mold, they can also be baked using any wafer maker. The filling is the traditional condensed milk mixed with butter.
If you decide to make them yourself, here's the trick: Roll them around the mixture immediately after baking. If they cool down, they will break when you try to shape them.
20. Pryaniki: Honey Spice Cookies
Pryaniki have a century-long history as a tea treat. They are savory and have a pleasant spicy odor from the nutmeg, vanilla, cardamon, and cloves. Traditionally, Russian honey spice cookies are covered in a white sugar glaze. You'll find them in every supermarket, so there's no excuse for not tasting them.
How does our list look? I bet your mouth is watering at this point. If you haven't found your guilty pleasure yet, one of these desserts might just be the one.
---
Related: Most Popular Russian Desserts
Related: Most Popular Russian Foods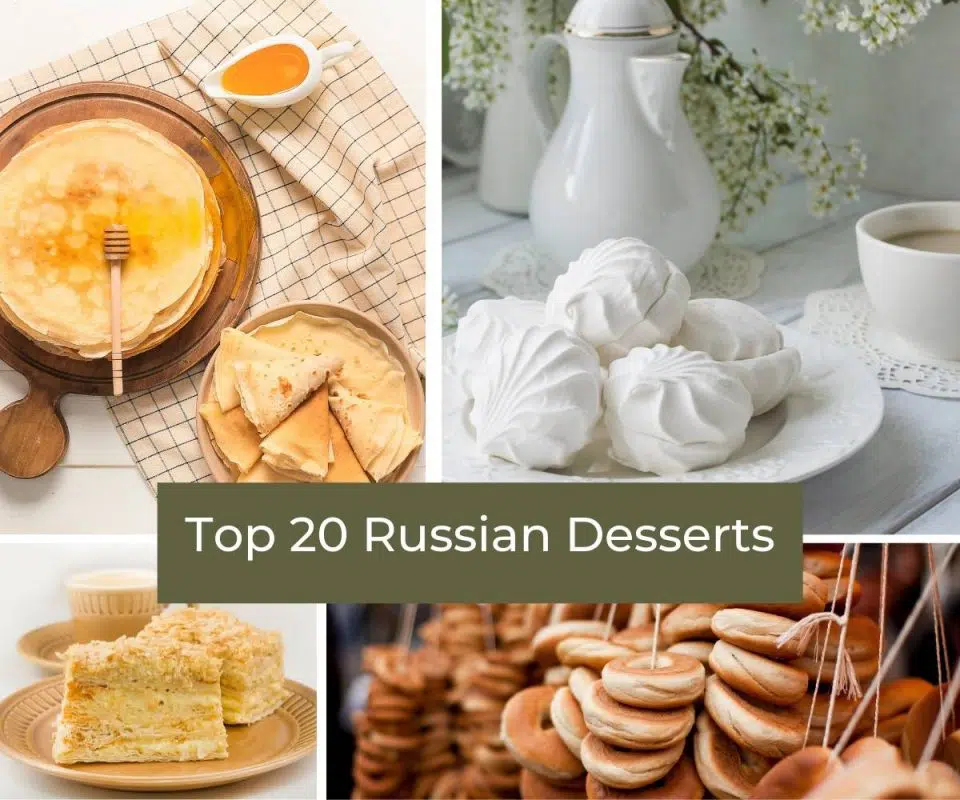 Related: Popular Russian Easter Dishes