Chef of the Week: Chef Prashant Chipkar, Executive Chef and Culinary Director at Masti, Dubai
We are excited to showcase this week a brilliant Indian chef: Prashant Chipkar. Prashant is currently based in vibrant Dubai and is the culinary director at Masti, a cocktail and Indian fusion cuisine restaurant.
Prashant has a global industry experience having been part of some the best kitchens in Mumbai, Goa, Geneva, and Bangkok.
Let's hear it from Prashant.
1. Please tell us a bit about yourself and your passion for cooking.
I was exposed to cooking at a very young age as my aunt owned a hotel in a tourist hill town called Mahableshwar. Visiting her in my holidays and spending the days looking into how a hotel kitchen worked peaked my interest in cooking.
The more I learnt about it the deeper I fell in love with food, ingredients, techniques, and the rest is history. I have been in the industry for 16 years and still feel I am a student of the craft.
2. What inspired you to become a chef?
My aunt Mohini Kotharay was my earliest influence for me to become a chef. I was very clear on my path when I was around 14 years old and knew that this was my calling.
My aunt's passion for food, the quality ingredients, and knowledge of dishes and their history truly inspired me. I started looking at food completely differently after spending all those years with her in the kitchen.
4. Tell us about your work at Masti Dubai. What is the concept and what was is the inspiration for this
season's menu?
Masti means fun and mischief. "Masti" showcases a different side of India, which probably people don't know about. It strives to show the modern art and craft of a nation that is deeply rooted in tradition and culture. This forms the very center of the menu development.
Each dish at Masti is deeply rooted to India, the dishes are steeped in familiar Indian flavors yet are modern.
The concept for this season's menu is global Indian. We are taking popular dishes from around the world and making it our own. The dishes look modern but have some familiar Indian flavor to it. Some dishes look traditional and have a completely unique flavor. At the end our aim is to develop a menu which appeals to everyone.
5. What's the most popular item on the menu?
One of the most popular dishes on the menu at Masti is Blackened Chicken. The dish is a homage to an extremely rear breed of chicken found in central India. The breed has a very dark meat compared to the white meat of other chicken breeds.
Our Khadaknath-inspired Blacked Chicken is served on a base of fermented blackened bean sauce. The chicken breast is stuffed with a mix of mushrooms, cottage cheese, and a variety of spices. It is then marinated with an activated charcoal powder, yoghurt, and tandoori spices. The chicken is then cooked in our traditional coal tandoor.
6. Tell us a bit about Goan cuisine. What makes it special and what are the top Goan dishes we absolutely need to try?
Goa has a very unique influence on its culinary scene. As it borders Maharashtra their cuisine has been heavily influenced by Maharashtrian culture.
The other major influence on Goan cuisine is that Goa was a Portuguese colony until 1961. The majority of the population are catholic Christians and the 2nd highest are called Goan Hindus.
While the curries came from Hindu tradition, the pork vindaloo uses ingredients like toddy vinegar which are a Portuguese influence.
Being on the coast, seafood is really big in our cuisine and as one travels further inland, meat takes center stage of our diet. Pork Vindaloo and Chicken Xacuti are some land dishes, and dishes like Goan Fish Curry and Ambot Tik are made with the freshly caught fish of the Arabian sea.
7. What do you regard as the quintessential Indian ingredient?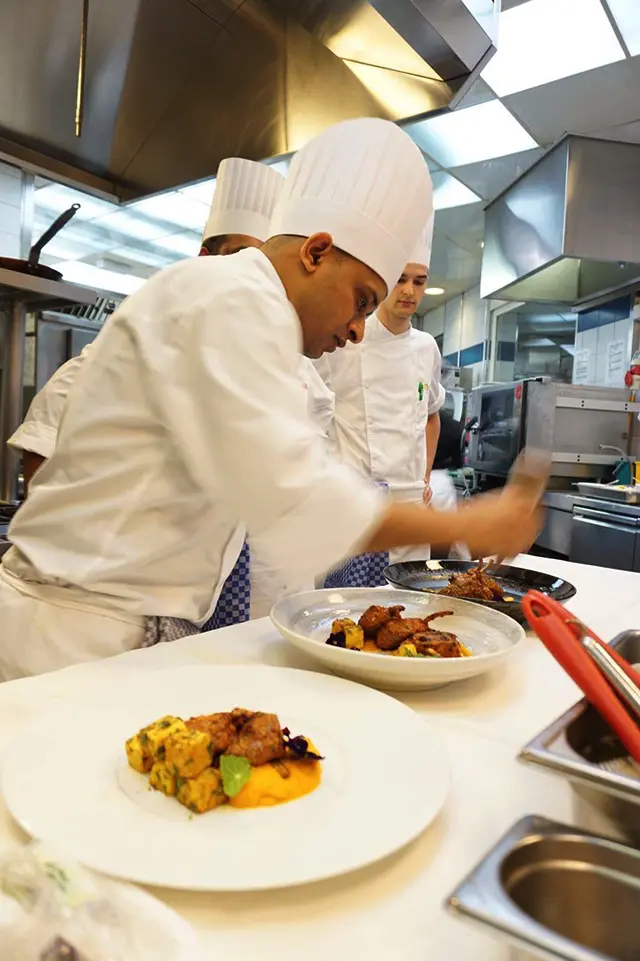 India is a very diverse country: every 50 kms the cuisine, culture, language, diet, and traditions change. Our diversity is our greatest strength. Being a Goan Hindu the quintessential Indian ingredients for me would be coconut and kokum: while for a family from Bengal, it would be mustard, and for a family from Kashmir, it would be their famous chilies, saffron, and dry nuts.
8. You've worked at many different top restaurants in Dubai, Bangkok, and Geneva. How important is an international experience to a successful culinary career?
My initial training was in Indian kitchens, working in Geneva and Bangkok was an amazing experience simply because of the way the kitchens were designed and how certain processes in the kitchen were carried out on a day-to-day basis.
I found a lot of those processes improved my efficiency in the kitchen and also introduced me to new techniques, both cooking and organization and also exposure to new ingredients that I was not very familiar with. I learned how to use them and this eventually helped me to be more creative with my own culture and the dishes I am more familiar with and also it gave me a broader perspective on how I could use certain techniques that are not familiar to Indian cuisine to my advantage
9. How is the culinary scene different in places like Dubai compared to Geneva or Bangkok?
Dubai is a melting pot of various cultures. It's also considered to be the center of the world because of his location and its proximity to Europe and Asia. Some of the best chefs from around the world have a presence in the city. In terms of produce, meat, spices, and herbs, Dubai probably has it all. Thus, there's a wider choice of ingredients that one can source.
The competitive landscape in the city is fiercer than I saw in either Geneva or Bangkok. One can get an affordable Indian meal for less than $10 to an 18 course Indian journey from a Michelin-starred chef for $150.
Dubai covers all cuisines and prices as far as a meal goes. This was unlike Geneva and Bangkok where most Indian restaurants were positioned in a particular price point. Ultimately the people of Dubai are very well travelled, and they know what a good dish is.
10. How do you stay relevant in a highly competitive food scene like Dubai?
To stay relevant, one really needs to understand the foundation of the brand.
What does it stand for and what experience does it promise to guests who come to the restaurant because of it?
Each and every dish needs to carry that story. As chefs, research is continuous. We try and learn more of our culture and at the same time understand what other chefs are doing and learning from them about how we can use certain ideas in our kitchen.
11. As a highly accomplished chef, what sets a top chef apart from the pack?
Hard work, discipline, a will to always learn, and leading by example are some of the qualities all chefs should have to set them apart from the pack.

Chef Prashant Chipkar
12. Do you have a signature dish or a favorite dish that you enjoy cooking?
One of our signatures at "Masti" in the Tuna Bhel Tartare. We wanted to create a dish that would remind people of a very famous street food popular all over the country called "Bhel", but at the same time keep the tuna as the hero of the dish.
The crispness of the sev (crisp chickpea noodles) and the sweet and sour flavors of the tamarind chutney really elevate the tuna, which is served with some guacamole. To add complexity the tuna Bhel is encased in a flavorless sugar ball. The ball is then broken by guests at a table side using a spoon, revealing all the elements of the dish. 
It's my favorite dish to make as every time I have served it to people trying the first time. I could see the element of surprise in their eyes.
13. What's the best meal you've ever had?
The Best meal I ever had was at ABAC by chef Jordi Cruz in Barcelona. We tried the chef's tasting menu and each and every dish surprised me. The flavors and techniques used for the menu show the culinary genius that Chef Cruz is. Each and every plate was "delicious".
14. Your best piece of advice for amateur chefs?
The initial years are going to be tough, but if used well they will form a solid foundation for future success. They are no substitutes for hard work.

Chef Prashant Chipkar
---
Chef Prashant Chipkar
Masti Dubai Facebook | Website