5 Excellent Brown Sugar Substitutes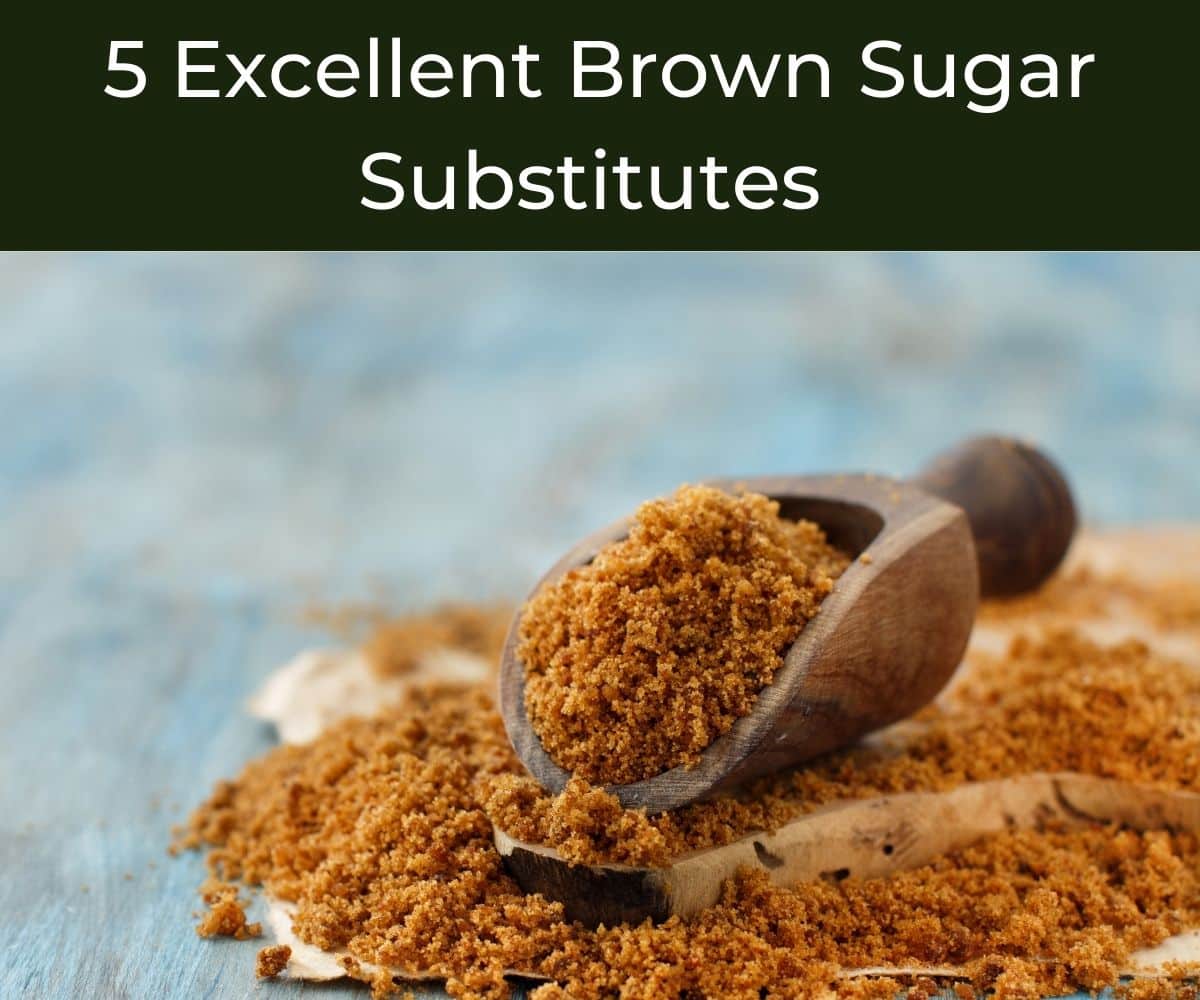 Brown sugar has a signature golden or brown color, due to naturally occurring molasses. Often it is a form of unrefined (or sometimes partially refined) sugar, but you can also find brown sugar that is simply white sugar with molasses added. Anywhere between 3-10% molasses is possible in commercial brown sugar.
In the early 1900s, brown sugar was widely used and preferred, because it was cheaper to produce and some bakers believed it had a superior flavor. Later, a campaign was launched against brown sugar implying it was inferior.
Today, both brown and white sugar remain popular—with brown sugar being a staple in certain recipes, especially gingerbread, pies, and certain breads. Brown sugar has a robust and rich flavor, along with being super sweet. It is also very finely ground making it perfect for blending with flour or creaming with butter.
The only downside of using brown sugar is that it can discolor whatever you are preparing, so if you're looking for a pale white pastry or bread, then white sugar is likely your best bet. If you are looking for a darker color, as with caramel, glazes, or gravy, brown sugar is a great addition because of its natural dark color.
Because of its molasses content, brown sugar also has a tendency to clump—a problem that can be resolved easily by using a clay sugar puck or even a piece of bread in the brown sugar container to prevent excess moisture causing clumps. You can also freeze brown sugar to prevent clumping.
Brown sugar's weight is different from other sugars, so it is recommended that you always "pack" brown sugar, unless the recipe specifies otherwise. To pack a cup, simply fill the cup with brown sugar and press down on it with the back of a spoon or spatula, and keep filling until the cup is full. If you don't have brown sugar, here is a list of brown sugar substitutes that will work just as sweetly!
1. White Sugar (with or without Molasses)
Any recipe that requires brown sugar will take white sugar as a substitute at a simple 1:1 ratio. If you are looking for that rich, brown sugar flavor, you can also add 2 tbsp of molasses to every cup of white sugar to give yourself 1 cup of brown sugar.
This will not only add depth of flavor that brown sugar is famous for, but it will also give the white sugar that rich, deep, dark color that brown sugar lovers are such fans of! If you decide not to add molasses and use straight white sugar, your baked goods may be less chewy and slightly more firm.
2. Maple Syrup
Maple syrup has two things in common with brown sugar: they are both dark brown and delicious! In fact, if you were to melt brown sugar down to a liquid, you would have a hard time telling them apart.
The main difference of course is the flavor. Brown sugar has that signature molasses flavor and maple syrup of course has that delicious, unique maple flavor… but otherwise, these two products will act remarkably similar in any recipe.
Because brown sugar is a solid sugar and maple syrup is a liquid, you may need to adjust the amounts in your recipes. For baked goods, you will need 1 cup of maple syrup for every ¾ cup of brown sugar, and you may need to add an additional tablespoon or two of flour to account for the added liquid, so be mindful of this.
You can also try to find a product called maple sugar, which is essentially a dehydrated version of maple syrup. It is expensive but can be used 1:1 with brown sugar for all your sweet recipes!
3. Honey
Another excellent liquid sweetener that has a deep, unique flavor is honey!
Honey is great as a fine brown sugar substitute and you certainly won't be compromising on any of the flavors! You will need 1 cup of honey for every ¾ cup of brown sugar, and you may need to adjust your recipe by adding some extra flour.
Honey tends to caramelize quicker than sugar, so you also might need to lower the temperature of baked goods or bake them for a little less time to prevent burning. Use your best judgment here, especially if you are trying a brand-new recipe.
4. Turbinado or Demerara Sugar
Both these raw sugars are very similar to brown sugar in that they are unrefined sugar products where the molasses has not been completely removed. These sugars tend to be coarser, and sometimes lighter than brown sugar. They have much less moisture too and are considered very dry sugars, so you will want to use these with recipes where there is added moisture.
Because of their dryness, these sugars act like white sugar and don't tend to clump, which is a good thing for coffee shops and bakeries. These sugars tend to be grainy, so try melting them first in some butter if your recipe is not going to be cooked.
A lot of people love to add these two types of sugars to their coffee, for a superior cup… so the same is true for whatever you're cooking! Some stores might not carry these sugars and they do tend to be a little more expensive, but they are well worth it if you don't have brown sugar and can be used 1:1.
5. Muscovado Sugar
Also considered a raw sugar, Muscovado contains much more molasses and is very dark. It is also quite sticky and feels almost wet to the touch. Because of its high molasses content, it tends to clump quite a bit, so you may need to sift or grind it first.
Muscovado sugar is especially good in ginger baked goods, truffles or sauces, as its intense molasses flavor pairs well with the sharpness of ginger, but honestly, this sugar goes great in anything! If you're baking something for someone extra special, Muscovado is a great choice!
Because Muscovado sugar is much less refined than any other type of sugar, it is considered to be a healthier option—it contains more minerals than refined sugar. However, it is important to remember that sugar is still sweet and should be eaten in moderation, no matter what type it is!
---
When it comes down to it, brown sugar is beloved by many. This is in part due to its cost-effectiveness and accessibility, but largely because of its rich flavor, which is primarily due to its molasses content. Brown sugar can be used anywhere white sugar can be used, but it will affect the color and the finished texture of whatever you're baking.
Give it a try the next time you need some sugar—to bloom yeast, sweeten loaves or muffins, make icing, or in any cake or square. You will be surprised and amazed at what a difference brown sugar makes in your recipes! It adds color, flavor, sweetness, and character, and any of these substitutes will do the same!