20 Naturally Black Fruits (With Pictures!)
An unexpected splash of black can add drama and interest to even the most bland-looking recipe. For example, use black fruits with cream or white desserts.
Or partner them with vibrant red, orange, or green hues in fruit salads – creating a visual feast and tantalizing your taste buds! An additional bonus is that black fruits are typically low in calories and packed with health-giving nutrients.
Some familiar foods, such as tomatoes and peppers, are, botanically speaking, fruits. However, in this article, we focus on those you can add to recipes specifically to add sweetness. Some will be familiar, and others may be new or surprising.
However, we hope they'll all inspire you to add 20 shades of black to your fruit-based culinary repertoire! If you're looking to broaden your repertoire of black goodies, check out our story about naturally black foods.
1. Black Cherries
What's more enticing than a huge bowl overflowing with delicious black-skinned cherries bursting with sweet, woody juices of the deepest red? Black cherries cook well in pies and jams, and are also delicious in cookies.
They're high in antioxidants, especially anthocyanins which give them their black color. Rich in vitamin C, calcium, and iron, black cherries, and their juice also contain melatonin, to help you sleep better.
2. Black Mangosteen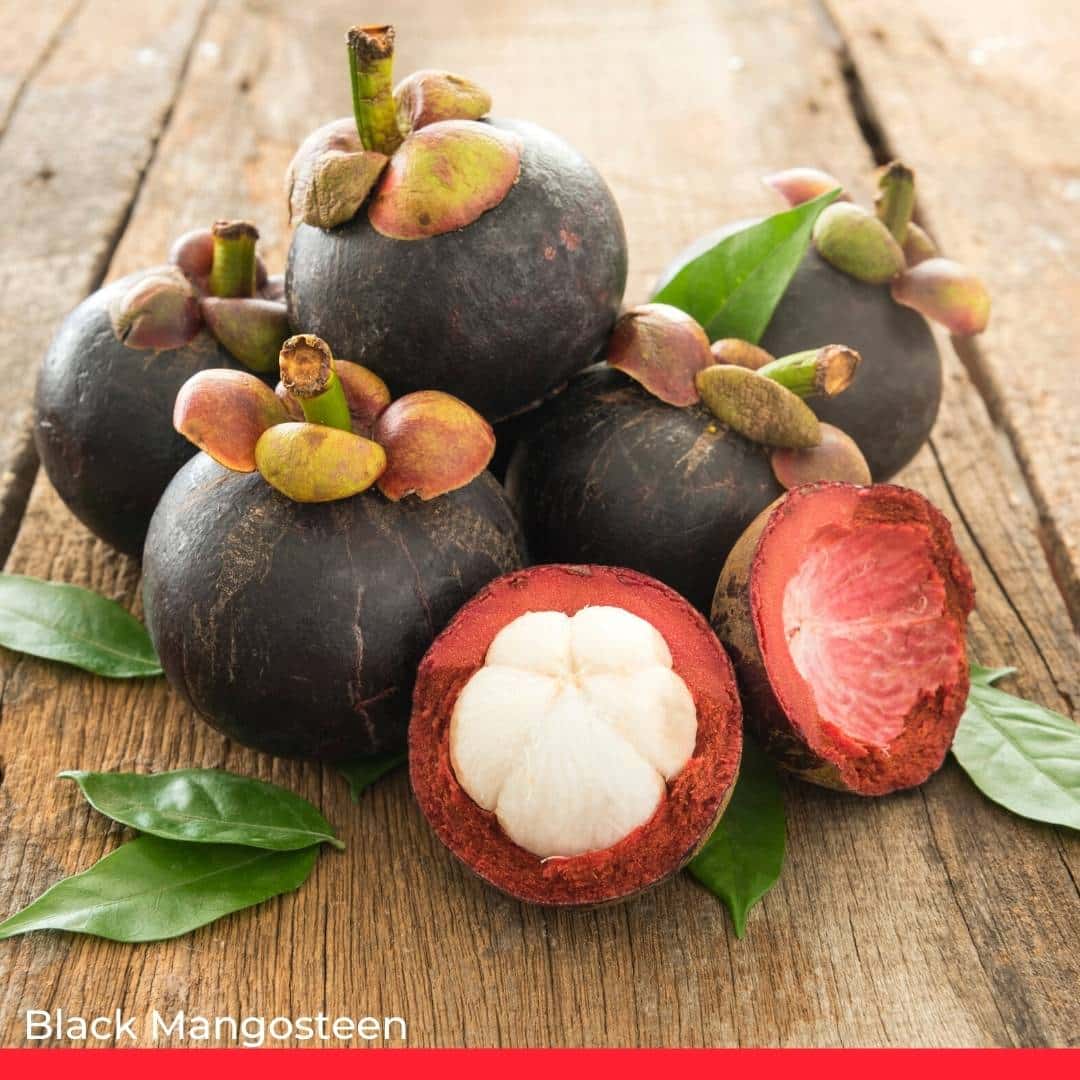 Named the 'Queen of Fruit' in Southeast Asia, the black woody skin opens to reveal contrasting creamy white flesh. Black mangosteen tastes like a beautiful fusion of strawberries, pineapples, peaches, and lychees.
These exotic fruits are booster for the immune system and are reputed to improve skin health. Black mangosteen also contains xanthones – a unique antioxidant, which, although it's still being studied, shows promise for its anti-aging and anti-inflammatory effects.
3. Prunes
With their glossy, wrinkled back skin, humble prunes are often overlooked. Yet these dried plums are incredibly versatile: they can be used in jams, pies, and puddings. Also, being naturally sweet, they make great sugar-free desserts.
Loaded with minerals, prunes are perhaps best known for their beneficial effect on gut health intact. High levels of pectin act as a gentle laxative to help clear the intestinal tract.
Prunes can get any cleanse or detox off to a great start.
4. Black Dates
The world's oldest cultivated fruit, dates have been enjoyed for at least 8,000 years.
Black dates are oval, with edible skin and flesh. They are intensely sweet and can be used as a sugar substitute in date bars and cakes. Or snack on them, perhaps dipping them in creamy unsweetened yogurt.
Although they're relatively high in calories, they contain lots of fiber, vitamins A, B-complex, E, and K, polyphenols, antioxidants, and minerals, making a luscious and nutritious snack.
5. Black Gooseberries
If you can find them, fresh ripe black gooseberries make an intriguing alternative to the everyday green variety, especially in the summer months.
They can make delicately sweet jams, pies, fools, and smoothies. Or just serve them with custard or ice cream. Before eating, cut the bottom and top off each berry to remove the stalk.
Black gooseberries are packed with antioxidants and anthocyanin.
6. Black Diamond Watermelon
Despite its dramatic black rind, black diamond watermelon reveals vibrant red flesh when cut open. Like other varieties, the soft, crunchy texture and high water content mean it's the perfect refresher on hot summer days.
The sweet flesh can be used to make delicately flavored granitas, ice creams, and smoothies. And watermelon juice makes an intriguing addition to cocktails.
Although watermelon is chiefly valued for its high water content, the flesh does contain vitamins A, C, and E.
7. Black Goji Berries
Black goji berries (black wolfberries) are an intriguing alternative to the more familiar red varieties. Like their red cousins, they are typically dried and added to breakfast cereals, trail mixes, or just enjoyed as a snack.
Black goji berries are especially rich in antioxidants, vitamins A,C, and E, fiber, and iron.
8. Black Mission Figs
The powdery skin of Black Mission figs opens to reveal the sumptuous dark pink flesh inside. Enjoyed at peak ripeness, figs are sweeter than honey.
They pair well with goat's cheese, blue cheese, bacon or prosciuttos, walnuts, and almonds.
They're ideal for jellies, jams, and chutneys – but they will lose their unique blackness. So if it's the color you're after, use them for decoration in fruit bowls and on cheese boards.
9. Black Velvet Tamarind
The black velvet tamarind is a West African fruit. The black skin is dense and rigid, and they're about the same size as grapes.
You can eat the raw pulp or soak it in water to make a tasty beverage. The mouth-watering sweet-sour flavor adds a unique tang to sauces, desserts, and chutneys.
Black tamarind contains many nutrients that help prevent high blood pressure and cardiovascular diseases. It contains vitamins C, K, B6, B5, folate, and calcium.
11. Black Sapote
Black sapote, aka chocolate pudding fruit, black soap apple, or zapote prieto, offers divine notes of honey, caramel, and dates. The flavor has also been compared to ripe papaya. The texture is creamy to the point of mushiness.
It can be made into fruit loaves, puddings, and smoothies. Unfortunately, the ripe sapote appears wrinkled and somewhat bruised. This unappealing appearance may explain why it's not more commonly found in supermarkets.
Black sapote is rich in potassium, calcium, phosphorus, and iron.
12. Mulberries
Although they look similar, black mulberries are not related to blackberries. Instead, their sweet yet tangy flavor can be likened to toffee caramel. While they make heavenly jellies and jams and work well in baked goods, they're so tasty that they make fantastic additions to trail mixes and breakfast cereals.
Mulberries are also used to make sherbet, a popular Turkish drink. Their burst of sourness balances out the intense sweetness of sugary puddings.
Mulberries are extremely rich in iron, and a one-ounce serving contains a spectacular 87% of the recommended daily amount of vitamin C.
13. Black Elderberries
Tiny black elderberries grow in clusters and are toxic when eaten raw. However, they can be cooked, added to smoothies, or made into delicious light wine. They've been used for centuries in folk medicine and are reputed to have a range of health benefits.
Like most blackberries, they contain high levels of antioxidants, fiber, and potassium.
14. Jamun Fruit
With their jet-black skins concealing the rose-pink flesh inside, these tiny berries make fantastic jellies and sauces. With their tangy flavor, they make an irresistible addition to mixed salads. Or wash, remove the seeds and enjoy snacking on the raw berries.
In terms of nutrition, they're full of vitamin C, potassium, magnesium, and iron.
15. Chokeberries
Chokeberries or Aronia berries are small, black-skinned fruits native to North America but grown worldwide. Although they can be eaten raw, they have a weird mouth-drying quality, which isn't very pleasant to some, so it's better to use them for jams, purees, syrups, and in teas.
Available in fresh, frozen, and powder form, they're high in fiber, vitamin C, and manganese.
16. Huckleberries
Found across the USA, huckleberries are used to make sumptuous pies, muffins, smoothies, and jellies. Eating them raw makes you notice that the black varieties are sweeter than the red ones.
In common with other blackberries, huckleberries are packed with vitamins A and C and several antioxidants. In addition, studies have shown that huckleberries contain up to 15 different anthocyanin compounds, which are believed to be beneficial for health.
17. Black Plums
Thin-skinned black plums, with their exquisite white bloom, are one of the most versatile late-summer fruits. Savor them raw – bite into that soft, succulent pulp and savor the natural goodness of the medium-sweet juice held within. Or use them in many ways – in puddings, pies, sauces, smoothies, and juices.
Like most black fruits, plums are high in vitamins A and C and are a great source of soluble fiber.
18. Black Raspberries
Black raspberries, aka black caps or thimbleberries, have a more robust flavor than their red or golden cousins. They also contain more seeds. Because of their extremely dark pigment, they're ideal to use as a natural coloring agent in baked goods and ice creams.
Black raspberries are ideal as a colorful low-calorie snack, making scrumptuous additions to granolas, smoothies, ice creams, and mousses.
They offer some of the highest antioxidant levels of any berry and are the subject of numerous health benefits studies.
19. Blackberries
The ultimate late summer fruit, collecting blackberries growing wild in hedgerows is an annual ritual in many parts of the world. Sweet yet tart, they make a delicious addition to cakes, puddings, cocktails, and jellies, or they can just be enjoyed as a snack.
Related: Blackberry Cheesecake Recipe
Packed with vitamins and rich in anthocyanins, their juice is a time-honored pick-me-up after colds or flu. Mix with hot water, honey, and lemon for a powerful burst of vitamin C and a fantastic warming drink.
20. Black Diamond Apples
Let's end our list with something really exclusive to look out for. The mysterious black diamond apple is a rare variety cultivated at an altitude of 3,500 feet in Tibet. So naturally, you're likelier to see a Black Diamond apple on Instagram than in real life. But if you do, you'll notice that their black-red skin hides the same brilliant white flesh you'll find in other apples..
As they require up to eight years to reach maturity, farmers are reluctant to cultivate them – which may account for their eye-watering cost of at least $8 per apple.
Black Diamonds contain a similar nutrient profile to other apples. However, they're exceptionally high in pectin, which is good for gut health, and a whole spectrum of other beneficial phyto-compounds.
---
Related: 25 Stunning Black Foods
Related: 20 Yummy Pink Fruits to Add to Your Diet
Related: 20 Naturally Purple Fruits
Related: 20 Stunning Orange Fruits