19 Amazing Blue Fruits You Need to Try
Is it time to add a touch of unexpected color to your fruit bowl? Then let's get started – we've compiled this list of incredible blue fruits to amaze and inspire you!
Blue fruits are having something of a moment, thanks to social media. We've chosen a mix of those you'll find in everyday stores and some you're more likely to discover on travels to exotic destinations (or your local specialty grocer).
Blue fruits don't only look intriguing; they provide significant nutritional benefits. They're a low-calorie, high-fiber source of immune-boosting anthocyanins (an antioxidant). In addition, most are loaded with other essential vitamins and minerals.
Here are 20 of our favorite blue fruits – if you have others, we'd love to hear about them!
1. Blue Java Bananas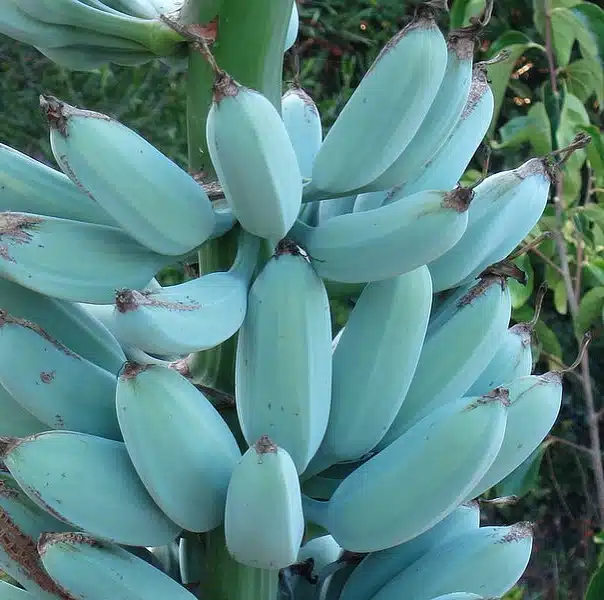 Blue Java bananas won't only grab attention for their greeny-blue hue. They also have a wonderful vanilla fragrance, and their flavor is reminiscent of ice cream or custard.
For their color to impact your fruit bowl, you'll need to find unripened ones, as the skin of Blue Javas turns yellow when they mature.
Like all bananas, they're not only low in calories. They're also crammed with essential nutrients, such as vitamin C, riboflavin, manganese, magnesium, folate, and tons of fiber, which aid digestive health.
2. Blue Olives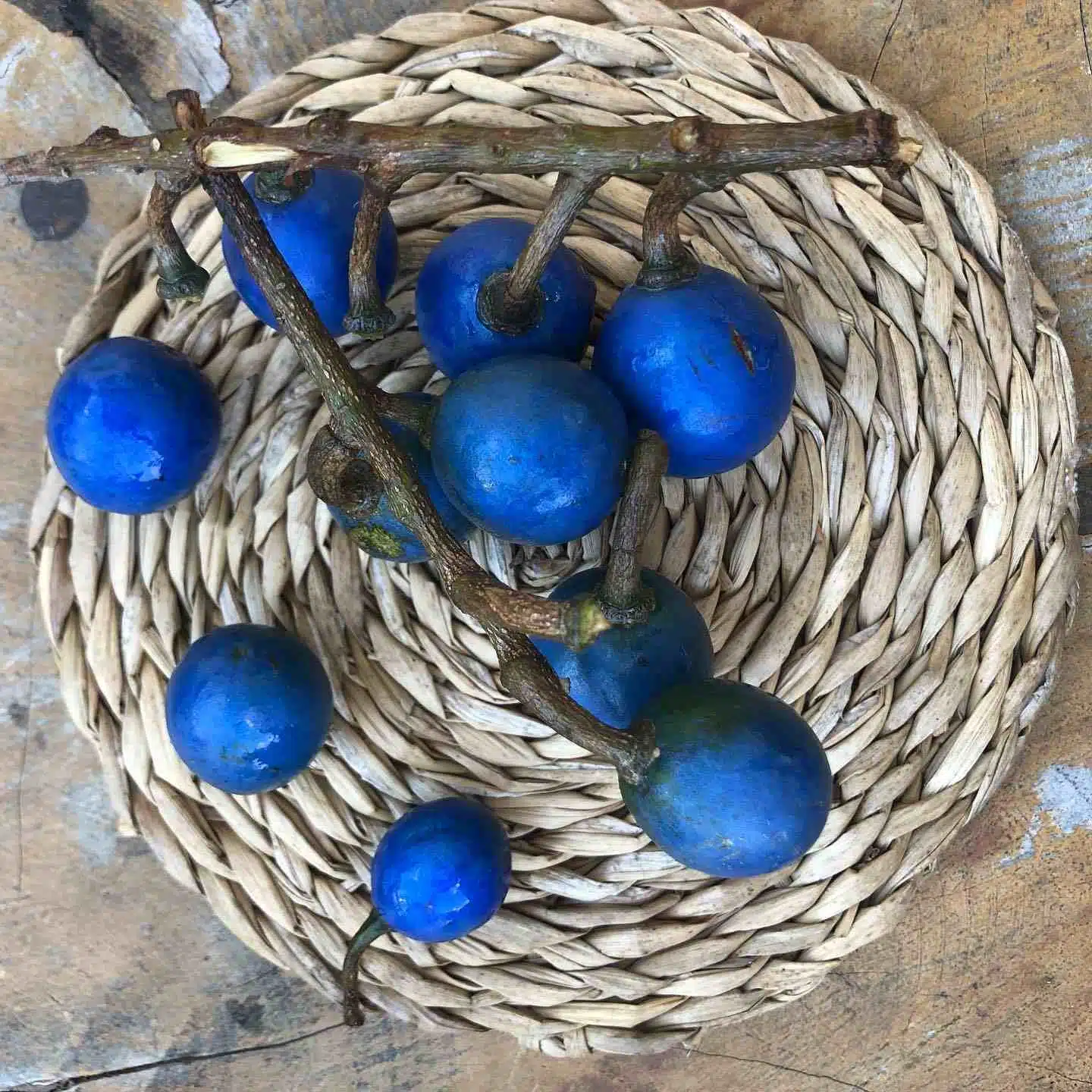 Blue olives, or veralu fruit, are native to Sri Lanka. They have deep blue skin and firm green flesh with the texture of an avocado. When ripe, they're slightly sour. They're mainly used in pickles, boiled or eaten fresh, and sprinkled with chili and salt.
As well as being a popular street food, veralu fruit is also used in traditional medicine, thanks to its high levels of vitamins, minerals, fiber, and antioxidants.
3. Honeyberries
Long, oval honeyberries are being touted as the next nutrient-packed superfood. Their flavor is reminiscent of raspberries, blueberries, or kiwis.
Their tender skin dissolves when eaten or cooked, which makes them very versatile. Add them to yogurt, ice cream, or smoothies. They also make excellent preserves.
Honeyberries contain antioxidants, calcium, phosphorous, potassium, phenolic acid, and iron. They have twice the Vitamin A and four times as much Vitamin C as blueberries. In addition, they contain higher levels of health-giving anthocyanins than mulberries or black currants,
4. Sloe Plums
Sloe berries or blackthorn plums are small, deep blue berries. They're rarely eaten due to their sour, bitter taste, but in the US and UK, where they grow wild, they're used to make gin and cocktails.
They're sometimes used to make jams, jellies, and chutneys.
Sloes are reputed to relieve digestive upsets, but there are probably easier and more pleasant ways to deal with these kinds of problems.
5. Blue Sausage Fruit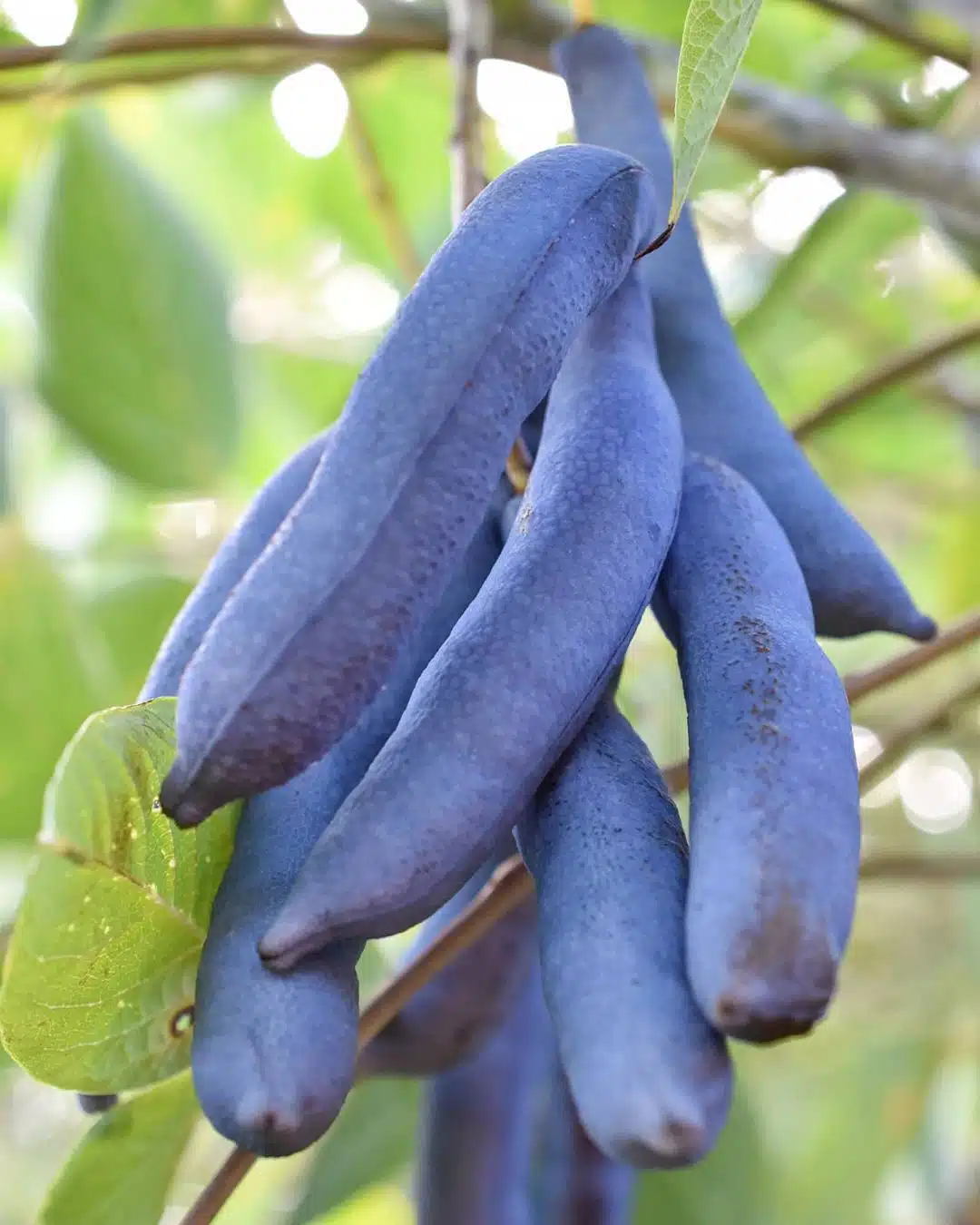 OK, it's blue and shaped like a sausage, but that's where the similarity ends. The inedible blue skin conceals soft flesh with a texture like pawpaw and glossy black seeds.
Blue sausage fruit can be used in sweet or savory dishes. It tastes like a delicate cross between a cucumber and a melon.
Given its odd appearance, this fruit is known as 'dead man's fingers'. If you come across it, it makes a spooky, edible Halloween decoration.
6. Kastoree (Blue) Mango
The skin of Kastoree mangoes (also known as bluangos) is a striking deep blue, so they'll make a stunning addition to your fruit bowl (or Instagram photos). They resemble huge plums.
However, their inner flesh is pinky-orange. These exotic fruits taste like a typical mango but are far juicier than most varieties and have an incredible fragrance.
Their pulp can be puréed for smoothies and toppings for desserts. With their delicious aroma, they are also perfect for homemade ice cream.
Like other mangoes, kastoorees are high in fiber and a valuable source of vitamins A, C, and potassium. They also contain some vitamin E and iron.
7. Blue Marble Tree Fruit
Growing abundantly in the tropics, the incredible azure fruit of the blue marble tree, while edible, is not widely eaten. However, these fantastic berries don't go to waste. The burnt orange dried seeds are used to create mala beads in India and leis in Hawaii.
If you find some of these striking fruits, use them for display purposes, and expect to create a buzz!
8. Juniper Berries
Small blue Juniper berries are found in northern Europe and tropical Africa. The aroma of these deep blue gems is often described as woody or spicy. Because of their sharp flavor, they're rarely eaten fresh but are used dried, in small quantities, as a spice.
They may offer various health benefits due to the high levels of antioxidants and other essential nutrients they contain.
Juniper berries are packed with vitamin C, flavonoid antioxidants, monoterpenes, and coumarins, which may benefit health.
9. Blueberries
Tiny, round, juicy blueberries vary from the deepest blue to dark purple. Pleasingly sweet yet with a sharp tang, they can be enjoyed as a tasty snack or added to cakes, baked muffins, pancakes, smoothies, and granolas.
Blueberries are a great addition to any health-conscious diet, as they're low-calorie and loaded with healthy antioxidants. In addition, this summer fruit freezes well, so stock up in summer and enjoy all year round!
10. Concord Grapes
Concord grapes are perhaps the best-known 'blue' grape. With their glossy deep blue-purple skins, they're very versatile, and can be enjoyed raw, juiced, included in smoothies, or made into ruby wine.
They partner perfectly with cheese, and their plump juiciness enhances almost any cheese selection's creamy and perhaps blue-veined hues.
11. Huckleberries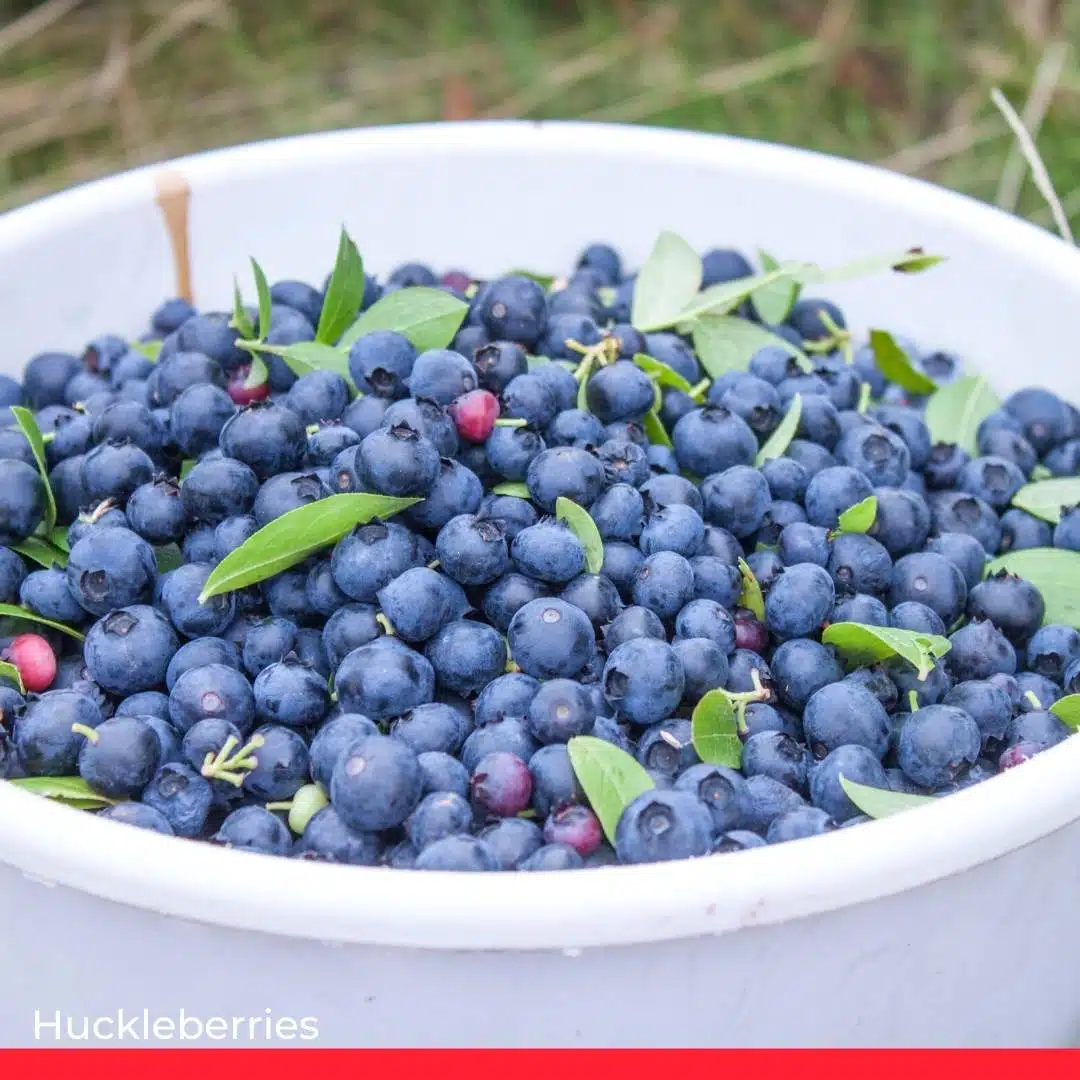 Huckleberries are easily mistaken for blueberries – the size, shape, and deep indigo color are similar. However, there are several ways to tell them apart.
Huckleberries are blue inside, while blueberries tend to be green or white. Blue huckleberries have a mild, sweet flavor but a grainy texture that not everyone likes. However, they're a favorite snack for grizzly bears.
You're more likely to find huckleberries growing in the wild than in grocery stores. But, if you can forage some, they make fantastic syrups, pies, and muffins.
They're extremely rich in antioxidants, Vitamins B and C, and potassium.
12. Damsons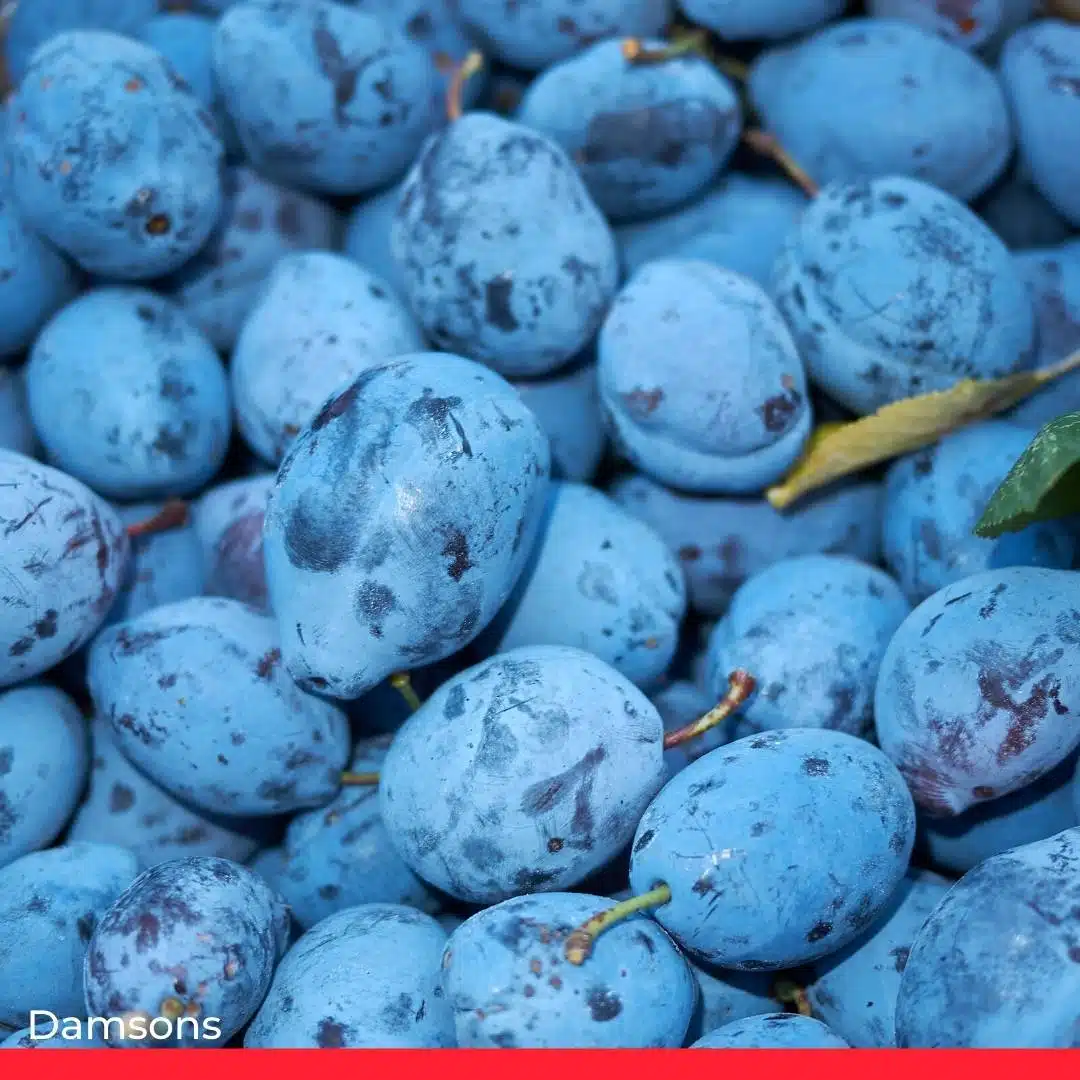 Damsons are a variety of plums. However, unlike typical plums, they're deep blue rather than purple and oval-shaped rather than round.
The flavor of their soft golden flesh is more bitter and tart than traditional plums. Although they can be eaten raw, they're more commonly used in pies, jams, and jellies when they're often paired with sweeter fruits like apples or pears.
Like many blue fruits, damsons have high vitamin C, riboflavin, and dietary fiber levels. However, they stand out for their mineral content, including potassium, phosphorus, copper, manganese, and magnesium.
13. Bilberries
Unlike blueberries, bilberries are a true deep blue rather than purple blue. The taste is also different as they're very tart and acidic.
Bilberries can be eaten raw (if you like sour berries that stain your fingers), but are really at their best in pies, jams, jellies, and sauces, cooked with plenty of sweeteners. They can be added to bland yogurts, mueslis, and porridge for a sour tang.
Like most blue fruits, they're loaded with health-enhancing antioxidants.
14. Laurestine
Laurestine is a fragrant Mediterranean shrub with small, weirdly shaped metallic blue-black fruits.
While these berries are edible, they don't taste great. The mild flavor is reminiscent of bay leaves, which is not surprising as the two plants are related.
Most people use them only for medicinal purposes and decoration.
15. Texas Blue Giant Fig
These stunning figs certainly deserve their name: they're massive! Their soft, deep blue skins have a wonderful, velvety feel. Best of all, they're bursting with sweetness.
But that's not all. They're a rich source of iron, calcium, and various vitamins so they're also surprisingly nutritious.
16. Ribier Grapes
Although not as famous as the Concord variety, ribier grapes are easy to find as they're sold pretty much everywhere.
Big, juicy, and with glistening bluish-purple skin, they're an ideal table grape. In addition, they don't contain many seeds, which is another plus, especially when you're using them to make juice, jellies, jams, etc.
Blue/black grapes are rich in the powerful antioxidant resveratrol and phytonutrients, which may help fight flu and regulate blood pressure.
17. Blue Pearmain Apples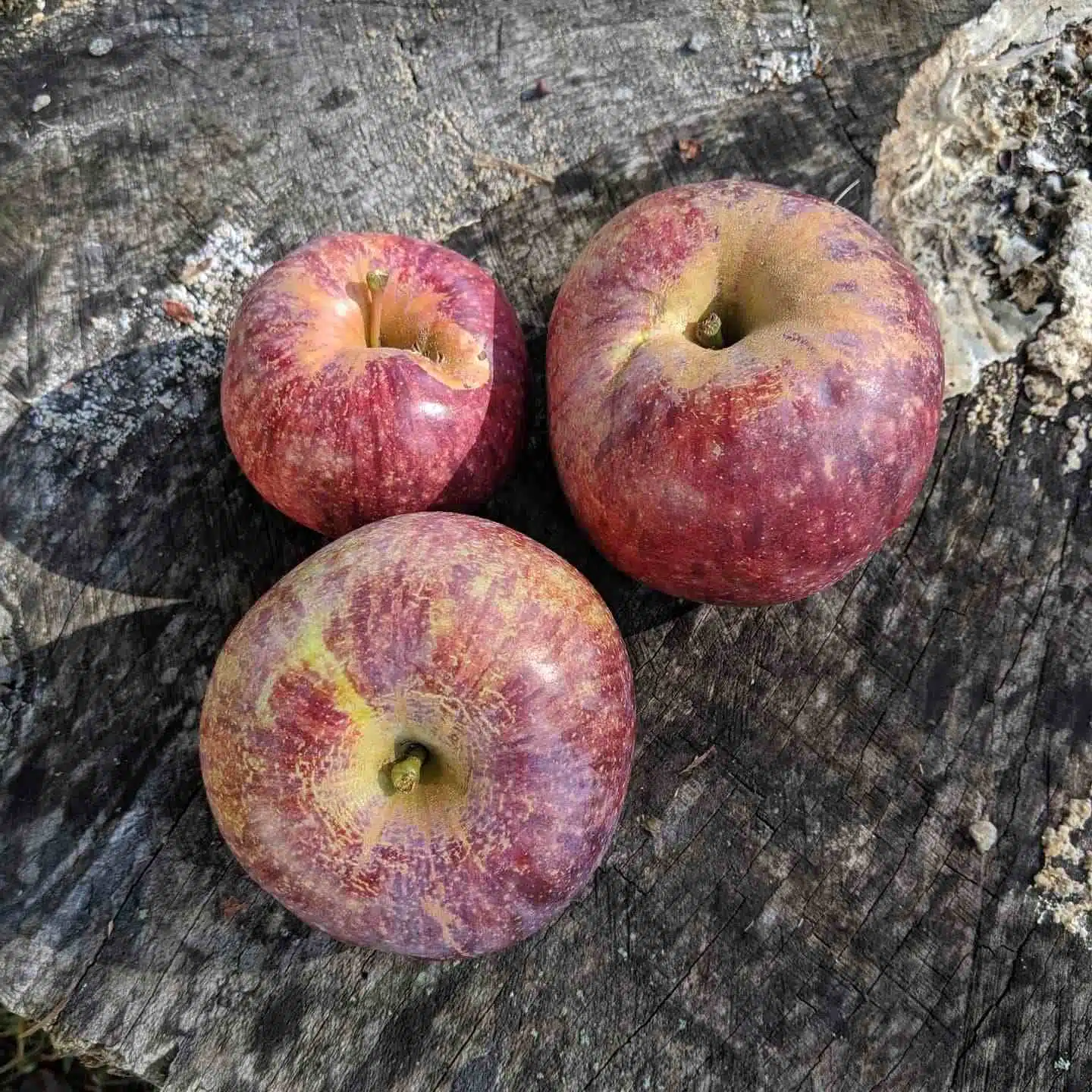 This American heirloom apple, a native of upstate New York, stands out due to the subtle blue-tinted bloom covering the deep purple skin.
Blue Pearmain apples have a unique flavor and aroma. They're slightly sweet with vanilla, melon, pear, and caramel notes. They also have an exciting tart aftertaste.
Blue pearmain apples are loaded with vitamin C, a powerful immune system booster. They're also rich in fiber and other antioxidants.
18. Jenipapos
Jenipapos can be any size, from a kiwi to a melon. Brazilians use jenipapo to color all kinds of dishes blue. As a result, it's become a staple in the nation's top restaurants cashing in on the latest food trend. It's also used in syrups, compotes, and liquors. It also makes unique blue milkshakes and ice creams.
Jenipapos are rich in calcium, iron, B1, B2, B5 and vitamin C.
19. Indigo Rose Tomatoes
As tomatoes are technically a fruit, and the Indigo Rose variety is so spectacular, we couldn't leave them off our list.
This unusual variety, which you can use in all the same ways as boring red tomatoes, contains elevated levels of anthocyanin, the naturally occurring antioxidant found in blueberries.
Use them to make original pasta sauces, soups, and bakes, or slice them into salads and give people something to talk about!
---
Related: 25 Stunning Blue Foods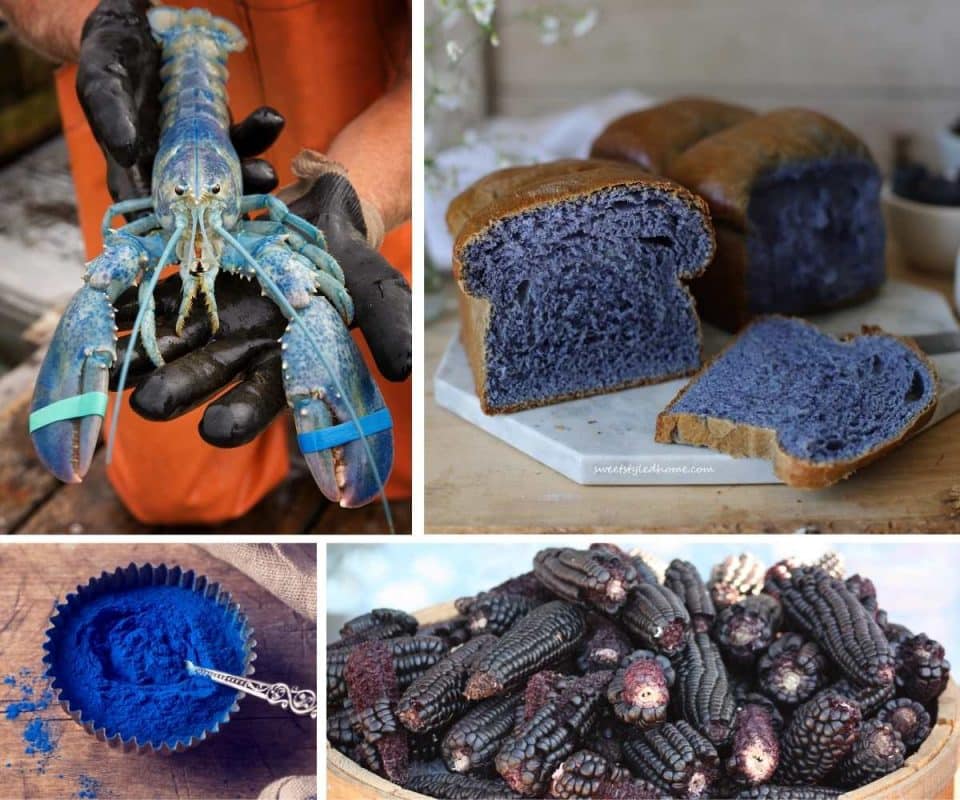 Related: 21 Naturally Green Fruits
Related: 20 Stunning Orange Fruits
Related: 20 Naturally Yellow Fruits