Top Christmas and New Year Foods in Russia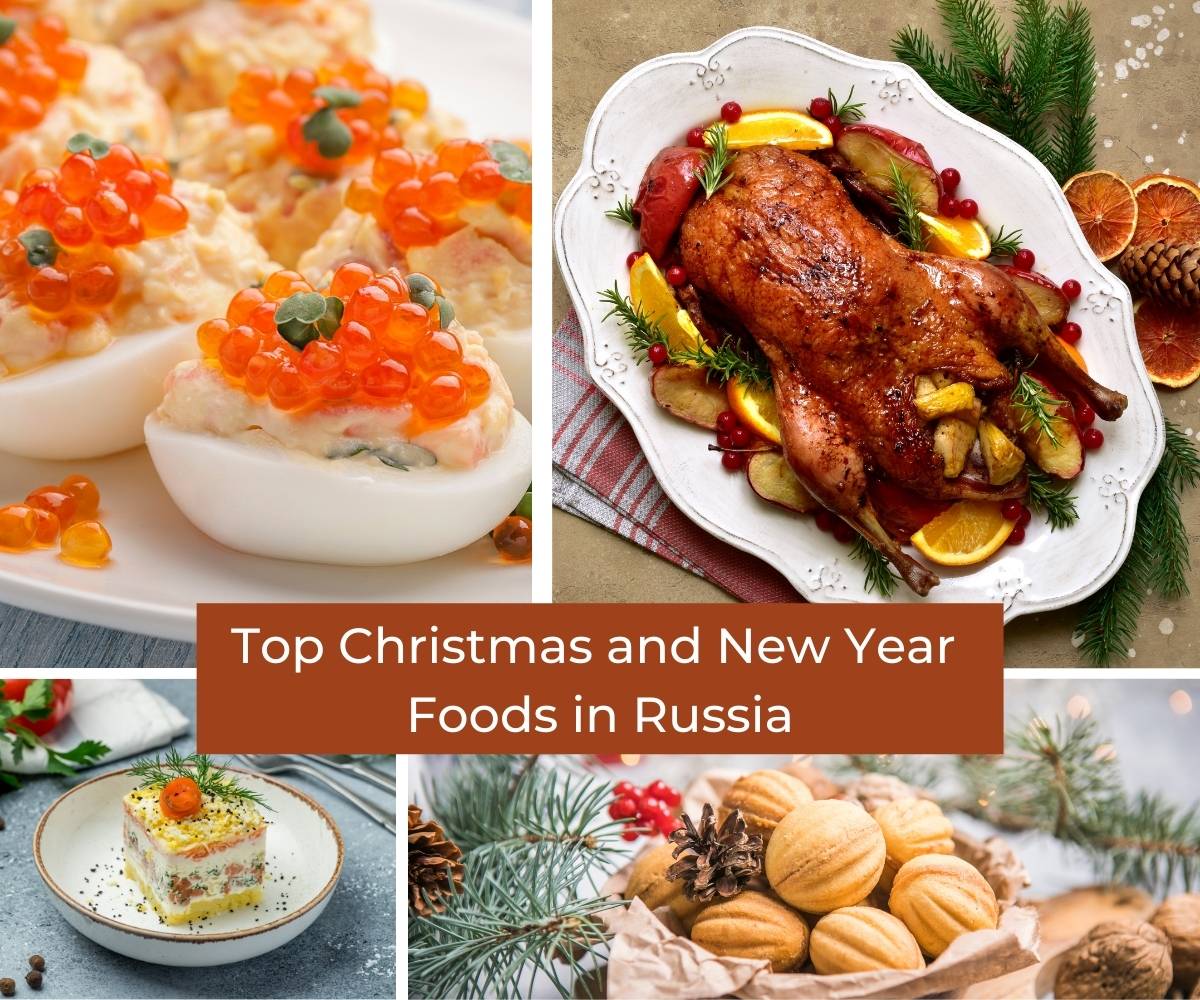 Russia's holiday season is quite different from the rest of Europe: it starts quite late in December and last almost until mid-January. That is because the main holiday of the year is, in fact, New Year, whereas Orthodox Christmas is celebrated quietly in religious households on January 7, following the Eastern Orthodox Church calendar.
There is an explanation for that, of course. Russia was a communist country that had bans on any sort of religious activities. New Year has been promoted to a major holiday instead, and to this day it is a celebration that nearly every Russian is engaged in.
Going to the city center to watch fireworks, lighting up the fireworks themselves in the backyard, having a family get-together, or drinking at a party with their friends, are just a few of the typical New Year activities. It is a national holiday, and its importance to Russia and its food culture cannot be overstated.
However, as Christianity is still the most common religion in Russia, Christmas is widely celebrated, but not on the same scale as New Year. It is a holiday that is spent quietly, with a family, and with some traditions adhering to the religious practices. For example, some people sing kolyadki, which are traditional pre-Christian songs nowadays associated with Christmas.
Traditionally, the New Year Eve table is filled with salads and appetizers, and everyone gets to try a bit of each, rather than having a three-course meal, which is commonplace in Russia on regular days. Here is a list of some foods that are frequently served throughout the entire holiday season in Russia.
Olivier salad, known internationally as Russian salad, is a dish that has appeared rather recently in Russian cuisine, in the late 1800s. First presented in a restaurant The Hermitage by the French chef Lucien Olivier, the original recipe has never been revealed and remains a secret to this day. However, the modern recipe is well-known in every Russian household.
Usually, the Olivier salad is the staple dish of Russian New Year, it is prepared in big batches, and salad leftovers are eaten throughout the entire holiday season. It is comprised of meat, eggs, potatoes, pickled cucumbers, and mayo, but, of course, each family likes to give the salad their own feel and "spice up" the recipe by adding their secret ingredient to the abovementioned ones.
2. Mandarins
It might be odd to see mandarins on a list of traditional foods of a northern country as a stand-alone meal, yet it is a fundamental part of the holiday dinner table.
Mandarins are full of vitamins that are essential to making it through dark and cold winters, and the season of harvest in their export countries falls around Russian New Year and Christmas. It is impossible to imagine a Russian that would spend their holidays without having at least a few (although, realistically, more like dozens) of mandarins!
3. Champagne / Sparkling Wine
Russia has a whole tradition related to the opening and drinking of champagne or sparkling wine on New Year's Eve. Whether the champagne is imported is not that important, although Russia does produce some champagne itself, which is quite popular around the country.
The champagne bottle is opened right before the sound of Kremlin chimes starts to play on the national TV, which signifies the countdown to New Year, and each person at the table has to have at least one sip to commemorate the apex of the celebration.
Editor's Note: Russia and France are in disagreement over the labeling of champagne. A new law was passed this year in Russia, which requires Non-Russian producers to mark their (champagne) bottles as sparkling wine.
Kholodets is one of the most traditional meals not only of the holiday season but also of the whole Russian cuisine. It takes quite some time to prepare and is not exactly everyone's cup of tea. Essentially, kholodets or studen is a meat jelly.
An authentic kholodets is prepared without any gelatine, just from very greasy pork broth. The boiled meat pieces are arranged underneath the broth, and then the dish is placed into the fridge for a minimum of one day. This delicious meat jelly is a handful, yet it is worth making it for the biggest holiday of the year.
5. Goose Stuffed with Rice
Goose is a very tricky type of meat: it takes some skill and knowledge to ensure that it turns out soft. This Christmas dish is extremely versatile; the rice inside of the goose is flavorful and aromatic, and can serve as a garnish, whereas the meat, if properly cooked, is very tender and temptingly plain.
Today, variations of this dish might include stuffing the goose, or adding rice, apples, oranges, or other fruit, which makes the meat sweeter and juicier. The rice can also be replaced with buckwheat.
6. Crab Salad
Crab salad is yet another salad that Russians prepare in enormous dishes and eat throughout the entire holiday. It is very fresh, crunchy, and a win-win for everyone as there is rarely a person who does not enjoy it. This salad is made from cucumbers, crab sticks, boiled eggs, corn from a can, and is a must-have in nearly every New Year salad in Russia.
Some people like to add cooked rice to the salad to make it more filling, which is not exactly necessary; the Russian holiday table is a feast and no one, surely, will leave it feeling hungry!
7. Vinegret (Vinaigrette)
Beetroot is one of the essential ingredients of Russian cuisine, as it is one of the few modern vegetables which are native to Russia. Vinegret is one of the foods that has appeared in Russian food culture during the "Europeanization" period, and it secured a place for itself then.
It is a very versatile and easy dish to make, as it only requires some beetroot, pickles, potatoes, and carrots. Boil what needs to be boiled, chop, mix, season it with salt, pepper, and oil, and serve with a sprinkle of dill on top!
8. Ham Roulettes with Cheese and Garlic
Ham rolls with cheese, garlic, and mayo filling are some of the most popular zakuski or appetizers during any Russian holiday, and its popularity is mainly due to how easy and quick it is to make it: just mix some shredded cheese with crushed garlic and mayo, place it in the middle of a ham slice, roll it, and serve with some dill or parsley on top.
Quite often you can find them in the supermarket, not only during the Christmas season but all year-round; this makes the hustle with food preparation last-minute a lot less stressful!
9. Eggs with Red Caviar
This is yet another snack/appetizer that is extremely easy to make and is mainly associated with major holidays due to the fanciness and expensiveness of high-quality red caviar.
Boil the eggs, peel them, cut them in half, and remove the yolks. Blend them with mayonnaise and dill to form a paste which is then placed atop the egg-white base, and put a small spoonful of red caviar on top. The best caviar in Russia is said to be from Kamchatka; try to get hold of some and give your holiday table an extra-special and memorable feel!
Herring under the coat is one of the more time-consuming dishes on this list, but its taste and authentic experience will make it worth your time. Herring under the coat is a layered salad, made with, well, herring, beetroot, some other vegetables, and eggs. Its cooking method varies from one household to the other, but the most important element of the recipe is to leave it for a few hours in the fridge to let the tastes soak in properly.
One of the few desserts on this list is the so-called oreshki, which literally translates as "small nuts". Even though it is a dessert, these cookies are often the first to vanish from the dinner table. Their name comes from their shape and size, which is quite similar to that of walnuts.
The filling of these cookies is a mix of condensed milk and cream cheese. Most Russian households have special baking molds that greatly reduces the prep time. If you have kids in your household, bring them in to help do the filling and share the experience of making oreshki!
12. Rasstegay
It is hard to imagine a Russian holiday feast without a pie on the table. Rasstegay is a type of open pie, the size of a palm or a big plate. Traditionally, a Christmas rasstegay is prepared with a mix of fish and rice as a filling. The most popular choice of fish for this specific type of pie is salmon and pike.
Rasstegay pies are very easily molded, and do not take that much time to prepare them in large batches, yet they will secure a spot in your heart and the hearts of your guests.
13. Tartlets with Cream Cheese/Caviar/Fish
These finger foods are little cups made from pastry, with a variety of fillings. Typically, these tartlets are filled with a grated cheese and garlic mix, caviar, or fish, however, you can get creative and substitute with something of your own preference.
Sweet or savory, it does not matter, as long as you nail the taste! These tartlets are very easy to make, as the pastry cups are sold in big packets during the holiday season in any grocery store in Russia, and all that remains is to add your filling of choice.
Kut'ya is probably one of the most ancient Russian foods on this list. It is also known as kolivo, sochivo, and syt, along with several other names. The recipe and the ingredients may vary slightly from one name to another.
Essentially, kut'ya is a plain porridge made from wheat grain, cooked with poppy seeds, walnuts, and honey. It is sweet, simple, and suitable for those who fast around Christmas time.
15. Vzvar / Uzvar
Vzvar is one of the most traditional Russian drinks made from dried fruits, the most popular of which are dried apple, dried pear, and prunes. Vzvar takes quite a bit of time to make properly, so if you want to serve it for your Christmas dinner, best start a couple of days in advance.
The most time-consuming step of cooking vzvar is letting the water sit for a day with the fruits of your choice, which serves to enrich the water with the flavors. All that remains after that is to boil it up with plenty of sugar and allow it to cool down for some hours. Vzvar can be stored in sealed and sterilized jars for a long time, so don't hesitate to make extra!
16. Mimosa Salad
Mimosa salad is another of the layered salads in Russian New Year cuisine. It is made with fish from a can (usually saury), boiled vegetables, cheese, eggs, and mayo. It is very greasy, hearty, and filling, and usually shaped similarly to a cake.
It is named so after the mimosa, or silver wattle flowers because of its top layer; the grated yellow cheese resembles the colors of the flowers spread over the white snow.
17. Meat Roulette with Prunes
Meat roulette is a very versatile dish: it can be served cold as zakuski or hot as a main course. Typically, it is made with minced beef, however, feel free to replace it with pork or chicken if you prefer.
The secret of a great roulette lies in the preparation of the prunes. Soak your prunes in red wine for some time, and then make sure to add the wine to your meat. Spread your meat on the baking sheet, place your prune filling on top, and roll it into a shape of a roulette. This dish will be the highlight of your dinner table!
18. Baked Apple with Cinnamon
In Russian cuisine baked apples are now associated with either rural areas or with Christmas festivities. It is an incredibly simple dessert, for which you only need an apple, sugar, and cinnamon. Bake it in the oven till it is very soft and have it with a cup of sweetened black tea.
19. Zalivnaya Ryba
Zalivnaya ryba is basically a kholodets made with fish, typically salmon or pikeperch. It takes a bit less time to prepare, as we would usually make it with gelatine or agar-agar.
It is a very savory and flavorful dish, often enjoyed at Christmastime by those who abstain from meat during the holidays.
20. Calamari Salad
If you are looking to make your salad selection even bigger, calamari salad is a good option. It is less popular than any other salad on this list, yet still quite common and just as good. Its ingredients usually include boiled calamari, crab sticks, cucumbers, and green peas from a can, generously dressed with mayonnaise.
—

Russian New Year and Christmas cuisine is rich in flavor and dishes: it is often called zastol'ye or a feast, which is no overstatement. Be prepared to frequent your local gym for quite some time after the holiday, as Russian festive foods are heavy and filling, and eaten for over a week or more. Have a go at turning your Christmas table Russian. It will be the experience of a lifetime!
---
Before you go, check out our round-up of the most popular Russian foods and desserts.