9 Tasty Haitian Desserts You Need to Try
In our previous journey, we discovered the top 20 Haitian savory dishes (if you haven't read that article, we highly recommend it). Today, our focus shifts to the world of Haitian desserts, where a delightful array of sweet treats takes center stage.
Haitian cuisine is renowned for its unique flavors and cooking techniques. While savory dishes dominate, there are also traditional desserts that showcase the country's sweet side. Indulge in the delightful potato bread, tablets, and the famous Haitian butter cake with its sweet icing, typically savored during special celebrations like birthdays and weddings.
Are you a fan of sweet treats? Let's explore the top 10 favorite desserts among Haitians, guaranteed to satisfy your sweet tooth.
1. Pain Patate (Sweet Potato Bread)
Pain Patate is certainly the favorite dessert of most Haitians. Its pudding-like, banana bread texture and the mixture of sweet potato and spices that accentuate the flavor, make this dish a dessert that is suitable for all occasions.
Whether you're enjoying a meal with your loved ones, attending a wedding, or spending a relaxed afternoon with someone special, these desserts go perfectly in any context.
2. Dous Kokoye
When you visit Haiti, it's highly likely that you will come across a Dous Kokoye vendor. This is a boiling mixture of coconut milk, milk, coconut, sweet spices, and sugar. It is rich in flavor and the tempting aroma permeates the house when it is being cooked.
It is smooth and rich in flavor. If you are looking for an easy-to-make snack, Dous Kokoye is the perfect choice for you.
3. Akasan
This is a traditional Haitian drink that has the consistency of a thick milkshake. It is a sweet drink that is very popular with Haitian locals, who consume it a lot.
The consistency is of a pudding made with corn flour, evaporated milk, and spices. The main spices are vanilla, cinnamon, and anise. Traditionally, Haitians drink Akasan for breakfast, just warm, accompanied by rolls.
4. Pain Mais
Just like Pain Patate (Haitian cornbread), Pain Mais has a banana bread texture. However, it is made with corn flour, sugar, banana, vanilla, and milk.
The delightful taste and moist texture make it the perfect accompaniment to a cup of tea, providing a comforting experience that brightens your day.
5. Rapadou
Rapadou is an artisanal brown sugar made using traditional methods. It is produced exclusively from cane juice. The local recipe includes cane juice, cinnamon, and ginger. A few pinches of black coal ash are sometimes added.
While some view it as a remedy for heartburn, Pain Mais remains a beloved dessert among Haitians.
6. Beignet Haïtien
Beignets are a popular treat enjoyed during the vibrant Haitian carnival, a cultural extravaganza featuring musical parades, colorful costumes, and a variety of delicious food. These carnival Beignets are freshly prepared and sold by street vendors, adding to the festive atmosphere of the event.
The recipe for Haitian Beignet is simple and they taste like heaven. So, if you plan to visit Haiti during Mardi Gras, make sure to try this wonderful snack.
7. Doukounou
Doukounou is a dish inherited from our ancestors the Tainos. It is from the same family as Tamales. However, this one is sweet.
It is prepared with corn flour, milk, sugar, cinnamon, raisins, vanilla extract, and beaten eggs. The raisins are traditionally wrapped in fresh banana leaves and steamed.
Before unwrapping, the pudding is allowed to cool and is then served at room temperature with a vanilla-cinnamon sauce.
8. Rum Raisin Ice Cream
Haiti evokes topical heat and rum. The heat means ice cream and the favorite flavor here is rum raisin. Haitians especially appreciate the national ice cream made with milk, vanilla, sugar, and the special rum Barbancourt, our heritage.
9. Konfiti (Jam)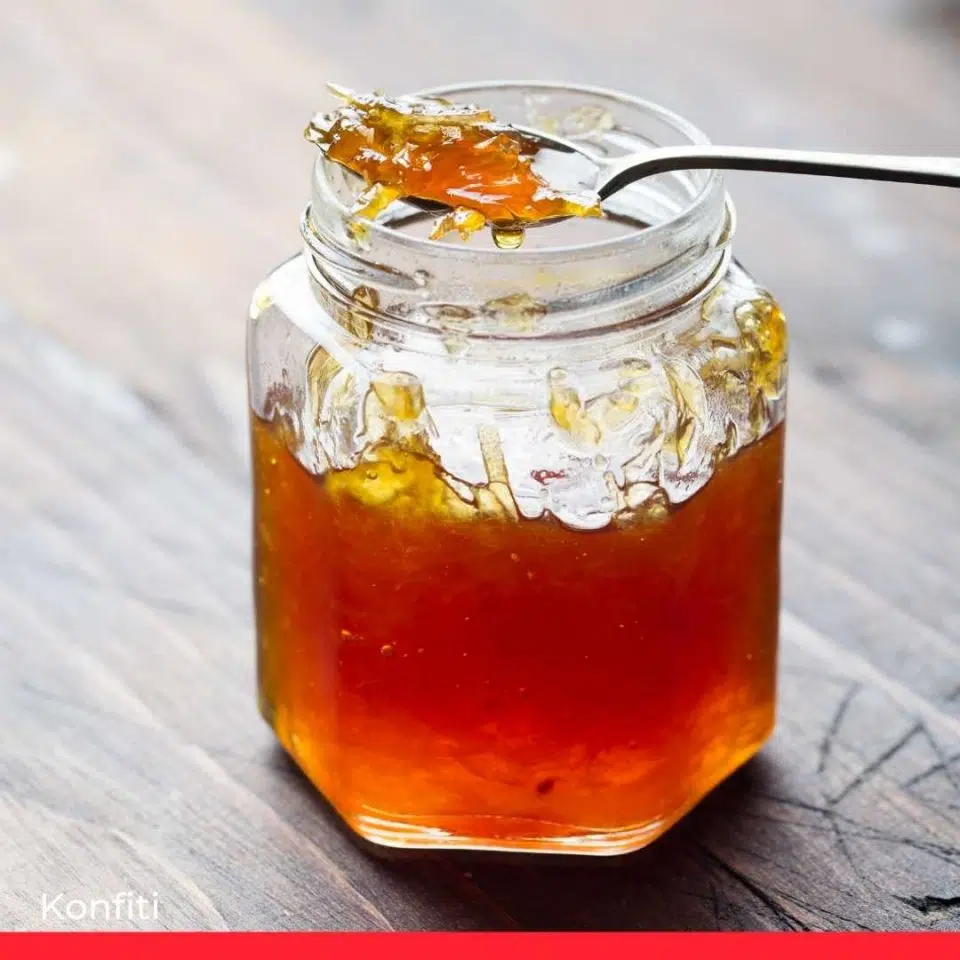 If you are looking for a Haitian dessert that you can incorporate into your daily diet, grapefruit jam is the one for you. It is prepared by washing the peel of the grapefruit to remove the bitterness, and boiling it in sweet water and spices until the water is reduced. Grapefruit jam can be eaten on toast in the morning for breakfast.
---
Related: Most Popular Foods in Haiti
Related: Unmissable Haitian Christmas Dishes