18 Delicious Bosnian Desserts You Need to Try
Not many European countries compare to Bosnia and Herzegovina. Due to its turbulent history, Bosnia and Herzegovina is a country where European, Mediterranean, and Oriental cultures clash and blend into a unique, almost exotic mixture.
Beautiful nature, good people, rich history, and deeply emotional sevdah music are only some of the first things that come to mind when one thinks about this country. However, one cannot truly experience Bosnia without experiencing its wonderful cuisine.
Bosnian cuisine is a specific combination of Balkan, Turkish, German, and Hungarian dishes. It is a combination of influences that applies not only to savory dishes but also to desserts.
Sounds interesting? Here is a list of the 18 most popular Bosnian desserts, but read it at your own discretion! You will feel tempted to try them all!
1. Urmašica
This traditional Bosnian dessert originated in the Middle East. It is one of the most popular and much loved desserts. To make urmašice (a plural of urmašica), a dough made with flour, eggs, milk, sugar, and oil is rolled into small cylindrical shapes. Each urmašica is stuffed with a piece of walnut or date, which is how this dessert got its name: hurma is the Bosnian word for date.
A kitchen grater is used to imprint interesting designs on top of each urmašica. They are baked and then soaked in sugary water called agda. Thin lemon slices are used to garnish it and it is then served cold.
2. Baklava
Baklava is probably the most popular Bosnian dessert. It is a layered pastry, usually filled with walnuts, but you can find varieties filled with pistachio, coconut, chocolate, almonds, etc.
Traditionally, baklava is served during the Eid Mubarak holiday, but it can be enjoyed every day, by anyone. Just like urmašice, baklava is soaked in sweet syrup, agda, and garnished with thin lemon slices.
3. Tufahija
If you are looking for a sweet but refreshing Bosnian dessert, look no further – try tufahija. This dessert is made with peeled apples cooked in agda and lemon juice and then allowed to cool. They are stuffed with a mixture of chopped walnuts, milk, and vanilla sugar. Finally, they are decorated with whipping cream, and they are then ready to serve.
If you want something sweet that has fewer calories than most other Bosnian desserts, tufahija is your best choice.
4. Tulumbe
A deep-fried dessert, tulumba is similar to South Asian jalebi or Latin American churros. Tulumba batter is made with flour, eggs, milk, oil, and baking powder. The batter is poured into a pastry bag and squeezed into hot oil.
Once they become golden brown, tulumbe are removed from the oil and soaked in agda. Tulumba is served cold and it has a light, bubbly texture.
5. Bosanski Lokum (Bosnian Lokum)
A type of Bosnian dry dessert, Bosanski lokum is usually eaten with a coffee or tea. Bosnian lokums look like small, cylindric white cookies.
They are made with butter, powder sugar, vanilla sugar, flour, and oil. Bosnian lokums are crispy, airy, and light. Another great thing about this dessert is that it gets better as it ages, which means you can even enjoy it a few days later.
6. Oblatine
Made with layers of flat wafers with different fillings in between, oblatine is another interesting Bosnian dessert. They are usually filled with a mixture of walnuts, chocolate, and ground biscuits. However, you can find other fillings, such as coconut and raisins.
7. Vasina Torta (Vaso's Cake)
A true classic among Bosnian desserts, Vasina torta (Vaso's cake) is a dessert served at all major occasions, such as weddings, birthday parties, and any other time the host wants to impress guests.
Today, Vasina torta is replaced by more "trendy" cakes or by cakes that can be bought in grocery stores, so you don't get to eat it very often. Nevertheless, if you get a chance to try Vasina torta, don't miss it, especially if it's homemade.
Vasina torta is made with chocolate, ground walnuts, grated orange peel, orange juice, eggs, sugar, and lemon juice. All of these ingredients are in perfect balance with one another, and none of the flavors overpowers the others.
8. Kadaif
At first look, kadaif looks like a pasta dish. Believe it or not, it is a delicious dessert! It is made with kadaif noodles, ground walnuts, butter or margarine, and agda. Kadaif noodles are divided into two parts, one of which is placed in a large baking pan then covered with melted butter and ground walnuts. The other part is then sprinkled on top.
Everything is baked for approximately one hour and then drizzled with agda and lemon juice. If you are a fan of unusual, yet delicious desserts, you need to try kadaif!
9. Čupavci
An example of traditional desserts that are still widely loved, this one is made when cube-shaped biscuits are soaked in chocolate and dipped in coconut flour. Unlike many other biscuit-based desserts, čupavci are juicy and full of flavor.
Once you try čupavci, you will want to learn how to make it yourself. The good news is, the recipe is really simple and you can learn it in no time! The name means fluffy/shaggy/hairy, because they are dipped in coconut flour, which looks like short hair.
10. Šape
Another dessert with an interesting name (šape means "paws" in English), šape is usually prepared during holidays, such as Christmas, Easter, Eid Mubarak, etc.
They got their interesting name because of the way they are made: a dough of flour, butter/pig fat, ground walnuts, and sugar is divided and placed into small tin molds, shaped like animal paws.
Molds filled with the dough are placed on a large baking tray and baked until golden brown. After cooling down, they are sprinkled with powdered sugar and eaten with coffee and tea.
11. Breskvice
This dry dessert got its name (breskvice – small peaches) because of its appearance. Crispy round biscuits are filled with plum or apricot marmalade and dipped in a food coloring and sugar so they look like small peaches. Breskvice are usually bite-sized, and before you know it, you will have eaten a dozen!
12. Gurabije
A shortbread-type biscuit, gurabije is another dessert brought to Bosnia by the Ottoman Turks. A dough for gurabije is made with flour, eggs, sugar, oil, ground walnuts, and grated lemon peel.
The dough is rolled into fist-sized discs, and 1 sugar cube is inserted into each one. Gurabije are baked and served once they cool down.
13. Makovnjača
A strudel filled with poppy seeds and fruit marmalade, makovnjača is a favorite pastry for those who like Bosnian traditional cuisine. This is a soft, juicy dessert, with a delicate flavor. When freshly baked, makovnjača will tease you with its intoxicating aroma.
14. Krofna s Džemom (Jam-filled Donut)
As its name suggests, krofna s džemom is a donut filled with jam or marmalade and sprinkled with icing sugar.
Bosnian donuts aren't glazed and full of sugar like the ones you find in America, but once you eat them, you will never want to eat any others. Krofna s džemom bring back childhood memories of eagerly awaiting mum's donuts.
15. Ruske Kape (Russian Caps)
Ruske kape got their name because they look like Russian winter hats. Two circular pieces of biscuit, one brown and one yellow, are "glued" together with custard cream and coated in coconut flour. Then, each Russian cap is topped with chocolate glaze. You will experience a rhapsody of flavors with this dessert.
16. Krempita
A puff pastry filled with custard cream, krempita is a dessert you mustn't skip when visiting Bosnia. This dessert has a subtle vanilla flavor and creamy texture. A generous amount of custard cream is placed between two layers of puff pastry, with the pastry on top sprinkled with icing sugar.
Krempita originated from the Austro-Hungarian monarchy, where it was called cremeschnitte, and is now a popular dessert in the Balkans, especially Bosnia.
17. Šampita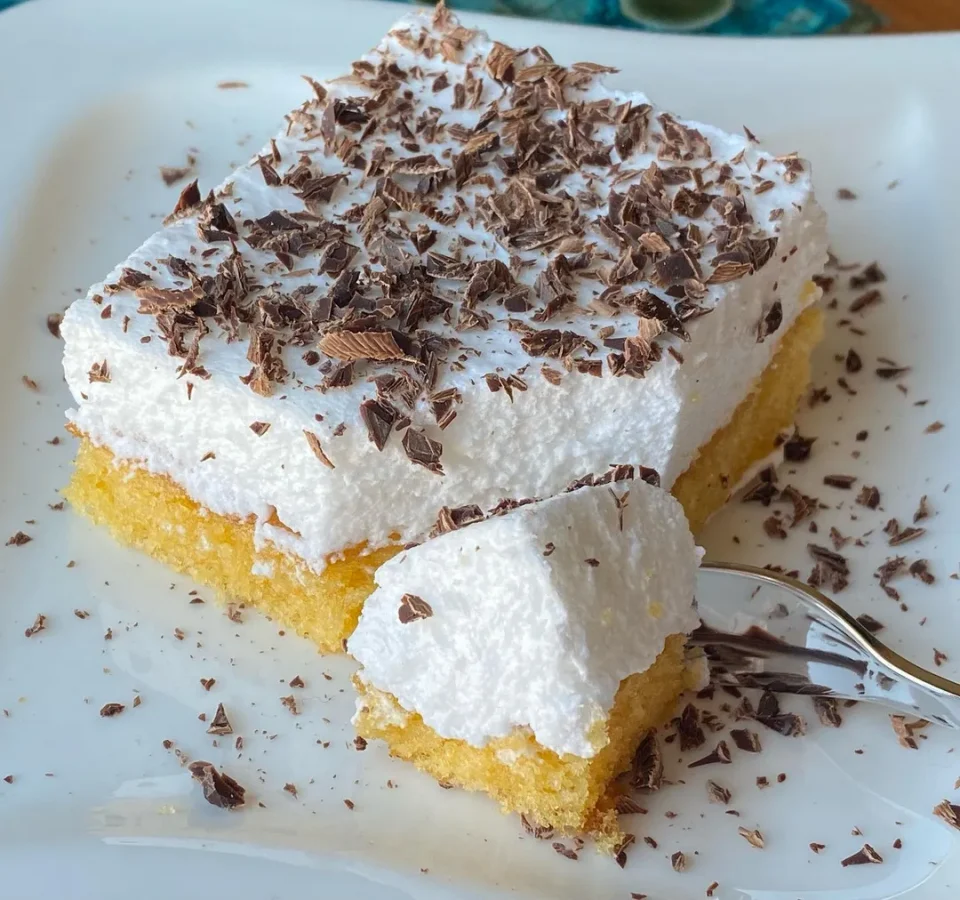 Another dessert originally from the Austro-Hungarian monarchy and which peaked in popularity in Bosnia is šampita: whipped meringue with an egg yolk crust. This is a simple, yet delicious dessert with a light, airy texture.
18. Rahat Lokum
If you haven't tried Bosnian rahat lokum, can you even say that you have visited Bosnia? Jokes aside, rahat lokum, widely known as Turkish delight, is a staple dessert in Bosnia, especially with a Bosnian coffee.
Rahat lokum is a gel made with starch, sugar, and flavorings such as walnuts and rosewater. Besides the most common rose and walnut flavors, rahat lokums can be found in many other flavors: coconut, pistachio, orange, lemon, pomegranate, etc.
---
Most traditional Bosnian desserts actually originated somewhere else, but generations of Bosnian people perfected these desserts and made them their own. Bosnians of all generations, social-economic status, and religion are crazy about drinking homemade Bosnian coffee. With that in mind, it is no wonder that Bosnian desserts were developed to go alongside coffee or tea.
Most recipes for Bosnian desserts contain walnuts, and many of them use syrup water and lemon juice to add more sweetness, flavor, and moisture.
Today, these traditional Bosnian desserts are slowly being replaced with desserts that are regarded as more "trendy", such as cheesecakes, soufflés, croissants, etc. However, those who prefer tradition over trends, and those who want to enjoy the same desserts as their ancestors, stop these desserts from sinking into oblivion.
When visiting Bosnia and Herzegovina, its cuisine in general and desserts in particular are an inseparable part of the experience. Getting to know Bosnia and Herzegovina is not only about sightseeing and learning historical and statistical facts, you need to taste it!
Related: Most Popular Bosnian Foods
Related: Most Popular Bosnian Drinks