Top 25 Most Popular Foods in Oman
Oman is a land that has stood the test of time, from when the first human crossed the Red Sea's Bab Al-Mandab strait into Asia to when an ancient empire once stretched as far as the Indian Ocean and the Eastern Horn of Africa, and with its diverse geography towered by two rocky mountain ranges, long coasts facing two different seas and an ocean, and land embraced by a vast desert that goes on for miles on end.
Oman's unique culinary palette, which has evolved throughout its history, has been majorly influenced by its very own factors of nature. Most of the early settlers lived by the sea in the eastern region of Sharqiyah and the southern region of Dhofar and fished using Indian-designed and -built dhows and grew simple crops by utilizing the rainwater gathered in the river-like canyons that Omanis call "Wadis".
The fishermen were succeeded by mountain residents who preferred the highlands for the cooler temperatures during the hot months of summer and for the protection against foreign invaders. Last are the few remaining nomadic tribes who wander the desert plains herding sheep and camels while searching for sources of food and shelter to sustain their lives.
Below we are highlighting 25 of the most popular foods you can find in Oman. Many of these dishes have evolved according to the needs of locals and available local produce and are nurtured by the inhabitants of their respective areas:

1. Shuwa
You will be lucky if you get to celebrate Eid (Islamic holidays that happen twice a year) in Oman, since you will surely be invited to a dish of a nicely spiced and succulent beef Shuwa.
Omanis have a tradition of digging one deep pit in the middle of each village; this hole is then used during special seasons to slow-roast a full animal for over twenty-four hours, marinated and spiced with a mix of spices found in the surrounding region, and covered in local herbs, such as palm or banana leaves.
The Shuwa is placed on large plates in the center of the men's or women's gathering area called "majlis," where people sit on the floor. It's served using a big spoon, accompanied by white rice or local bread, and eaten using the hands.
Today, you can find Shuwa added as a menu item in some of the tourist restaurants that serve Omani specialties.

2. Halwa
If you are invited to an Omani meal in a traditional house, your dinner is incomplete if the eldest doesn't serve you some of their home-prepared or ready-made Halwa desserts with your Omani Qahwa (local coffee).
Using a mix of cornstarch, sugar, and rose water mixed with a base of butter or ghee, cooked for a couple of hours with regular stirring, this mixture is then flavored to the family's taste with some nuts, sesame seeds, and saffron threads or fig paste. It has a gelatinous texture and a red-brown color. It is consumed by hand as a dessert after food on special occasions.
3. Qahwa
The word means coffee, but it's never just about a cup of coffee. Once you walk into an Omani's house, shop, or space, you can smell the freshly brewed cardamom coffee of which you will be immediately served a cup or two. This one doesn't need an occasion or a specific time of the day and is always ready for potential guests or households.
Qahwa is the word used for coffee, but it actually means the tradition of serving it following a small sweet bite, Halwa, or local dates. It is usually served on a large stainless steel plate along with some fruits to be cut which are offered right after you finish your coffee.
4. Luban
Luban or, as it is known in the west, Frankincense, is produced from special trees in the southern region of Dhofar and once pinned Oman on the world trade map due to its scarcity. At one time, a kilogram of Luban was more expensive than its equivalent weight in gold.
Luban takes the form of a solution that is consumed to address digestive issues like irritable bowel disease and gastritis. It's typically ingested in liquid form, and its traditional use is believed to provide relief for stomach ailments. Additionally, Luban is frequently blended with other fragrances and incense, creating mixtures that serve as both home fresheners and clothing perfumes.
5. Mashakek
A Suwahili word that means grilled skewers, once evening arrives, you will find locals of Suwahili descent laying down their smoky barbeque grills around every corner of the Sultanate, placed next to an icebox that has been filled all morning with freshly prepared skewers of lamb, seafood and beef marinated in east African spices, influenced by the origin of the dish that traveled from the Zanzibar and Mombasa regions of today's Tanzania and Kenya, over which the Sultanate of Oman ruled in the 17th century.
Mashakek's preparation scene, resembling Satay preparation that you could stumble upon while traveling anywhere in South East Asia, has become a common sight to watch within the past decade, where families come together to have their skewers while picnicking in a national park, or order to-go through car windows. You can have your Mashakek skewers covered in either a sweet-sour or spicy tangy mouth-watering special sauce.
6. Khubz Rahal
Depending on which region you are in, they can be known as Riggag, Omani Khubz (Arabic word for bread), or Khubz Rahal, which means a very thin layer of crispy wheat flour bread.
Riggag used to be eaten with breakfast eggs and bean dishes until it recently started being served on its own with the arrival of many tea-serving corner shacks. These small shops started offering Khubz Rahal prepared on a hot plate and served filled with menu options of cream cheese, potato crisps, and honey. It is best eaten hot right from the shop.
7. Harees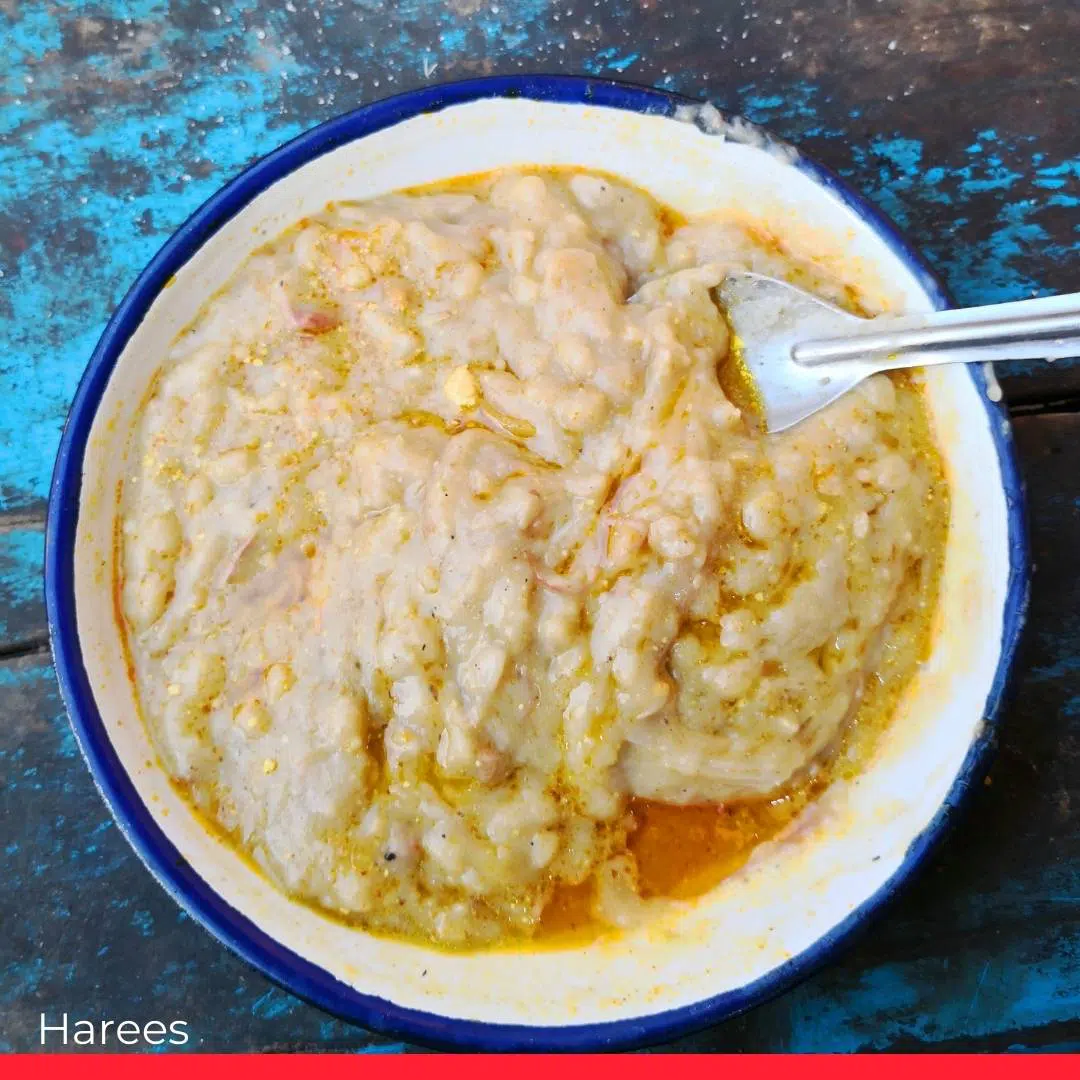 Made from boiled wheat that is crushed until it's thick in texture, the wheat is mixed with the meat of beef or chicken, and topped with ghee or butter. It's commonly cooked at home, or you might encounter Harees and Aursya sellers standing along main roads.
8. Al Aursya
This dish is similar to Harees, except for the base of rice instead of wheat and chicken being traditionally chosen as the type of meat. Both dishes are widely eaten among locals to break the fast during the Islamic month of Ramadan.
9. Saloona
A mouth-watering tomato-based chicken, beef, or fish slow-cooked stew, it can be nicely coupled with Qabuly or white rice for a heavy local Omani lunch or dinner. It's commonly cooked in Omani restaurants, or prepared at home.

10. Qabuli
Oman's specialty rice dish is cooked lamb or beef stew mixed with rice and a handful of different spices including cardamom, clove, Indian masala, and black pepper, with the spice level adjusted to taste.

A warm Qabuli dish mixed with Saloona can be served as a nice after-work meal at any local restaurant in Oman.

11. Sidaf
Found in the mountain valleys, Sidaf is a herbal plant that Omani highlanders use to prepare a dish complemented with dried Qashaa fish, lemons, onions, and bread pieces, eaten after a long day working in the valleys' fields.

12. Sihnat Al Qashaa
Qashaa is a salted, dried fish; the origin of the word comes from the gushing of the water where the fish gets caught. Omanis mix it with flat Arabic bread, lemons, onions, and black pepper. The Sihnat al Qashaa is easily prepared and is eaten as a light lunch.

13. Dhofari Al Maajeen
This Southern specialty comes from the Dhofar region. It is a dried lamb dish filled with animal fat that gives it a smoky taste. The drying process means it lasts for longer, and it can be eaten at any time.

14. Al Bagla
Breakfast takes its fair share on the Omani table. One of the flavorsome dishes that gets savored as part of the morning meal is Bagla, prepared using boiled and dried fava beans, which is eaten with bread, eggs, and fresh vegetables.

15. Al Mehraj
Similar to Bagla, the main ingredient is nicely spiced red kidney beans. Mehraj can also be eaten as a lunch entree.

16. Quroos
If you are really liked by your local host, they will treat you to some of these small soft pancakes, offered with fresh honey from the surrounding hand-placed trees or mountain hives. Quroos dipped in honey followed by some Qahwa is a sweet bite to remember.

17. Al Suwaywyah
Cooked noodles sweetened with sugar, can be added to hot milk and served with boiled eggs for breakfast. They give a good amount of energy to athletes and sportspersons before exercising.

18. Luqaymat
These fluffy fried flour balls are prepared in street kiosks and coffee shops and ordered by piece. Depending on the Luqaymat shop, you can choose from a variety of options for fillings and toppings, including melted cheese, salted caramel, local date syrup, and chocolate sauce.

19. Dips
Oman's valleys and multi-layered cultivated plains are signified by their scenic tall-standing palm trees, which cover the landmass far and wide. Hence, market sellers are always trading different kinds of dates in the cities' weekly and daily local markets.
Dates, known locally as seh, also get squeezed and sold in syrup form, called dips, and are used as a sweetener for baked goods and local bread types like Luqaymat, Quroos, and Khubz.

20. Fataer Surya
Sur holds strong the country's southeastern fort, historically known for building fishing boats. It provides the culinary scene with plenty of specialty dishes exclusive to its locality, among them Sur's stuffed wheat flour pies. They can be filled with savory items like vegetables, cheese, or chicken, or ordered sweet with dates, dips, or honey.
Fataer is sold in street shops in many cities, yet is always referred back to its indigenous city of Sur.

21. Al Majboos
Rice is cooked in the same pot as the vegetables it is mixed with, such as potatoes, onions, and tomatoes. The meat used is usually placed under the rice in the same pressure cooker, and that's where the name Makboos (pressurized) comes from. Chicken, lamb, beef, shrimp, or kingfish is used to complement the Makboos delicacy.

22. Thareed
This is a local dish served across the Arabian Gulf region during the fasting month of Ramadan. A layer of bread is soaked in a tomato stew and topped with a braised chunk of lamb, beef, or chicken.

23. Ldunqo
Another Suwahili-influenced side dish, Ldunqo is prepared by using boiled chickpeas that are simply spiced using lime, salt, and black pepper.

24. Al Farfeena
This salad is prepared using green bell pepper, fish, and onions and is served as a side dish in many of the Omani coastal areas.

25. Chai Karak
Within the last decade, many of the regular daily Qahwa drinkers have shifted to get their satisfaction from the newly adopted Indian masala chai, known on the Arabian peninsula as Chai Karak. It was initially only drunk by Indian sub-continent expatriates, but now it is widely served in paper cups on every corner.
"Karak" for short, has its own tradition on Omani streets, whereby the car driver pulls over by the cafeteria, honks the car horn, and asks for a Chai Karak from their server using the understandable hand gesture indicating a cup of tea— simply a locally developed drive-thru system.

In addition to the aforementioned list of local Omani foods, Oman's table has been heavily influenced by renowned dishes from neighboring countries and long-standing trade partners such as the widely eaten rice-with-meat dishes of Yemeni Mandi and the Hyderabadi Biryani that you can find while traveling anywhere in Oman.

Like many of the trends taking place around the world today, affected by social media followers and viewers, Oman's street food is witnessing a noticeable modernization in the variety of foods both offered and being demanded by the younger generations, from American burgers to Turkish kebabs and from Levantine restaurants to smoothies street shacks and Belgian waffles.

In a way, the food we consume reflects the differences between our cultures, modes of thinking, and aspirations as individuals and societies, so as we get continuously exposed to a cosmopolitan globalized view of our world, it will naturally dictate the way we prepare our meals, the mix of spices we use and the art we apply to serve our dishes. There is no doubt that having an Omani food experience will leave you in utter awe while filling not only your stomach but your soul too.
---
If you love Arab cuisine, check out a review of the most popular foods in the region: