Rolled Turkey Breast with Bacon, Mushrooms & Apples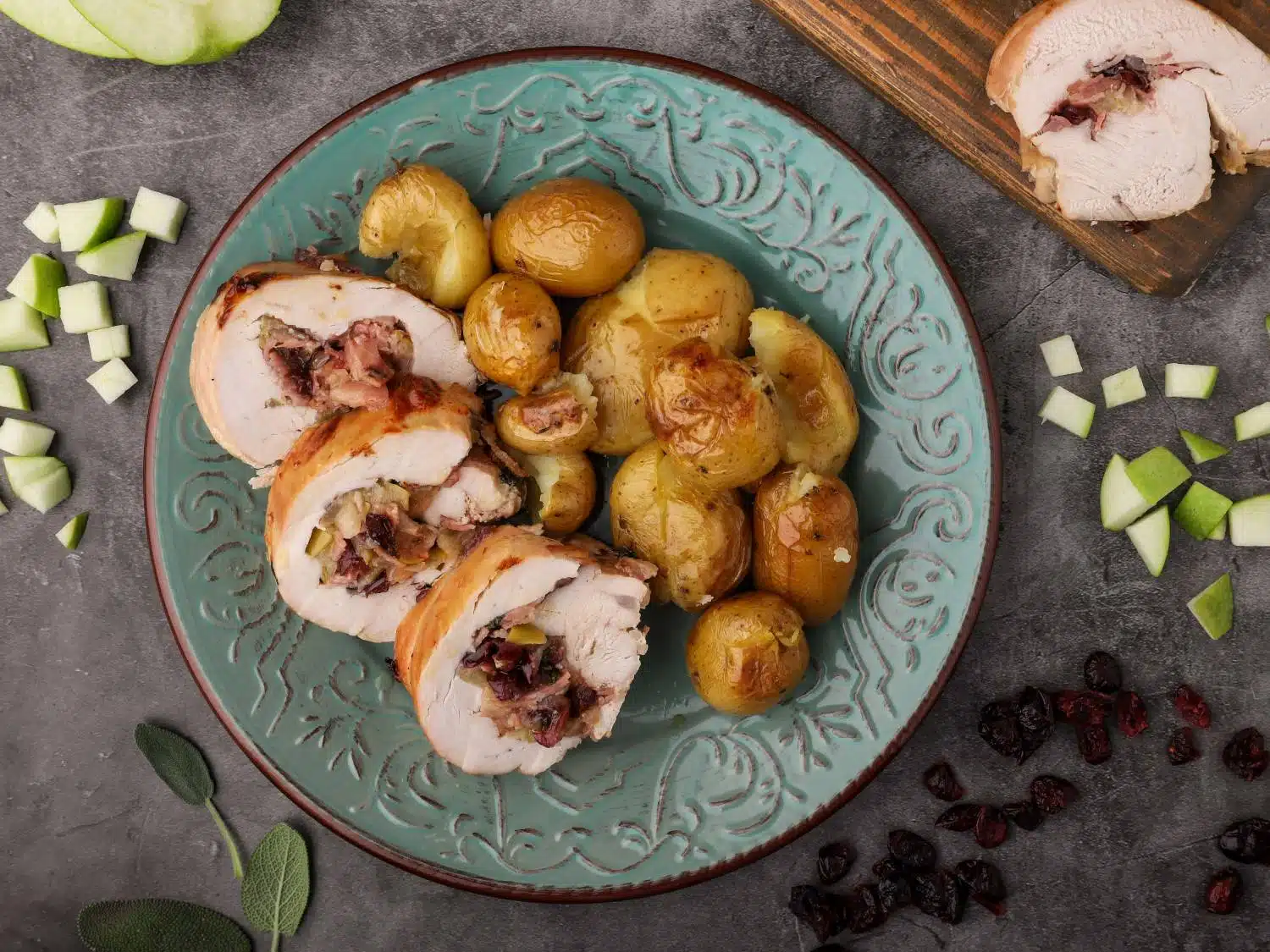 This is delicious rolled turkey breast recipe by Greek celebrity Chef Giorgos Tsoulis that's perfect for the holiday season.
Serve the rolled turkey with a side of potatoes, green beans or roasted vegetables. Please find the full recipe below!
Rolled Turkey Breast with Bacon, Mushrooms & Apples
Ingredients
2

turkey breasts

open and ready to fill

300

g

bacon

finely chopped

2

green apples

finely chopped

150

g

shiitake mushrooms

finely chopped (see notes below for using other types of mushrooms)

4

sage leaves

finely chopped

80

g

cranberries

1

red onion

finely chopped

2

tbsp

grated rusk

or breadcrumbs

50

ml

chicken broth

2

tbsp

finely chopped parsley

salt

pepper

olive oil
Instructions
Place a pan over medium heat and let it warm up. Once heated, heat some olive oil then add the onion, bacon, mushrooms and apples, and sauté for 4 minutes.

As soon as they turn golden and the liquid begins to reduce, add the cranberries, sage, parsley, and chicken broth, stir with a wooden spoon, and simmer for 3-4 minutes.

Add the rusk to draw out the liquid, stir, and remove from the heat.

Place the turkey breasts on the kitchen counter, season them with salt and pepper, distribute the filling on their surface, then carefully roll them up.

Tie the breasts with string, oil them with a brush, transfer them to an oven tray, and bake in a preheated oven at 200°C/392 °F (fan) for 20 minutes and then at 160°C/320 °F (fan) for 15-20 minutes.

Once ready, serve the turkey breasts with potatoes, green beans or roasted vegetables.
Notes
 1. Shitake mushrooms have less liquid than other types of mushrooms and are a great choice for this recipe. If you use other mushrooms, you must remove the extra liquid, because we want the stuffing to come out like a solid paste.
2. The turkey must reach a temperature of 155°C/ 310°F  in order to be ready.
Related: Mexican Christmas Turkey
Related: Chicken Wellington
Related: Marinated Chicken Drumsticks with Honey, Garlic & Soy Sauce
Related: Turkish Chicken Wings with Vegetables Couscous
Related: Soy & Sweet Chili Chicken Wings
Related: French Mashed Potatoes
Related: Baked Turkey Legs with Prunes & Potatoes