Best 20 Basmati Rice Brands
We love Basmati rice because the grain remains straight and the texture gives the perfect bite. We love it because it's non-sticky and the grains remain separated after cooking. We love it because it can be so versatile and aromatic. We love it fluffy.
Basmati is the perfect choice for biryani, pilaf, and curry. It's our number one go-to choice when it comes to rice, but not all basmatis are created equal. Which is why we've reviewed basmati rice brands to bring you the best of the best!.
The origins of basmati rice
Rice is the world's most popular staple ingredient. Basmati accounts for 70% of global rice production due to its perfect texture and its fragrant aroma. After all, 'basmat'i means fragrant in Hindi!.
This special rice has its roots in India, Nepal, Sri Lanka and Pakistan, but it has also become a staple food in Kenya, and other East African countries. While basmati rice was traditionally cultivated at the foothills of the Himalayas, today it is also farmed in the US. 
---
Check out our stories on the best white rice, brown rice and Jasmine rice brands.
---
With a dry texture that remains tender, and a balanced level of moisture, Basmati is prized for its fluffiness and lightness. The best basmati rice is usually aged for one or two years, or even more. This procedure makes the grain dryer and concentrates the flavor.
The slender, elongated grains, with their floral and aromatic taste, are also reputed to provide many benefits for your body, as well as your taste buds!
What does basmati rice do for your health
Basmati is quite the undisputed king of rice. Sure, we love brown rice for its nutritional value. We adore the nutty flavor and mildly sticky texture of jasmine rice. But when it comes to getting all the advantages combined, basmati is the winner!
Not only do we appreciate its goodness and versatility but it comes with a variety of health advantages. While brown whole grain rice is the most nutritious, basmati rice actually comes quite close.
Compared to white rice, basmati rice is filled with fiber. Unlike white rice, basmati maintains all its layers during the milling process. The fiber content in basmati rice is about 10% of its total weight. Due to the bran fibers, basmati also has a medium rank on the glycemic index. This same fiber content is responsible for great digestion and assists regular bowel movements. Also, due to amylose, a carbohydrate, basmati is a great choice to keep your appetite in check.
Basmati rice is also packed with minerals, vitamins, and other nutrients.
Vitamin B1 contributes to the health of red blood cells.
B6 supports an efficient metabolism.
Vitamin E is a powerhouse of antioxidants.
Vitamin K in basmati rice aids with blood flow.
Riboflavin and pantothenic acids boost the nervous system.
Its magnesium and potassium content help to regulate blood pressure.
Thiamine can improve your brain performance and help your memory stay sharp.
Oxoacetic acid helps metabolize the fats which otherwise would lead to weight-gain and even type 2 diabetes.
Manganese, another mineral in basmati rice, helps boost the metabolism and also promotes stronger bones.
Last but not least on this impressive list, basmati rice is gluten-free.
We tried out 20 of the best basmati rice brands
With so many brands out there, don't just go to the shelf and pick one! Sure you could do that and try out various types until you've found your match.
Instead, why not go for the best choice for you from the get-go. We have evaluated a range of basmati rice brands to make sure you're informed. We took into consideration the overall quality, the taste and aroma of the rice, the texture after cooking, the versatility, the price, the nutritional value, and the lack of preservatives and artificial additives.
1. Royal White Basmati Rice
If you're looking for an authentically grown Indian rice, Royal is probably the best buy. After all, it's grown in India, at the foothills of the Himalayas! Another great feature of this brand is that the rice is aged for one year, allowing extra flavor to develop. It is deemed one of the best due to its short cooking time (20 minutes) and its versatility as it works well in stir-fries, pilafs, curry, and delicious sides.
Not organic but, guaranteed non-GMO, with high quality grain
Vegan, gluten-free, kosher, halal, and fat-free
As a minus point: the package can easily split, so make sure to transfer the contents to a secure container
2. Pride of India Extra Long Indian Basmati Rice
Do you want extra-aromatic basmati rice? Ding-ding-ding! Here's your winner! Authentically grown and aged, this rice has an exotic aroma and it's perfect in curries and biryani.
Extra thin and long grain
Aged for two years, enhancing the flavor
No chemicals, no pesticides, 100% natural
High in antioxidants, manganese, and protein
Great jar-type package, made from BPA-free plastic
3. Daawat Traditional Basmati Rice
This one is the connoisseur's favorite. Daawat is actually a very popular brand and their range is quite impressive. If you're a fan of rice, you must check their variety!
Slender, elongated grain
Nutty and exotic flavor
Clean grains, only need a light rinse
4. Lundberg Family Farms California White Basmati Rice
This Northern California run family farm produces a wide variety of high-quality, organic rice types ranging from Basmati to wild rice, arborio or Jasmine. The farms employs sustainable and eco-friendly farming practices. We liked their White Basmati rice for the following reasons:
Great texture and mild flavor; however, if you're passionate about the slender grain of basmati, you should know this brand has a shorter grain
An exotic choice when a fluffy, drier texture and an milder aroma is desired
Certified gluten free
Certified vegan and kosher
Non-GMO Project Verified seal
5. Pride of India Extra Long Brown Basmati
With a nutty flavor and a floral hint, this brown rice is a staple for all types of Asian cuisine. It's grown organically, with no GMO. It's aged for two years, giving it a deeper, stronger flavor.
Extra long and thin grains
100% natural rice, produced in India, packed in the US
6. Tilda Legendary Rice, Pure Original Basmati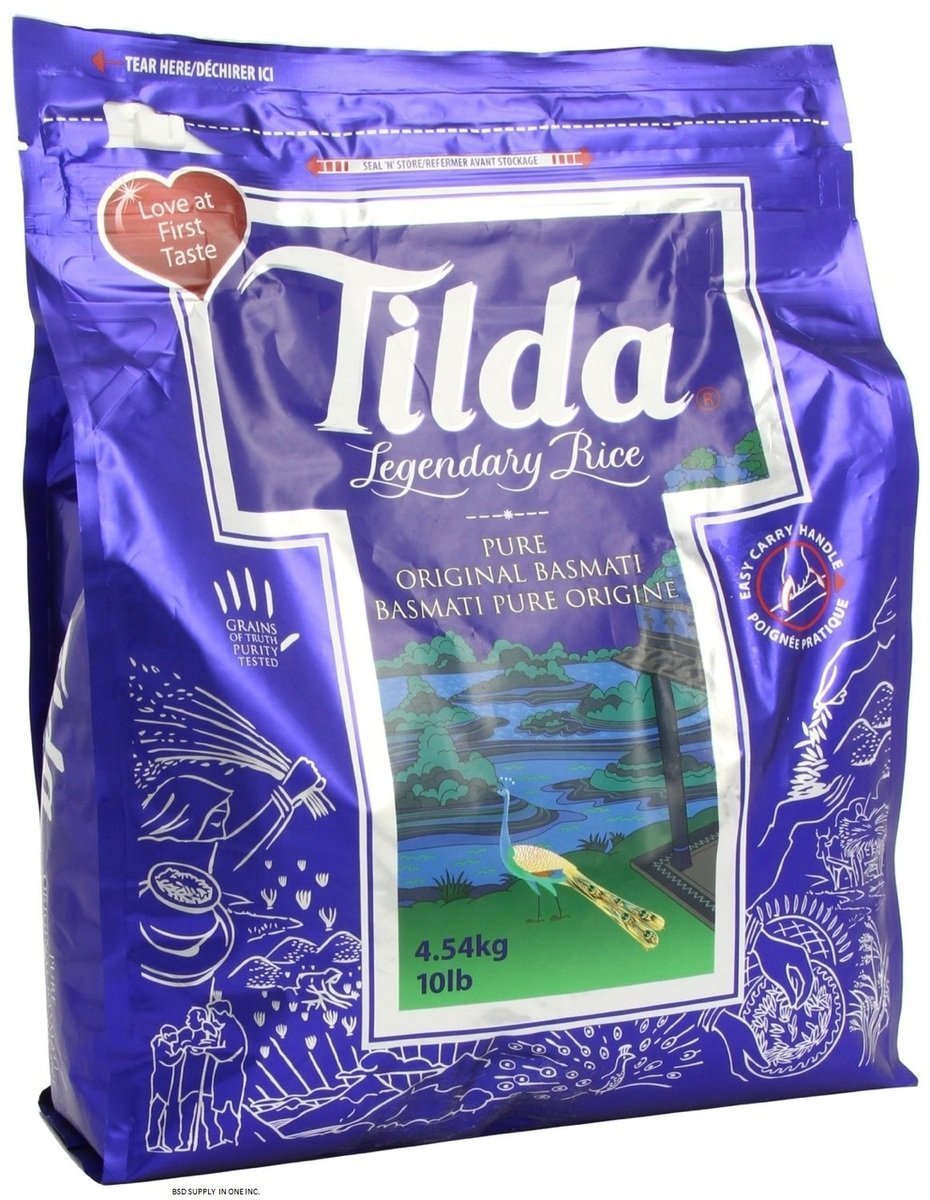 We recommend this brand because it's another brand that sources authentic basmati from the Indian non-GMO farms on the foothills of the Himalayas.
Great package, keeps the rice fresh to maintains its texture and aroma, and extend the 'shelf-life' in the pantry
Nutty flavor and a hint of flower aroma
No artificial flavoring added
7. Lundberg Organic Rice, Brown Basmati
In California, the Lundberg family farms have been growing the best basmati grains since 1937. That actually means something: they are dedicated to bringing you the best, most aromatic and finely textured, fluffy basmati rice.
More vitamins, minerals and fiber than white basmati
This long, thin grains are lighter than many brown rice varieties & won't clump together when cooked.
A natural fit for curry, stir-fry, salad, pilaf, & dessert recipes
Certified vegan and kosher
Non-GMO
8. Kohinoor Super Silver Basmati Rice
This is a premium basmati rice, renowned in India for its superb qualities. It is aged to give it its rich, deep aroma.
Extra long grain
Authentic taste
Aged to develop flavorful grains
Ideal for every dish, from Indian cuisine to western recipes
9. Daawat Ultima Extra Long Grain Basmati Rice
Another famous variety from Daawat, and another highly-prized traditional basmati rice. Also grown in the Himalayan foothills, this rice is extra long, with a fine texture and a good flavor. It can be used in various recipes, from pilaf to stews, from curry to soups and sides.
Probably the longest grain of any brand
It has a deep, earthy flavor, with hints of nuts and even butter
However, it's not very aromatic compared to the staple basmati's exotic floral fragrance
Aged for a minimum of two years
Extra fluffiness when it comes to texture
10. Tasty Bite Organic Basmati Rice
If you're on the lookout for convenience, this basmati is the right one for you! It's already cooked and all you have to do is microwave it! It has a great scent, packs quite the flavor, and it's ready in about 90 seconds.
Ideal for side dishes and curry
Although it's already cooked, it's still quite healthy: vegan, gluten-free, no added preservatives, no fat, no sodium
If you like traditional basmati, this option may seem a little too wet and sticky
11. Shrilalmahal Empire Basmati Rice
With a great aroma and typical basmati flavor, Shrilalmahal has that extra long grain we all seek when it comes to this type of rice. It is aged for more than two years and it shows in the texture and taste. Basmati connoisseurs also appreciate the milky-whiteness of the grains which attest to the quality.
12. VeeTee Rice & Tasty Basmati
Another quick-to-the-table option! This ready-steamed basmati rice is ready to eat in less than two minutes but it still tastes fresh and authentic.
Aromatic scent and fluffy, light texture
Gluten-free
No artificial flavors, preservatives or coloring added
While it's ready in a couple of minutes and doesn't contain artificial ingredients, it does pack large amounts of salt
13. Seeds of Change Organic Brown Basmati Rice
A #1 seller on Amazon, this organic, high-quality, BPA-free brown basmati cooks in less than two minutes. This is the perfect choice for people who always run out of time to cook but who still prioritize the quality of the food they consume!
Although it's ready-made, it contains no artificial flavors, coloring or added preservatives
Nutty flavor, specific for basmati rice
A little chewy when it comes to texture
14. Aahu Barah Basmati Rice
This rice is a top-choice for renowned chefs and award-winning restaurants in India. It has the typical Basmati long grain and characteristic fragrance.
Pakistani, 'sela' variety is easy to cook
Non-GMO
Very flavorful
No sodium, no sugar, no fats, no cholesterol
Rich in Vitamin A, Vitamin C, Iron, Zinc and Protein.
15. Food to Live Organic Basmati Rice
If you're all about healthy living, this is a fantastic option! Not only is this brown, organic rice with a high-quality grain but it's also vegan-friendly and environment-friendly. It's minimally processed and it packs quite the flavor.
One of the best basmati rice brands since it contains more minerals and vitamins
It has a nutty, earthy flavor with a deep aroma that lingers
Extremely rich in dietary fiber, B vitamins and selenium
16. Dunar Elonga Basmati Rice
Dunar is a premium basmati supplier and they invest in good, high-tech, modern equipment to process the grains. They aim to always provide non-GMO crops and are consistently high-quality.
Fluffy, soft textured grains, authentic deep, nutty flavor
High in protein
Kosher certified
It can have a creamy or slightly sticky texture that might not appeal to lovers of traditional basmati
17. Banyan Botanicals Basmati Rice
Unlike most of the brands listed above, Banyan Botanicals is produced in California, not in the Himalayas. However, it maintains its nutty aroma specific to the grains grown in India. This is a certified organic product, sourced in a sustainable manner, which promotes itself as adhering to the principles of ayurveda.
Easy to digest
It has a light, rather moist texture and a sweet taste
Ideal for all types of foods, from side dishes to curry, stir-fry, pilafs, and desserts
USDA certified organic
18. Crown Premium Quality White Basmati Rice
Grown in the Pakistani Himalayas, this rice packs a fragrant aroma and has a strong, nutty taste. It provides the airy, fluffy texture that foodies seek in basmati rice.
USDA organic
Non-GMO
Versatile, can be cooked in all types of recipes
Might be a little stickier and starchier than some rivals
19. Zafarani Reserve GMO-Free Long Grain Basmati Rice
This rice packs a rich flavor and a deep aroma. It is aged for one year and this shows in its non-sticky texture, its fluffiness, and its pleasant aroma.
Rich Basmati aroma
GMO-free
Gluten-free
Extra long grain
20. My Skinny Rice Low GI Basmati Rice
Although placed last, My Skinny is one of the best basmati rice brands. It's a great choice for a healthy diet, since it does not contain pesticides, chemicals, sodium, or fat. It's also kosher and gluten-free and it packs a lot of protein.
Ideal for diabetics since it contains slow-release carbs that won't spike blood sugar
No artificial colors or added flavors
Why did we choose to place it last? Well, when it comes to basmati we look for aroma and texture. This brand has a mild flavor an
d the texture rather resembles parboiled rice.
What can you do with basmati rice
Entrees, side dishes, desserts, main courses: you name it, basmati rice can be a part of it! A great pair for meats, curry (both meat and vegetarian), and biryani, basmati is so versatile!
Extra tips: most recipes you'll find online recommend you soak the basmati rice. This will only make it rather sticky and it will lose its fluffy, light consistency. Soaking is not needed, in fact it will make the rice clump together. Make sure to rinse it after cooking though!
Vegetarian recipes with basmati rice
Kenyan Pilau
Pilau is a delicious rice-based meal which is popular along Kenya's Swahili coast. It's best made with basmati rice with a choice of Beef, chicken, or goat meat. Check out the recipe here.
Idli (Idly)
Idli or idly is a type of savory rice cake, originating from the Indian subcontinent, popular as a breakfast food in Southern India and Sri Lanka. The cakes are made by steaming a batter consisting of fermented black lentils and basmati rice. Check out the recipe here.
Hyderabadi Chicken Biryani
Biryani is a famous rice dish originating among the Muslims of the Indian subcontinent. It's one of Pakistan's and India's most famous foods.
This particular recipe from Hyderabad, India is made with Indian spices, long grain basmati rice, and meat, which is usually chicken, goat, lamb, prawns, or fish. It's simply delicious. Check out the recipe here.
---
Chef's Pencil is reader-supported. If you buy something through our links, we may earn an affiliate commission, though this not impact the product selection, which is done independently by our editors and contributors.