15 Most Popular Filipino Desserts (With Recipes!)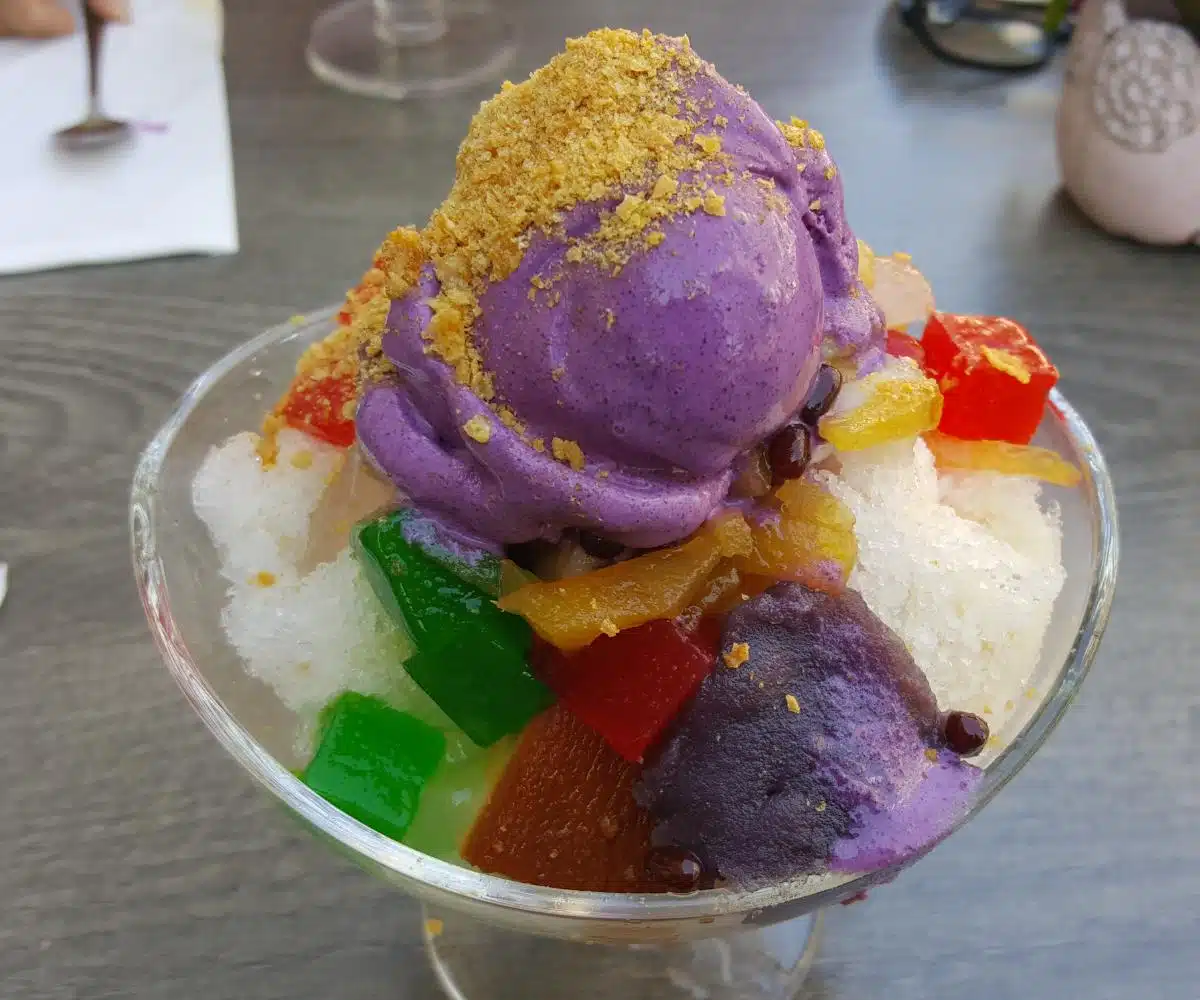 As an archipelago with different regions, the Philippines offers a wide variety of specialty desserts made primarily of rice, coconut, and fruits that are widespread in this tropical country.
With agriculture being their primary source of livelihood, rice has been a staple food of the Philippines. Because of this, rice is not only eaten with savory dishes but is also an ingredient in many Filipino desserts. Certain desserts use rice flour, while others call for glutinous or sticky rice.
The Filipino's ingenuity with desserts can be traced back to the nation's history with sugar, an essential product in its colonial economy. Filipinos use sugar in everything, so it's not surprising that they have many sweet delicacies. When you visit the Philippines, don't forget to explore this luscious part of their gastronomy. Here are fifteen of the best known, to help you get started!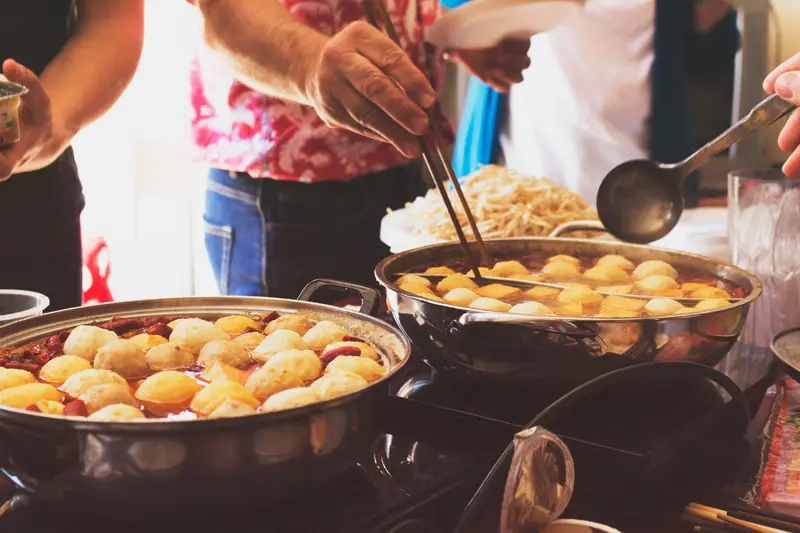 Merienda Time
Desserts are usually served right after lunch or dinner, but Filipinos are known for not adhering to standard mealtimes (breakfast, lunch, and dinner). Instead, they have what they call "merienda" in the morning and the mid-afternoon.
Merienda is a light meal or snack that can be savory or sweet. Filipinos are easygoing regarding the time a particular food can be eaten. Therefore, a merienda can be anything: noodles, rice porridge, banana fritters, camote fritters, pancakes, burgers, pastries, and most especially, desserts.
1. Halo Halo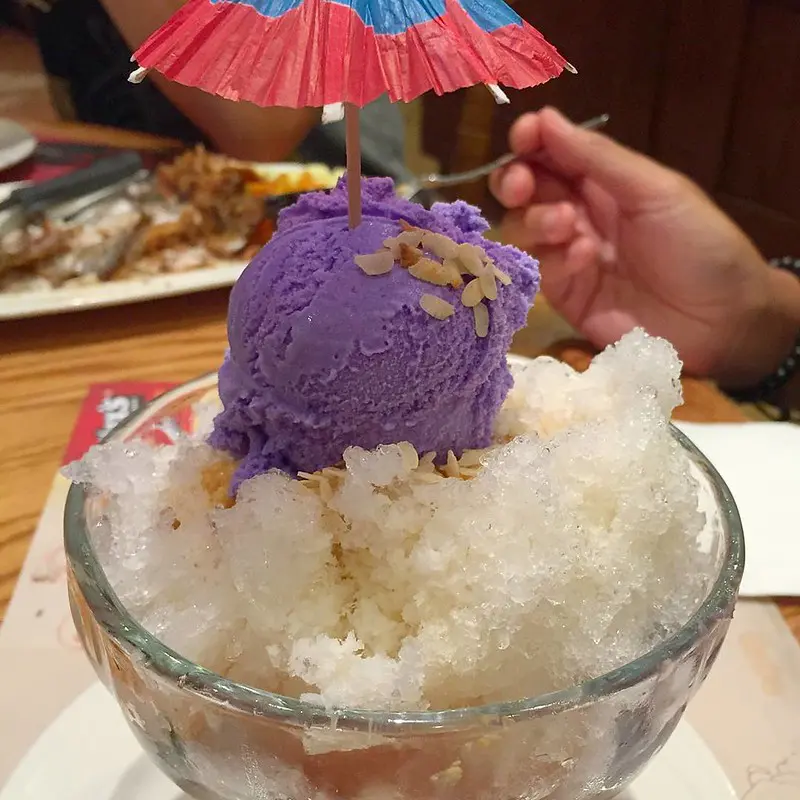 Halo-halo which translates to "mix-mix," is the quintessential Philippine dessert and the most popular merienda for Filipinos, particularly during the summer. The preparation of Halo-halo varies depending on personal preference, but the key ingredients are shaved ice, milk, and an
assortment of toppings from sweetened beans to seasoned fruits.
Some commonly added ingredients are macapuno, red beans, jackfruit, and nata de coco. Halo-halo is served with a generous amount of Leche Flan on top. As its name suggests, you only have to mix all ingredients to enjoy this refreshing dessert.
2. Leche Flan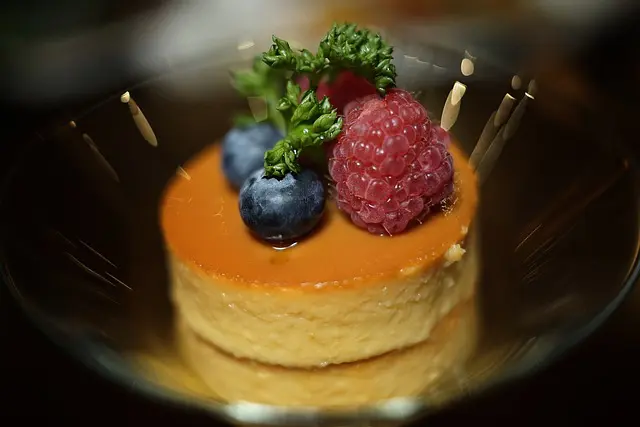 Leche Flan is one of the most beloved and popular desserts in the Philippines with an original recipe dating back hundreds of years.
The word "leche" means milk in Spanish, and leche flan is a local term derived from the original Spanish leche de flan, which means milk flan. Fun fact: egg whites were used in the building of churches during the Spanish colonial era, and the egg yolks leftover were not wasted.
Instead, they were used to create leche flan, which resembles crème caramel. However, in the Philippines leche flan is a much heavier version of the original recipe, using more egg yolks and condensed milk.
This special treat is served on all special occasions. It is a simple yet decadent dessert with topping of luscious caramel. It melts in your mouth and has a rich, silky, smooth and creamy custard texture.
This special treat is served on all special occasions. It is a simple yet decadent dessert with a luscious caramel on top. It melts in your mouth and has a rich, silky, smooth and creamy custard texture.
3. Ube Halaya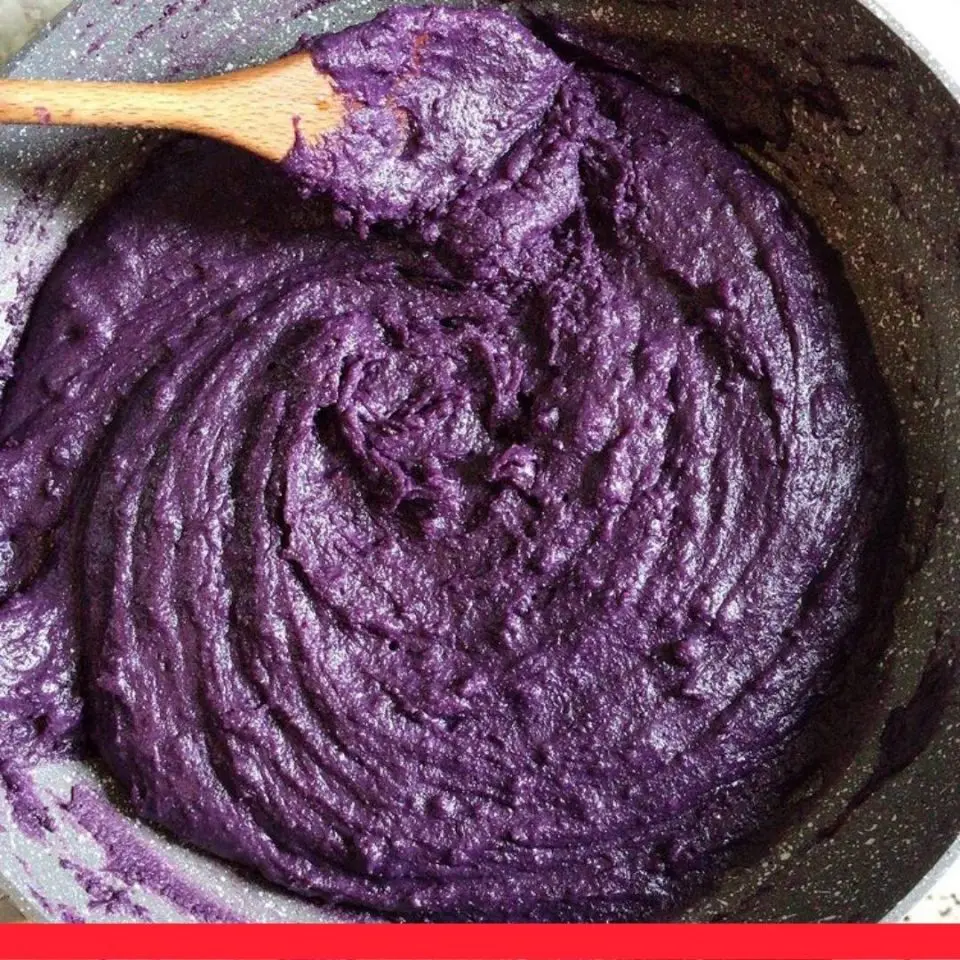 Ube Halaya, distinguished by its vibrant purple color, is a unique dessert primarily associated with Filipinos internationally.
The name is derived from the Indian words 'ube' (pronounced oo-be), meaning purple yam, and 'halaya' meaning jelly or mash. Ube Halaya is a sweet, smooth-textured pudding that can be eaten as a snack, with desserts, or used to flavor/color ice cream and cakes.
Although there are many ways of using ube for delicious recipes, the preparation and cooking of Ube Halaya are pretty straightforward. The ube is peeled, boiled, grated, and mashed, then sweetened with condensed milk or sweetened coconut milk before being placed in a saucepan with melted butter. The mixture is stirred vigorously until thickened when it is left to cool. Ube Halaya is typically refrigerated and served cold.
4. Sapin Sapin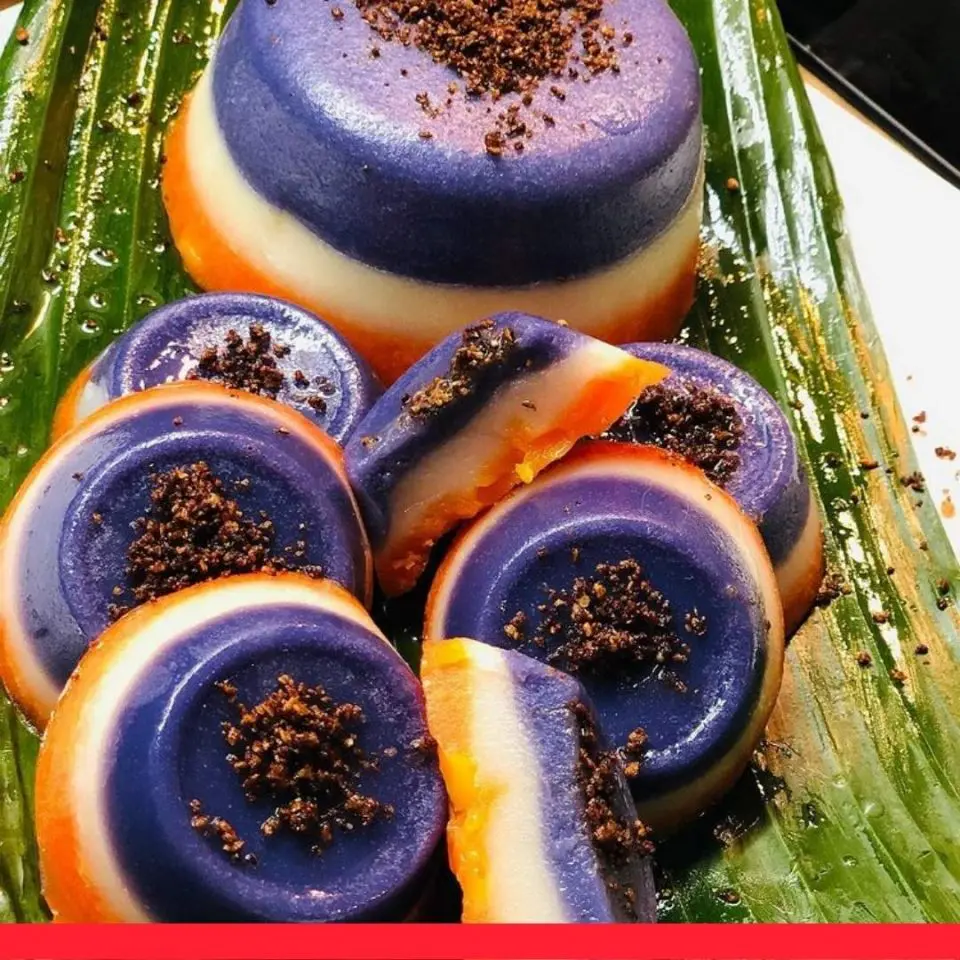 This festive and colorful dish has a dense, chewy, pudding-like texture and is typically served at social gatherings or celebrations as it's very time-consuming to prepare. It is made with galapong (glutinous rice dough), coconut milk, sugar, condensed milk, and an occasional ube or jackfruit flavoring.
The process starts with making the sticky rice dough from scratch, extracting the coconut milk, and cooking ube halaya, one of its many layers. This process usually takes a whole day. Then, it is typically served with latik or toasted coconut curd. It is visually appealing and typically has three layers; purple, yellow, and white.
5. Mais Con Yelo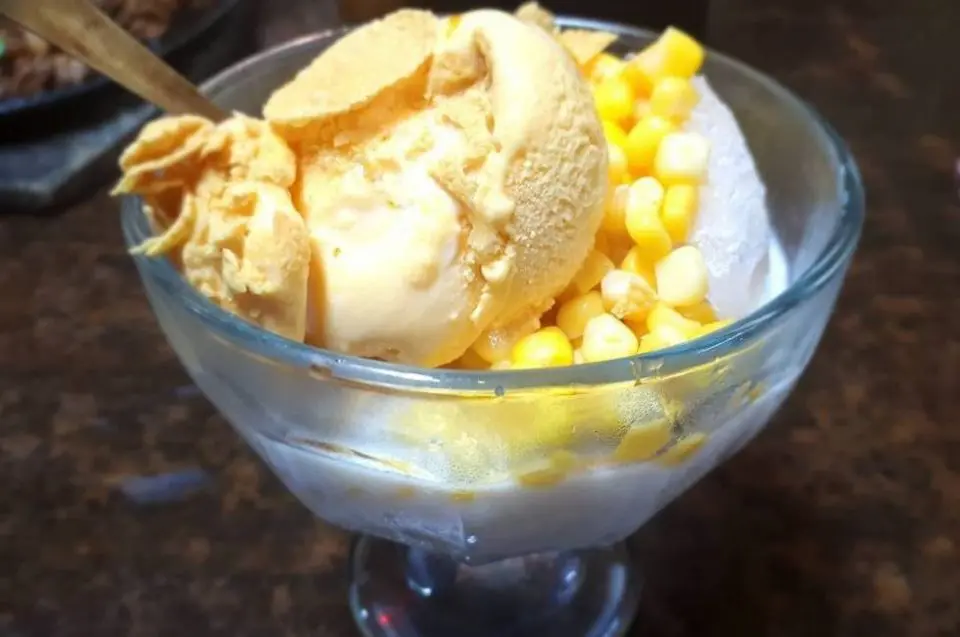 Mais con Yelo (corn with ice) is a refreshing cold dessert made with sweet corn, shaved ice, milk, and sugar. Traditionally, it is made with crushed or shaved ice drizzled with a sweet, milky mixture. It is served plain or topped with toasted rice krispies, crushed corn flakes, or ice cream.
6. Turon
If you get the opportunity to visit the Philippines, you'll find this deliciously sweet snack sold by many street vendors in both urban and rural areas. Since the ingredients are cheap and plentiful, it's one of the most accessible treats in the Philippines.
Turon is a deep-fried banana, wrapped in a spring roll wrapper and deep-fried, then typically coated with caramelized sugar. Slices of jackfruit sometimes accompany the banana as a filling, and it is served warm – with a drizzle of caramel to make it extra sweet and yummy.
7. Maja Blanca
Literally translated as "white delicacy," Maja Blanca is a dish of Spanish origin that has become a very popular Filipino dessert that can be found at almost any festivity.
It is basically a coconut milk pudding thickened with cornstarch. Maja has the consistency of thick gelatin and has a delicate flavor, is creamy white, and has a soft, smooth, and creamy texture.
Maja blanca is easy to prepare, and the ingredients are available everywhere. The only thing you need to remember is to ensure that the coconut milk has enough time to cook. The other components must also be mixed until the texture becomes smooth, and the sweet corn is also cooked longer than usual to give time for its flavor to combine with the coconut milk.
8. Ginataang Bilo Bilo
The Chinese introduced the idea that round and starchy desserts symbolize wealth sticking to anyone who consumes them.
How did this dish get its name? Ginataang bilo-bilo means "rice balls cooked in sweetened coconut milk." Bilo-bilo comes from the sound of the sticky rice balls as they boil away on a stove.
Ginataang bilo-bilo is a mixture of diced root vegetables (such as sweet potato or ube), bananas, and chewy rice balls. They're all cooked together into a soupy porridge thickened with coconut milk. Sometimes, sliced langka or jackfruit is added to give the dish a tart kick.
9. Minatamis Na Saging (Sweetened Saba Bananas)
The Philippines is one of the leading global exporters of bananas. Because of their widespread availability, Filipinos enjoy different varieties of this fruit – each has unique characteristics.
However, only the Saba variety is used to make sweetened bananas or Minatamis na Saging, which is more of a beloved homemade treat than a restaurant delicacy. Filipinos regularly make this dish at home as it's one of the simplest desserts you can make.
It's prepared by boiling three ingredients: bananas, brown sugar, and water. Vanilla extract is sometimes added to enhance the flavor. After the bananas have absorbed the sugar and water, this dessert is served as it is or with shaved ice and tapioca pearls.
10. Silvanas
Silvanas are delectable crunchy and creamy frozen cookies. A layer of silky buttercream is sandwiched between two cashew-meringue wafers coated with cookie crumbs. They are best described as the cookie version of a Sans Rival, another popular classic Filipino dessert.
Although they look a little like French macaroons, the resemblance ends there as the flavor and texture are completely different. Silvanas are traditionally made in the southern part of the country and are not usually made at home because of the intricate process involved in making them.
11. Buko Pie
Buko Pie is one of the most well-known delicacies in the Philippines. It originated in the province of Laguna, which even today is acknowledged as the home of the finest "Buko" (coconut) pies in the Philippines.
Buko Pie is a pastry filled with soft young coconut and is usually seen in stores along the highways, on street side stalls, and even being sold by walking vendors.
Buko pie is what Filipinos call a type of pasalubong — a Tagalog phrase meaning "bring something home for me," which refers to the tradition of bringing souvenirs, often food, back home after a trip.
12. Biko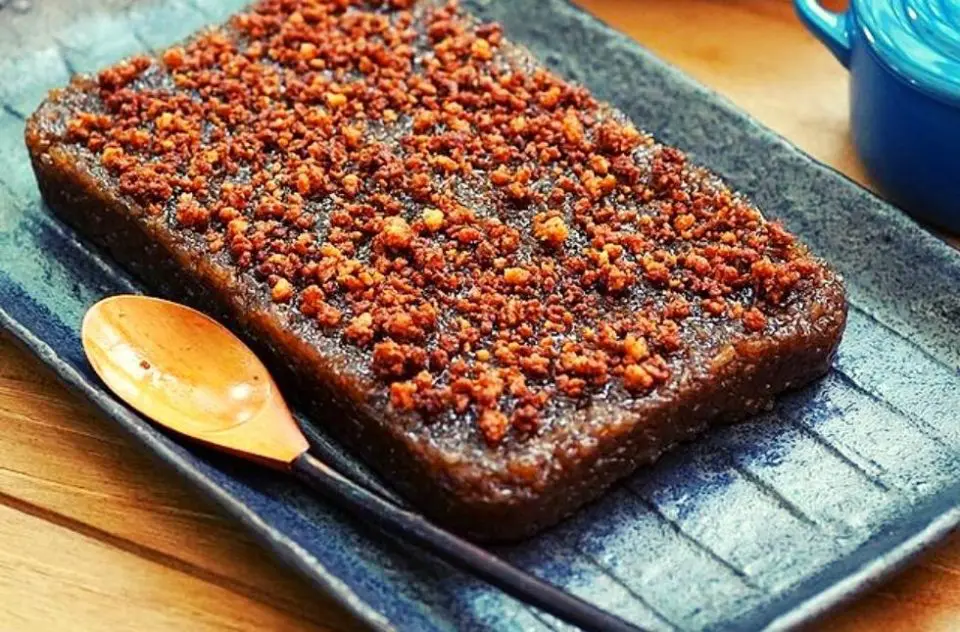 Biko is a luscious rice cake often served at parties, weddings, and funerals. It is made with glutinous rice, coconut milk, and a bittersweet coconut curd topping. This intriguing dessert is gooey and sticky, with a distinct, nutty sweetness.
Compared to other rice cake recipes, Biko needs a bit of patience to prepare. Before baking, the rice has to be constantly stirred for around 20 minutes to prevent it from sticking to the pot. While baking, the top layer is prepared, then poured on top, and the mixture goes back in the oven to finish.
13. Carioca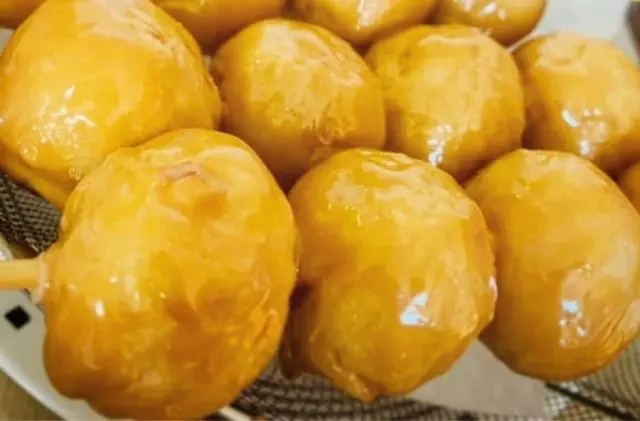 Cariocas are delicious sticky fried rice balls with coconut caramel sauce. These can be considered street food since Carioca vendors are a common sight on the streets of Manila, where they're usually served on bamboo skewers.
Cariocas are similar to beignets, the fried dough goodies from Louisiana. However, this quintessential Filipino delicacy is made of sweet rice flour (glutinous rice flour can also be used), and sweetened shredded coconut to be enjoyed as a dessert or snack.
14. Filipino Fruit Salad
Given the fantastic range of luscious fruits available, it's no surprise that Filipino fruit salad is a traditional and staple dessert at most Filipino parties, especially during the holidays.
Fruit Salad is a dessert consisting of various local and seasonal fruit mixed with table cream and condensed milk. It couldn't be easier to make and requires no cooking – so if you're looking for something quick to make and packed with health-giving nutrients, you've got it!
Heavy cream and condensed milk can both be used to add texture and hold the ingredients together. Some people mix in diced cheese and apples for a more original version with added crunch.
15. Buko Pandan
Buko Pandan is a traditional crowd-pleaser at any Filipino gathering. It's a sweet and refreshing traditional dessert made of coconut, pandan-infused gelatine/jelly, and sweetened cream.
Pandan is flowery, fragrant, coconut-y, and banana-y all at once- genuinely tropical and delicious.
Preparing is also straightforward – mix all the ingredients and chill.
---
Related: Most Popular Filipino Christmas Foods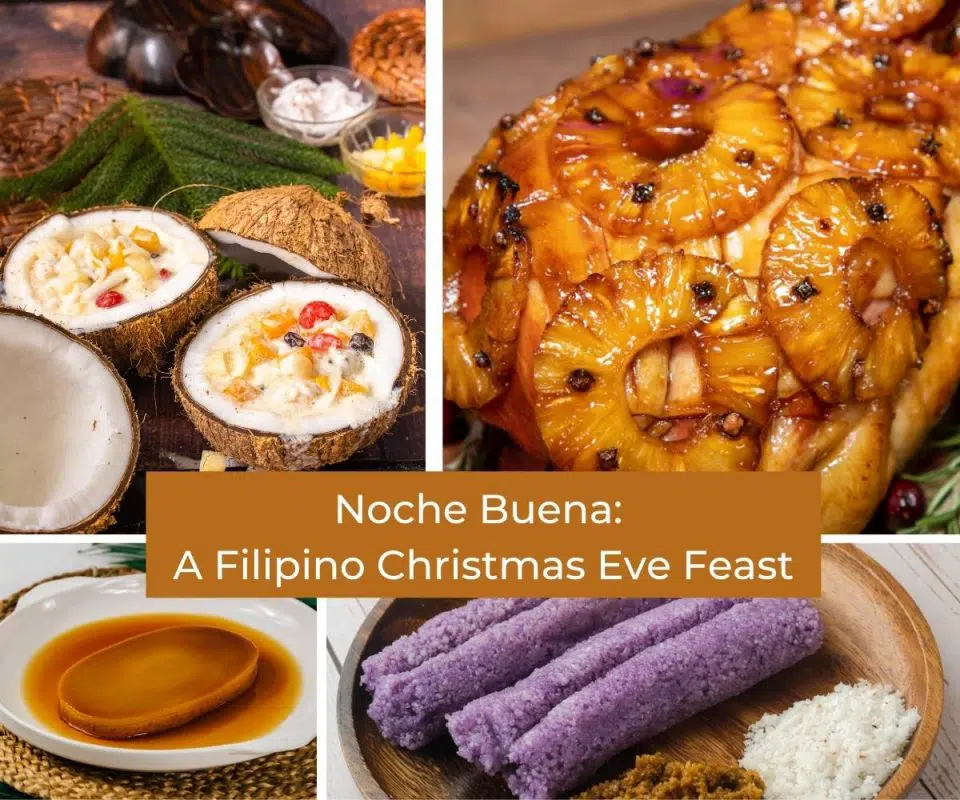 Related: Popular Filipino Snacks to Try Out