Eating in Ohio: Famous Food in the Buckeye State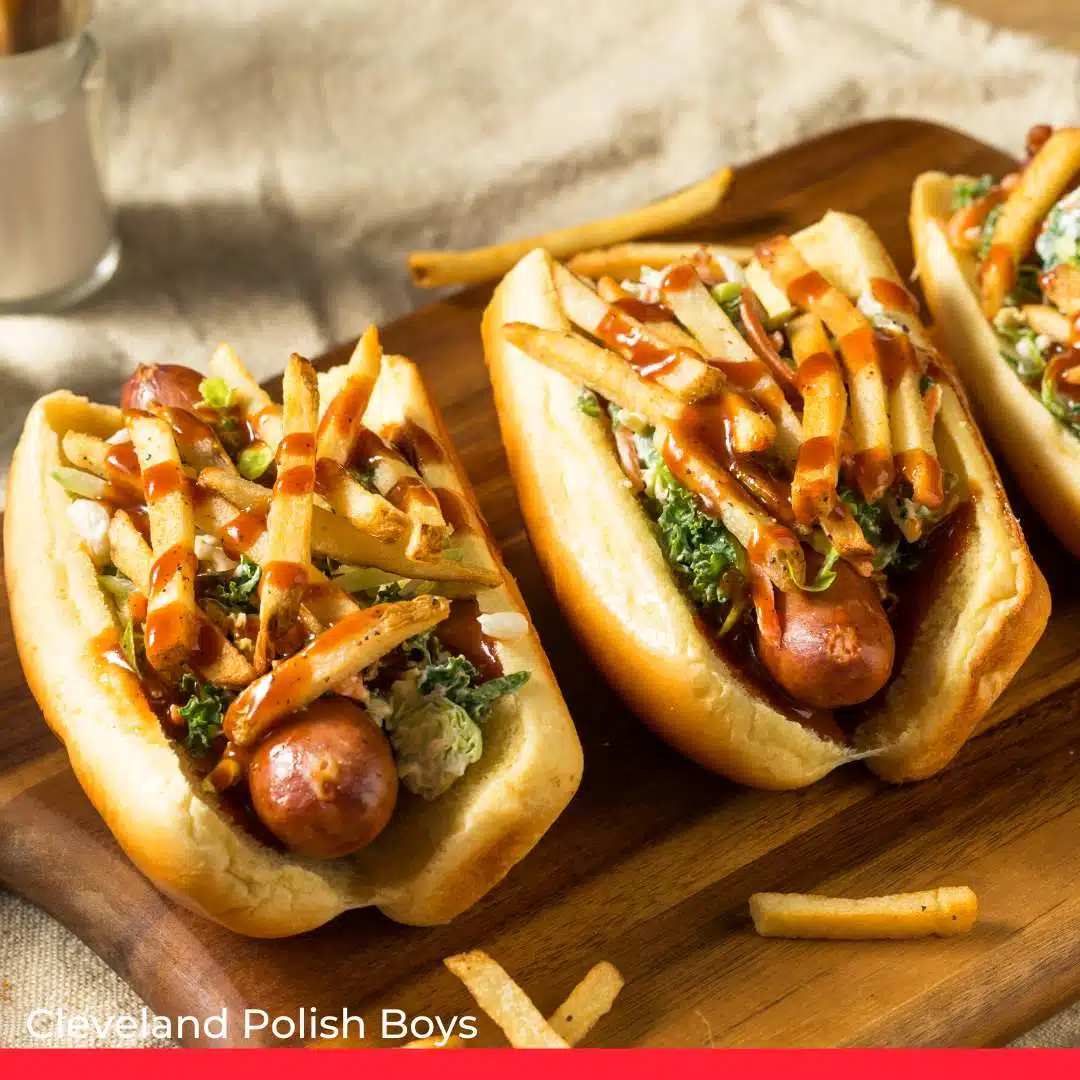 Seated in the heart of the American midwest, Ohio is known for its sprawling green parks and rivers, famous universities and sports teams, and bustling city attractions.
Home of the National First Ladies' Museum, the Rock and Roll Hall of Fame, and the Pro Football Hall of Fame, Ohio is a trophy case for some of the nation's most beloved pastimes and historic relics. Ohio's many attractions are not limited to sporting events and museums, however. This diverse and widely traveled state is also the home of impressive cuisine and dining opportunities.
Comprised of over eighty thousand farms, Ohio is one of the nation's leading states in agriculture. Classic Ohio food is farm-to-table: hearty, rustic, and homegrown.
In addition, Ohioan cuisine is largely influenced by immigrant communities from Italian, Serbian, German, and Polish descent.
This midwestern melting pot is home to some of the best dishes in the country. Are you ready to take a bite out of the Buckeye State? Read further to learn which local Ohioan dishes you simply cannot miss during your next trip to Ohio.
1. Cincinnati Chili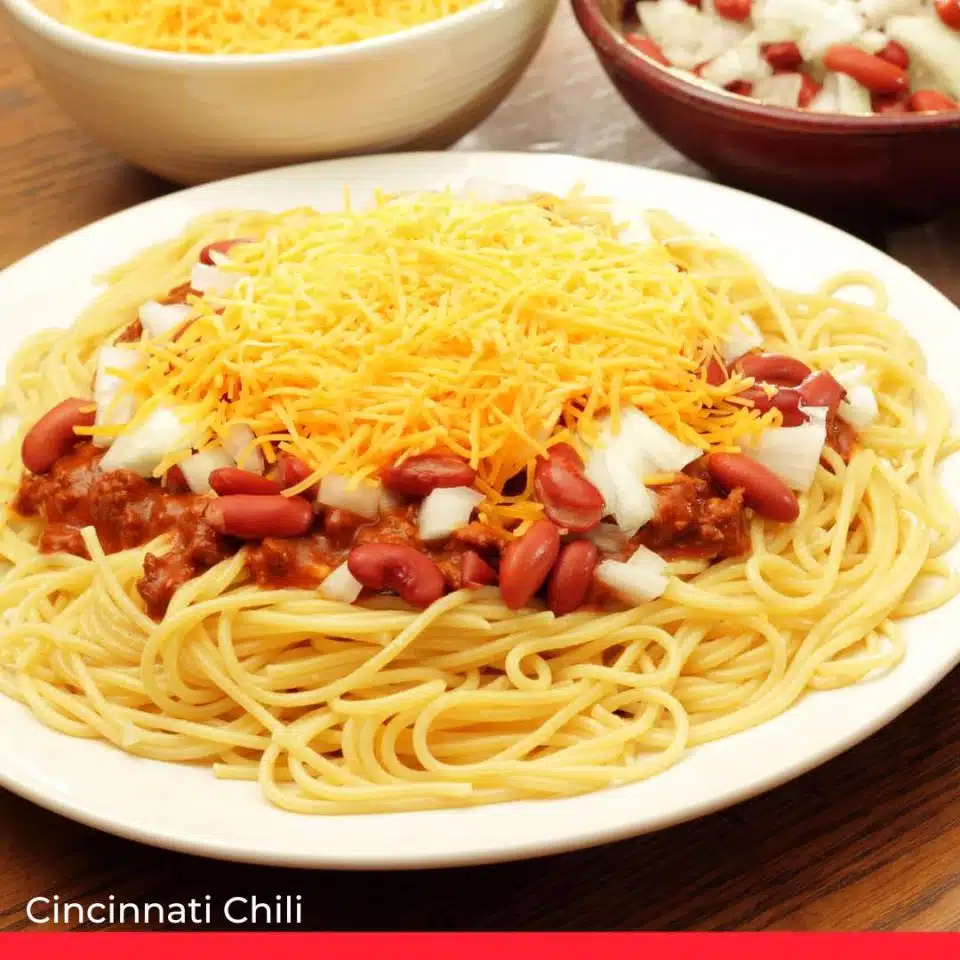 If a famous and authentically Ohioan dish is what you desire, search no further than Cincinnati-style chili.
While chili is a generally popular dish throughout the United States of America, Ohio's chili is unrivaled. Cincinnati-style chili takes an elevated approach to the classic combination of beef, beans, onions, tomato sauce, and chili peppers. Cincinnati chili involves topping a hotdog or a plate of spaghetti with a whopping portion of chili and shredded cheddar cheese.
Ohio's chili is unrivaled.
The invention of Cincinnati chili can be traced to two brothers in the 1920s, Athanas "Tom" and Ivan "John" Kiradjieff. Tom and John Kiradjieff were Macedonian immigrants whose restaurant, the Empress Chili Parlor, served patrons and performers of the Empress Theatre in downtown Cincinnati.
Their family-owned and operated restaurant is the oldest chili parlor in the state, and it remains an important fixture in the Cincinnati food scene.
Though Cincinnati-style chili was initially influenced by Greek culture, today the dish is popular throughout the midwestern United States and is considered an all-American dish. Skyline Chili, the restaurant credited with keeping Cincinnati-style chili on the map, utilizes a secret Lambrinides family recipe which is rumored to include an unlikely chili ingredient: chocolate.
Since the opening of Nicholas Lambrinides' first restaurant location in 1949, Skyline Chili has amassed a cult-like following in Ohio. Today, Skyline Chili has one hundred and sixty restaurant locations, expanding from Cincinnati, Ohio to cities in Kentucky, Indiana, and Florida.
2. Cleveland Polish Boys
Perhaps the most celebrated of Cleveland's famous sandwiches is the Polish Boy, aptly named after the kielbasa, a Polish sausage, which is made from beef, pork, or a combination of both.
The Polish Boy consists of a kielbasa sausage link slathered in barbeque sauce, French fries, and coleslaw, slapped between two warm buns.
This mountainous sandwich was created in the 1940s by Virgil Whitmore, barbeque restaurant owner in the Mount Pleasant neighborhood. Whitmore invented the Polish Boy by making use of the ingredients he already had available in his restaurant kitchen.
The made-from-scratch sandwich was such a success that other Cleveland restaurateurs took notice and began to recreate and serve their own Cleveland Polish Boys. Today, the sandwich can be found in barbeque restaurants throughout the state and country, though the undisputed home and best place to order a Polish Boy is none other than Cleveland, Ohio.
3. Barberton Chicken
Named after the Ohio city where the dish was created, Barberton Chicken is a fried chicken dish served with coleslaw and hot rice– that is, rice which is cooked in spices and tomato sauce. Heavily inspired by Serbian cuisine, Barberton Chicken is cooked with Serbian-style spices.
Barberton Chicken, sometimes called Serbian Fried Chicken, can be traced to a Serbian restaurant called Belgrade Gardens in Barberton, Ohio. Belgrade Gardens was opened in 1933 by Serbian immigrants, husband and wife Milchael "Mike" and Smilka Topalsky.
The Topalskys found themselves in a dire situation during the Great Depression when they were forced to sell their family farm. With few alternative options, they opened their restaurant and began serving dishes from their home country, Serbia.
The Topalskys' Serbian fried chicken, hot rice, and coleslaw was so popular that many other chicken restaurants in the Barberton area began copying their recipe, and the rest is history.
Today, there are four main Barberton Chicken houses– Belgrade Gardens, Hopocan Gardens, White House Chicken Dinners, and Village Inn Chicken (previously owned by the Serbian-American Milich family and called the Milich's Village Inn)– whose combined locations serve over seven tons of chicken per week.
Hailed as the chicken capital of the world, Barberton, Ohio is the place to go if you are looking for a bona fide Ohioan dish that will give you a glance inside Ohio's rich food culture.
4. Ohio Shaker Lemon Pie
For a dessert that is uniquely found in Ohio, try the Ohio Shaker Lemon Pie, a traditional homemade dish that stretches back to the country's beginning and prevails in Amish kitchens throughout the state.
The Ohio Shaker Lemon Pie originated in the communities of the United Society of Believers in Christ's Second Appearing, also called the Shakers, a small religious sect which was established in northwest England in the 18th century. In colonial days, the Shakers were known to be prolific gardeners, able to cultivate any fruit in Ohio's climate– with the exception of lemons.
Lemons, therefore, had to be purchased and imported to Ohio. It is for this reason that the Ohio Shaker Lemon Pie is a wasteless fruit pie made with whole lemons, including the rinds.
Ohio has recently surpassed Pennsylvania as the state with the largest Amish population in the country. Holmes County, located in northeast central Ohio, is home to one of the largest Amish communities in the world– over 36,000 Amish people live throughout the towns of Holmes County. Because of the highly concentrated Amish communities in this region of the state, the Holmes County area is often called Amish Country.
Ohio Shaker Lemon Pies are commonly made and sold in Amish Country and in the Amish bakeries and restaurants located throughout the state of Ohio, and the old-fashioned pies are seldom available in other parts of the country.
The next time you find yourself searching for a traditional and distinctively Ohioan dessert, turn your attention towards the Ohio Shaker Lemon Pie, a pie whose flavorful taste is as exquisite as its history.
5. Candy Buckeyes
Made with peanut butter and chocolate, candy buckeyes are a popular Ohioan dessert that resemble the buckeye nuts of Ohio's state tree.
These simple and delicious treats are commonly served at holiday gatherings and on game days for the Ohio State University Buckeyes, one of the greatest college football teams in America.
Candy buckeyes are made from mixing butter, powdered sugar, and peanut butter together to form balls the size of buckeye tree nuts.
The peanut butter balls are then dipped almost fully into chocolate, which is what gives the treats the signature look of a real buckeye nut. Buckeyes are shiny and dark brown, spherical nuts with a light brown circle on top, not unlike the hues of chocolate and peanut butter.
According to Ohio lore and legend, the buckeye candy was first created in the 1960s when Gail Tabor, Ohioan, noticed the similarities between her chocolate-dipped peanut butter balls and the nuts of the buckeye trees scattered all over the state.
While an actual buckeye nut is poisonous and not safe to consume, a candy buckeye is a delectable treat and token of Ohioan state pride. The next time you are attending a game night celebration for the Ohio State Buckeyes, be sure to call out, "O-H!" and as the others respond with, "I-O!" make your way to the nearest platter of candy buckeyes.
Conclusion
Ohio is a region of farmland as well as cityscapes, footballers in addition to rockstars, and sandwiches along with desserts.
The state is home to savory dishes and unforgettable meals with roots in cultures from all over the world. If Ohio is on your travel docket for 2023, be sure to bite into the Buckeye State by enjoying some of these must-try meals.