The 7 Most Famous Foods from Kosovo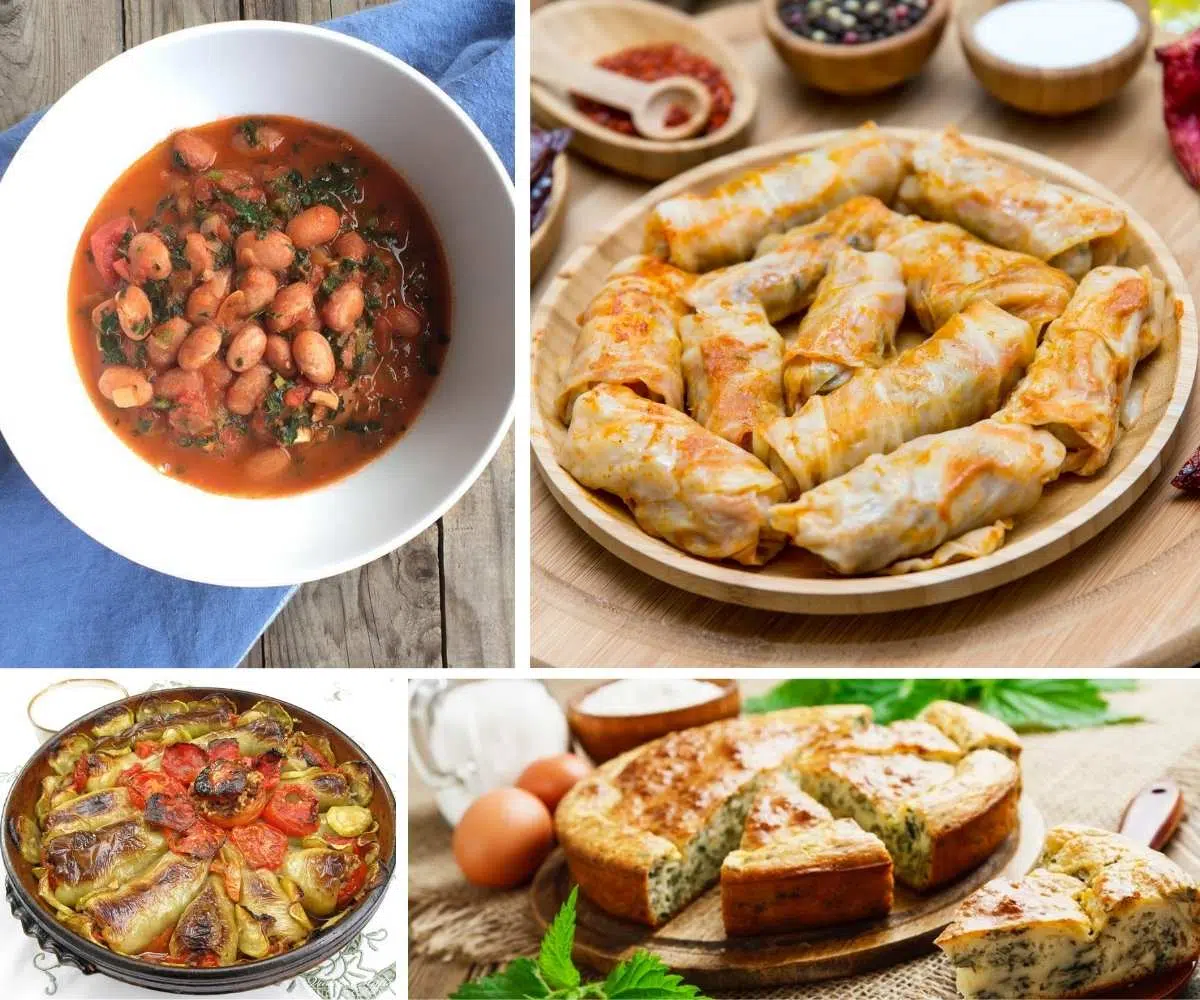 Despite the abundance of fast-food restaurants around the country, traditional Albanian food remains a staple on every family's table in Kosovo, and you'll understand why when you taste it.
Kosovo's traditional cuisine is not only delicious and substantial, but it is also incredibly healthy owing to the abundance of vegetables used.
You will find some of these wonderful recipes here, where we hope to enlighten you about the marvelous Albanian cuisine, and to inspire you to try them out for yourselves.
1. Flija
Flija is a kind of pie, though is more like a pile of layered pancakes or crepes. It is a typical Albanian dish prepared with a saç, a metal dome over which hot cinders are poured to bake the dough.
It is mainly served in northern regions but is undoubtedly one of the authentic traditional Albanian recipes that every native Albanian in Kosovo knows and loves.
2. Pasul (Bean Stew)
Traditional white beans are used to make this traditional Albanian bean soup known as pasul. Various cuts of beef together with vegetables, such as onions, are also added. It is served with thinly sliced raw onion and crusty bread.
This traditional comfort food is popular across the Balkans, particularly countries bordering Kosovo. While most popular during the winter, it is a year-round favorite.
3. Sarma (Stuffed Cabbage or Grape Leaves)
In Kosovo, sarma is eaten all year round as this wonderful delicacy suits all seasons. It is not only popular in Kosovo but also throughout Eastern Europe.
Sarma is essentially cabbage leaves stuffed with minced meat, rice, and onion; however, some prefer it made with grape leaves. Although they are cooked in a similar manner, the quantities of the ingredients used might differ, so it's best to check a recipe before you start.
4. Lakror me Hithra (Cabbage and Nettle Pie)
Cabbage and nettle pie is without doubt one of the most distinctive dishes of Albanian cuisine. Passed down from generation to generation, this astounds everyone who tastes it for the first time.
It is a traditional Albanian burek packed with a variety of fillings. But cabbage and nettle filling is most often preferred.
5. Mish me Speca (Stuffed Peppers)
Peppers filled with rice and minced meat remain one of Albania's favorite dishes, especially during the summer. It is one of the most traditional and excellent meals in Albanian cuisine and perfect for feeding the entire family and friends.
Delicious to eat and extremely simple to make at home, stuffed peppers are brilliant coupled with fresh seasonal salads for a delightful lunch or evening meal.
6. Perpeq
At first glance, perpeq looks like a cheese pie. But it is known as Albanian pizza and dates back to the Illyrian era. It is made with grated cheese, eggs, margarine, and mazë, a kind of soft butter popular in Kosovo.
One huge dumpling is placed on a baking tray, onto which the prepared ingredients are poured. Then two or three eggs are added. The remaining dough is wrapped around the pan and the whole thing is baked. It can also be done on a saç for a tastier result.
7. Pite me Spinaq (Spinach Pie)
Pite me spinaq is a typical spinach pie found throughout Albania. Comparable to Albanian burek, it is one of the most popular pies and is quite delicious when cooked with handmade filo! It can be eaten hot or cold but is best served when it has cooled and the juices are absorbed into the pastry.
An excellent option for lunch the next day as well.
Conclusion
As you may have realized by now, Kosovan Albanians adore stuffed vegetables and pastry products, which is not surprising given their flavor and health benefits. You'll seldom come across an Albanian household in Kosovo that hasn't perfected the preparation of these delectable dishes, so you're in for a healthy treat when you decide to visit.
Keep in mind that if you decide to make any of these dishes, you should pay close attention to the recipe because they require a great deal of care and time to prepare.
---
Related: Most Popular Albanian Foods
Related: Most Popular Albanian Desserts
Related: Most Popular Serbian Foods
Related: Most Popular Balkan Foods