Fettuccine with Salmon & Asparagus in Lemon and Dill Oil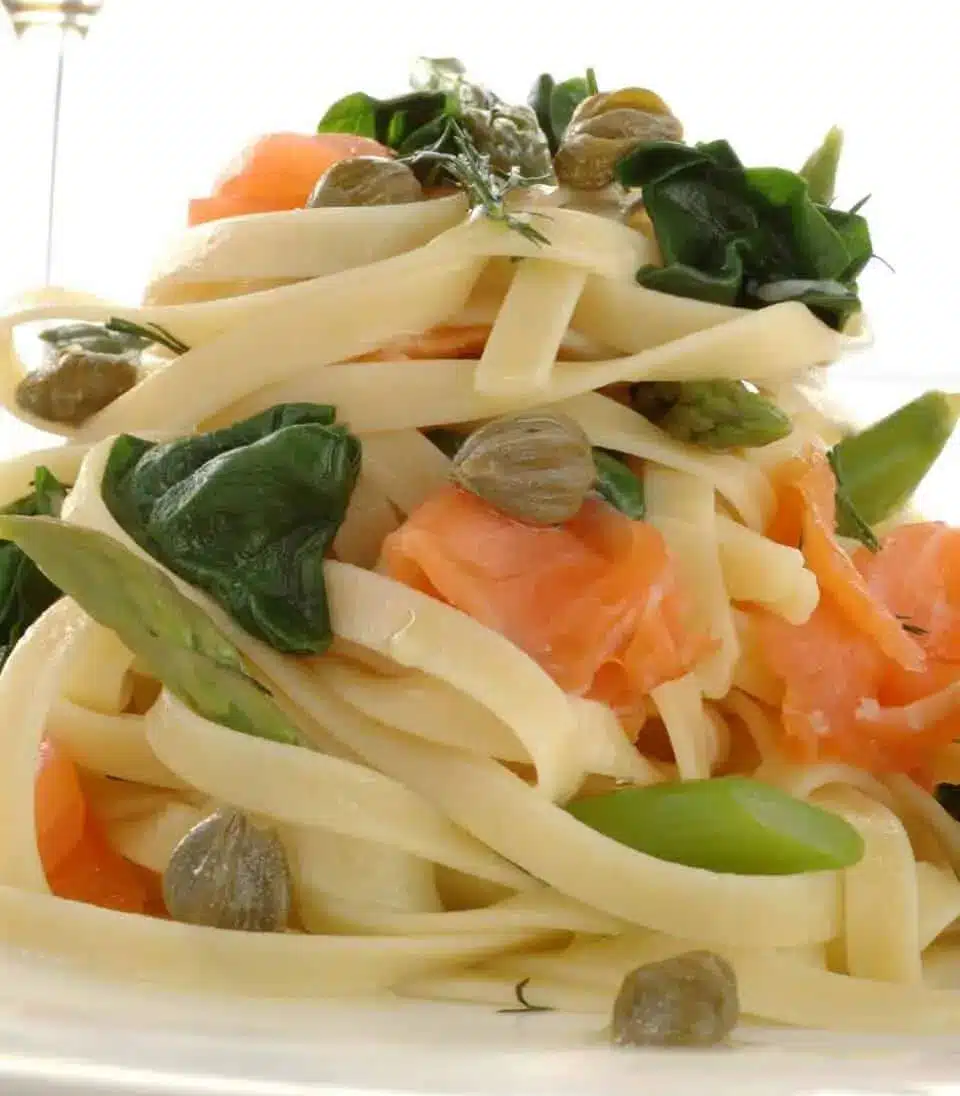 Salmon and dill is an unbeatable combination that has stood the test of time. In this recipe, I have included a few ingredients that are very complimentary to both the salmon and dill but still allow them to be the dominant flavors in the dish.
This recipe can be made using either smoked salmon (as I've done here) or fresh salmon.
So if you're looking for something familiar yet surprisingly flavorsome for dinner, try out the recipe below and in less than an hour you'll be enjoying this delicious Italian dish!
Fettuccine with Salmon & Asparagus in Lemon and Dill Oil
Ingredients
500

grams

dry fettuccine

150

grams

smoked salmon

(works with fresh salmon as well)

1

bunch

green asparagus

2

tablespoons

capers

1

tablespoon

fresh dill

2

cups

fresh baby spinach leaves

1

lemon

extra virgin olive oil

sea salt flakes

ground pepper
Instructions
Remove and discard the woody bases from the asparagus spears.

Cut the asparagus spears into 2 cm (1 inch pieces) with a 45 degree angle cut.

In a large pot of salted boiling water cook the pasta just under al'dente, drain, cool with running water and set aside (try to reserve the cooking water).

Return the pot with the water back to the stove and return to the boil.

Blanche the asparagus in the water, once vibrantly green remove and place in a large mixing bowl (leaving the water on to boil).

In a non stick fry pan add a touch of olive oil and place on high heat.

Once the oil is hot saute off the salmon (if using smoked salmon no need to cook it just place it in the bowl with asparagus), capers, dill and a touch of cracked pepper, (do not over cook, just long enough to warm the salmon through.

Add a small splash of white wine and cook off the alcohol.

Place the contents of the pan in the large mixing bowl with the asparagus.

Re-blanche the fettuccine until warm and al'dente, drain and toss in the bowl with the other ingredients.

Add the baby spinach leaves to the bowl, squeeze the juice of the lemon into the bowl add a few more tbsps of extra virgin and toss it all gently together and serve immediately.

Serve with grilled Vienna bread and a solid white wine.
Notes
Related: Salmon Tomato Pasta (No Cream)
Related: Pasta Carbonara
Related: Fettuccine with Manila Clams
Related: Fagottelli Carbonara
Related: Fettuccine with Salmon & Asparagus in Lemon and Dill Oil
Related: Prawns and Chickpeas Fettuccine