Prawns Fettuccine with Pernod Cream Sauce & Fennel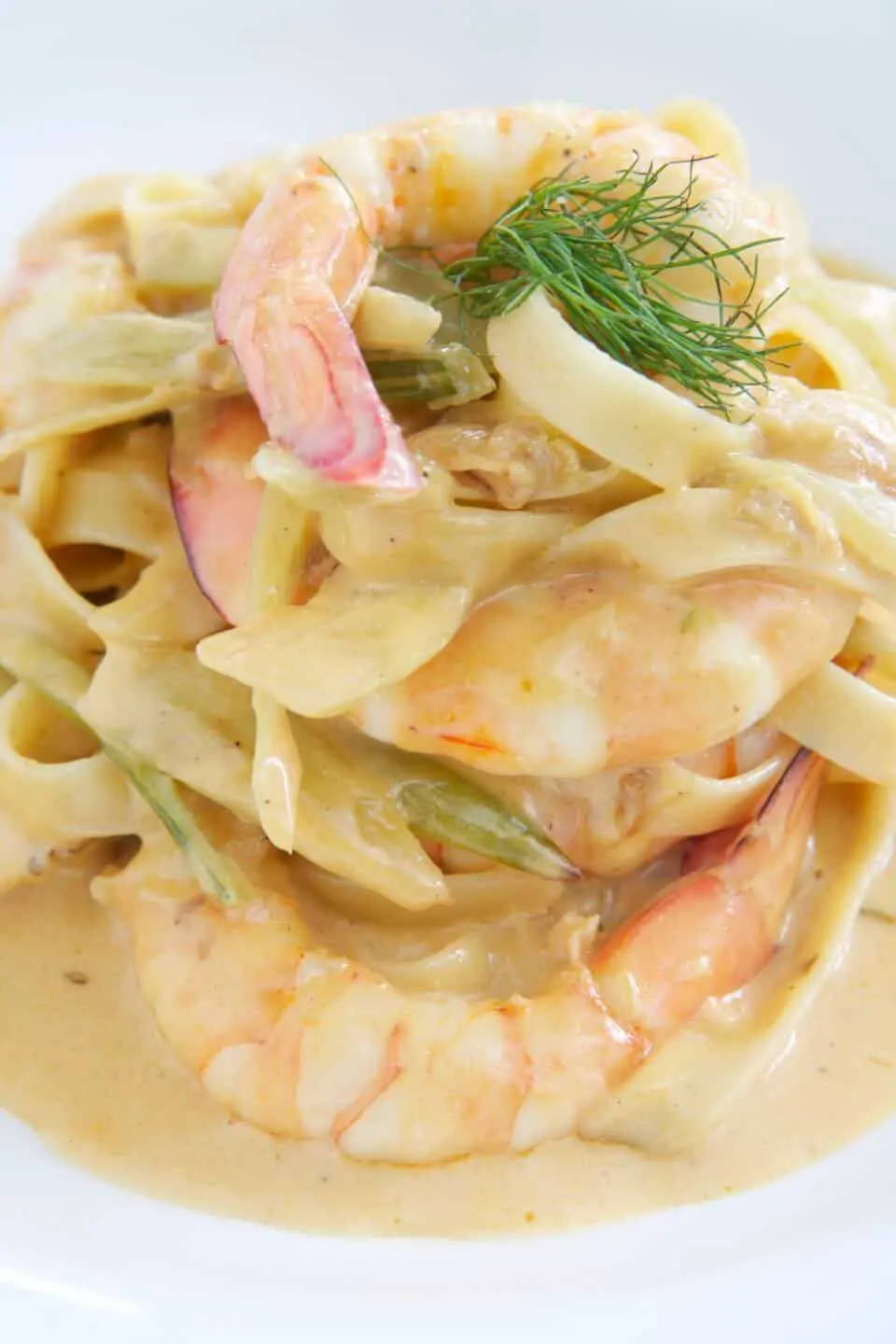 Pasta is the ultimate comfort food. And prawns and pasta is a match made in heaven.
Prawns: grill them, sauté them, marinate them, poach them – there's not many ways a prawn doesn't taste good. Fennel: raw in a salad, braised in a stew, diced in a soup, unique and delicious no matter how you cook it.
Pernod (a strong anise liqueur) and cream: need I say more?
Although ingredients can be good on their own, combining them with other good ingredients does not always work. In this case however the combined dish is equal to and greater than the sum of its delicious parts.
The pasta is cooked perfectly al dente, the prawns are sautéed until just tender, the fennel is cooked and loses its raw power and becomes mild and soft, and finally the entire dish is united in the rich cream sauce and made a tad more decadent with the distinctive yet subtle flavor of the Pernod.
Although simple to prepare it is a dish worthy of a special occasion and deserves an equally special wine, I recommend a Sauvignon Blanc on the drier side of its fruit.
Enjoy this delicious prawns fettuccine with Pernod cream sauce recipe!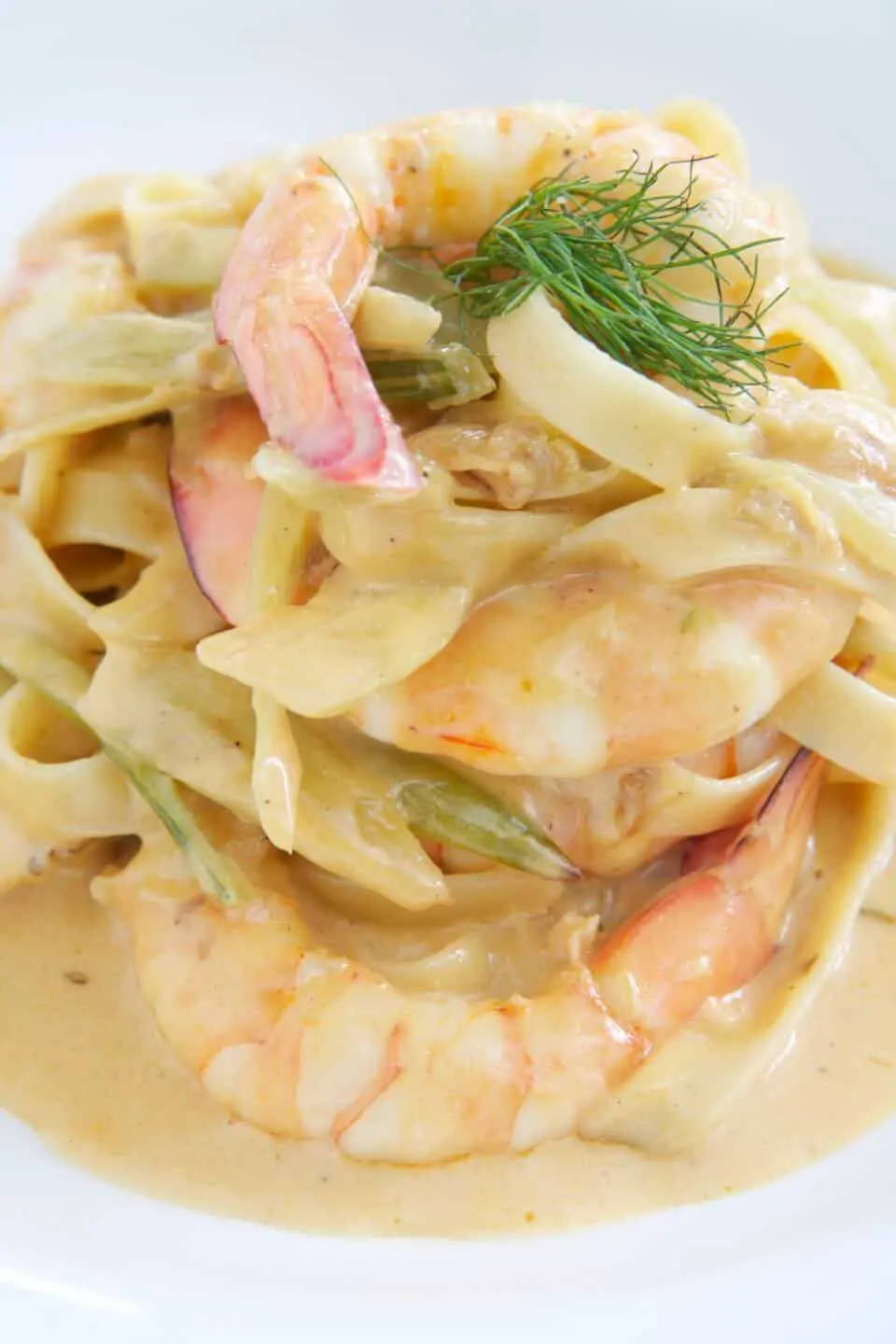 Prawns Fettuccine with Pernod Cream Sauce & Fennel
Ingredients
400

grams

fettuccine

600

millilitres

fresh cream

20

whole green king prawns

1/2

cup

Pernod

2

medium onions

2

cloves

garlic

1

carrot

1

stalk celery

3

tablespoons

parmesan cheese

1

bulb baby fennel

1

tablespoon

tomato paste

extra virgin olive oil

butter

peppercorns

sea salt flakes

pepper grinder
Instructions
Stock:
Peel & clean the prawns, keep the heads & shells (leave the tails on if you like).

In a large pot sauté the chopped onion, carrot and celery in a little olive oil for 1 minute.

Add the prawn shells and heads and sauté for a further 2-3 minutes.

Add tomato paste and 400 mls (14 fl oz) of water.

Add 3-4 bay leaves and 6-8 peppercorns and bring to the boil.

Once boiling, lower heat to a simmer and continue to simmer until reduced by just over half.
Pasta:
In another pot boil enough salted water to cook the pasta in.

Cook the pasta until al dente (check the package).

Strain the pasta and cool with running water.
Sauce:
In a large fry pan, melt 2 tbsps butter with 2 tbsps olive oil over medium heat.

Sauté the diced onion, fennel and garlic until starting to turn translucent.

Turn the heat to high and add ¼ cup of Pernod.

Burn the alcohol off the Pernod and reduce until the pan is only slightly wet.

Remove from the heat.

Place the contents of the pan along with the cream into a large pot and return to medium heat.

Allow to simmer and thicken, approx 10 minutes.

Meanwhile once the prawn stock has reduced by half, strain it and discard the solids.

Add no more than 200 mls (7 fl oz) of the stock to the sauce and continue to reduce until thick (do not boil).

Once sauce is thick enough to coat the pasta, reduce to low heat.

Wipe the fry pan clean and melt 1 tbsp of butter with 1 tbsp of olive oil over high heat.

Add the prawns and cook for approx 2 minutes or until pink.

Splash with a few tbsps of Pernod, burn off the alcohol and add the contents to the sauce.

Add parmesan cheese to sauce, stir and season to taste with sea salt and black pepper.
Assembly:
Rinse pasta under hot water to warm up, shake off excess water and plunge pasta into sauce.

Stir gently and serve.

Garnish with excess fennel fronds if desired.
Notes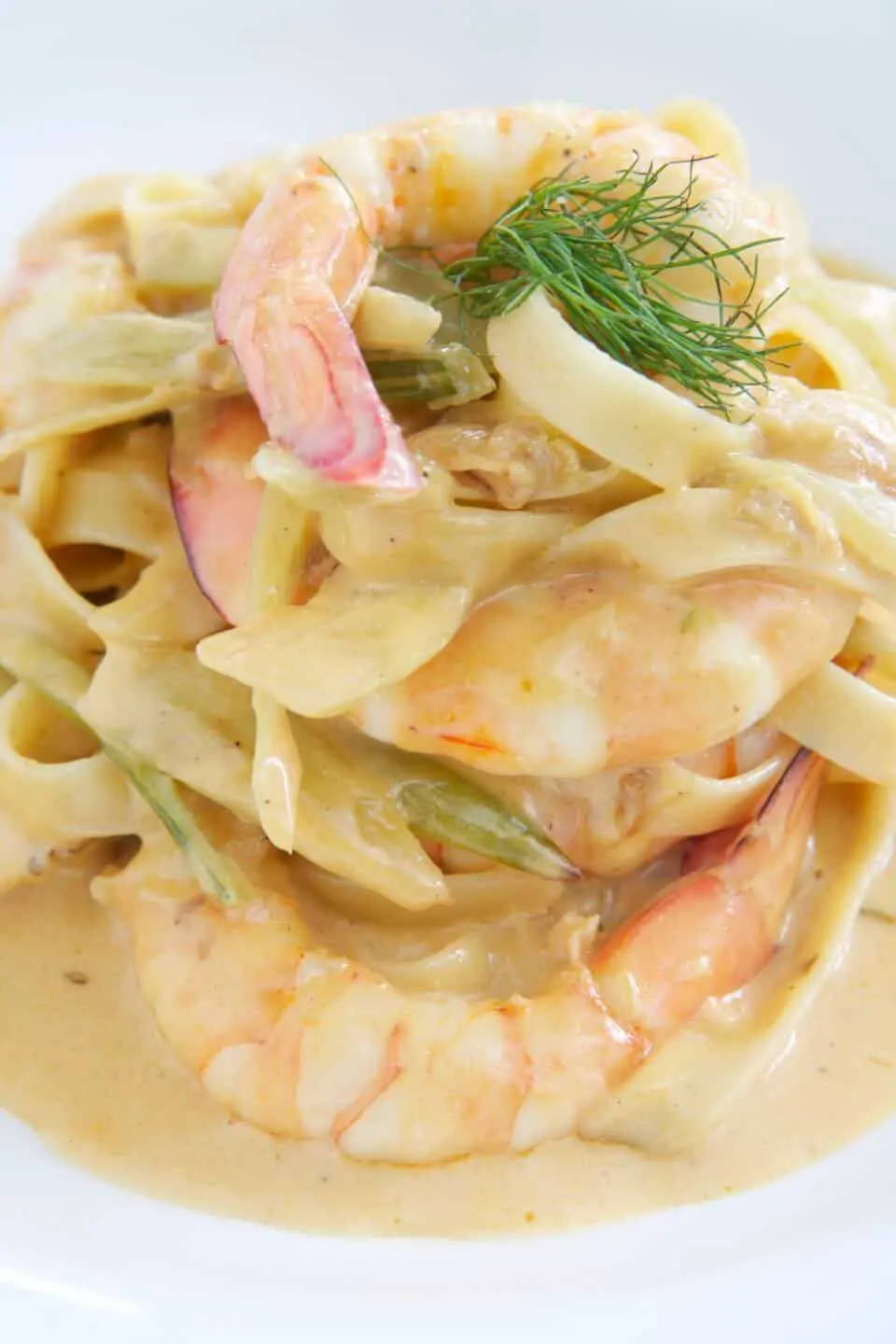 Related: Fettuccine Carbonara
Related: Prawns and Chickpeas Fettuccine
Related: Shrimp Pasta Salad
Related: Easy Tomato Shrimp Pasta
Related: Fettuccine with Manila Clams, Spicy Sausage and White Wine Saffron Reduction
Related: Fettuccine with Salmon & Asparagus in Lemon and Dill Oil