Top 15 Egyptian Desserts
Egyptians love and highly appreciate all kinds of food, sweet or savory. For them, it's a cultural cornerstone, a love language, and a creative outlet. When it comes to desserts, there's a relationship of pure adoration.
While Egyptian desserts are very unique in taste and employ ingredients like no other in the world, they're also certainly very fattening, heavy, and diverse! It's safe to say that you'll never really understand them unless you try them, but make sure it's on an empty stomach because after the first bite, you won't be able to stop.
Egyptian desserts are popular for using ingredients like nuts, raisins, pistachios, and coconut flakes on everything, whether as a filling or sprinkled on top. Most of them also have heavy cream, milk, flour, and dough-like ingredients in common. All of them are very sweet and very distinctive in taste, ensuring they stand out from all desserts around the world.
Egyptian desserts are popular all year round, but they're especially popular in the holy month of Ramadan for cultural reasons, perhaps in order to simply satisfy Egyptians' cravings after a long day of fasting, so don't be surprised if you find guests bringing all types of desserts as gifts or as a show of appreciation at gatherings.
1. Meshabek
Meshabek, or the funnel cake, is a round, tube-like dessert mostly famous and perfected in Damietta governorate but also served everywhere else. It's a super-sweet and popular Egyptian delicacy that consists of flour, cornstarch, oil, and a lot of sugar, which is all then crafted into a unique circular shape and fried.
Chewy in texture, meshabek can be dipped in honey, or any other sweet treat, after cooking.
2. Basbousa
Basbousa is a top-rated, very popular Egyptian delicacy. While it's served and loved all year round, it shines in the holy month of Ramadan. Basbousa takes the shape of a cake, although with a different texture.
Its main ingredients are semolina batter, honey, and sugar syrup. Something is usually sprinkled on top, for example coconut, nuts, or just plain sugar and honey.
3. Kunafa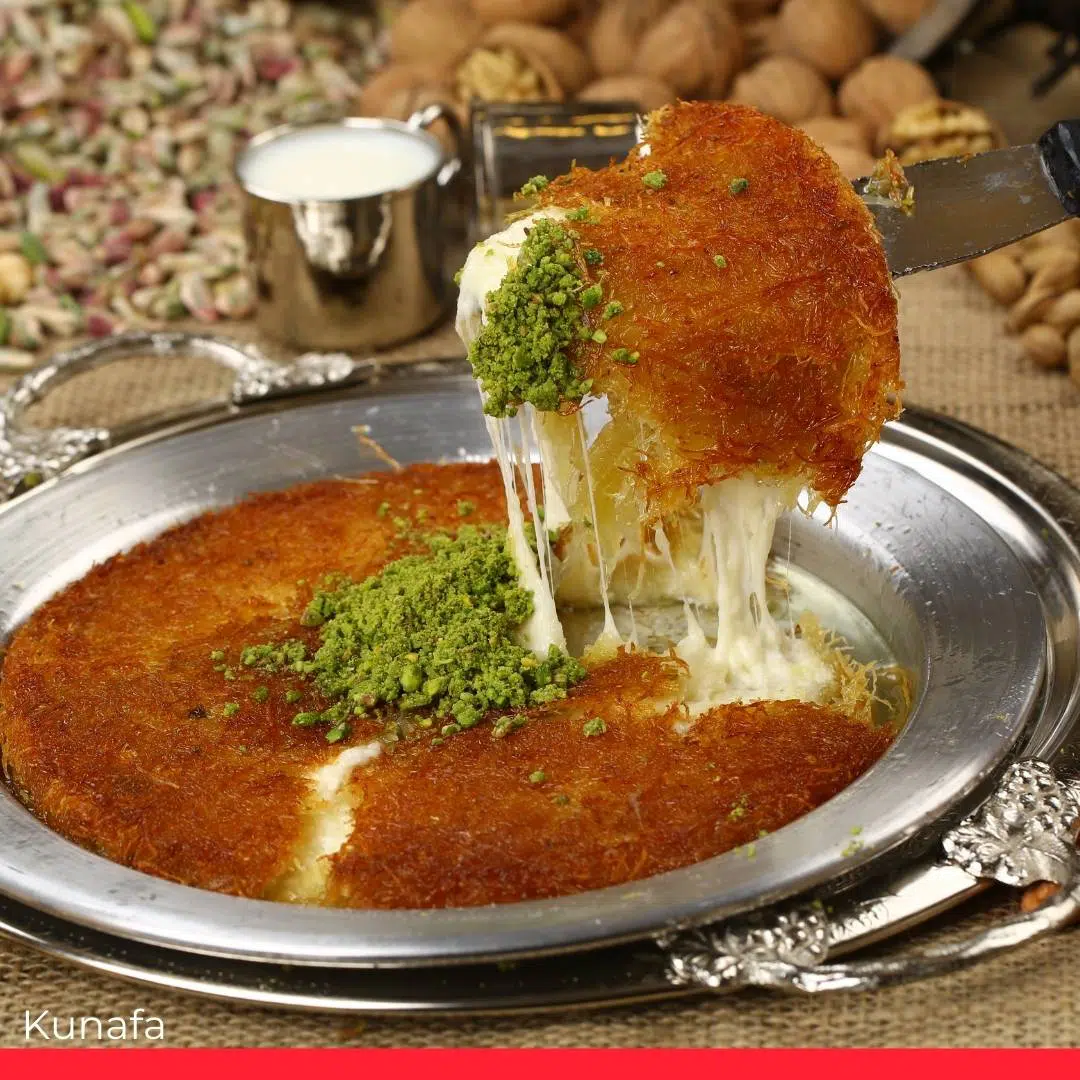 Much like basbousa, kunafa is also very popular, very sweet, and made mainly from semolina dough. It has a different texture and shape and is most famously filled with cream. Pastry shops and households get especially creative with Kunafa.
In recent years, kunafa can be found stuffed with Nutella, mango, strawberry, even red velvet batter! Every Ramadan (the time when kunafa is most popular) people come up with new fillings and flavors for kunafa. Also similar to basbousa, kunafa can have coconut powder or nuts sprinkled on top, in addition to other creative ingredients like Nutella.
4. Omm Ali
Om Ali is the definition of a traditional and historical dessert in Egypt. No Egyptian can resist a bowl of sweet Om Ali. People swear by it! It's literally translated as "Ali's mother" and it goes way back to the Ayyubi empire, for it was allegedly named after Sultan Ezz El Din Aybak's first wife when she murdered his second wife, Shajaret El Dorr, and called for the creation of a new dessert as a celebration.
It's made out of soaked bread, cream, honey, nuts, milk, coconut, and more. Om Ali is served in little bowls sold by street vendors and fancy traditional restaurants alike. For any visitor to Egypt, Om Ali is a must-try.
5. Kahk
Kahk, or Eid biscuits, are small round soft biscuits most famously served during Eid. The production and sale of kahk surges during this time and pastry shops are in fierce competition with each other. You can often find people talking about which shop sells the best kahk during that Eid.
It's made of many ingredients like flour, yeast, cinnamon, sesame seeds, and of course, sugar. The special part of kahk is the fillings which range from nuts or malban (Turkish delight) to agwa (pressed dates) or coconut. Equally delicious without a filling, kahk is almost always sprinkled with powder sugar on top and is obviously very fattening and wholesome.
6. Roz Bi Laban
Roz bi laban is basically rice pudding and it's a very popular Egyptian delicacy found and sold at dessert shops or traditional restaurants.
The main ingredients of Roz bi laban are rice, milk, sugar, and cornstarch, with usually coconut flakes or raisins sprinkled on top. It is usually served cold in little bowls and it could be considered somewhat light compared to other Egyptian desserts.
7. Sweet Fetir
Fetir can be either sweet or savory, but in all cases, fetir is a flaky pastry of many layers made out of a dough mixture. Tricky to make, you can find Egyptians going out of their way to buy it from far villages specializing in making and selling them.
Sweet fetir is often filled with powder sugar or any other sweet filling, even Nutella in more modern times, and is most famously dipped in molasses before taking a bite. It's a historical and very traditional delicacy that is said to go all the way back to the pharaohs.
8. Qamar El Deen Pudding
While Qamar el Deen is usually served as a very sweet drink made out of dry apricot, some make it in a pudding form. One must have a strong sweet tooth in order to have this because it's extremely sugary.
The pudding can have something sprinkled on top like coconut flakes or nuts and it's most traditionally served during the holy month of Ramadan along with the drink.
9. Zalabya
You can think of zalabya as a small, round donut or… the round part that's missing from a donut! Sweet zalabya is made out of flour, cornstarch, yeast, sugar, and more, to eventually be dipped in honey, sugar syrup, melted chocolate, Nutella, or any sweet dip you can think of. Zalabya is also called loqmet al qadi ("The Judge's Bite") and is sold in small kiosks and shops all over Egypt.
10. Medala'a
Medala'a is a somewhat unpopular dessert in Egypt, mostly made in Tanta governorate but it's starting to gain popularity everywhere else. Despite its unpopularity, it's a hidden gem and here's why: Medala'a is basically basbousa and kunafa on top of each other topped with a final layer of cream.
This very fattening dessert has to be eaten on an empty stomach and is like chaos in one's mouth, proving how much Egyptians appreciate their desserts and always find ways to take them to the next level!
11. Mehalabeya
Mehalabeya, or Egyptian milk custard, is a known dessert in Egypt that is made casually all year round and found in household fridges in little bowls very frequently. Mehalabeya is made with whole milk, whipping cream, cornstarch, sugar, along with other ingredients.
Mehalabeya is a dessert on the lighter side, and is usually sprinkled with raisins or coconut flakes on top, or whatever takes your fancy.
12. Sweet Goulash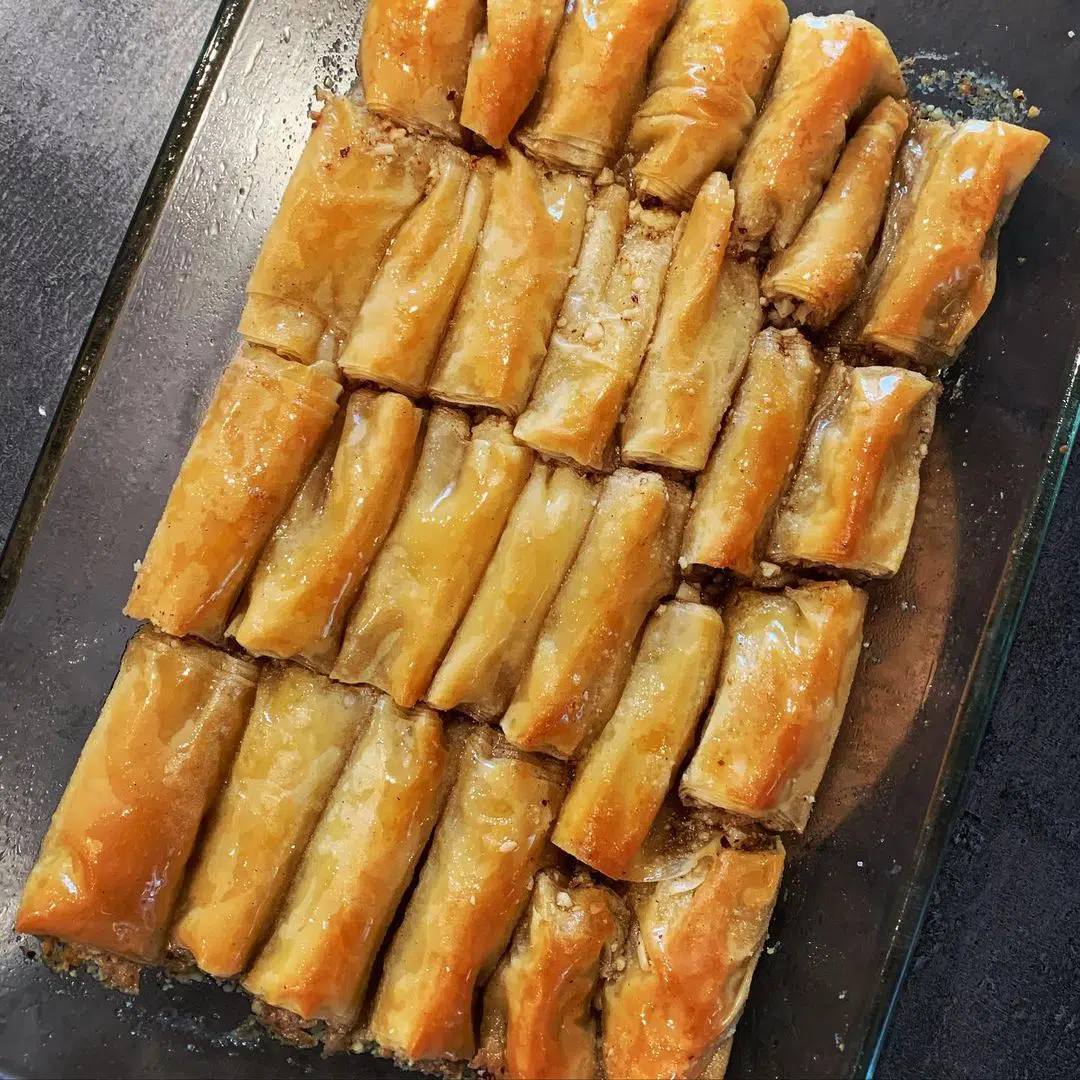 Sweet goulash is also known as baklava around the rest of the world. Much like fetir, goulash could be sweet and savory. It's a layered pastry with the main ingredient of filo pastry. Savory goulash is usually filled with ingredients like cheese, pastrami, or ground beef.
On the other hand, sweet goulash is filled with sweet cream, nuts, raisins, or whichever sweet filling you like! It's also usually soaked in honey or any sweet syrup and sprinkled with coconut flakes and raisins.
13. Sweet Atayef
Sweet atayef is a traditional dessert in Egypt as well as across the entirety of the Middle East. Each country has its own take on sweet atayef, much like other desserts. Atayef is basically an outer shell made of flour, baking powder, sugar, milk, cheese, and more, which is then made into a dough-like structure in the shape of discs, then stuffed with sweet or savory fillings, and closed up.
Sweet atayef are usually filled with crushed nuts, raisins, melted chocolate, honey, or whatever creative ingredient one would like to use. Atayef is especially popular on Ramadan dinner tables.
14. Halaweh
Halaweh is a sesame- or tahini-based pastry that has a clay-like structure with additional toppings like raisins, pistachios, or almonds. While Halaweh is super sweet and heavy, a lot of Egyptians actually make sandwiches out of it and have it for dinner or breakfast!
Mothers often love to make their children Halaweh sandwiches to keep them strong and full of energy. Halaweh is sold in supermarkets in little packages and is a great snack for anyone on the go.
15. Ghorayeba
Ghorayeba is another dessert that is popularly served during Ramadan, which is produced especially by many pastry shops and people at home alike. Ghorayeba is a fragile, round sort of cookie, and although it doesn't require many ingredients, it can be somewhat challenging to make.
It's mainly made out of flour, sugar, and butter with one or two pistachios on top. The best thing about ghorayeba is that it melts in your mouth once you take the first bite. It's definitely a must-try traditional Egyptian dessert.