Chef of the Week: Multi-talented and Go-Getter Chef Kostas Magoulas, Bahrain
Chef, consultant, founder of a successful vegan catering business, Instagram influencer – Chef Kostas Magoulas is a man of many hats. And did we mention he is only 30?
So how did he achieve all of this? Hard work, hard work again, lots of creativity and passion for the restaurant industry, and more hard work. Let's hear it from him.
1. What inspired you to become a chef?
I liked the vibes of cooking, of handling ingredients, the immediate contact with the customers, the ability to travel everywhere I wanted and combine work with vacations and get to know new cultures.
2. How did you make the transition from chef to consultancy work?
We generally expect consultants to be rather old. But I sat down, studied unlimited hours and, combined with my work experience, I decided to take steps into consultancy.
It is not really difficult but the sense of responsibility is huge. Of course, as you go on you learn from yourself and your surrounding space with the market as your greatest teacher and guide.
3. Tell us a bit about your consultancy work and some of the projects you've worked on.
I've done a few concepts in the Middle East, all-day cafes in Dubai, breakfast and brunch places in Bahrain and a vegan concept.
4. You are co-founder of almost a dozen businesses. How do you decide what business to invest in?
In fact I didn't invest in all of the businesses I actually co-founded; I had silent partners. We had an idea and I had the know-how and with a bit of trial and error we got out to dominate the market.
5. Do you create the menus for all restaurants that you invest in?
I am a person who drives forward with the principle of 'do what you know best or hire someone else to do it for you' – don't spend time on anything unless it`s absolutely necessary.

Chef Kostas Magoulas
So if a restaurant I want to do needs a Mexican food menu, that is not my field of expertise, meaning I will hire an expert to create the combinations and the flavors. I will handle the costing and the rest of the work. Teamwork makes dreams work.
6. Tell us about the food scene in Bahrain. What are the most popular cuisines and what foods should we try out when visiting the island.
Bahrain is a cultural point. It is dominated by American-influenced concepts, big franchises, and any type of cuisine you can imagine. When you visit, you must try the Indian food (you can find it at its best), Yemeni food, and Ethiopian food. It all comes as street food, and don't get me started on the crispy, fresh fried samosas or the aromatic biryanis.
Yum! Another thing to mention is to have a proper Bahraini breakfast while sitting on the floor.
7. What country in the Gulf region has the best food scene?
I would definitely vote for Dubai when it comes to quality and the service provided. When it comes to unlimited options, size-wise it's Saudi Arabia. I predict in a few years that S.A. will be the ultimate leader. Kuwait follows next with homegrown concepts.
8. Tell us a bit about your vegan catering business. Why vegan food and how popular is it in the Gulf region?
Vegan food was undiscovered on the island when I started my vegan nut milk business and then my catering. I am passionate about vegan food and pioneering in the field. It started as a hobby that exploded into a huge thing.
The principle was very simple: Go to the farms, shop, cook, send fresh daily. High end clients among doctors and lawyers loved the concept.

Chef Kostas Magoulas
9. You create some stunning dishes that you share on Instagram. Where do you get your inspiration?
Thank you, I appreciate it. From the sea, nature, the sun, the books that I read and create pictures of, my travels and the places I see, geometry, Ancient Greece.
All the styles are mine and not duplicated from another source. I believe in unique things in life.
10. Do you use Instagram as entertainment or a business tool? If the latter, how effective is it?
Instagram is another source of income for me. I advertise my work, some products I love, create content for companies, support my businesses, teach classes.
Instagram is everything nowadays.

Chef Kostas Magoulas
11. You worked a few years back as a chef on a private yacht. Tell us a bit about that experience.
I was almost at the beginning of my career, a young ambitious person. The day I stepped on board, I was an immature kid looking to make a few bucks.
But the amount and sense of responsibility that was put on my shoulders was tremendous and I think it was the one thing that helped me evolve into what I am today. It taught me patience, provisioning, and evaluation as well as pace.
The job was very tough, 18 hours per day. The day started with shopping at 5.00 am and having the breakfast ready for the guests and staff. Then washing the dishes, assisting in all the yachts works, and preparing lunch. Repeat the same and then prepare dinner. I am grateful for all the hard work as it revealed my strengths and abilities.
12. What's the best meal you've ever had.
Hard to choose. But, Spetses Island, Greece, a tiny 3 table restaurant in a 90-year-old grandma's backyard; she took us into her tiny garden, cut veggies and cooked them in a gas fire in front of us. Zucchini flowers stuffed with homemade goat cheese, Greek salad with everything homegrown, fresh fish from the sea in front of her house. Magic, divinity.
13. What's the most underrated food destination?
I do not posses a vast amount of information although I would definitely vote for Russia. The chefs there are doing amazing things with the tough local produce.
14. What advice would you give a chef who wants to transition to food consultancy?
Most chefs don't like to hear the answer to this: Work all day, then, while your friends go for a beer, you go home, take a shower, read, learn, watch, absorb, find a second job as an assistant to someone who knows the game well, then when everyone is on vacation, you need to work more and study more.
Sacrifice a few years until you feel you can take your place at the steering wheel and drive it to success. Do not be afraid to take risks and to take on more than you can chew. Knowledge and experience makes you grow but so does risk.

Chef Kostas Magoulas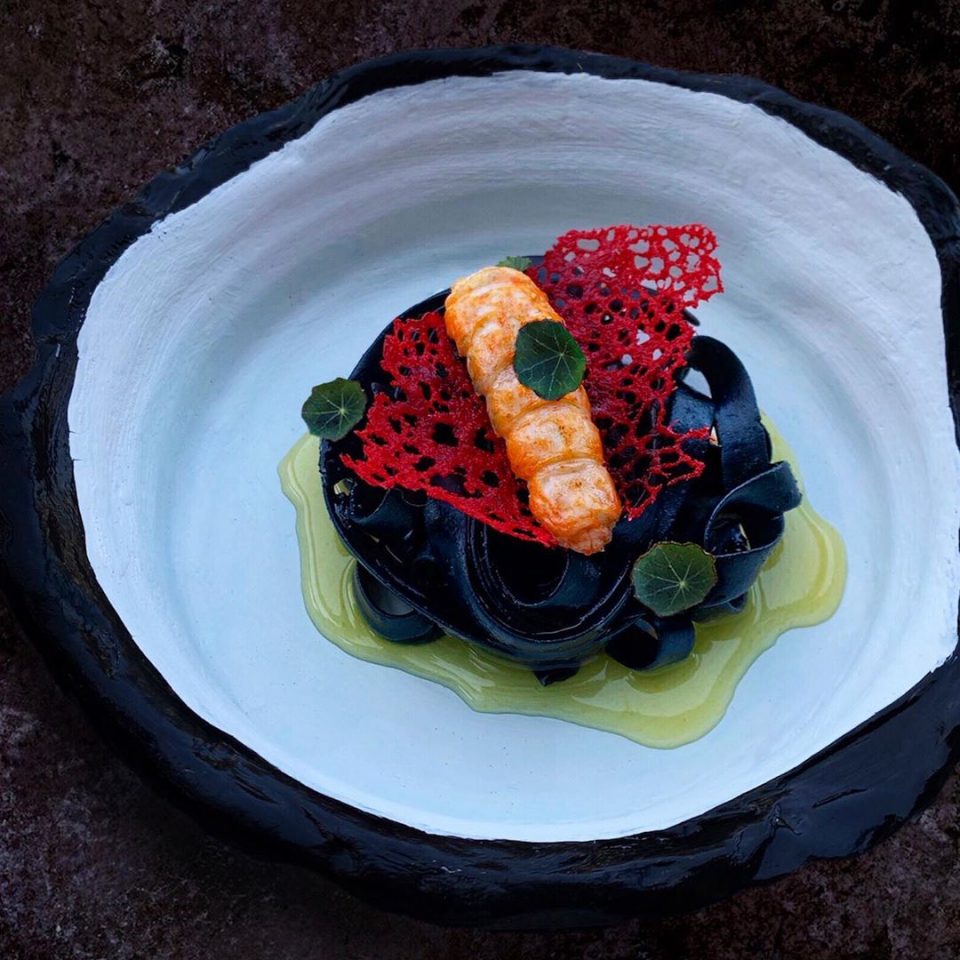 ---