Top 20 Ukrainian Cake Recipes for Sweet Teeth
Cakes are a huge part of the ethnic Ukrainian culture. Households will typically have a special recipe book inherited from mothers or grandmothers. The shaggier it looks, the more valuable it is.
During the festive season, Ukrainians love exchanging cake recipes. In the most traditional households, a simple cake, known as pliatsok, would be baked every Sunday. Friends or relatives would be invited over to spend hours talking and helping themselves to delicious foods.
On holidays, it is quite common to bake a few cakes, bring a piece of each to your friends, and get some in return. You'd also expect to be offered a doggy bag of sweet treats as a guest.
If you want a taste of true Ukrainian desserts, check this top 20 list. As simply as some of these might look, each one will definitely give you tons of palatable pleasure.
1. The Kyiv Cake
The most iconic Ukrainian cake ever comes from the capital city – Kyiv. This legendary nut-and-meringue dessert was invented almost 100 years ago and is now associated with the former president Poroshenko, the owner of the famous Roshen confectionary factory.
You'll need lots of patience and skill if you decide to make Kyivskyi tort yourself, but the end-result will make it all worth it. You can get as creative as you want with the recipe as all kinds of nuts taste great in this one. I'd recommend cashews or hazelnuts as they are the two most traditional versions.
2. The Monastic Hut
You should expect cherries to go with everything in Ukraine – they know how to serve them with main dishes and desserts alike. This absolutely gorgeous triangular cake really looks like a small monk hut (Monastyrska izba). It consists of many crisp cherry-filled tubes glued together by whipped sour cream and placed on top of each other.
You can only imagine how time-consuming it is to bake about 20 dough tubes and stuff them with cherries (boiled in their own juice). But well, love at the first bite is promised.
3. The Drunken Cherry Cake
Made of chocolate ganache, sponge layers, and pitted cherries, this alcohol infused cake will get you wined and dined simultaneously. While you can choose literally any spirits to soak cherries in, the most traditional recipe calls for horilka (Ukrainian vodka) that adds a pleasant tart aftertaste.
You'd ideally need more than 24 hours to make piana vyshnia as you're supposed to have the cherries sit in the horilka for as long as possible before transferring them to the dough and letting them do their job.
4. Ant Hill Cake
I could swear no other nation uses as much poppyseed as Ukrainians. They believe you cannot spoil any dish with poppy, and I agree. As unglamorous as the name murashnyk might sound to you, the cake just sparkles when it's sliced.
The baking process is quite fascinating as well: you need to put your slightly cooled-down dough through a meat grinder to form long worm-like strings and bake them. Then, you layer them with butter and condensed milk cream, generously sprinkled with poppyseeds, and allow the magic to do the rest.
5. Poppyseed Roll
For a less fancy option, as an everyday tea companion, this makivnyk (with an alternative filling of walnuts and raisins) is the best. Ukrainians adore yeast bread, and they know how to work with poppyseeds. What you get out of the recipe is an unbeatable bittersweet pinching on your tongue. Yum!
6. Poppyseed Cake with Cherry Jelly
This makovo-vyshnevyi cake has it all. Its two layers of poppyseed sponge squeeze sandwich the other two layers – hard milk sauce and cherry jelly. The distinctive combination of sweet and sour, accompanied by mild bitterness, gives you a plethora of flavors without being too heavy.
7. Spartak Cake
You could argue Spartak comes from ancient Sparta, but every Ukrainian will try to prove you wrong. The taste of childhood, this cake features eight cocoa layers soaked with sour cream to melt in your mouth like a cloud. I bet it will become your personal favorite.
8. Napoleon Cake
You might think this recipe comes from France, but every Ukrainian will swear by it as their national cake. Moist, sinfully delicious, layered with custard, Napoleon will steal your heart and stomach forever.
If you decide to make it yourself, you'll have to work out with the amount of time your puffy pastry needs to absorb the frosting. Once you've found this point – bingo! Enjoy and invite others to join you in this feast.
9. Layered Honey Cake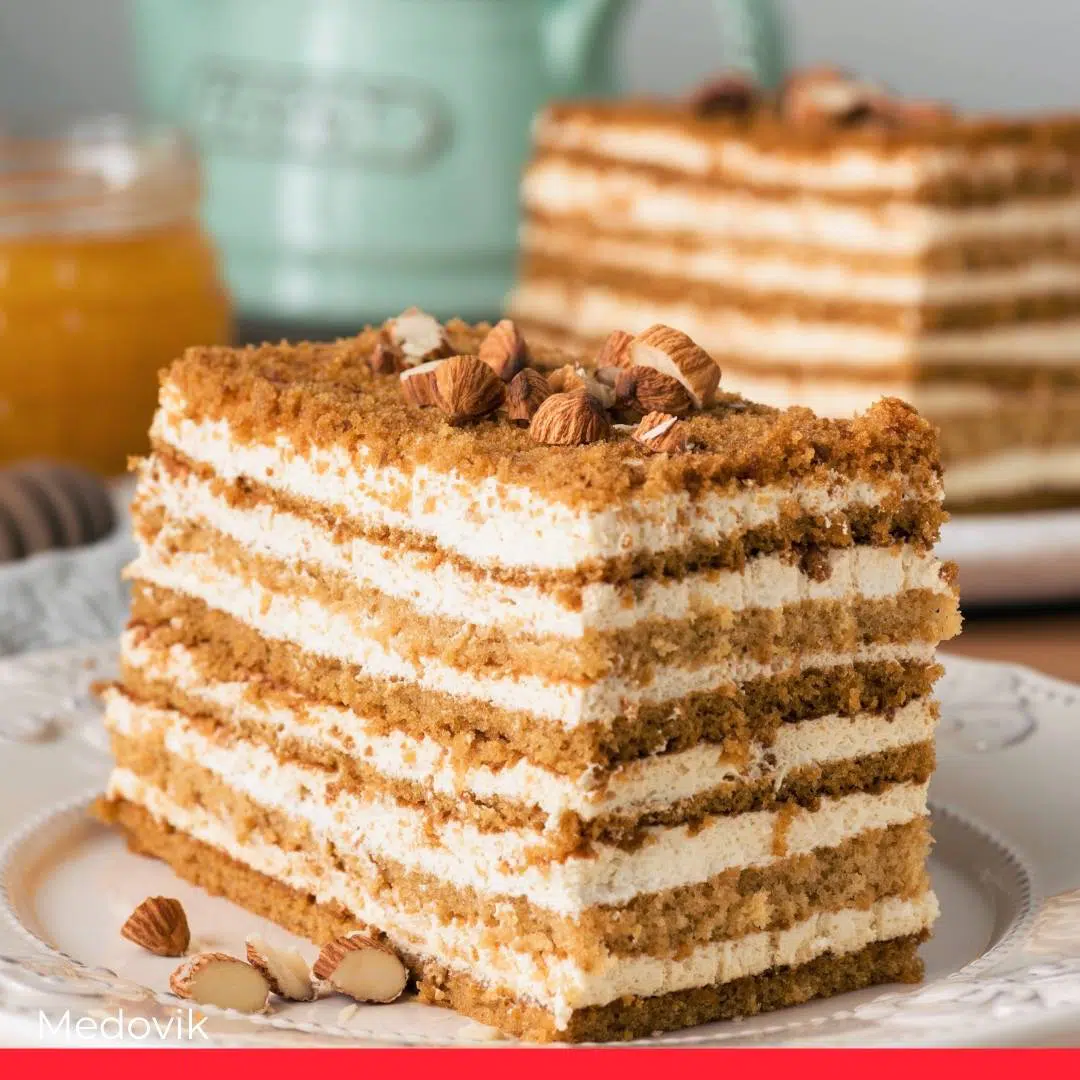 Yet another multilayer cake, this medovyk is similar to spartak but has honey-soaked rather than cocoa biscuits. And well, Ukrainians have such a longing for cakes that require a lot of time to make that you'll need to put by quite some time into baking this one as well.
This honey cake reaches the peak of its flavor the next day, so you'll also require a pinch of patience and not eat it up right away.
10. Wafer Cake
This option comes in handy when you want a cake but aren't particularly in the mood to bake one. Making vafli won't take you longer than 30 minutes and you only need three ingredients. Just get yourself a pack of ready wafers (available in any supermarket), a can of condensed milk, and some butter.
Mix the butter and condensed milk and spread a thick layer of it onto the wafers, stacking them as you go.
11. Broken Glass Cake
Byte sklo looks like a large rectangular milk cloud pierced with colorful jelly cubes and crumbled cookies, hence the name. You just basically mix up the ingredients and leave them to cool down in the fridge. Refreshing and mildly sweet, this dessert is great for summer parties.
12. Ukrainian Cheesecake
Who doesn't like a good old cheesecake? The Ukrainian version, syrnyk, is quite different from the American one though.
All around Eastern Europe, they'd actually use cottage cheese instead of cream cheese for basically any cake. It adds some fluffiness and domestic flair to the taste. Ukrainians also like using pitted cherries or blackberries inside for tartness.
13. Apple Cake
An apple cake is like a bachelor: nice-looking, not very young, and nobody really owns him. While Ukraine has no exclusive rights to apple cakes for sure, the recipe used for its yabluchnyk is distinguishable due to the streusel sauce with a cinnamon touch. This really makes a difference.
As with any sponge cake recipe, the trick for a perfect smetannyk is in the perfect sponge biscuits. Once you've got them mastered, you just need whipped vanilla sour cream generously spread between the dark and light sponges. Easy to make and consisting of simple ingredients, this cake easily competes with any exquisite dessert out there, guaranteed.
15. Prune Cake
Crunchy and filling, this cake is a great addition to your winter teatime. Almonds in the dough perfectly complement the fried prune sauce, while lemon tops the taste with just the right amount of sourness.
Along with cakes, Ukrainians adore homemade cookies and pastry. So, we've decided to give you a sneak peek into the top 5.
16. Khrustyky
These dainty cookies look like angels' wings (they are sometimes referred to by this name) and are pretty easy to make. Unlike many other Ukrainian cookies, they don't call for much kneading, cooling down, or additional preparation. Light weight, sprinkled with powdered sugar, and featuring a drop of bourbon inside, khrustyky are deep-fried and taste absolutely delicious.
17. Kolatki
These envelope-shaped cookies are another option that is not too time-consuming. Filled with pitted cherries (although prunes or apricots can also be used), they are quite addictive. You might down a dozen before you even notice it, so be careful.
You'll need a special walnut cookie mold to make these, but you'll never regret the investment. These dough scallops, or horishky, are arguably the oldest type of Ukrainian cookie.
Generously stuffed with condensed milk cream (and sometimes featuring a half of walnut), they are the dessert on your bucket list, even if you don't know it yet.
19. Cinnamon Scuffles
This pastry is made by covering dough with a rich coating of brown sugar and cinnamon and forming dainty scuffles. These rohalyky are perfectly easy to make, but they still make a great impression on your guests and look really cute.
20. Cottage Cheese Vatrushka
Commonly associated with what your granny used to make, vatrushkas are the best use of cottage cheese out there. A no-brainer, this recipe is basically an any bun recipe – you just need to shape them accordingly and top them lavishly with cottage cheese.
Whichever option you pick from this list, I am sure you'll be impressed. Not only do these cakes and pastries taste heavenly, they are also very homey. Eating them is like visiting your granny, even if she doesn't come from Eastern Europe.
---
Related: Most Popular Ukrainian Foods
Related: Most Popular Ukrainian Christmas Foods and Desserts
Related: 20 Popular Eastern European Foods