Top 25 Pakistani Sweets & Desserts (With Pictures)
Whichever part of the globe you are reading this from, you have to agree life gets a little more enticing when an occasional sweet treat gets thrown into the mix.
The desserts of Pakistan will make you feel extra special with the taste sensation they provide. From the coastline along the Arabian Sea to the Wakhan corridor in the northwest, desserts and sweets are considered an absolute necessity in Pakistan.
Some Pakistani desserts are served cold, others hot, and the only assurance being a little too much could see you booking in with your dentist.
Exploring Pakistani Desserts: 25 of its Most Delicious Sweets
For starters, some of these confectionaries share similarities with desserts popular in Indian cuisine. But that should come as no surprise considering the cultural ties between both countries.
You will find slight variations of the same desserts, perhaps with different names, as far as Turkey, Nepal, and the Persian Gulf states. However, the root is India or Pakistan, both of which also have their own traditional desserts.
For instance, there's Habshi Halwa, widely popular in most parts of Pakistan and typically prepared with flour, ghee, sugar, and Suji. However, it has its ancestral roots entrenched in Delhi. Conversely, Shahi Tukray, also known as Double ka Meetha, is the highlight of many special events in Pakistan, yet its reach has spread throughout the vast Indian subcontinent.
Pakistan boasts opulence and many alternatives when it comes to ruthlessly sweet desserts. I mean, you'll have to find yourself something savory to hold on to by the end of this read. In case you don't, and I'm rooting you will, here's a previous article on more Pakistani cuisines that will surely help.
But first, here is a list of 25 of the most exceptional Pakistani desserts and sweets. If you're interested in savory dishes, please check out our list of the most popular Pakistani foods.
Traditional Pakistani Desserts
Noteworthy, the significance of ethnic and traditional cuisines comes in garden varieties. As a result of their authentic methods of preparation and unrefined ingredients, they are rich in numerous health benefits.
Furthermore, they are an integral part of the socio-cultural context for people to identify with the cuisines passed over from previous generations. When it comes to traditional Pakistani desserts, this theory is thrust into the limelight when a delicacy such as Gulab Jamun (fried dumplings served in sugar syrup) won the nation's most favored dessert with 47 percent of the votes.
If you hadn't realized, Pakistanis take their last course quite seriously.
1. Shahi Tukray (Bread Pudding)
The history of Shahi Tukray is quite hazy. Claims of its origins go back and forth between the Middle East, 16th-century traditional English bread pudding, and Egypt. Nonetheless, the main intent of the recipe was to make good use of the leftover bread. Just in case you want to get deeper into the detail, this piece has it covered.
As for this velvety recipe, bread is soaked in hot sugary milk blended with spices such as cardamom and saffron. It is so special, it is served during events such as Eid and Ramadan.
2. Gulab Jamun (Round Balls Soaked in Rosewater Syrup)
Another unbearably delectable sweet that could make you diabetic is Gulab Jamun. You can have it cold, hot, or room temperature, depending on your preference.
Popularly found in countries throughout the Indian subcontinent, expect one of the sweetest amalgams that saffron and khoa (milk thickened by heating or dried whole milk) could ever make.
It is considered the national dessert of Pakistan. To give you a clearer picture, Gulab Jamun are similar to doughnuts, only that they are ball-shaped, spongy, and deep-fried after being plunged into scented syrup.
3. Suji Ka Halwa (Semolina Toasted in Ghee)
This next dessert is made from milk, honey, ghee, and semolina, which is coarse flour ground from durum wheat.
Essentially, the semolina (or farina) is sautéed in ghee before a sweetener is added. In a way, it's similar to the Middle East confectionary known as halva prepared from sesame and milk. If you don't have semolina, you could substitute it with farina, which is also known as cream of wheat.
It should take just 15-20 minutes to prepare. It's cooked in bulk on festive occasions or Poojas such as Diwali.
4. Sewaiyan (Vermicelli)
You could also see this termed Seviyan. Just to clear the air, vermicelli is a traditional type of pasta that comes in small thin threads.
Aside from the heat, here are the ingredients you will need to prepare this toothsome dessert.
Stir fry one cup of clarified butter with 125 grams of sugar (ensure the sugar dissolves). Toss in one packet of vermicelli then chopped pistachios and almonds. Cook for 5 minutes, enjoy, then head back here and share this post with a friend or two.
5. Sheer Khurma (Vermicelli Pudding)
When Eid is around the corner, this classic recipe becomes an essential must-have. As it's often served at festivities, it's thought to evoke fond memories, especially when shared with loved ones.
Simply phrased, sheer khurma is milk blended with dates. Is this something to serve up to impress the special someone? Definitely, they will appreciate the effort.
It originates from the state of Hyderabad and can be served either hot or cold. A recommended tip from a pro: add dried milk solid to make it richer and more flavorful.
Sweet Cultural Pakistani Drinks
Considering the spicy nature of Pakistan cuisine, a smooth, chilled accompaniment is welcome to soothe the flares of a fiery Biryani or that piquant Nihari.
6. Ganne ka Russ (Sugarcane Juice)
Perhaps just knowing that sugar is an extract of cane is enough to understand how luscious this drink is. It is a delight for your taste buds. You can add other ingredients to your sugarcane juice to make it even more appealing and a little healthier.
If you like a sharp taste, you could opt for lime juice and ginger. For a more fragrant appeal, a few crushed mint leaves would do. Ganne ka Rus is the official drink of Pakistan.
7. Shikanjabeen (Lemonade)
Shikanjabeen is served chilled during hot summers before the onset of Ramadan. Finely blending mint leaves, lemon juice (or adding lemon powder), and sugar in water makes it so refreshing. You can toss in some ice cubes, too, for extra chill.
8. Rabri Doodh (Sweet Condensed Milk)
As for Rabri, this is a popular sweet made with sweetened milk and layers of cream. The milk is slowly boiled on low heat until it turns a pale yellow color.
Other spices such as saffron, cardamom, and nuts are topped to enrich the flavor.
9. Falooda (Cold Desserts made with Noodles)
To stir up the best homemade Falooda, set aside hot sweetened milk to cool and then soak Sabja seeds to the point that they swell. Next, pick a tall glass, add in some seeds, vermicelli noodles, or cornstarch noodles (known as Falooda Sev), drizzle the chilled milk on the top, and add the ice cream of your choice.
Nuts and dry fruits can be used as garnish too.
10. Lassi (Buttermilk)
Lassi is a blend of yogurt, spices, fruit, and water served chilled. There are other variations. One is Kachi Lassi and if you like trying out new stuff, you could add chaat masala, salt, and cumin to spice things up. Lassi has lots of healthy bacteria that help maintain a healthy gut.
Hot Pakistani Desserts
Whether it's a nostalgic hot chunk of a kheer melting on your tongue or a wistful bite of sweetness crammed with all the stuff that soothes your heart (and stomach), Pakistan's hot desserts will leave you yearning for more.
11. Gajreela (Carrot Pudding)
Gajreela is often prepared during the winter months. It is a blend of milk (sometimes powdered), carrots, and rice garnished with lots of nuts. This amazing dessert is made by gently simmering the ingredients until they meld into a rich and creamy harmony.
12. Jalebi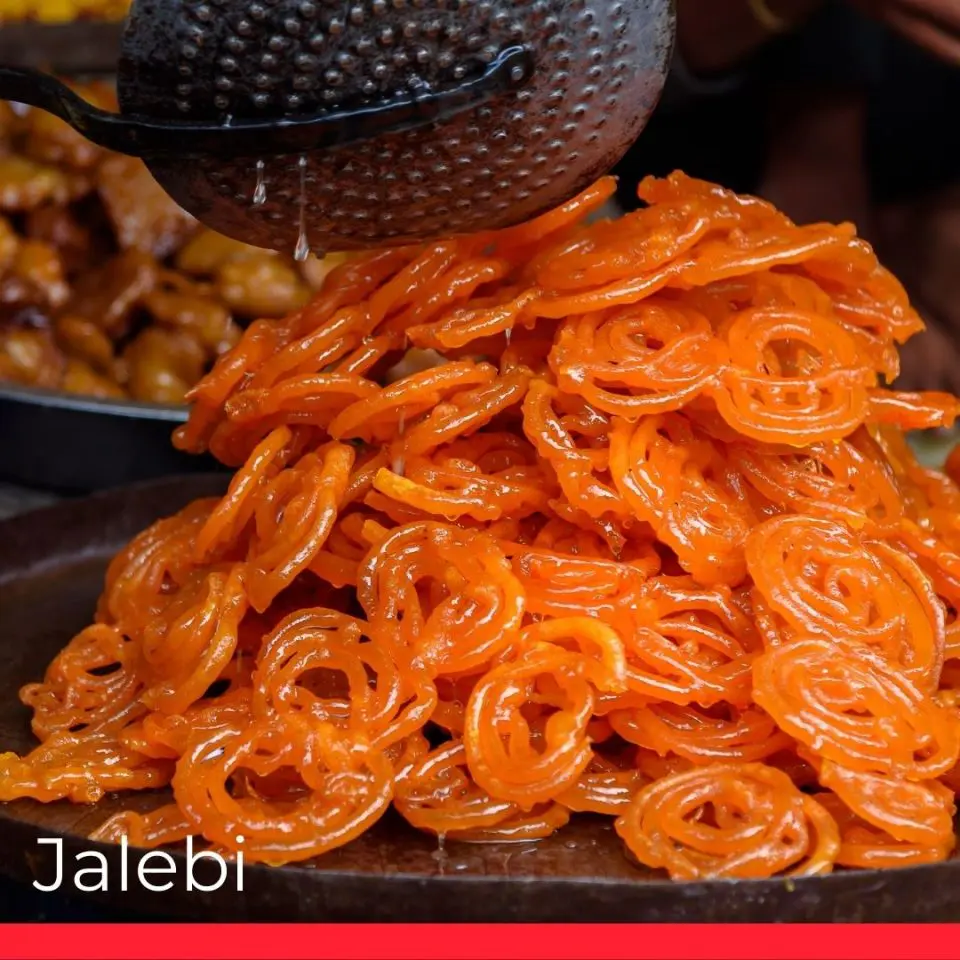 You don't have to leave Jalebi for dessert; you can also have it as a quick breakfast because it is very easy to prepare. The main ingredients are maida flour, saffron, ghee, and sugar. Maida flour is much like all-purpose flour and the mixture is deep-fried in the ghee before being dipped in sugar syrup.
13. Kalakand (Cheesecake Made with Sweetened Milk)
If you are in Pakistan, India, or Bangladesh, getting your hands on a fine piece of Kalakand is a piece of cake as it's widely available in stores.
This dessert is rich in the sweet flavors of khoya, which is a mix of milk and sugar. Chopped nuts give it a subtle grainy consistency and it ends up tasting like a mix between fudge and cake. It takes a while to make and the process is a little complex.
14. Chom Chom
If the thought of milk, cream, flour, and sugar gets you craving, you should try this one. Cottage cheese is prepared in sugar syrup and then served with grated coconut and chopped nuts. It can be flavored with cardamom or lemon.
15. Sohan Halwa
This is dense and sweet and with just four basic ingredients, is easy to prepare. So don't worry about lacking professional skills, all you need is cornflour, sugar, milk, and water.
Cold Pakistani Desserts
With Pakistan ranked in the top ten list of the hottest countries, it should come as no surprise that chilled desserts are consumed at unexpected times of the day.
16. Ras Malai (Spongy Cheese Dumplings)
For starters, lemon juice or drops of vinegar are added to curd the milk. The milk is further strained, the solids obtained, and once cool, kneaded into a dough. They are finally rolled into small balls which get dipped into a cream called Malai.
Check out our coconut Rasmalai recipe or our rasmalai tres leches cake recipe.
17. Rooh Afza (Refresher of the Soul)
Coming in a number of varieties, this is another summer cooler that will get you gulping profusely. And, being a concoction of fruit and natural herbal extracts, it is well known to protect against heat exhaustion, and have other health properties.
18. Lab e Shireen (Custard and Fruit)
Often served during the month of Ramadhan, this is a sumptuous delicacy topped with vermicelli, cream, jelly, and fresh and dry fruits.
19. Kheer (Sweet Rice Pudding)
This is another extreme self-indulgent rice-pudding treat. The fragrant aromas of saffron and cardamom are entrenched in the creamy flavors of sweetened milk and slow-cooked rice leaving you wanting more.
20. Kulfi (Traditional Ice Cream)
Resembling a custard-based ice cream, Kulfi is a dense, frozen solid. It is prepared with khoya (solid dairy product, also known as "mawa") and milk and a variety of flavorings. It is considered healthier than conventional ice cream.
Pakistani Velvet Sweets
For our last category and complete indulgence, let your eyes feast on these top five picks of Pakistan's delicious sweets.
21. Gurr Wale Chawal (Jaggery Rice)
Jaggery adds extra nutritional value to the rice in this sweet. Its rustic flavor comes from malai (a rich layer of cream that forms on top of milk), paneer (fresh Indian cheese), and dahi (yogurt). While preparing, ensure you use oil or ghee sparingly.
22. Patisa Sweet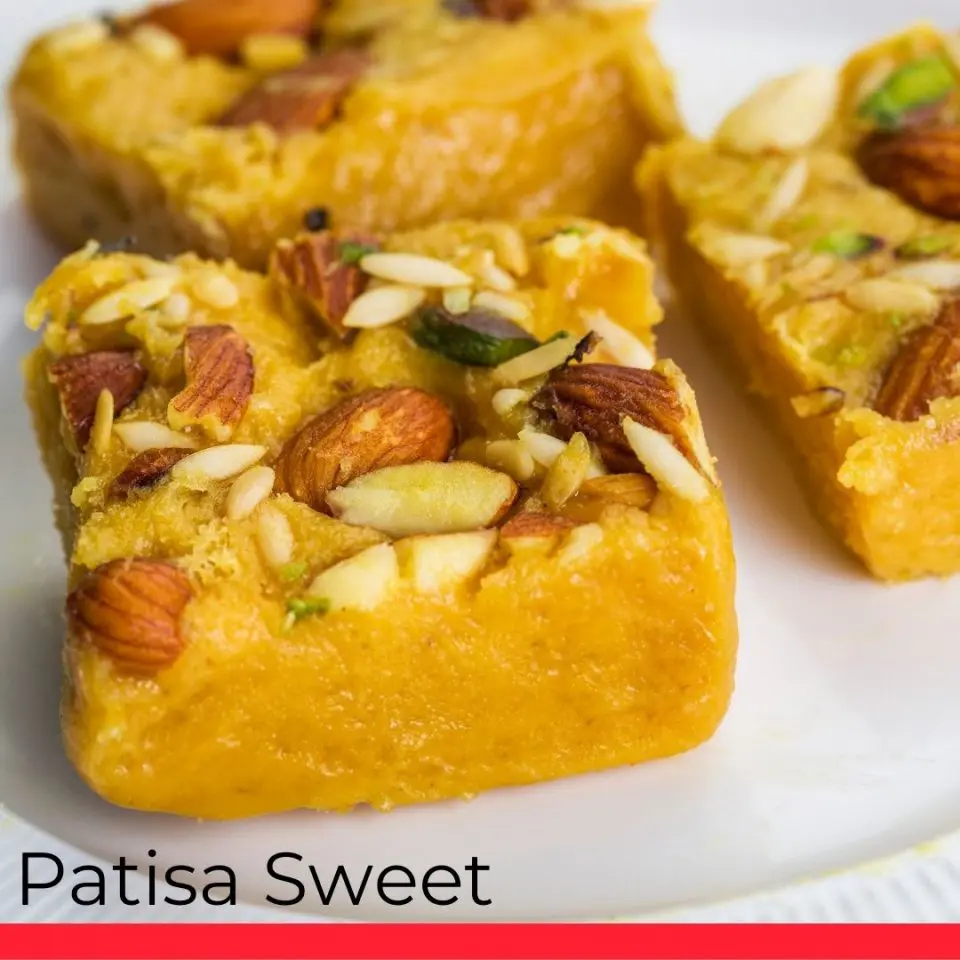 This is prepared from wheat flour, sugar, and ghee. Depending on the chef, they can also add Ilaichi (Urdu term for cardamom) to enhance the aroma.
To make Patisa Sweet, the ingredients are cooked together to create a dough. This dough is flattened into thin layers, allowed to cool, and then broken into smaller pieces, giving the dessert its soft texture that dissolves in your mouth.
23. Barfi (Snow)
Barfi is a traditional Pakistani dessert made from dense milk that is simmered with sugar. The mixture is cooked until it thickens and reaches a fudgy consistency.
The prepared mixture is then spread out in a flat dish, allowed to cool, and cut into squares or diamond shapes. It's called snow because it does not change color whatever the extra additives and ingredients.
24. Pethe Ka Halwa (Pumpkin Pudding)
Just in case you're craving a healthy dessert, this should be your pick. Pethe Ka Halwa is made by grating pumpkin and cooking it with a bit of ghee and sugar.
The outcome is a rich pudding where the pumpkin's natural sweetness stands out. Nuts like almonds and pistachios can also be added for extra deliciousness. The use of a little clarified butter (ghee) and sugar doesn't compromise the taste of this pudding.
25. Zarda
Prepared by boiling rice with sugar, milk, and saffron, it's easy and fun to prepare. It is flavored with pistachios, raisins, and cardamoms.
Pakistan ranked as one of the hottest countries in the world and it wouldn't be too far-fetched to say their desserts are equally a hot pick. Whether it's the Karachi's or folks from Punjab, it's obvious they have a hawk's eye for the best confectionaries giving you a great reason to try all the sweets and desserts presented here.
You wouldn't want to indulge yourself too often; they are heavy on sugar and fat. But when you do feel the need to savor something truly sweet and tasty, go with one of the top 25 desserts of Pakistan.
---
Find out more about Pakistani cuisine by checking out our story on the most popular Pakistani foods.