Top 20 Guyanese Drinks for Staying Cool and Hydrated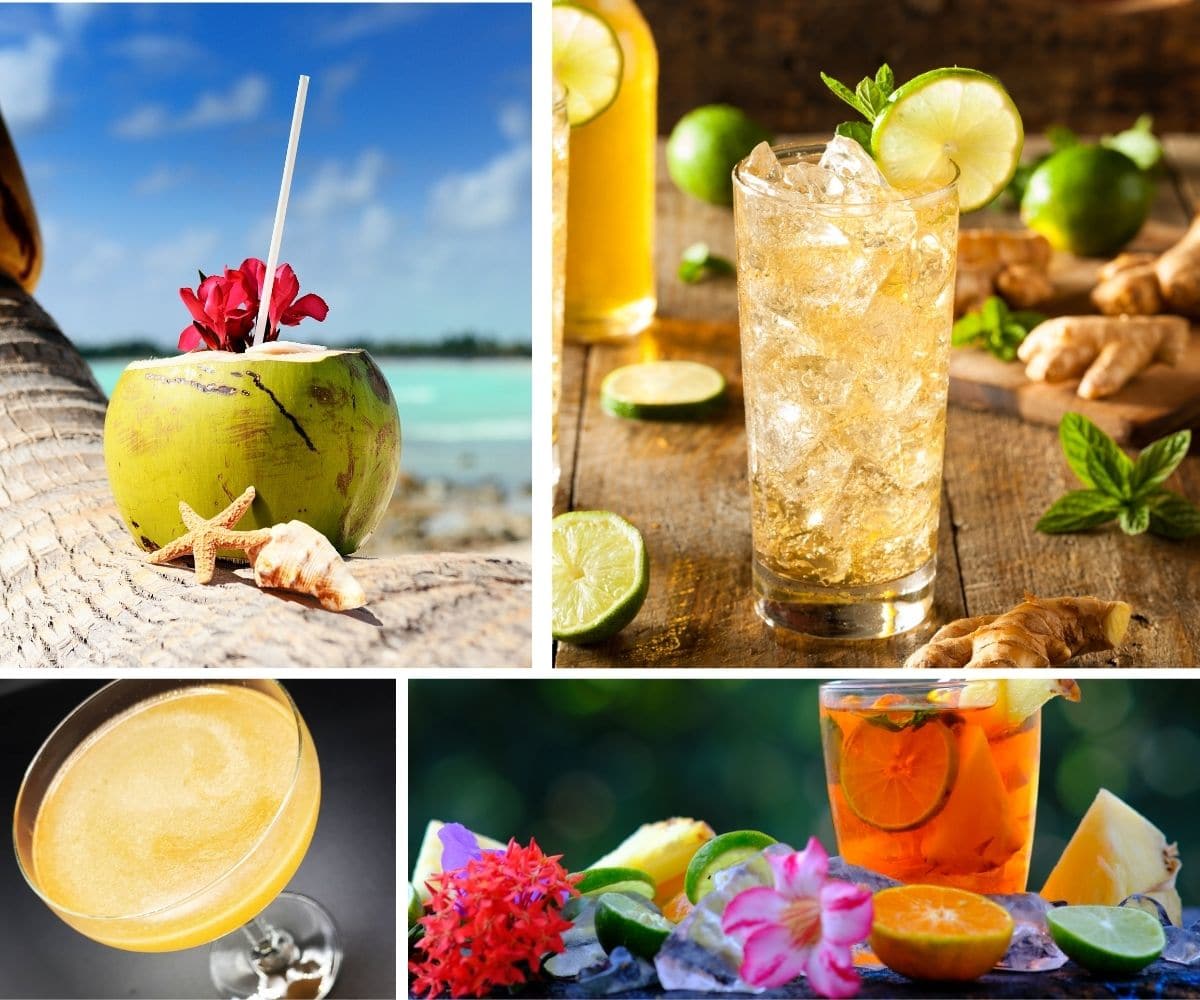 Guyanese food is tasty and filling but what about their drinks? Guyana is located just above the equator so it has a tropical climate. This means that it is warm all year round. To beat the heat, Guyanese have some of the tastiest drinks that wake up those taste buds and keep you cool.
Regardless of the type of drink, whether it is alcoholic or non-alcoholic, Guyana has the perfect drink for you. Best of all, some of these drinks are made from fresh local fruits so not only can they help you beat the heat and keep you hydrated, but they also boost your immune system.
Let's get right to it.
1. Mauby
Mauby is arguably the most popular drink in Guyana. This drink is made from tree bark and has quite a distinct flavor. Mauby is sometimes fermented, using some of the previous batch, while some people prefer it unfermented.
Some even use mauby syrup and mix it with water. However, the best mauby is prepared the traditional way, boiling the bark with sugar and spices. The flavor is similar to root beer but Mauby has a slightly bitter aftertaste. But it is quite refreshing when served in a tall glass with ice.
2. Sugarcane Juice
Guyana is one of the largest sugar producers in the Caribbean region. Sugarcane juice, more commonly known in Guyana as cane juice, is another popular drink that the locals enjoy. It is delicious, nutritious, and refreshing.
Extracting the juice from sugarcane is a simple process. The stalks are peeled and pressed using a pressing machine. With the pressure of the machine, the delicious juice comes pouring out of the stalks. The thick brownish to deep-green juice is then collected and served. Cane juice has a natural sugary taste and retains all the nutrients of the sugarcane.
3. Swank
Swank is a refreshing drink that can help to beat the heat and goes well with a specially cooked meal. This drink is also called lime wash, lime water, lime drink, and even limeade. Most Guyanese will have limes at home so it is one of the most popular drinks when looking for something refreshing.
Swank is a revitalizing blend of lime juice, brown sugar, and water served with ice. Swank means full of life or energy and that is exactly how you feel after downing a chilled glass.
4. Coconut Water
Coconuts can be found all over Guyana and the Caribbean, so coconut water has become a staple drink in the region. This fruit has tons of health benefits since they are packed with electrolytes, vitamins, and other nutrients. It is naturally refreshing and has a sweet and nutty taste. 
Coconut water comes from the center of a young green coconut. All it takes is a sharp knife or machete to cut a hole in the nut. You can put the coconut straight to your mouth or use a straw to drink from the coconut. It is definitely a great option for staying hydrated in Guyana's hot weather.
5. Sorrel Drink
Sorrel is made using dried hibiscus flowers and warm spices. It is quite popular during Christmas time though some people enjoy it year-round.
Sorrel is made from the sepals of the roselle plant (a member of the hibiscus family.) The sepals hold the flower petals together before they bloom. As the flower matures, the sepals become bright red and fleshy.
To make sorrel drink, the sepals are removed from the ovary. It is then boiled with water and several spices to extract the flavor and color. Some people even dry the sepals to preserve them so they can make the sorrel drink whenever they want.
6. Ginger Beer
Ginger beer is a beverage you'll find around Christmas time as well. Homemade ginger beer is made by soaking grated ginger, clove, cinnamon, and orange peel in water. This mixture is then left to ferment in a cool place for a few days.
It is then strained, sweetened, and served with ice. Ginger beer packs quite a punch and is an acquired taste. However, many enjoy the spicy ginger taste with its fruity notes from the citrus peel.
7. Cherry Juice
The cherries in Guyana are tart but Guyanese love them just like that. Cherries are both nutritious and delicious so they make an excellent cherry juice. The cherries are washed and blended with water, ginger, and sugar on high until smooth.
The mixture is then strained and a small amount of fresh lime juice is added, and served chilled. Some people prefer the pure cherry juice without the ginger or lime juice. Either way, you're left with a drink that is fresh, natural, and flavorsome.
8. Passion Fruit Drink
Passion fruit comes from a vine species of passion flower that is native to southern Brazil, Paraguay, and northern Argentina. However, it is now grown in many tropical and subtropical climates throughout the world.
Guyanese passion fruit is usually a nice yellow. It has a thick waxy rind and is filled with sacs of juice and seeds. To make passion fruit juice, the sacs are removed from the rind and placed in a blender on a low setting to extract the juice. It is then strained and sweetened to taste.
9. Soursop Drink
Soursop is known as a miracle food for people suffering from all types of ailments. Long before this fruit became popular, Guyanese were reaping its benefits.
Soursop juice has a distinct and unique flavor. Many people prepare their own version. To extract the soursop juice, the seeds are removed and the fibrous milky white pulp is pressed through a sieve, colander, or cheesecloth. Some people also blend the pulp to extract the juice. Once the juice is extracted, the mixture is sweetened and ready to go.
Some variations include sweetened condensed milk and nutmeg. This all comes down to who is preparing it and what food or snack they are pairing it to go with.
10. Pine Drink
Pine drink is made from the skin (peel) and core of a pineapple. The pineapple is first washed, since the peel is used to make the drink. All the pieces of the skin, unwanted bits, and the core of the pineapple are placed in a container with water. It is then left to ferment for 1-2 days.
After the fermentation process, sugar and cinnamon can be added to enhance the flavor. Pine drink is rich in enzymes, vitamins, and antioxidants and has a sweet and tart taste.
11. Golden Apple Juice
Golden apples turn a beautiful golden and are a bit soft when ripe. Unripe golden apples are green and hard. The flesh of both ripe and unripe golden apples are attached to a fibrous pith which can make getting the flesh out a bit difficult.
The flesh of the fruit is blended and then passed through a sieve and sweetened with brown sugar. The juice has flavors similar to pineapple and mangos. It is quite fruity, aromatic, and refreshing and comes packed with loads of vitamins.
12. Tamarind Drink
Tamarind drink is one of the most surprising drinks found in Guyana. This unusually tart fruit transform into a delicious drink. Fresh, shelled tamarind is placed into a pot of water and boiled on high. The heat is then reduced and the mixture is left to simmer for about 30 minutes. It is then left to cool and strained through a sieve to get rid of the pulp.
Tamarind juice has an acidic sourness to it with a slightly tangy sweetness that is different from anything you've ever tasted.
13. Fruit Punch
We can go on and on about the fresh local juices in Guyana since the country has an abundance of fruit trees. However, we are going to finish off our fruit juice list with the master of them all: fruit punch.
Fruit punch is a powerful concoction usually consisting of five different local fruit juices mixed with water and brown sugar (optional). Some of the best local fruits for fruit punch are pineapple, watermelon, banana, and orange.
14. Peanut Punch
Peanut punch is made from shelled peanuts or peanut butter, condensed milk, coconut milk, and nutmeg. It is an energy-packed drink that is rich in protein and other nutrients.
Peanut punch has a smooth creamy taste thanks to the richness of the milk and creamy texture of the crushed peanuts or peanut butter. The drink is usually served cold with a bit of crushed ice.
15. Snow Cone
Snow cones or crushed ice is the best thing you can get on a hot sweaty day in Guyana. It is both a snack and a drink since it combines crushed or shaved ice covered in a simple syrup of various colors.
For a hint of sweetness, a snow cone can be topped with a drizzle of sweetened condensed milk. You can eat the ice or wait until it melts and mixes with the simple syrup and condensed milk for a sweet milky drink.
16. I-cee Soda
I-cee soda is a carbonated soft drink made in Guyana by Banks DIH. It comes in several flavors including Cream Soda, Banana, Pineapple, Orange, Big Red, and Tangerine. There's even a mashup of different flavors such as Pear, Green Crush, Pink Grapefruit, Apple Strawberry, Fruit Punch, and Ginger Beer.
17. Soca Soft Drink
Soca soft drink is another carbonated beverage produced in Guyana. It is manufactured by Demerara Distillers Limited(DDL) and comes in various flavors including Green Bubble Gum, Fruit Punch, Banana, Pineapple, Cream Soda, Ginger Ale, and Ginger Beer.
18. Banks Beer
Moving on to alcoholic beverages, Banks beer is a locally made beer. It has been in production since 1956, back when Guyana was under British rule. The beer is made from malted barley, pure artesian well water, hops, rice, and yeast.
19. Banks Shandy
If beer isn't your thing but you still want a bit of alcohol, Banks shandy is a great option. This drink has just 1.6% alcohol content and comes in five flavors: lemon, sorrel, champagne, honey lemon, and citrus.
20. El Dorado Rum
We'll finish off our list of drinks with one of the best rums in the world: El Dorado Rum. These rums reel in international awards year after year. All the rum in the El Dorado lineup is aged in oak barrels for many years. The El Dorado line up includes:
El Dorado 3 Year Old rum: aged for a minimum of three years. This is double filtered through natural charcoal. This leads to a colorless, smooth, and versatile spirit with aromas of citrus and vanilla and a taste of chocolate, raisins, and coconut.
El Dorado 5 Year Old: aged for at least five years. This rum is filled with aromas of caramel, butterscotch, and molasses. It has a taste of fruit, caramel, and toasted coconut.
El Dorado 8 Year Old: aged for eight years or more. This has an aroma of tobacco mixed with caramel toffee, dried stone fruits, and flambée banana. The taste of butterscotch and traces of oak tantalize your taste buds.
El Dorado 12 Year Old: aged for 12 years or more. The 12 Year Old has an aroma of lush tropical fruit with hints of honey and dark sugar. It is filled with flavors of fruit and spice.
El Dorado 15 Year Old: aged for at least 15 years. This is filled with notes of dark coffee, candied orange, almonds, dark chocolate, pepper, and vanilla. The taste is a combination of awesome flavors like grilled tropical fruit with oaky spice.
El Dorado 21 Year Old Special Reserve: aged for 21 years and more. This artful blend has an aroma of mocha, toffee, tobacco, and dark spices. In the mouth, it is velvety smooth with a taste of tropical fruits, coffee, leather, and rich toffee.
Conclusion
Guyana can get extremely hot at times. However, with this wide range of refreshing drinks, you'll be sure to beat the heat. They also boost your immune system and improve your overall health since most of the drinks are made with fresh fruits.
You can try the juices alone or create a cocktail using some of the finest rum on the planet. Regardless of what you fancy, these beverages will keep you calm, cool, hydrated, and refreshed.
---
Related: Top 22 Guyanese Snacks
Related: Top 20 Guyanese Desserts
Related: Top 25 Guyanese Foods