Top 20 Guyanese Drinks for Staying Cool and Hydrated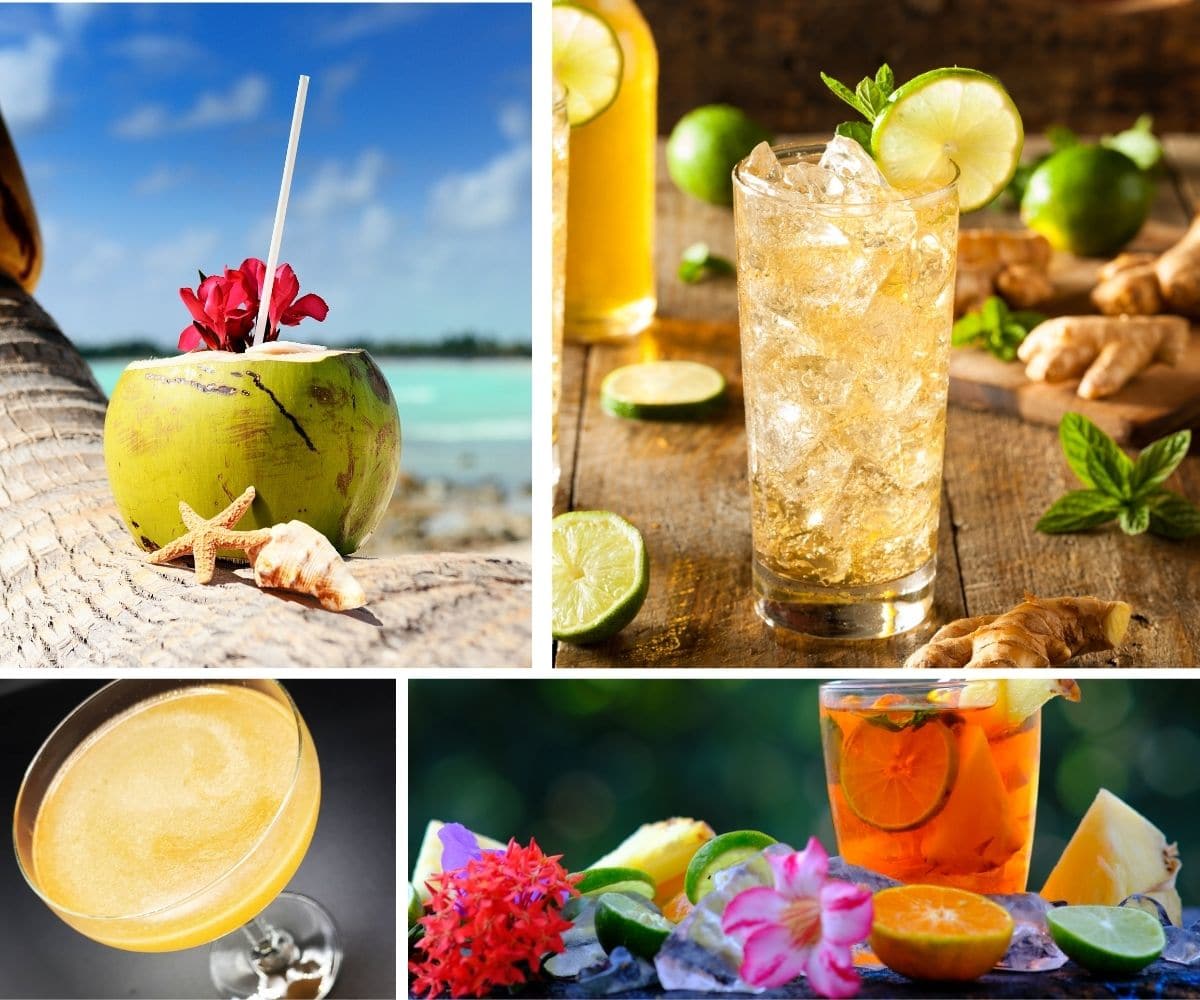 If you haven't tried the drinks from Guyana yet, this article will make you thirsty and curious to give them a go. Guyana is famous for its delicious cuisine, and Guyanese drinks and beverages are just as great.
Situated just above the equator, Guyana experiences a tropical climate, ensuring warm temperatures throughout the year. To combat the heat, Guyanese have crafted a delightful selection of beverages that tempt the taste buds and provide a refreshing sensation.
Regardless of the type of drink, whether it is alcoholic or non-alcoholic, Guyanese range of local drinks is very diverse. One of the greatest aspects is that many of these beverages are crafted from locally sourced, fresh fruits. These drinks are more than just refreshing, they also give your immune system a helping hand.
Let's get right to it.
1. Mauby
Undoubtedly, Mauby is one of the most renowned beverages in Guyana. This unique drink is derived from tree bark and possesses a distinctive flavor. Depending on personal preferences, Mauby can be prepared through fermentation, using a portion of the previous batch, or enjoyed in its unfermented state.
Some even use mauby syrup and mix it with water. However, the best mauby is prepared the traditional way, boiling the bark with sugar and spices. It tastes somewhat like root beer but has a slightly bitter aftertaste. It's especially refreshing when served in a tall glass with ice.
2. Sugarcane Juice
Guyana is one of the largest sugar producers in the Caribbean region. Sugarcane juice, more commonly known in Guyana as cane juice, is another popular drink that the locals enjoy. It is delicious, nutritious, and refreshing.
Under the force of the machine, the stalks release a delightful stream of juice. This thick, brownish to deep-green liquid is collected and served as cane juice. It possesses a naturally sweet flavor and preserves all the nutrients found in sugarcane.
3. Swank
Swank is a revitalizing beverage that aids in combating the heat and perfectly complements a specially prepared meal. This beverage is known by various names such as lime wash, lime water, lime drink, and even limeade. Since limes are commonly found in Guyanese households, it has become one of the most favored choices for a refreshing drink.
Swank is a revitalizing blend of lime juice, brown sugar, and water served with ice. Swank means full of life or energy and that is exactly how you feel after downing a chilled glass.
4. Coconut Water
Coconuts can be found all over Guyana and the Caribbean, so coconut water has become a staple drink in the Caribbean. This fruit has tons of health benefits since they are packed with electrolytes, vitamins, and other nutrients. It is naturally refreshing and has a sweet and nutty taste. 
Coconut water is extracted from the core of a green coconut using a knife to make a hole. You can either drink the coconut water directly from the fruit or use a straw for convenience. It serves as an excellent choice for staying hydrated in Guyana's hot climate.
5. Sorrel Drink
Sorrel is made using dried hibiscus flowers and warm spices. It is quite popular during Christmas time though some people enjoy it year-round.
Sorrel is made from the sepals of the roselle plant (a member of the hibiscus family.) The sepals hold the flower petals together before they bloom. As the flower matures, the sepals become bright red and fleshy.
To make Sorrel drink, the sepals are removed from the ovary. It is then boiled with water and different spices to extract the flavor and color. Some people even dry the sepals to preserve them so they can make the sorrel drink at their convenience.
6. Ginger Beer
Ginger beer is a popular beverage enjoyed throughout all seasons, including the festive Christmas time. Homemade ginger beer is made by soaking grated ginger, clove, cinnamon, and orange peel in water. This mixture is then left to ferment in a cool place for a few days.
It is then strained, sweetened, and served with ice. Ginger beer packs quite a punch and is an acquired taste. However, many enjoy the spicy ginger taste with its fruity notes from the citrus peel.
7. Cherry Juice
Guyanese cherries have a tart flavor, but they are adored by locals just as they are. Due to their nutritional value and delicious taste, cherries are a fantastic choice for making cherry juice. The cherries are thoroughly washed and blended with water, ginger, and sugar until a smooth consistency is achieved.
While some individuals enjoy cherry juice with added ginger or lime juice, others prefer the pure taste of cherry juice without any additional ingredients.
8. Passion Fruit Drink
Passion fruit comes from a vine species of passion flower that is native to southern Brazil, Paraguay, and northern Argentina. However, it is now grown in many tropical and subtropical climates throughout the world.
Guyanese passion fruit is usually a nice yellow. It has a thick waxy rind and is filled with sacs of juice and seeds. To make passion fruit juice, the sacs are removed from the rind and placed in a blender on a low setting to extract the juice. It is then strained and sweetened to taste.
9. Soursop Drink
Soursop is known as a miracle food for people suffering from all types of ailments. Long before this fruit became popular, Guyanese were reaping its benefits.
Soursop juice has a distinct and unique flavor. Many people prepare their own version. To extract the soursop juice, the seeds are removed and the fibrous milky white pulp is pressed through a sieve, colander, or cheesecloth. Some people also blend the pulp to extract the juice. Once the juice is obtained, it is sweetened according to taste and ready to be enjoyed.
Some variations include sweetened condensed milk and nutmeg. This all comes down to who is preparing it and what food or snack they are pairing it to go with.
10. Pine Drink
Pine drink is crafted using the peel (skin) and core of a pineapple. To begin, the pineapple is thoroughly washed, as the peel is a key ingredient for the beverage. The skin, unwanted bits, and the core are then combined in a container with water. This mixture is left to ferment for a period of 1-2 days.
After the fermentation process, sugar and cinnamon can be added to enhance the flavor. Pine drink is rich in enzymes, vitamins, and antioxidants and has a sweet and tart taste.
11. Golden Apple Juice
When golden apples are fully ripe, they turn a beautiful golden color and become slightly soft. In contrast, unripe golden apples are green and hard. Both ripe and unripe golden apples have flesh attached to a fibrous pith, which can pose a slight challenge when extracting the flesh.
The flesh of the fruit is blended and then passed through a sieve and sweetened with brown sugar. The juice has flavors similar to pineapple and mangos. It is quite fruity, aromatic, and refreshing and comes packed with loads of vitamins.
12. Tamarind Drink
Tamarind drink is one of the most surprising drinks found in Guyana. This unusually tart fruit transforms into a delicious drink.
Fresh, shelled tamarind is placed into a pot of water and boiled on high. The heat is then reduced and the mixture is left to simmer for about 30 minutes. It is then left to cool and strained through a sieve to get rid of the pulp. 
Tamarind juice has an acidic sourness to it with a slightly tangy sweetness that is different from anything you've ever tasted.
13. Fruit Punch
We can go on and on about the fresh local juices in Guyana since the country has an abundance of fruit trees. However, we will conclude our fruit juice compilation with the ultimate champion: fruit punch.
Fruit punch is a powerful concoction usually consisting of five different local fruit juices mixed with water and brown sugar (optional). Some of the best local fruits for fruit punch are pineapple, watermelon, banana, and orange.
14. Peanut Punch
Peanut punch is made from shelled peanuts or peanut butter, condensed milk, coconut milk, and nutmeg. It is an energy-packed drink that is rich in protein and other nutrients.
Peanut punch delights with its velvety and creamy flavor, attributed to the richness of milk and the smooth texture of crushed peanuts or peanut butter. This beverage is typically enjoyed cold, accompanied by a touch of crushed ice for added refreshment.
15. Snow Cone
Snow cones or crushed ice are the perfect treat on hot days in Guyana. They serve as both a snack and a drink, featuring crushed or shaved ice coated with colorful syrup. They provide a refreshing way to beat the heat
For a hint of sweetness, a snow cone can be topped with a drizzle of sweetened condensed milk. You can eat the ice or wait until it melts and mixes with the simple syrup and condensed milk for a sweet milky drink.
16. I-cee Soda
I-cee soda is a locally made carbonated soft drink produced by Banks DIH in Guyana. It offers a range of enticing flavors, including Cream Soda, Banana, Pineapple, Orange, Big Red, and Tangerine.
Moreover, there are unique combinations of flavors available, such as Pear, Green Crush, Pink Grapefruit, Apple Strawberry, Fruit Punch, and Ginger Beer.
17. Soca Soft Drink
Soca soft drink is another carbonated beverage produced in Guyana. It is manufactured by Demerara Distillers Limited(DDL) and comes in various flavors including Green Bubble Gum, Fruit Punch, Banana, Pineapple, Cream Soda, Ginger Ale, and Ginger Beer.
18. Banks Beer
Shifting our focus to alcoholic beverages, Banks beer is a homegrown beer that has been brewed in Guyana since 1956, during the period when Guyana was under British rule. This beer is carefully crafted using a combination of malted barley, pure artesian well water, hops, rice, and yeast.
19. Banks Shandy
If beer isn't your thing but you still want a bit of alcohol, Banks shandy provides a fantastic alternative. With a low alcohol content of just 1.6%, it comes in five delightful flavors: lemon, sorrel, champagne, honey lemon, and citrus.
20. El Dorado Rum
Concluding our list of beverages is the esteemed El Dorado Rum, recognized as one of the finest rums globally. Year after year, it garners international awards and honors. Each rum within the El Dorado lineup undergoes a lengthy aging process in oak barrels, contributing to its exceptional quality. The El Dorado line up includes:
El Dorado 3 Year Old rum is aged for a minimum of three years and undergoes a double filtration process using natural charcoal. This results in a smooth, colorless, and versatile spirit with aromas of citrus and vanilla, accompanied by flavors of chocolate, raisins, and coconut.
The El Dorado 5 Year Old rum, aged for at least five years, delights with enticing aromas of caramel, butterscotch, and molasses. Its flavor profile showcases a harmonious blend of fruit, caramel, and toasted coconut.
With a maturation period of eight years or more, the El Dorado 8 Year Old rum offers a captivating aroma of tobacco infused with caramel toffee, dried stone fruits, and flambeed banana. With each sip , it delivers notes of butterscotch and subtle oak undertones.
Aged for 12 years or more, the El Dorado 12 Year Old rum exhibits a lush tropical fruit aroma with hints of honey and dark sugar. It presents a flavorful experience featuring a combination of fruit and spice.
The El Dorado 15 Year Old rum, matured for a minimum of 15 years, reveals intricate notes of dark coffee, candied orange, almonds, dark chocolate, pepper, and vanilla. Its taste is an exquisite fusion of grilled tropical fruit with a touch of oaky spice.
Crafted to commemorate the turn of the millennium, the El Dorado 21 Year Old Special Reserve rum is aged for 21 years or more. It enchants with an enticing aroma of mocha, toffee, tobacco, and dark spices. The velvety smooth texture gives way to flavors of tropical fruits, coffee, leather, and rich toffee.
Conclusion
In Guyana, temperatures can soar to extreme levels. Nevertheless, with a wide variety of refreshing beverages to choose from, you can successfully beat the heat. Additionally, these drinks contribute to boosting your immune system and enhancing your overall well-being, as they are predominantly crafted from fresh fruits.
You can try the drinks on their own or mix them with the best rum. Either way, these beverages will keep you calm, cool, hydrated, and feeling refreshed, exactly how you like it.
Hopefully, this selection will keep your energy levels high and your spirits lifted throughout the day. This article serves as an inspiration and invitation to explore special drinks that have the power to transform your busy schedule in the scorching heat into a refreshing and motivating one
---
Related: Top 22 Guyanese Snacks
Related: Top 20 Guyanese Desserts
Related: Top 25 Guyanese Foods