Top 22 Guyanese Snacks To Satisfy Those Cravings!
There's no debate when it comes to Guyanese food. The dishes are simple yet tasty and comforting, which is also reflected in the local snacking culture. 
Guyanese snacks are a combination of Caribbean, Asian, and South American flavors. All these various cuisines translate into a diverse range of street food and snacks.
Unlike many snacks found worldwide, most snacks in Guyana are not mass-produced but rather homemade. This adds to their authenticity and provides a genuine taste of the Guyanese culinary experience.
You can find these snacks on the corner of most streets so they are easily accessible. The snacking culture is so popular that street vendors can sometimes hardly keep up with the demands.
So, what are these irresistible snacks that people simply can't get enough of? Let's dive right in and explore the mouthwatering world of popular Guyanese snacks.
1. Pholourie
Pholourie, a delectable fritter, is crafted from a flavorful split pea batter infused with a medley of spices and peppers.
The batter is mixed until slightly thick and then fried in oil until golden. It is typically served with a tangy sauce, such as mango sour or another type of sour, which is made by boiling mango, tamarind, cucumber, garlic cloves, and seasonings until smooth and slightly runny.
This snack's popularity has grown so much that you can now find a variety of pholourie mixes from different brands in supermarkets and online. Simply add water to the mix, fry them up, and indulge in their deliciousness.
2. Eggballs
Eggball is yet another popular snack that you will find almost anywhere in Guyana. Some people even substitute it for breakfast since it's an easy grab-and-go option that keeps you full up.
Eggball is a simple snack that consists of a boiled egg coated with boiled cassava. The boiled cassava is mashed into a thick paste and used to coat the entire egg. It is then dipped in beaten eggs and flour to hold its shape and deep-fried in oil.
Eggball is often accompanied by mango sour or other types of tangy sauces to add a wonderful burst of flavor.
3. Cassava Balls
A cassava ball resembles an eggball, but without the egg in the center. It is made by boiling cassava, crushing it, seasoning it, and shaping it into a ball. To ensure it holds its shape during frying, it is then coated with a mixture of egg and flour.
The ball is fried until it turns a light golden color and is served with sour sauce. Cassava balls have a soft outer layer and a fluffy inside that will easily melt in your mouth.
4. Potato Balls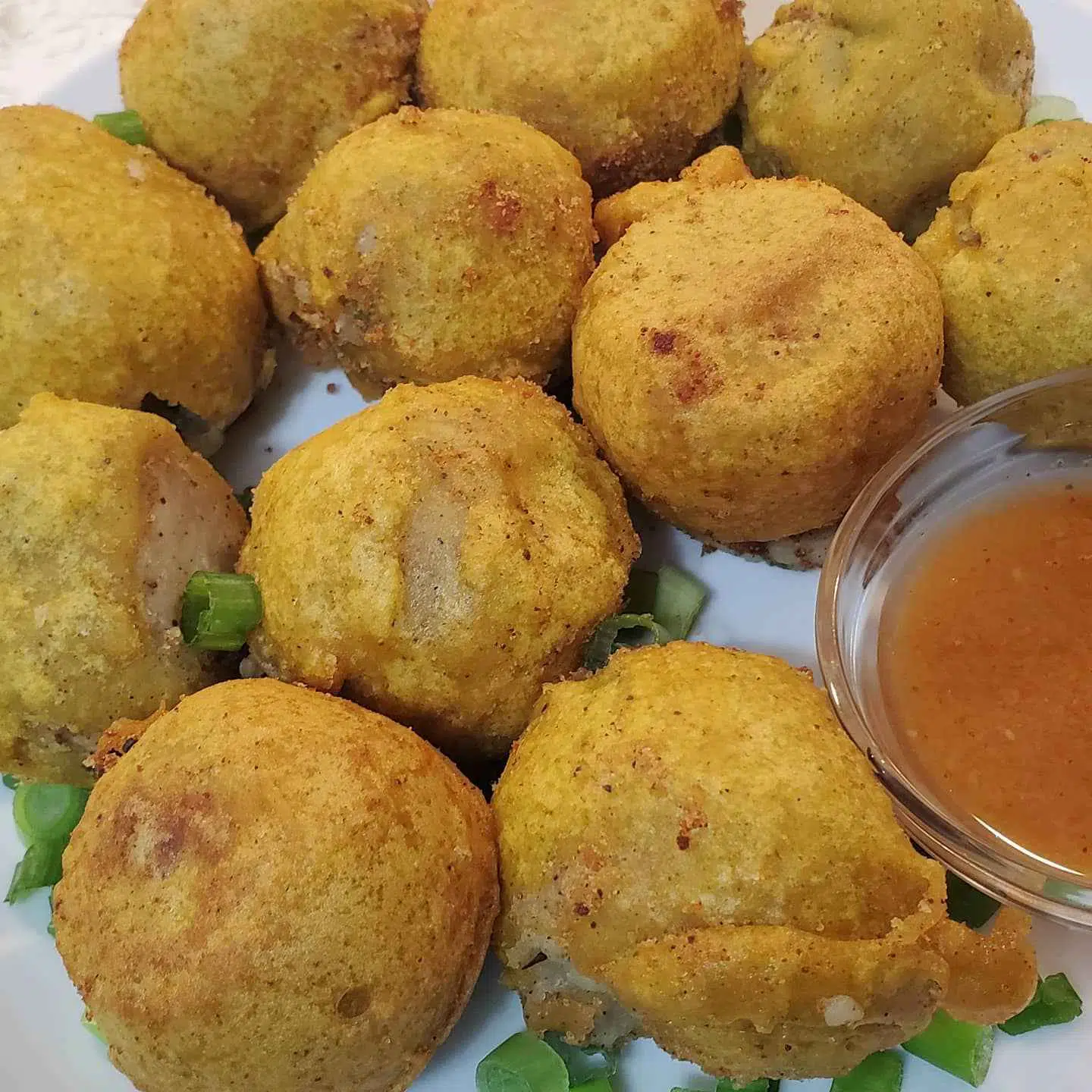 Potato balls are like cassava balls, but with potatoes instead. Boiled, crushed, seasoned, shaped, coated, and fried, they're served with mango sour sauce. They are so delicious that you'll find it hard to resist sharing them with others.
5. Meatballs
Meatballs are a delicious twist on the classic eggballs, with their distinctive oval shape. They are made by combining seasoned minced beef or chicken with a mixture of boiled, crushed, and seasoned cassava. After being coated in egg and flour, they are fried until golden and crispy.
To enhance their flavor, meatballs can be accompanied by tangy mango sour or other delightful sour condiments.
6. Channa
Channa aka "Chickpeas" are prepared in two ways.
The first method involves soaking chickpeas overnight, splitting them in half, deep-frying until crispy, and seasoning with salt and spices. This creates a crunchy snack that can be enjoyed as it is or with a side of sour condiments.
Another method involves soaking the chickpeas overnight, followed by boiling and pan-frying. This technique, known as "boil and fry channa," results in soft and well-seasoned chickpeas with a delicious flavor. Similar to the previous method, these chickpeas can be enjoyed plain or with your preferred condiments.
7. Chicken Foot
Oddly enough, chicken foot doesn't actually contain any chicken. It's made by combining seasoned flour with curry powder and cumin. The mixture is then transformed into a soft dough, sliced into thin strips, and deep-fried until crispy in hot oil. The result is extra tasty and crunchy.
Nowadays, people are getting creative with chicken foot and adding ingredients like cheese to make unique versions of this popular snack. Enjoy it crispy without sour sauce or add some mango sour for a softer texture.
8. Tamarind Balls
Tamarind balls are a crowd-pleasing treat, with the perfect blend of sweet and sour flavors. Fresh tamarind is mixed into a thick paste, flavored with salt, garlic, and pepper.
Rolled into small balls and coated with sugar, they satisfy different preferences – some enjoy it spicy, some prefer it sweet, and others savor the sourness.
9. Pickled Mango
Pickled mango, a beloved fruit snack in Guyana, is made from sliced half-ripe or semi-ripe mangoes. These slices are then sprinkled with salt and pepper to suit individual tastes. For those who prefer a stronger flavor, the mango slices can be preserved in a mixture of vinegar, salt, and pepper for several days.
The people of Guyana have a strong fondness for pickling various fruits and savoring them with salt and pepper. With an abundance of fruit trees, the country offers a wide variety of fruits that are available throughout the year.
10. Honey Roasted Peanuts
Peanuts are a beloved snack worldwide, except for those who have allergies, of course. This amazingly flavorful treat involves roasting peanuts in a mixture of honey and syrup, creating a sweet and toasty flavor.
They are typically served in paper bags, and some street vendors roast them fresh right in front of your eyes. This ensures that you receive them hot, providing the best experience.
11. Mithai
Mithai is a delightful snack that satisfies those with a sweet tooth. It can be enjoyed in two different forms: crunchy or soft, depending on your preference.
To create crunchy Mithai, a basic dough is prepared using flour, sugar, butter, ghee, and milk. The dough is rolled and cut into thin strips. On the other hand, for soft Mithai, the dough is shaped into triangles. Both types are deep-fried and coated with crystallized sugar, resulting in a deliciously sweet treat.
12. Coconut Buns
Coconut buns are the perfect mid-afternoon snack when it's too early for dinner but you want something to keep you going till then.
These buns are made from a dough-like mixture that includes coconut, flour, and other ingredients. Some people choose to add raisins or cherries for extra flavor, while others prefer them plain with just a hint of almond and vanilla extract.
Coconut buns are dense and compact, yet they have a flaky and delicious texture. However, they can be a bit dry, so it's recommended to enjoy them with a beverage to complement the experience. Fortunately, there are plenty of fresh local juices and other beverages available that pair well with this snack.
13. Salara
Another great mid-afternoon snack is Salara. This treat is made from a bread-like dough with delightful swirls of coconut in the center. The coconut is shredded, toasted with cinnamon, and colored with red food coloring.
And yes, Salara looks and tastes as good as it sounds. The brown outer crust and the white and red coconut swirls at the center create a truly artistic combination that is an absolute pleasure for both the eyes and the taste buds.
14. Quinches
Quinches are made with the same shredded coconut mixture as Salara. However, instead of a bread-like dough, this snack uses cassava as the base. While it may resemble a cassava bread wrap at first glance, the technique and texture are different. The cassava coating has a soft consistency, allowing it to securely encase the coconut filling.
The end result is a delightful snack with flavors of cassava, coconut, and spices.
15. Cassava Pone
Cassava pone is a unique treat that may confuse some people since it doesn't quite fit the definition of a pudding or a cake.
To make it, finely grated cassava is mixed with coconut, spices like cinnamon, milk, and sugar. The mixture is then baked until it turns a dark brown color. The end result is a dense and chewy cake with crispy edges. The combination of flavors and textures in cassava pone offers a truly special culinary experience.
16. Cheese Straw
If you love cheese, you'll definitely enjoy this next snack. Cheese straws are packed with flavor and incredibly addictive. They're made by mixing butter, flour, salt, pepper, and lots of shredded cheese. The dough is then cut into ¼ inch strips, placed on a baking sheet, and baked until they turn golden.
Get ready to savor the deliciousness of these cheesy treats.
17. Cheese Pie
Cheese pie is a delightful snack, perfect for cheese enthusiasts. This petite cup-shaped pastry is filled with a delectable mixture of cheese, eggs, milk, salt, and pepper. It is then baked for 25-30 minutes until the outer crust becomes flaky and the cheesy milk and egg filling is fully cooked.
Indulge in this cheesy treat that satisfies your cravings any time of the day, whether it's for breakfast, lunch, or a midnight snack.
18. Cheese Roll
We're once again talking about cheesy snacks. Cheese rolls are flaky pastries filled with a cheese mix. The cheese mixture. The cheese mixture is wrapped in dough with the edges folded and pressed with a fork to create a more sophisticated design.
19. Pinetart
Pinetart is a treat specially made for jam lovers. Pastry is rolled out and generously filled with delicious pineapple jam. It is then folded inwards to create a triangular shape, glazed with an egg wash, and placed in the oven to bake.
The result is a beautiful golden flaky crust with a sweet pineapple jam filling, making it a truly delectable treat that can be enjoyed any time of the day.
20. Pine Slice
Pine slice also incorporates pineapple jam, but instead of using pastry, the jam is sandwiched between two layers of fluffy cake. It offers a satisfying experience of enjoying cake with a delicious jam filling.
21. Fudge
Guyanese fudge is available in a variety of flavors and colors, often with additional toppings and additives like nuts and raisins. However, the basic fudge recipe remains consistent. Milk, sugar, and butter are heated and stirred until they reach a creamy consistency. The mixture is then allowed to cool and slightly harden before being cut into squares, resulting in a delightful melt-in-your-mouth treat.
22. Plantain Chips
Bagged potato chips, step aside, because there's a new star in town. Plantain chips have gained a cult following, and with an abundance of plantains across the country, this beloved snack can be easily prepared. Plantains are sliced into thin rounds or long strips and deep-fried to crispy perfection.
These chips can be enjoyed on their own or paired with a side of mango sour, pepper sauce, or ketchup. Additionally, there are cassava chips and sweet potato chips that undergo the same process and are enjoyed with similar condiments.
Conclusion
While this list doesn't cover all Guyanese snacks, it features some of the most popular ones you can easily find anywhere in the country. These treats are simple yet bursting with flavors that will delight your taste buds, whether you crave something sweet, sour, or savory.
---
Related: The 20 Most Popular Desserts in Guyana
Related: The Most Popular Guyanese Foods
Related: Most Popular Christmas Foods in Guyana