Top 20 Guyanese Desserts (With Pictures!)
Known for its lush rainforests and mighty rivers, Guyana is a beautiful tropical paradise located in South America.
As a country with a deep-rooted history of British and Dutch influence, there is quite a bit more to this little slice of paradise. Guyana now consists of six ethnic groups: the Amerindians, who were the nation's first inhabitants, the Africans, East Indians, Chinese, Portuguese, and Europeans.
With a blend of six races, the culture is as diverse as it can get and is just one of the things that makes Guyana simply beautiful. And with all those influences from around the world, you can bet the food is to die for.
Here we focus on to die for sweets, the top 20 Guyanese desserts to indulge in whenever you're in the mood for something sugary.
Also, make sure to check our rankings of the best Guyanese foods.
1. Cassava Pone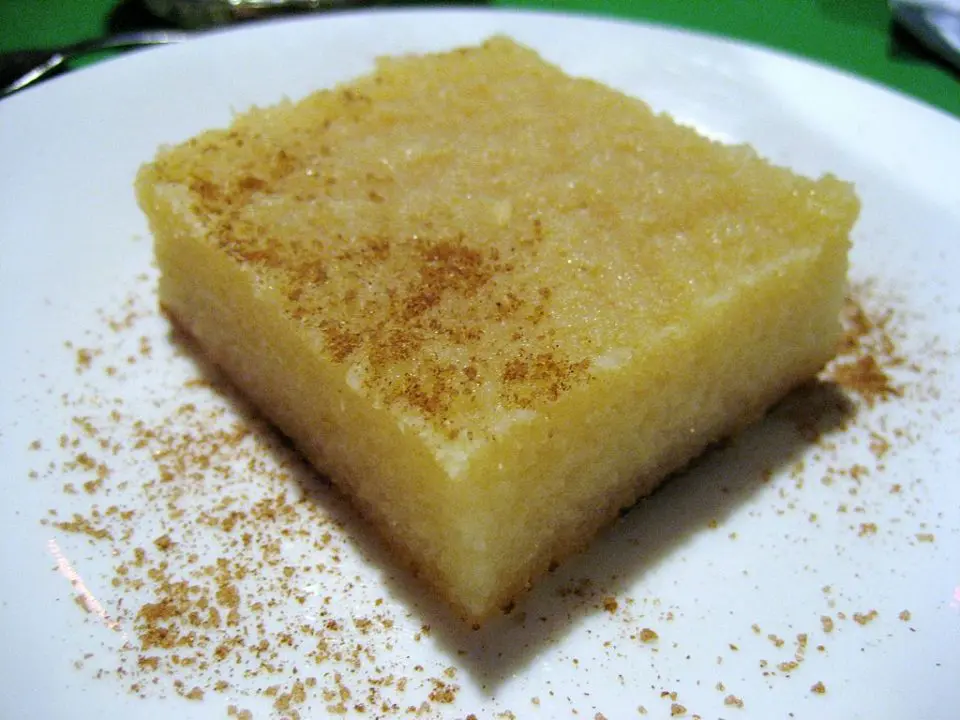 Cassava pone is not a cake or a pudding. It is a treat that falls somewhere in the middle and is made from cassava.
This decadent dessert uses grated cassava mixed with coconut, spices, milk, and sugar. The mixture is then baked until it becomes a golden, dark brown color. This leaves you with a dense and gummy-like crumbly cake with crunchy edges, providing a texture and flavor journey you've never experienced before.
2. Fruit Cake
Almost every country has a take on fruit cake but the Guyanese version is very different.
Popular around the Christmas season, Guyanese fruit cake does not use whole pieces of fruit or nuts but instead uses bits of macerated fruit (raisins, currants, prunes, maraschino (cocktail) cherries). The fruit is soaked in red wine months before the cake is made, giving it enough time to soften and to fully absorb the flavors of the wine.
Unlike the thick, heavy fruit cake found in most other places, Guyanese fruit cake is a moist, light, fluffy, tasty cake full of little bits of soaked fruit to bite into. Some people finish theirs off by pouring over some alcohol and leaving it to soak in. This preserves the cake, the fruit, and the nuts for an even longer shelf life.
3. Sugar Cake
If you're in the mood for a flaky sugary treat then a piece of sugar cake is just what you need. Sugar cake is hardly a cake at all; it is little squares of coconut mixed with spices and sugar.
The shredded coconut, spices, and sugar are reduced to a sticky consistency. It is then moulded into squares, or any shape you want, and left to cool and harden slightly. The result is the sweetness of the sugar and the irresistible nutty flavour of the softened coconut which still has a good bite to it.
Some recipes use natural cane sugar, which gives the sugar cake a natural brown color. Others use white sugar which they color with food coloring so they can choose from of all the colors of the rainbow for a pretty and scrumptious treat.
4. Custard Block
Custard block is a frozen treat flavored with cinnamon and nutmeg that will wake up your taste buds.
This dessert, perfect for a hot day, is made with evaporated milk, condensed milk, cinnamon, nutmeg, almond, and vanilla essence, and the star of the treat, custard powder.
Custard block was the homemade ice cream of many locals back in the day. But it doesn't have the creamy consistency of ice cream. It is rather like a simple block of ice, but because custard takes longer to melt, when it does, you're left with a slushy, milky combination that is, indeed, a treat to eat.
5. Peera
Peera is the Guyanese version of the Indian peda. Guyanese peera is made from evaporated milk and sugar that is boiled down to a taffy-like consistency.
The secret to getting the best consistency is turning the mixture so that it doesn't burn. When cool enough to touch, the mixture is rolled into little balls. Popping one of these in your mouth and swirling it around releases the milky, sugary goodness as the slightly hard and chewy texture just melts away.
6. Fudge
Guyanan fudge is similar to peera. However, fudge is made using milk, sugar, and butter which is heated and mixed until a creamy consistency is obtained.
The mixture is then left to cool and cut into squares for a chunk of sweet, milky heaven. Some people also add nuts to further elevate the dish.
7. Sweet Rice
Sweet rice, or Kheer as it is called locally, is a thick and rich rice pudding. The recipe calls for rice boiled and flavored with cinnamon, cardamom, and nutmeg. It is sweetened with condensed milk, which gives it the thick consistency that distinguishes this rice pudding from so many others.
This fragrant and decadent dessert can be eaten alone or with a puri (a deep-fried roti), which adds a whole other layer of flavor and texture.
8. Parsad
Parsad is a bread pudding-like dessert that is made and served mainly around Hindu festivities or functions. It is made from toasted flour, sugar, milk, and clarified butter, also known as ghee, with some recipes calling for raisins and cherries.
The flour is toasted in the clarified butter, giving the parsad a kind of nutty flavor, until it forms a brown paste. Warm milk is added to the brown paste and stirred in well until it forms a fluffy, smooth pudding. Parsad teases your taste buds with its buttery taste and smooth texture.
9. Sirnee
Sirnee is a smooth, sweet pudding very similar to parsad that is a staple dessert for Muslim celebrations. While the ingredients and method are the same as parsad, sirnee includes eggs. The eggs give Sirnee a lighter and fluffier texture.
And to make it even tastier and richer than parsad, sirnee includes various spices, sweetener, raisins, and nuts.
10. Mithai
Mithai can be enjoyed in one of two forms: crunchy or soft. Both use the same ingredients, the only difference being the way they are cut before frying. Flour, butter, coconut, sugar, spices, and milk are combined until it forms a dough.
The dough is then rolled out and cut into triangular shapes for soft mithai or thin long strips for crunchy mithai. The dough is then fried until golden brown, with the crunchy mithai dough being left to fry for a bit longer than the soft mithai dough. The fried dough is then covered with a coating of crystalized sugar for an exceptionally delicious dessert.
11. Baked Custard
Baked custard is a luxurious, silky dessert that can be served at room temperature or cooled.
Depending on the method used to cook the custard, it will either be creamy with a thin layer of crust on the top, or creamy with a thick crust on the top and browned on the bottom and sides.
No matter the cooking process, the baked custard is a tasty blend of milk (evaporated and condensed), eggs, vanilla extract, and nutmeg.
12. Vermicelli
Vermicelli is a type of noodle that is long and thin and resembles spaghetti, except that it's thinner. It is enjoyed as a creamy pudding or in a dry yet sweet square-shaped form, cooked a little longer to become somewhat solid.
The noodles are toasted to enhance their flavor and then boiled in milk with spices and sugar.
13. Cheese Pie
Cheese pies are like little quiches that can be enjoyed any time of day. They consist of a flaky pastry crust filled with a delicious cheese and egg custard.
14. Conkie
Conkie is a dish with many variations but the Guyanese version is simple and quite a delight. This sweet dish will tantalize your taste buds with the taste of pumpkin, coconut, sugar, and warm spices steamed in a banana leaf.
15. Salara
Salara is also locally known as red cake due to the color of the sweet and fragrant coconut mixture. Shredded coconut is cooked with warm spices and then stuffed and rolled into a piece of soft and sweet bread.
16. Fat Top
Fat top is yet another Guyanese dessert that consists of the irresistible flavor of coconut. It has a base of thick cornmeal cake topped with a creamy coconut milk layer.
17. Coconut Buns
Coconut buns are a rich but not very sweet dessert made from shredded coconut, flour, eggs, and sugar. It is topped with either raisins or cherries for an added hint of sweetness.
18. Hot Cross Buns
The popular hot cross buns are a must-have treat during Easter. The Guyanese variant goes with the "hot" moniker as that is how they like to eat them – toasted.
The cross can be made with a knife, with a mix of flour and water, or with a sprinkling of icing sugar. They are soft, they are spicy, and they are very tasty.
19. Bread and Butter Pudding
Once a British colony, bread and butter pudding is one of the British desserts enjoyed by many. Guyanese bread and butter pudding is slightly different and sees slices of bread being buttered and soaked in a rich egg custard and baked.
It can be topped with raisins and thrown into the oven, which results in the slightly mushy center with browned and crunchy edges for a contrast of taste and texture.
20. Rum Cake
Guyanese rum cake, also called black cake, is filled with rum-soaked fruit. It is a rich, dense, and moist cake popular at weddings or during Christmas.
---
Although the dessert list is not as long as that of some other countries, the Guyanese desserts featured here are plenty to fulfill any sweet craving. They all couple fresh ingredients with sugar or sweetened milk to keep your sweet tooth very satisfied.
Related: Most Popular Guyanese Foods
Related: Most Popular Guyanese Drinks
Related: Most Popular Guyanese Snacks