17 Ricotta Cheese Substitutes You Should Know About
Are you making one of your delicious cheesecakes and out of ricotta? Did you plan a relaxing night at home and now everyone's waiting for your dreamy lasagna but there's no ricotta in sight?
Well, if you've got one of these ricotta cheese substitutes at home, you're good to go!
It's delicious on toast. It's a great addition to pasta and pizza and dolloped in your lasagna. It's ever so creamy and light in your cheesecake. Ricotta cheese is quite versatile because its mild, sweet, rich, and yet light in flavor with a spreadable, unctuous texture. Its nutritional profile makes it quite the super cheese as well.
But what are you to do when there's no ricotta in the house? Well, there are some solutions! Discover what's a good substitute for ricotta cheese, be it a dairy alternative or a vegan one! We've got them all!
But first… it helps to know what ricotta is
Why, you ask? Well, it's all about texture and flavor. The way we look at it, in order to know what to replace ricotta cheese with, you have to know all its properties. The taste, the aroma, the way it's made, the ingredients it's made from, the texture and consistency, all of this should be taken into consideration when looking for your ricotta cheese replacements.
What is ricotta?
The great thing about ricotta is that it is as healthy as it is tasty. Ricotta is an Italian dairy product made from the whey that's left over from the process of making cheese. That is why ricotta is such a great cheese for a healthy lifestyle: it's filled with protein while it has a relatively low fat content.
And another great piece of news: ricotta is quite friendly to those who have milk intolerance and allergies, since the process of boiling the whey in which the cheese is made denatures the proteins, making them digestible.
Traditionally, ricotta is made from cows, goats, water buffalos and sheep's milk. They can be combined or not. The best ricotta is actually made from sheep's milk. But whichever is used, ricotta is made by leaving the whey to ferment at room temperature for about 24 hours.
After the mix becomes acidic, it's heated to near-boiling and fine curds are formed. The resulting cheese is left to strain through cheesecloth, making the cheese more solid and dry, while maintaining a little moisture.
What is ricotta's nutritional value?
Calories per cup: 428
Total fat content per cup: 32 grams
Saturated fat content per cup: 20 grams
Carbs per cup: 10 grams
Cholesterol per cup: 125 mg
What to look for when looking for ricotta cheese substitutes?
This depends on many factors. If you are cooking with ricotta, it's good to know this cheese does not melt, nor does it make a crust. What it is best for is adding to sauces and liquid mixes to make them richer and smoother. If left uncooked, ricotta is rather moist, but not too spreadable as it is gritty and has a good bite to it.
Texture: Ricotta has a soft, moist, and quite grainy texture. It's not lumpy, it's not very creamy; it has its own distinct texture.
Consistency: It's not too creamy so it's not the most spreadable option out there. However, neither is it too dry or hard. It has a smooth consistency and with medium softness. It does have a certain bite to it due to its grainy texture, but stays rather fluffy, light, and airy and rather moist.
Taste: Ricotta has a sweet, milky taste, and a mild aroma.
These ricotta cheese substitutes will make your recipes perfect!
Cottage cheese, cream cheese, buttermilk, goat cheese, and mascarpone are some of the most popular ricotta replacements. They can make your dish equally creamy, soft in texture, and sweet. However, not all replacements are the same.
Some will provide the same taste, others will offer the same flavor or consistency, while others will be an equal when it comes to texture. It's important to know what recipe you want the replacement for.
Ricotta cheese makes your lasagna and pasta sauce more creamy and rich
Ricotta can transform your eggs, making them creamier and more dense
Ricotta can be used with fruit and jams, as a great spread for your toast, with cereal, peanut butter, or pancakes
Ricotta will make desserts scrumptious and rich, while keeping them airy, light, and not heavy on your digestion
Try out these dairy ricotta cheese alternatives!
When it comes to substitutes, not all are suitable for every recipe. Firmer cheeses will go better in cooked mixes while blended with more liquids to make them smoother. More liquid replacements are usually recommended in recipes that use ricotta uncooked. Here's some tips and tricks on how to choose the best alternative for ricotta cheese.
1. Cream Cheese
Cream cheese is best known for… well, uhm, its creaminess. It has a sweet taste and a milky flavor, but it's different due to its high density and silky texture. So keep that in mind when you're trying to obtain the same airy, light, fluffy texture as when you use ricotta. In cooked dishes, make sure to add some sour cream or an egg to add more moisture to the mix, in order to thin it out and prevent it from bulking up.
Best used in: spreads, as a dip, in savoury and sweet recipes, both cooked and uncooked – this is the most versatile option
2. Fromage Blanc
If you're in France or Belgium and you need a ricotta replacement, this is your go-to cheese. Also, if you have some fromage blanc leftovers, make sure to add them to your ricotta-based recipes. This type of cheese is buttery in consistency and has a fresh, milky flavor.
Best used in: cooked and baked recipes, spreads, pastry fillings, pasta fillings, pizzas, dessert toppings, sauces
3. Cottage Cheese
Cottage cheese has a lumpy, curdy texture, similar to ricotta. It's also quite milky, sweet, mellow and creamy when it comes to taste and flavor. It's a moist, soft and light cheese so it's similar to ricotta when it comes to consistency as well. Extra bonus: cottage cheese contains less fats and is lower in calories.
Con: it's not as creamy and rich as ricotta, having a rather coarse and wet consistency.
Best used in: savoury recipes such as pasta, pizza, lasagna , spreads.
4. Mascarpone
Mascarpone is similar to ricotta when it comes to flavor, richness and the mild, sweet taste. It does have a slightly more tart flavor but not enough to ruin your recipe! It's richer, fattier and way more creamy, buttery and heavy than ricotta, so keep that in mind since you'll likely need to thin it out in some way.
Best used in: desserts, sauces, lasagna, fruit, cheesecake, cannelloni, spreads, salads, toppings
5. Sour Cream
Do you find yourself ricotta-less in your kitchen? If you have some sour cream, you're saved! It's sweet and milky and rich as well. It's not similar in texture and consistency but it works in some recipes.
Best used in: vegetable and fruit dips
6. Goat's Cheese (Only If It's Fresh)
Goat's cheese is creamy and has a similar texture to its Italian counterpart. Chevre (it's French name) is more acidic though, so keep that in mind as it may need added sweetness. And don't forget, mature goat cheese hardens and has a dense consistency and tangy, intense flavor.
Best used in: lasagna, fruit platters, pasta, pizza and mostly in savoury dishes. Just remember it melts faster than ricotta.
7. Greek Yogurt
Greek yogurt is more liquid than ricotta so the way to use it is to strain it to obtain a similar consistency.
Best used in: toast, fruit, salads, shakes, eggs, shakes
8. Buttermilk Cheese
Buttermilk cheese is moist and curdled just like ricotta cheese. It's moist, sweet and creamy but it does pack a little punch, having an acidic taste and a little zing to it.
Best used in: in sweets but mostly in savory recipes such as pasta
9. Pot Cheese
Pot cheese is soft, crumbly and yet creamy. Pot cheese can make a good ricotta replacement with one condition. Since this type of cheese is drier and firmer than the Italian, it needs more moisture. Cream and yogurt can help or in cooked recipes use eggs.
Best used in: this cheese is very versatile so it's safe to use it in any type of ricotta-based recipe
10. Requeson
This Mexican cheese is ricotta's cousin. It's made in a similar way, though requeson contains milk as well as whey. Similarities: sweet, milky taste, creamy and moist texture. Requeson is different when it comes to consistency: ricotta is drier and lumpier, while this Mexican cheese is rather spreadable.
Best used in: desserts, dips, baked dishes, and spreads
11. Clabber Cream
Clabber cream is unpasteurized milk that curdles and becomes sour. It's rather cheese-like when it comes to flavor. When it comes to texture and consistency it's thicker than creme fraiche. It's rich, thick, and mildly sour, having a tangier aroma than ricotta but it does work.
Best used in: we recommend it in fruit and veggie dips, toppings, spreads
12. Soft Mozzarella Cheese
Considering ricotta cheese is made from the whey of mozzarella cheese, they are quite related! And when it comes to the sweet, mild taste, they definitely are. Mozza is rather different when it comes to consistency and texture.
Best used in: any baked dish, from pizza to lasagna
13. Quark or Topfen
Quark or topfen is a great suggestion if you live in the US, Germany or Austria. It is made from sour milk warmed until it curdles. It's like ricotta and mascarpone combined, having a sweet and creamy yet gritty side but also a tangy, acidic side. It's creamy and tastes similar to sour cream but it can work well in place of ricotta.
Best used in: pasta, pizza, lasagna
14. Queso Fresco or Queso Blanco
This cheese comes from Mexico and has a strong, milky flavor. When heated up, queso fresco is quite dry and crumbly but becomes rather soft, resembling ricotta. It has a crumbly texture but it is a little creamier than its Italian cousin.
Best used in: baked and cooked dishes but also as fruit toppings
15. Paneer
While the odds of having paneer and not having ricotta are quite small, this type of cheese is one of the best. Paneer is known as the Indian cottage cheese. It resembles cottage cheese but it's more firm and dry, since pressure is applied to remove excess whey.
Why is this important? You'll need to crumble and blend it in order to obtain the same consistency as ricotta. In baked recipes, make sure to add an egg to make the mix moist.
Best used in: cooked dishes, works great in pizza, pies, pasta, and lasagna.
16. Brouse
This is a soft cheese made from goat or sheep's milk and it has a similar texture and taste to ricotta cheese.
Best used in: quite versatile, it can be combined in cooked, baked, and uncooked dishes
17. Bechamel Sauce
Not quite a cheesy ricotta substitute, but one that works wonders! White sauce with a little cheddar added in it can be the next best thing to add to your lasagna. It's silky-smooth, amazingly flavorful and quite neutral as far as taste is concerned.
Best used in: well, savory dishes, especially lasagna, and baked pasta pots, fries, and baked potatoes with a rich topping
18. Parmesan Cheese
Parmigiano Reggiano is a hard, mature cheese. So what is it doing here as a sweet-moist cheese replacement?
Well, parmesan can make one of the best ricotta cheese substitutes, especially in savory recipes with heavy sauces such as pasta and lasagna, and especially when combined with other soft, moist cheeses, such as mozzarella!
Best used in: well, pasta, pizza, lasagna, sauces. Never use it straight as it is since it's rather gritty in texture, hard in consistency and salty-tangy when it comes to aroma
What to choose when looking for a vegan ricotta cheese replacement
If you want dairy free alternatives to ricotta because you have lactose intolerance or follow a vegan diet, there are some substitutes you can try. These are the best plant-based ingredients to add to your ricotta recipes.
1. Tofu and Silken Tofu
Known as Japanese tofu, silken tofu has a creamier texture and a sweet taste to it. It's rather watery and buttery, making it a good ricotta replacement when it comes to taste. As far as the crumbly texture, tofu is a better option. Mix them together and you've got them all in a vegan option.
Best used in: they can mimic ricotta in every savory recipe, cooked or uncooked
2. Coconut Cream
While it does not have the same grit to it, coconut cream is one of the best ricotta cheese substitutes due to its taste, flavor and wateriness. It's sweet, creamy and fluffy, just like ricotta, and, if you add some coconut shaving to it, letting them soak up some moisture, you get a gritty texture as well.
Best used in: desserts, smoothies, dips, shakes
3. Cashew
This is a great vegan idea for replacing any type of cheese. The trick is to let the nuts soak up water and then blend them in order to obtain the creaminess you desire. Mash them together with soy or almond milk and you'll get the perfect moisture.
Best used in: on toast, in uncooked cheesecakes, any type of uncooked sweet that calls for ricotta, and, actually, any uncooked dish
4. Soy Yogurt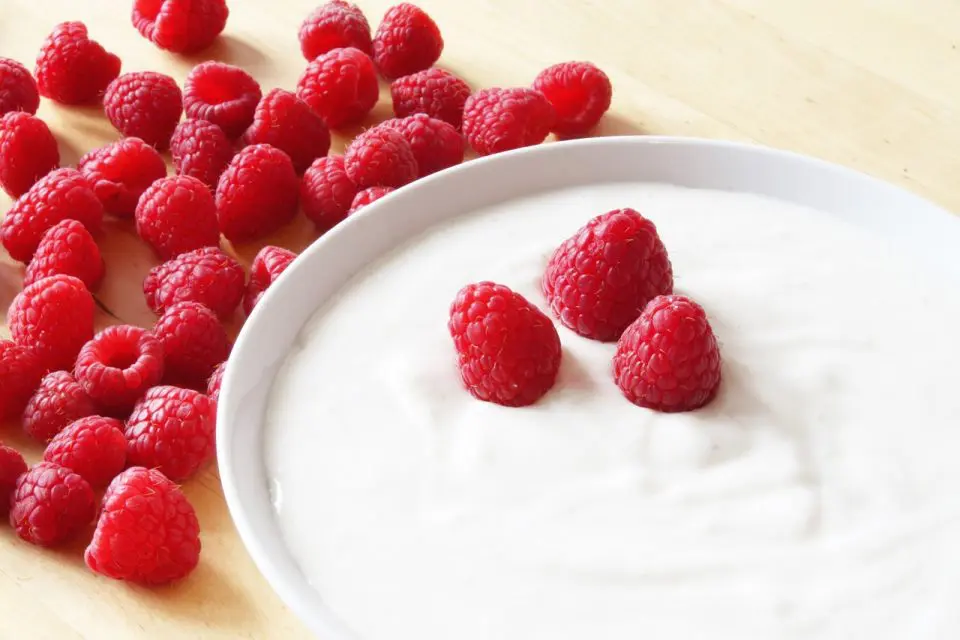 This option is rather liquid and it doesn't add texture but it does provide the sweetness.
Best used in: dips, sauces, salads, shakes
While ricotta cheese has a unique taste and texture, there are some ways around your recipes if you don't have this cheese in the fridge. Just make sure to keep in mind that all the replacements provided offer some of ricotta's properties and which you choose should depend on the recipe. Also, make sure to have fun with your cooking!