23 Popular Syrian Desserts & Sweets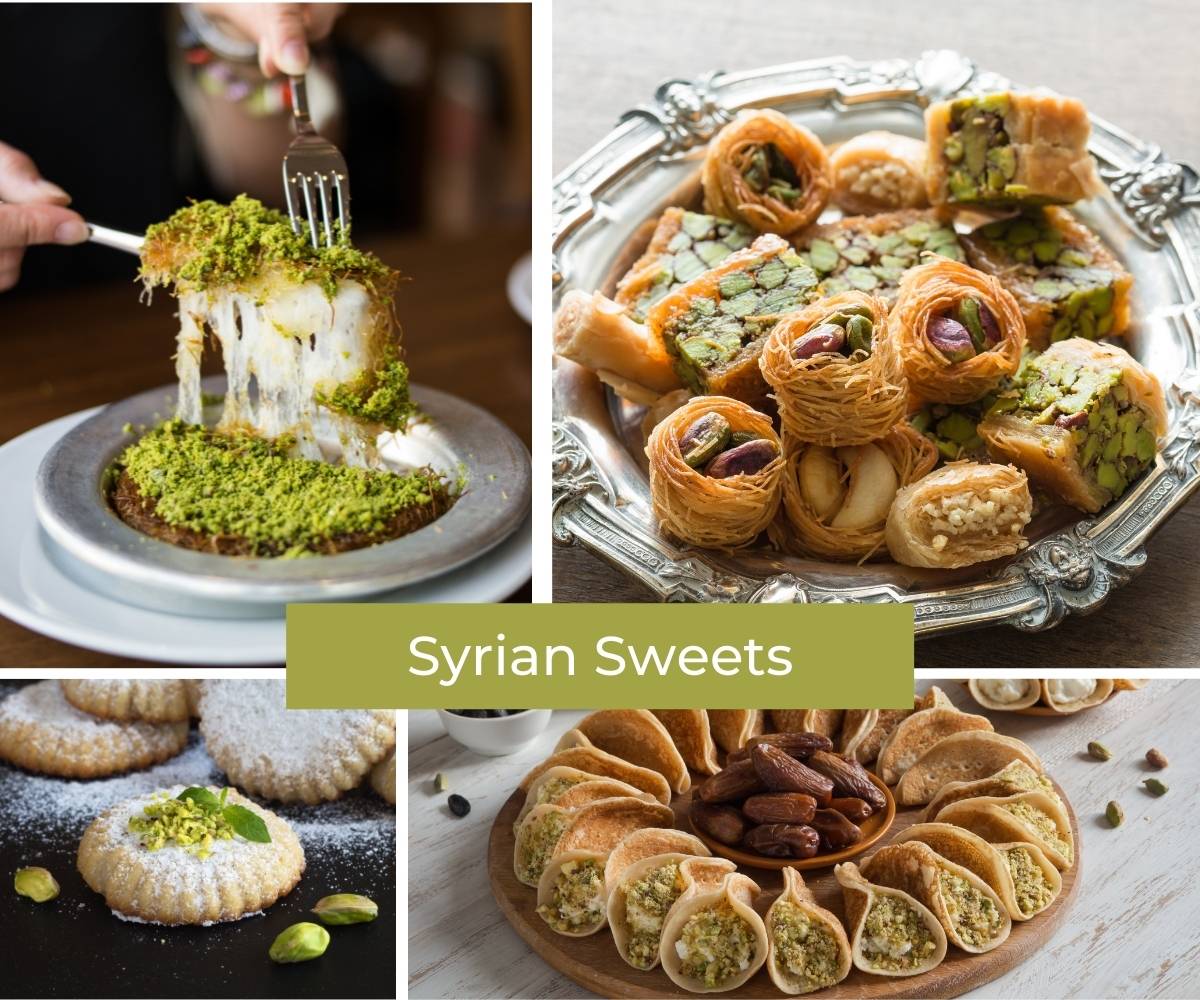 Syrian sweets are some of the most famous throughout the Levant. They are known for their high quality and distinct taste, which is because craftsmen introduced nuts, natural cream, and homemade ghee to various Middle Eastern dessert recipes, creating an authentic Syrian taste. It's no wonder that Syrian desserts are loved all over the world from Germany to Australia and Canada.
A few examples of those delicious recipes include baklava, barazek, mohalabia, and konafa. What is even more special about these dishes is that they are prepared slightly differently depending on the city. And with such variety, neighboring cuisines find it hard to compete in the international market. Below we introduce some of these rich and tasty recipes.
1. Mahalla, Mohalabia, or Kiosk of the Princes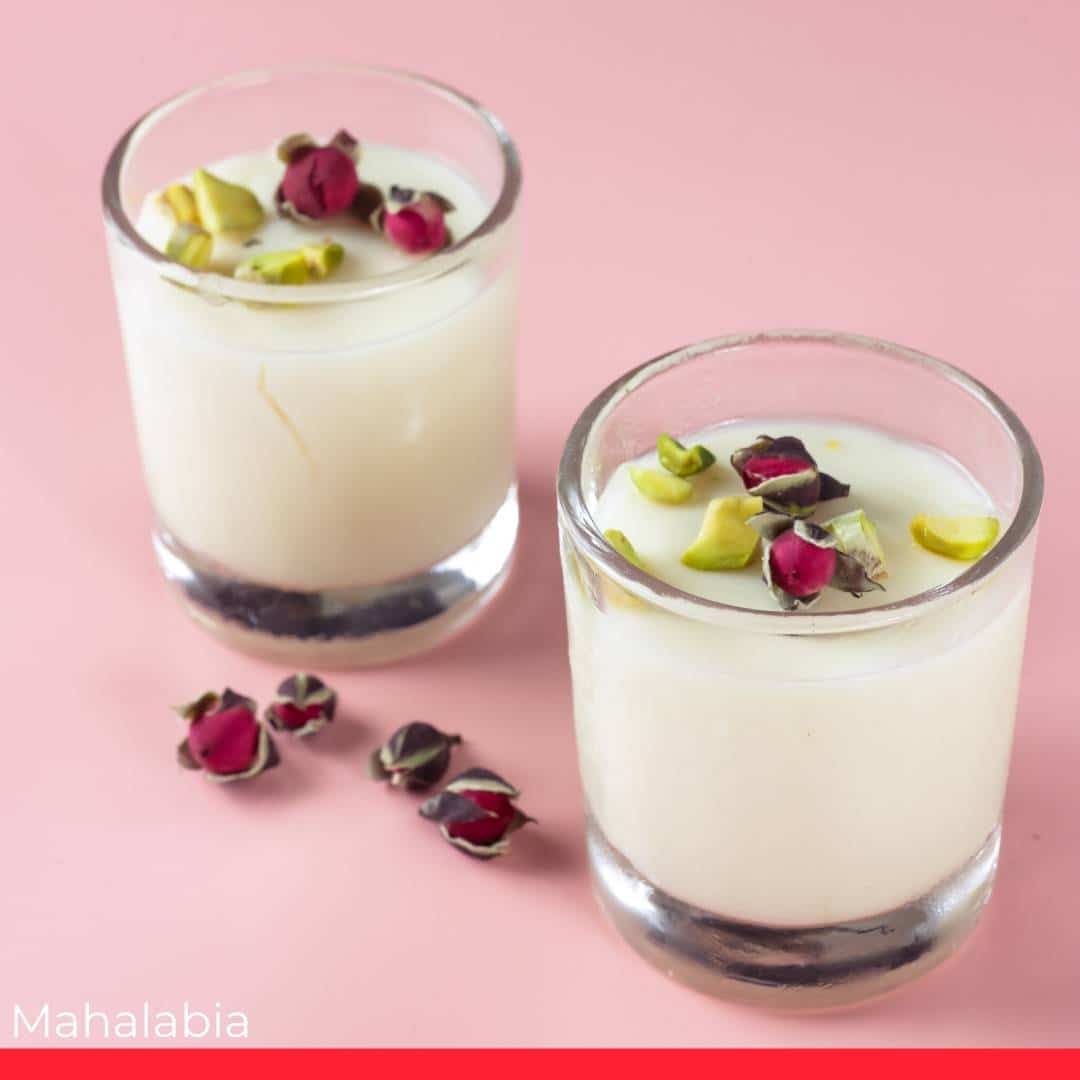 Syrian mohalabia, also known as Levantine mohalabia, is the most served dessert at traditional Damascene weddings. While it is known in other Arab countries, Syria remains the original home of this dessert.
There are different ways to prepare mohalabia, but the main ingredients include sugar, water, starch powder, and milk. These ingredients are thoroughly mixed then cooked on low heat in a big pot. While hot, the thick mixture is poured into special mohalabia bowls, left to cool down, then refrigerated.
The top is usually garnished with crushed pistachios and/or shredded coconut and then it is served cold.
2. Barazek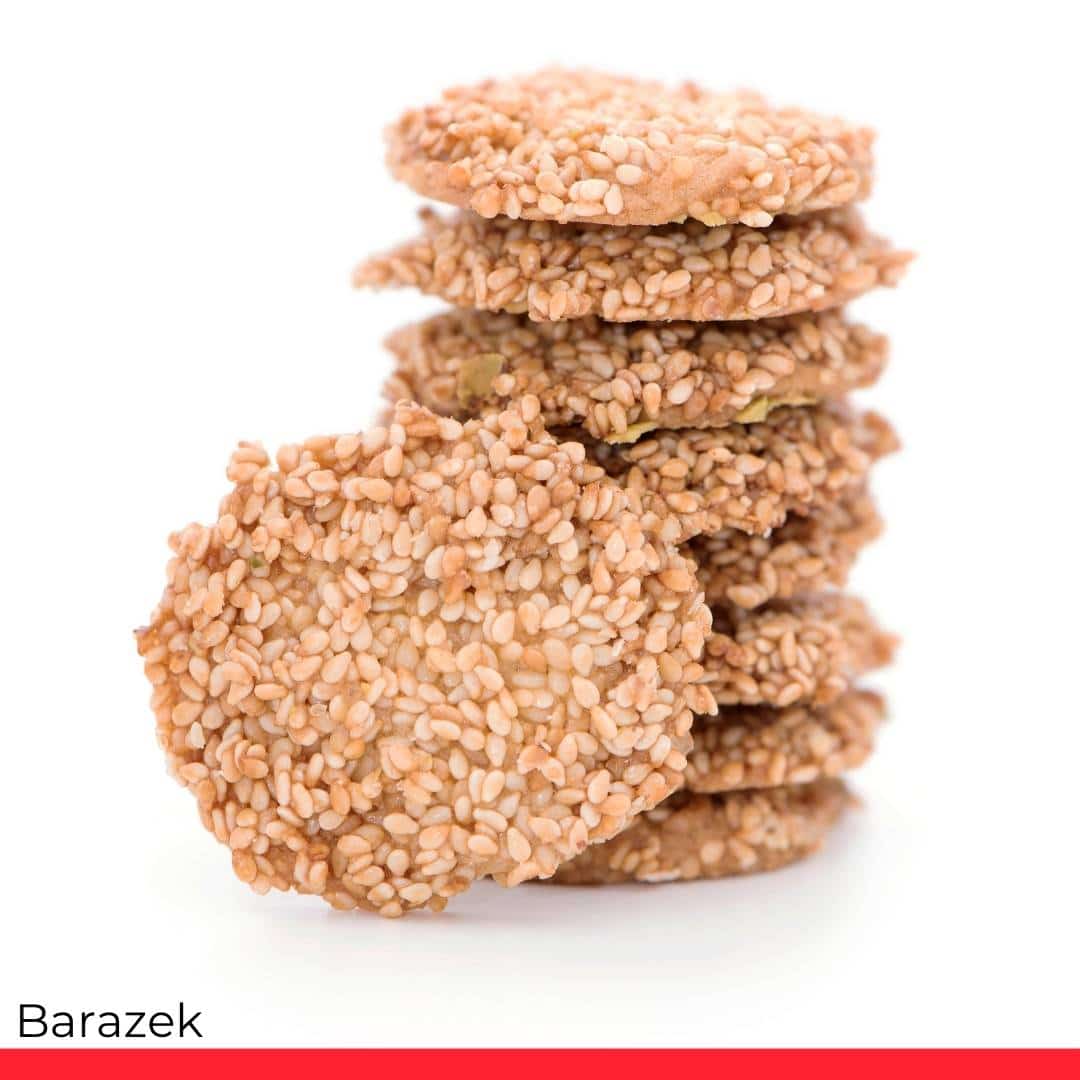 Barazek is one of the most famous Arab sweets, and Syria is its home. It is basically a biscuit covered with sesame and pistachio nuts.
The dough is prepared with flour, ghee, butter, and milk. After resting, the dough is then cut into rounds, sprinkled with sesame and pistachios, and baked until golden and crispy. Barazek is a light dessert that is served with a cup of coffee after a big dinner with the family.
3. Ghriba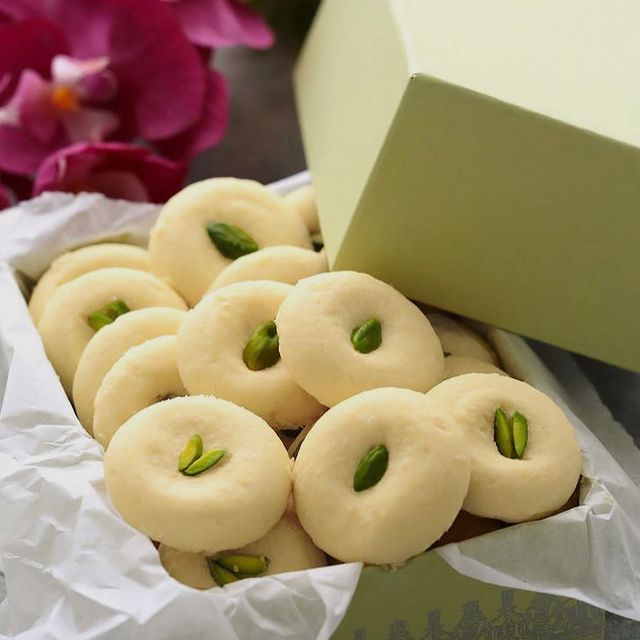 A light and delicious dessert that deliciously melts in your mouth. It is one of the most loved Syrian desserts.
The ingredients are very simple and it is quick and easy to prepare. It consists of flour, ghee, and powdered sugar, which are kneaded together and then cut into small pieces and decorated with pistachios. They are baked until golden brown and served with a cup of Arabic coffee.
4. Syrian Mshabak
These are mostly sold on simple stalls in the popular markets, especially in Al-Midan market, during the holy month of Ramadan, and are one of the most famous street foods in Syria. It is a delicious and affordable treat and is known as the dessert for the poor!
Its ingredients and preparation are very simple, but most Syrians tend to buy it ready-made from shops. The dough, consisting mainly of semolina wheat, is fried in oil then dipped in syrup. Al-Mshabak has a special shape as the dough is placed in a piping bag, rotated while squeezing the dough into a circle, creating a spiral.
Hundreds of years ago, when merchants flocked from the Levant to Egypt to seek a better life, they taught the skill to the Egyptians.
5. Al-Awama or Fried Apricots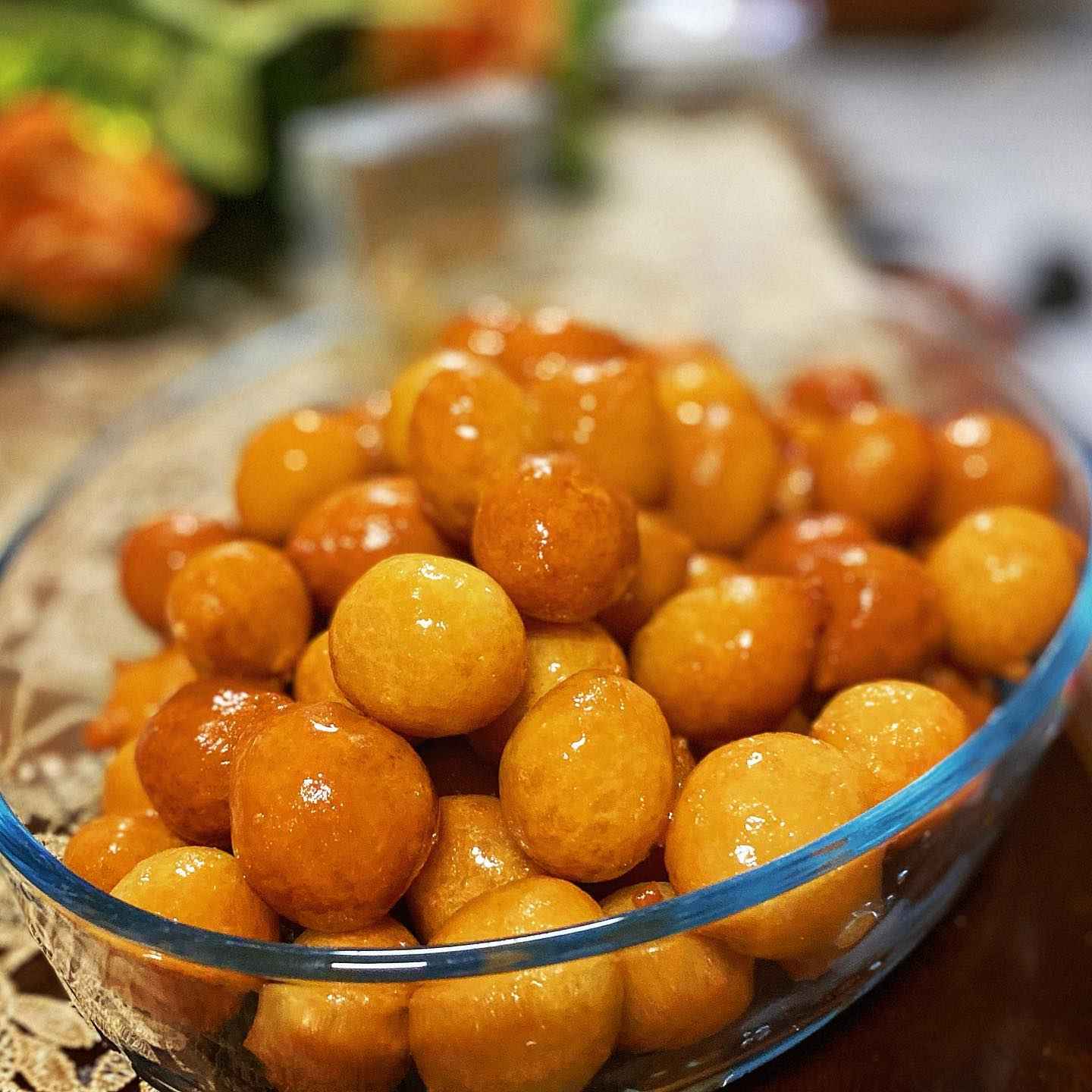 This is a popular dish not only in the Levant, but also in Turkey and Greece. In Syria, it is related to Al-Mshabak, so there is no store that sells Mshabak that does not sell Awama.
However, these two recipes are distinctly different. Awama dough is mainly made with white wheat flour and is usually prepared on the spot upon ordering. This is often to show off how skilled and fast the chef is at rolling the dough and throwing it in the skillet.
6. Balah Al-Sham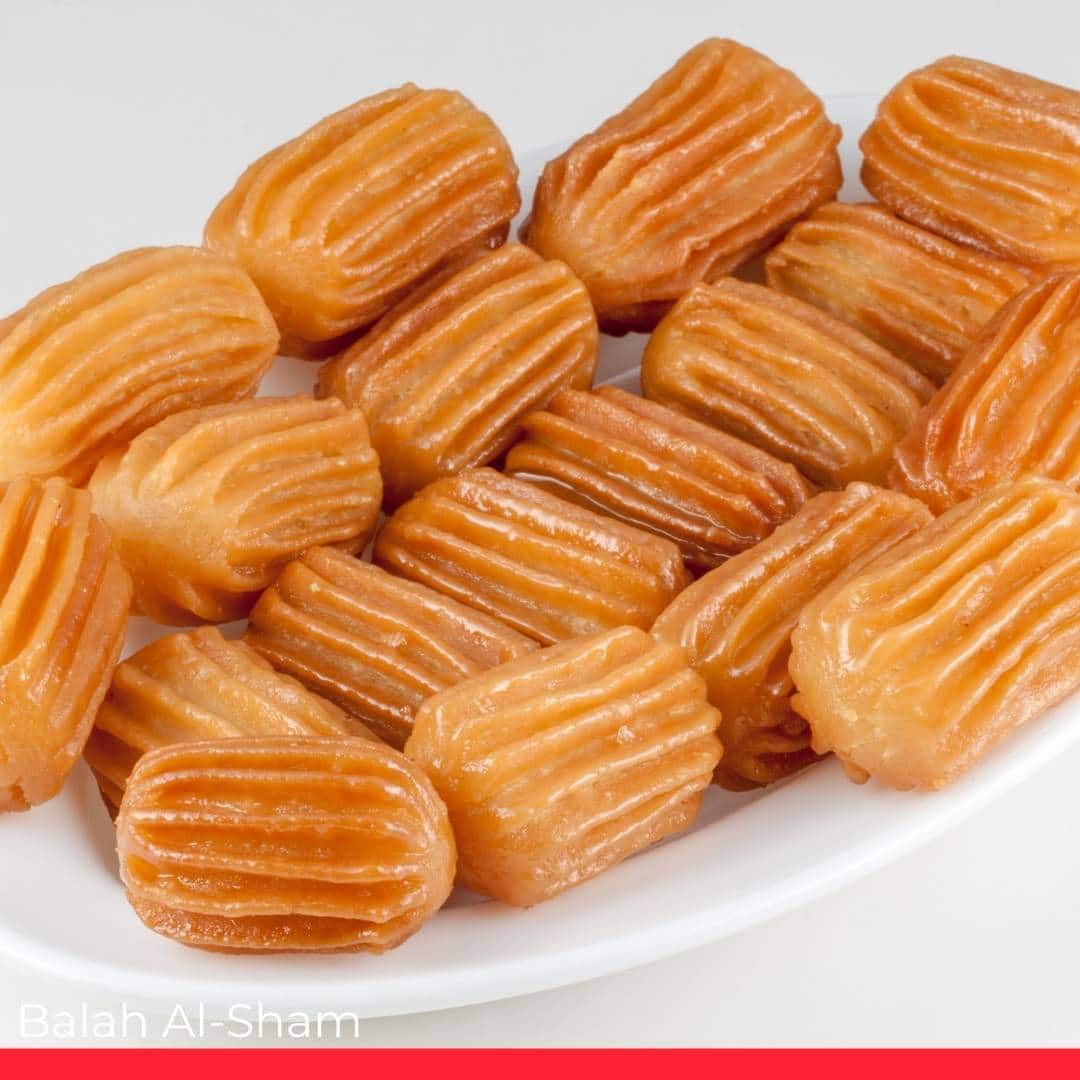 This is one of the traditional sweets of the capital, Damascus. It got its name because it resembles the shape of the date fruit, and balah means dates. Sham means Damascus in colloquial Arabic.
Similar to Al-Mashabak and Al-Awama, it's a dough fried in oil and then placed in syrup. However, here, the dough contains eggs and approximately equal proportions of semolina and fine flour, which gives it a unique and delicious taste.
7. Tamari Kaak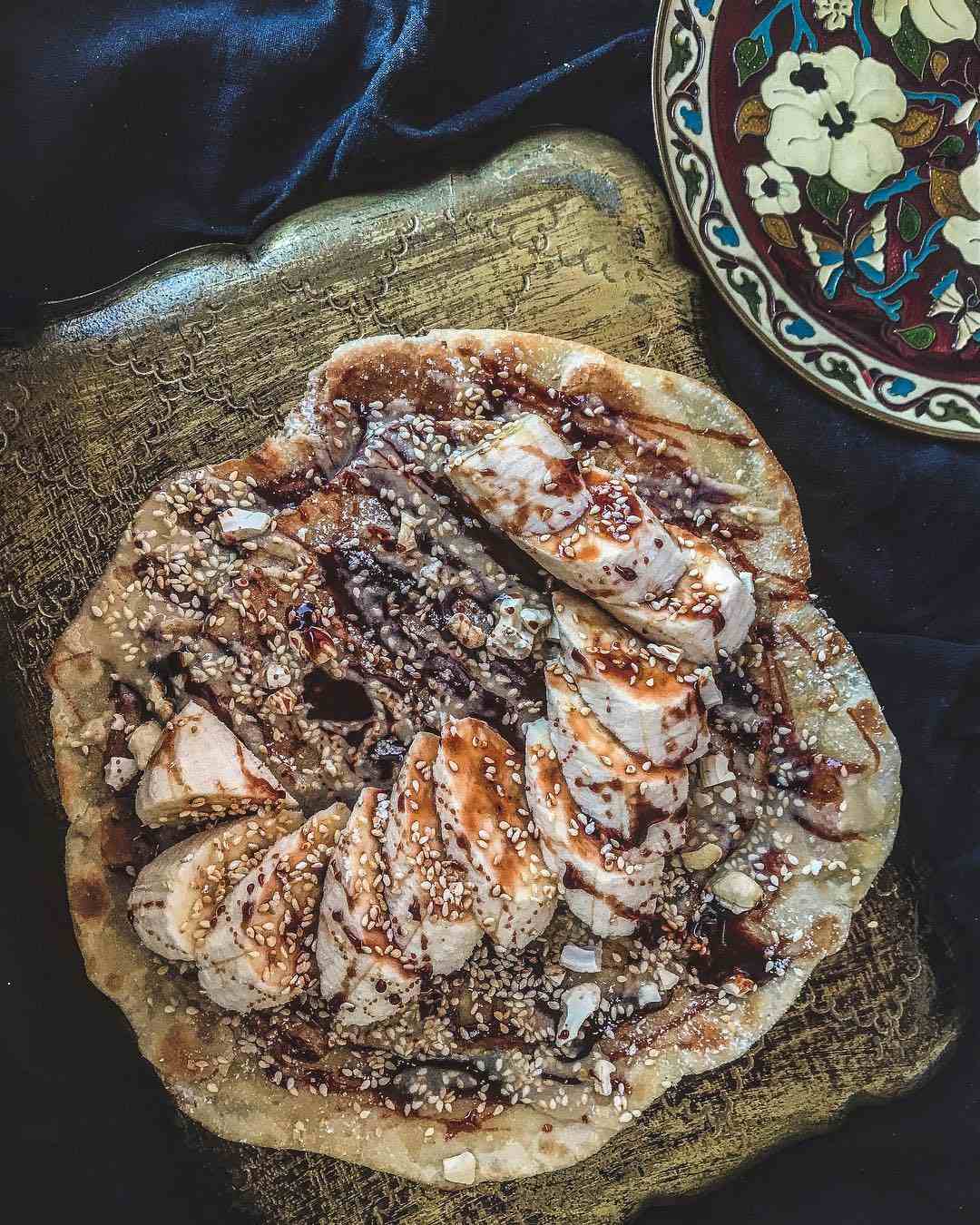 This is a very popular dish in the old neighborhoods of Damascus. It is prepared as a sandwich, but it is sweet in taste. It is another popular street food in Syria.
The sandwich bread is circular, similar to Arabic bread, but of one layer and it is sweet in flavor. The filling is sesame sauce (tahini), grape molasses, and banana slices with a sprinkle of toasted sesame seeds. Recently some vendors have added condensed milk and chocolate to it.
This sandwich is only popular in Damascus and is hard to find in other Syrian cities. Most vendors can be found in the Al-Fahama area and Al-Hamidiyah market, but they still spread throughout the capital.
8. Al-Siyalat or Lazakiyat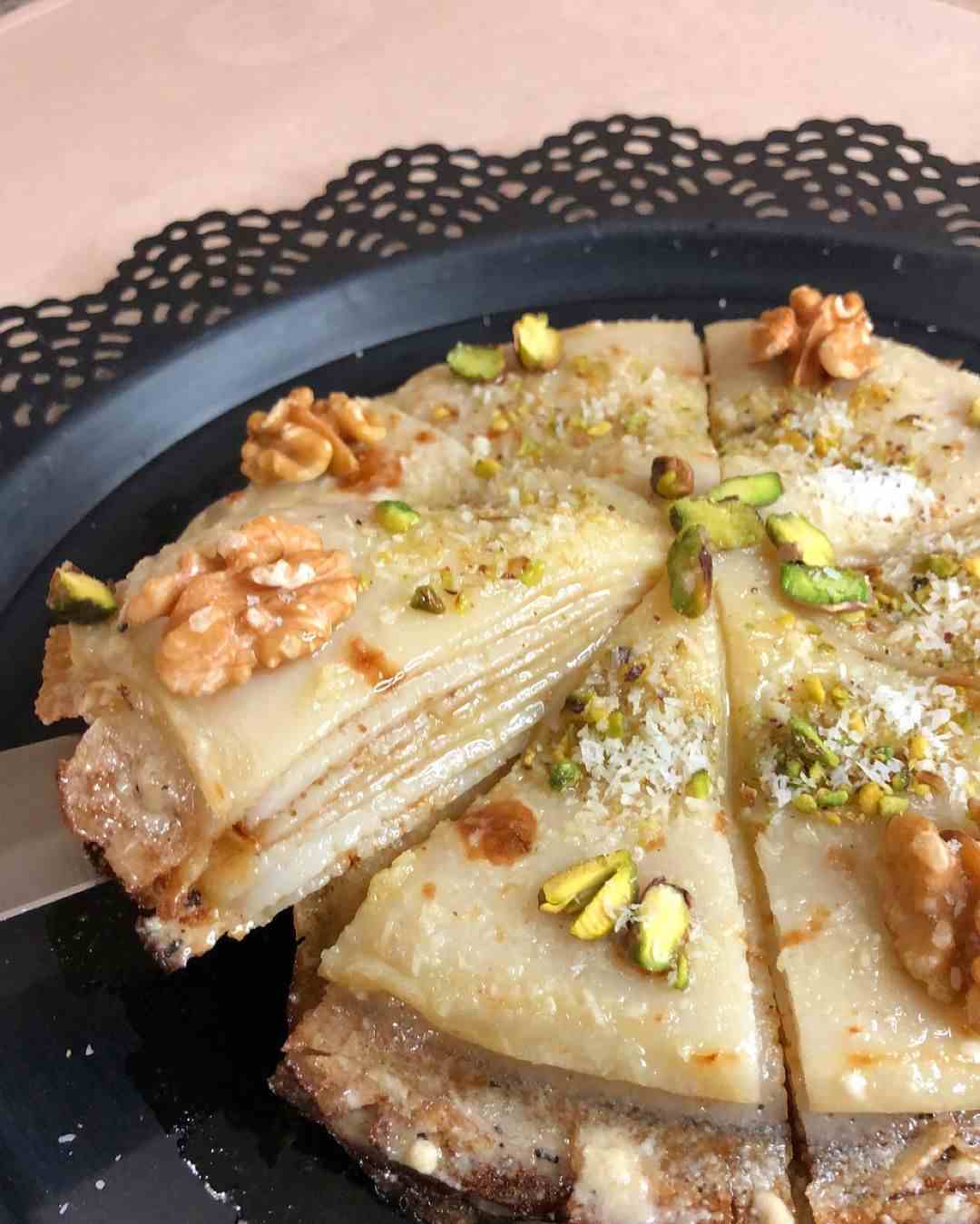 Two names for the same dish, where in Daraa and As-Suwayda it is called Lazakiyat and in Hama it is called Al-Siyalat. This treat is exclusively popular in those three cities.
It is made from simple ingredients that are found in every Syrian home. It consists of soft dough and is baked on the same popular sheet as the old Syrian bread, which is found in old Arab houses. Nowadays, however, people live in modern apartments, so they have replaced the traditional bread oven with a Tefal fryer because these are accessible to everyone and do a great job of preventing the dough from sticking to the bottom of the pan.
The dough is baked in several thin circular layers. After baking, the layers are placed on top of each other, after being greased with Arabic ghee, which is sprinkled with coarse sugar and walnuts, then the next layer is placed on top and so on to form a plate consisting of several layers.
It is preferable to grease the layers with ghee and sugar when they are hot so that the sugar dissolves. This dish is popular during summer evenings and family gatherings.
9. Qatayef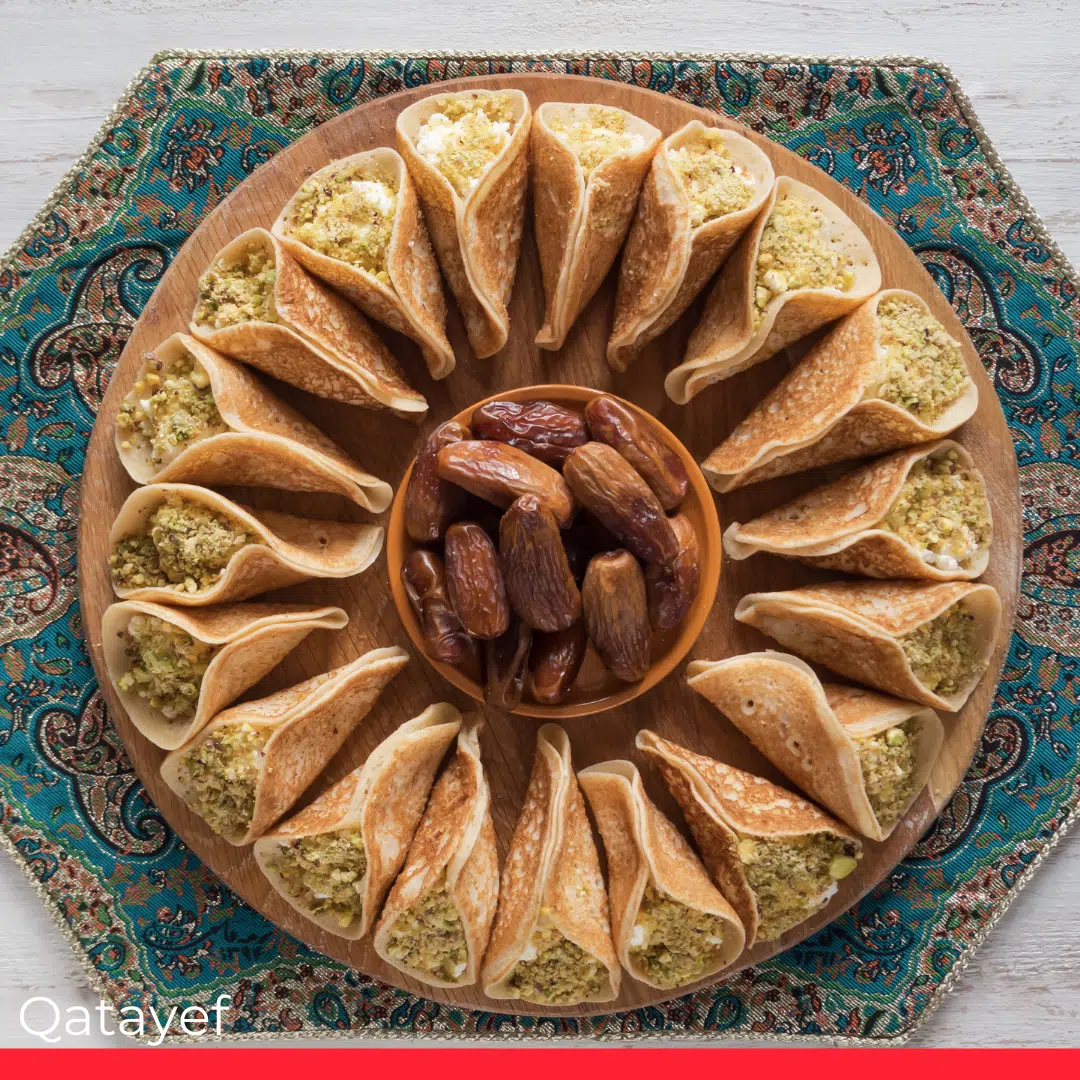 The main ingredient of this dessert is a baked dough. It is enjoyed in two different ways, either cold and stuffed with cream, walnuts, and sugar syrup, or deep-fried in oil after being filled.
It is often prepared at home but is also sold in the markets in traditional shops. Some historians attribute the name Al-Qatayef to the similarity of its texture with the texture of the velour cloth.
10. Syrian Tahini Halawa
This dish is not only a treat but also a breakfast meal. Most Syrian families will have it at least once a week for breakfast. Halawa is a healthy treat for children because it is rich in nutrients. It is prepared with sesame flour, milk, and nuts.
It is believed that the origin of Halawa is Turkish or Indian. However, it appeared in two sources dating back to big Syria and Mesopotamia.
11. Harissa
This is the most famous treat in the city of Nabk in particular, and in the Damascene countryside in general. Its most important ingredients are semolina and ghee, and it is prepared in a special way where the dough is placed in a large tray and sprinkled with grated pistachios or walnuts.
It is then baked and soaked in sugar syrup. The city of Nabk is known as a popular stop for travelers going to and from Damascus who look forward to enjoying the famous harissa.
12. Syrian Granis (Hobob)
This dish is a staple during the cold winter. It consists of a mixture of grains and boiled legumes. The main ingredients are chickpeas, beans, broad beans, and hulled wheat. As for the flavors, anise and fennel are usually used to create a distinct taste.
The toppings can include any type of nuts, seeds or shredded coconut. It is usually sold in the markets as a quick dessert. What makes this dish extra special is that it contains great nutrients because it is rich in vegetable protein and healthy fats and sugars.
13. Al-Shuaibiyat
Al-Shuaibiyat is a precious dessert that is specific to the city of Hama, but it is also famous in the city of Idlib. The main ingredient is a flaky dough that is layered and dipped in ghee.
The layers are filled with either walnuts or vanilla cream. After being shaped, filled, and baked, the delicious round pieces are dipped in syrup to produce a very tasty crunchy dessert.
14. Al-Sahlab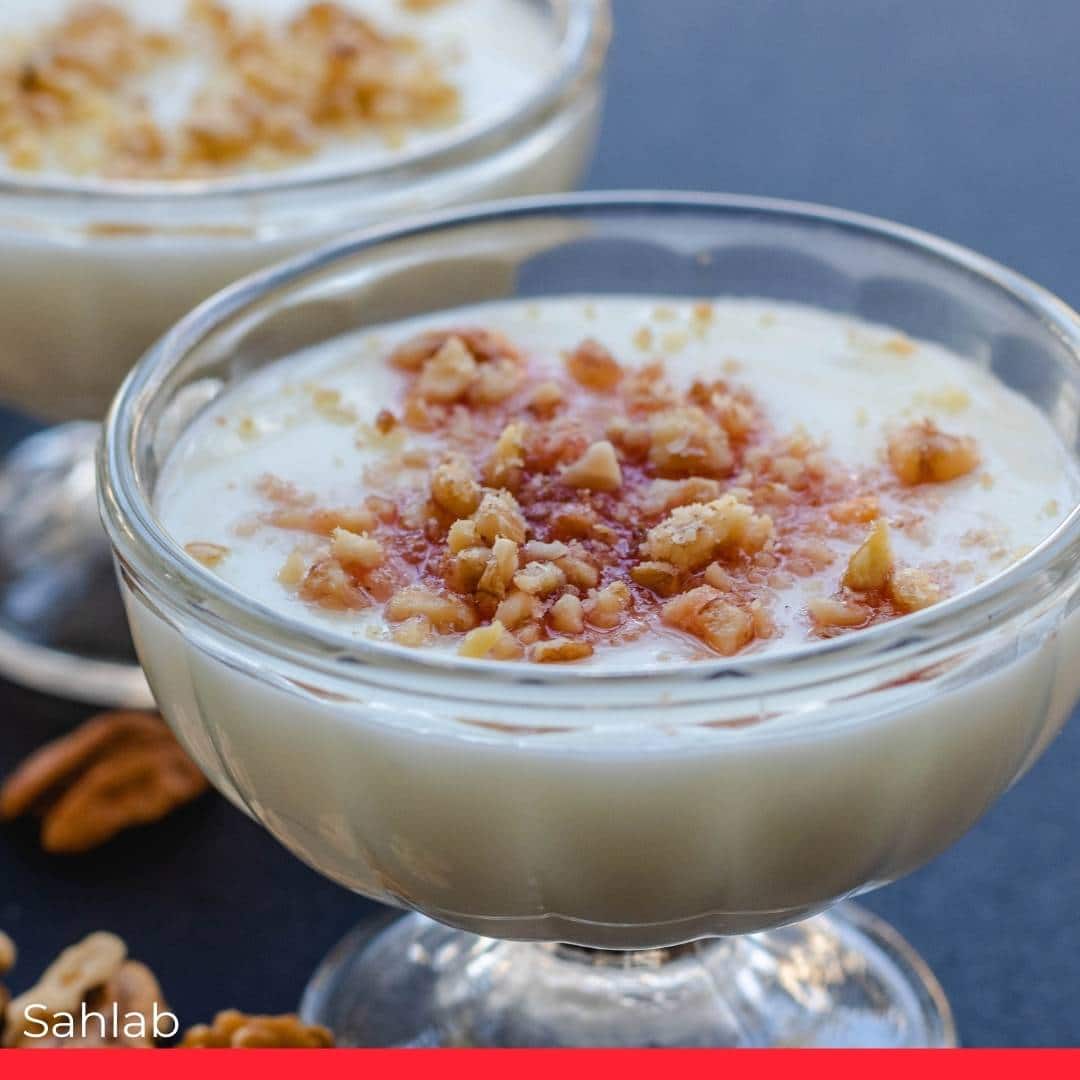 Sahlab is a popular hot drink that is usually enjoyed in the cold winters. It is famous in Syria but originated in Turkey.
It is believed that farmers used to have this hot, sweet drink on the early winter mornings to warm them up. Now sahlab has spread throughout the Arab world. It is prepared by heating up some milk with orchid powder, mastic, sugar, and rose water. It is topped with cinnamon, nuts, grated coconut, and seeds.
15. Halkom Raha
The origin of this candy has not been accurately determined as it is one of the famous sweets in Turkey but Syrians excel in making it. Raha is famous in the city of Daraa in Syria, which is home to many factories that produce it and export it to other Syrian cities.
Raha is mainly a type of jelly (gelatin) with added starch, sugar, sesame seeds, dried fruits, rose, and pistachios. Many people eat raha as a simple dessert with tea or coffee, or by placing it between two plain biscuits and crushing the raha between them!
16. Halawat Al-Jeben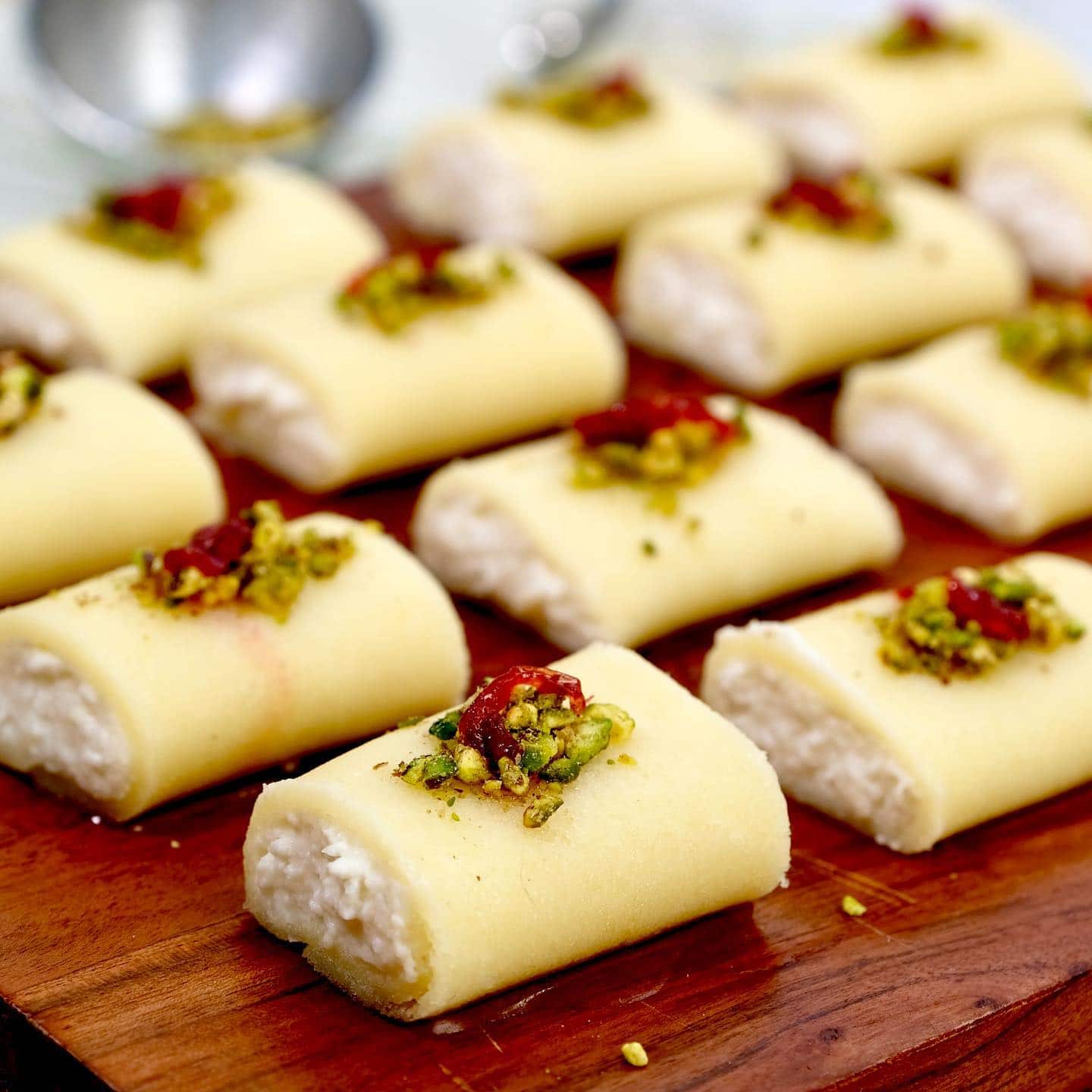 This dessert is the basis of a great rivalry between the cities of Homs and Hama, which compete to produce the highest quality and best tasting Halawat Al-Jeben. It is believed that it was famous in Hama and then moved to Homs, but nowadays both cities excel in preparing it. The main ingredients are cheese, semolina, sugar, and orange blossom water.
The soft and sweet slices are served stuffed with cream or served plain without filling and decorated with grated pistachios or coconut. In the summer, it is served with a side of Arabic ice cream. The two items together form a wonderful duo.
17. Baklawa (Baklava)
There are many types of baklawa and they are all very popular. It's characterized by its crispy texture and caramelized pistachios. The gold and crispy texture is a result of the skilled hands of the craftsmen who make sure to wrap the pistachios in super-thin layers of dough. A drizzle of hot sugar syrup or honey makes all the difference!
The origins and name of this recipe date back to the Ottoman Empire. However, rumor has it that it dates back to much earlier. Baklava is a luxurious dessert and it's served on special occasions.
18. Osh Al-Bulbul
This dessert is a type of Syrian baklawa. It is made of rough kunafa dough and includes homemade ghee and pistachios. The dough is formed into nest-like shapes, hence the name osh al-bulbul, which means bird's nest. The dough is stuffed with pistachios and baked until crispy and golden. Osh al-bulbul is a high-end dessert in Syrian cuisine.
19. Kunafa or Nabulsieh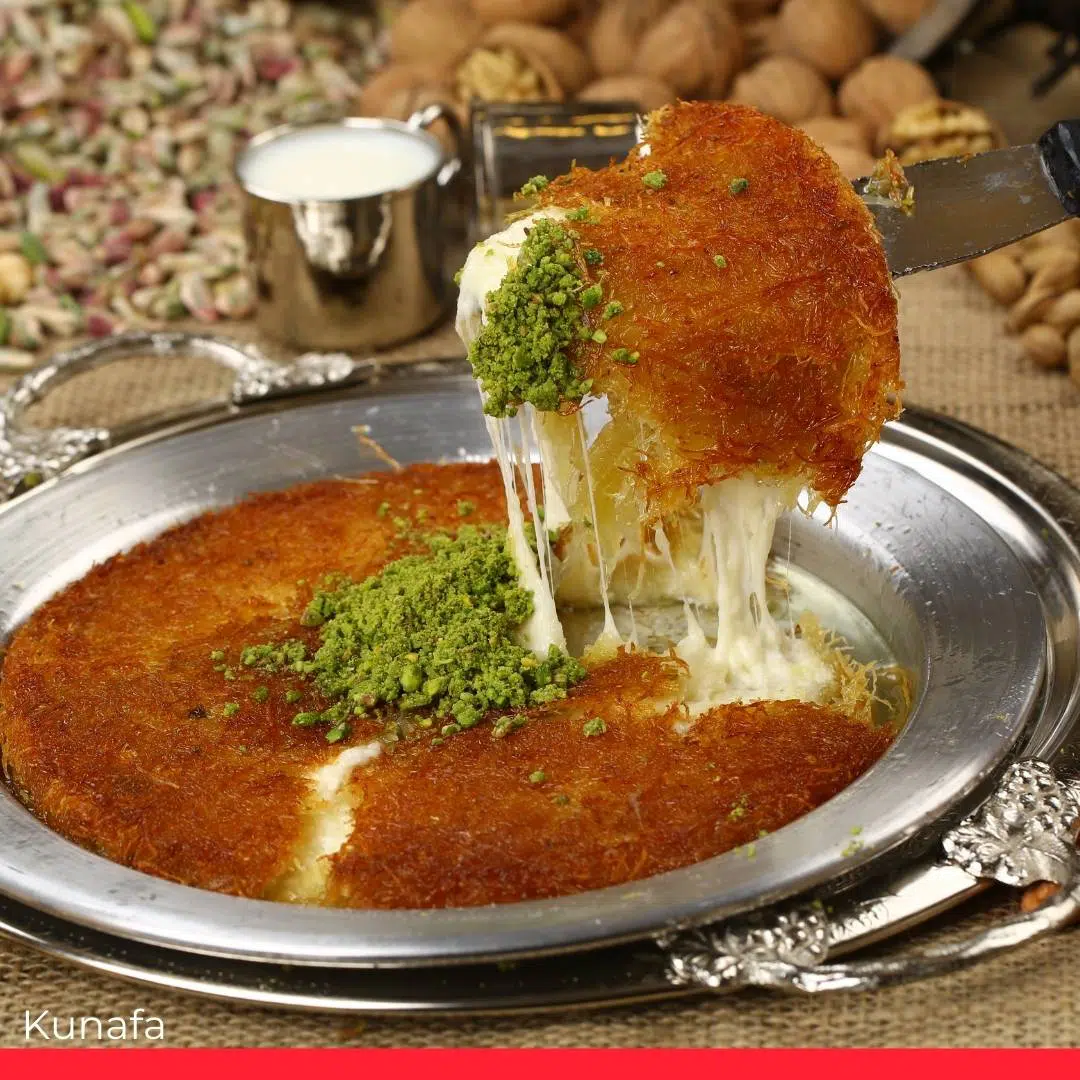 Kunafa is one of the most popular oriental sweets that spread widely through Palestine and Syria. It is usually served during family gatherings and graduation parties. There are two types of kunafa: soft and rough; the only difference between the two is the type of dough used underneath the melting cheese.
After baking and while it is still nice and hot, caramelized sugar syrup is poured on top of the cheese to seep through to the dough. Then, the big plate of kunafa is flipped upside down, garnished with crushed pistachios, and is ready to be served and enjoyed!
20. Al-Madlouka
Madlouka is considered one of the most popular and famous sweets in Syria in general and in Damascus in particular. It has a delicious taste and it is high in nutritional value because it contains homemade cream and nuts.
Just like kunafa, it consists of two layers, the bottom layer is made of semolina wheat and the top layer is a cover of delicious vanilla cream. Al madlouka is a quick dessert sold in stores that also specialize in kunafa.
21. Ballourieh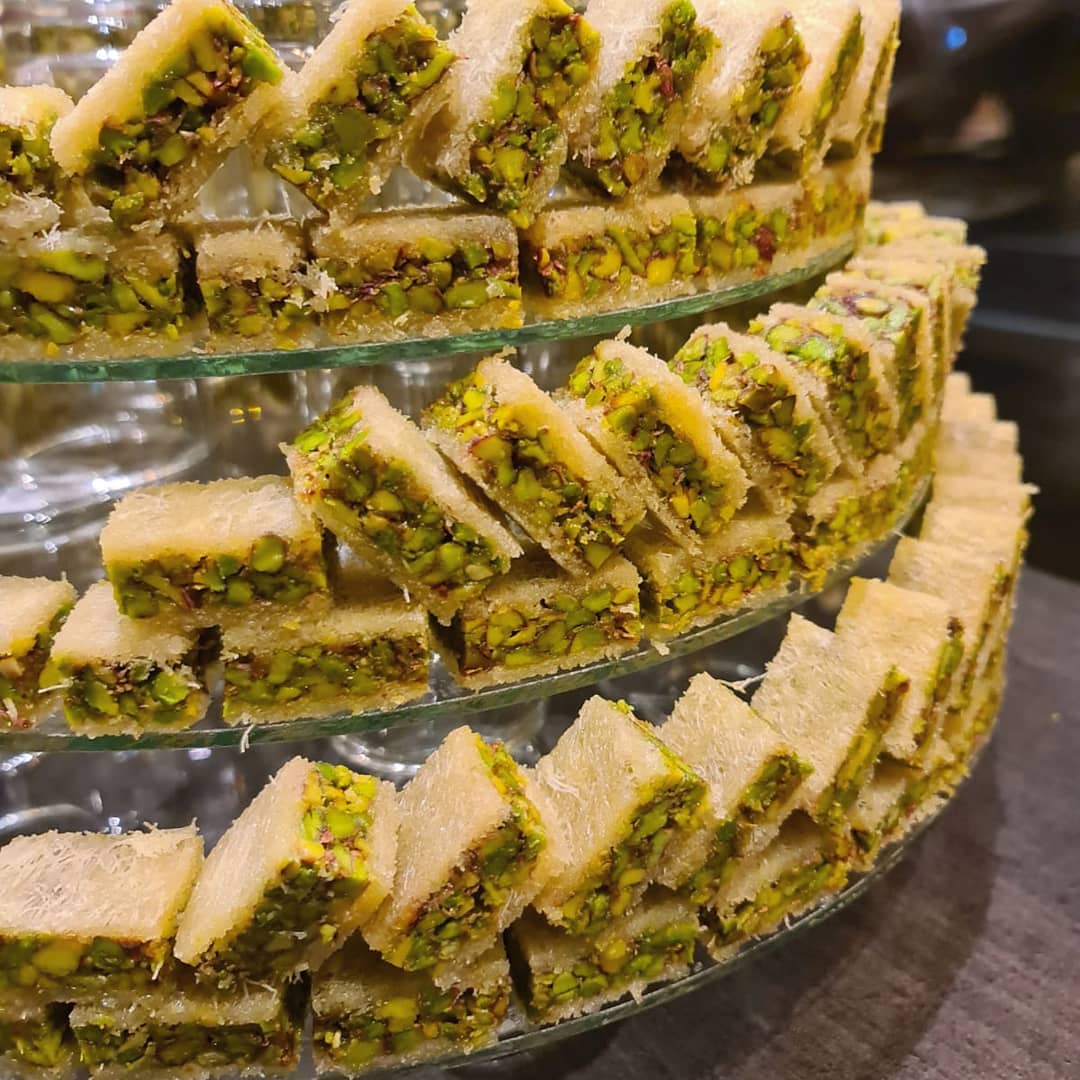 Ballourieh is a type of baklava that is made of soft kunafa dough and stuffed with a thick layer of pistachio nuts. The recipe was first prepared in the city of Aleppo, and its name comes from its unique bright white color.
Ballourieh in Arabic means white and clear, as since it is not baked for a long time, the dough keeps its white color. After baking, the added sugar syrup makes it glow even more. Like the majority of Syrian sweets, ballorieh is famous in the Arab world, as well as the international market.
22. Maamoul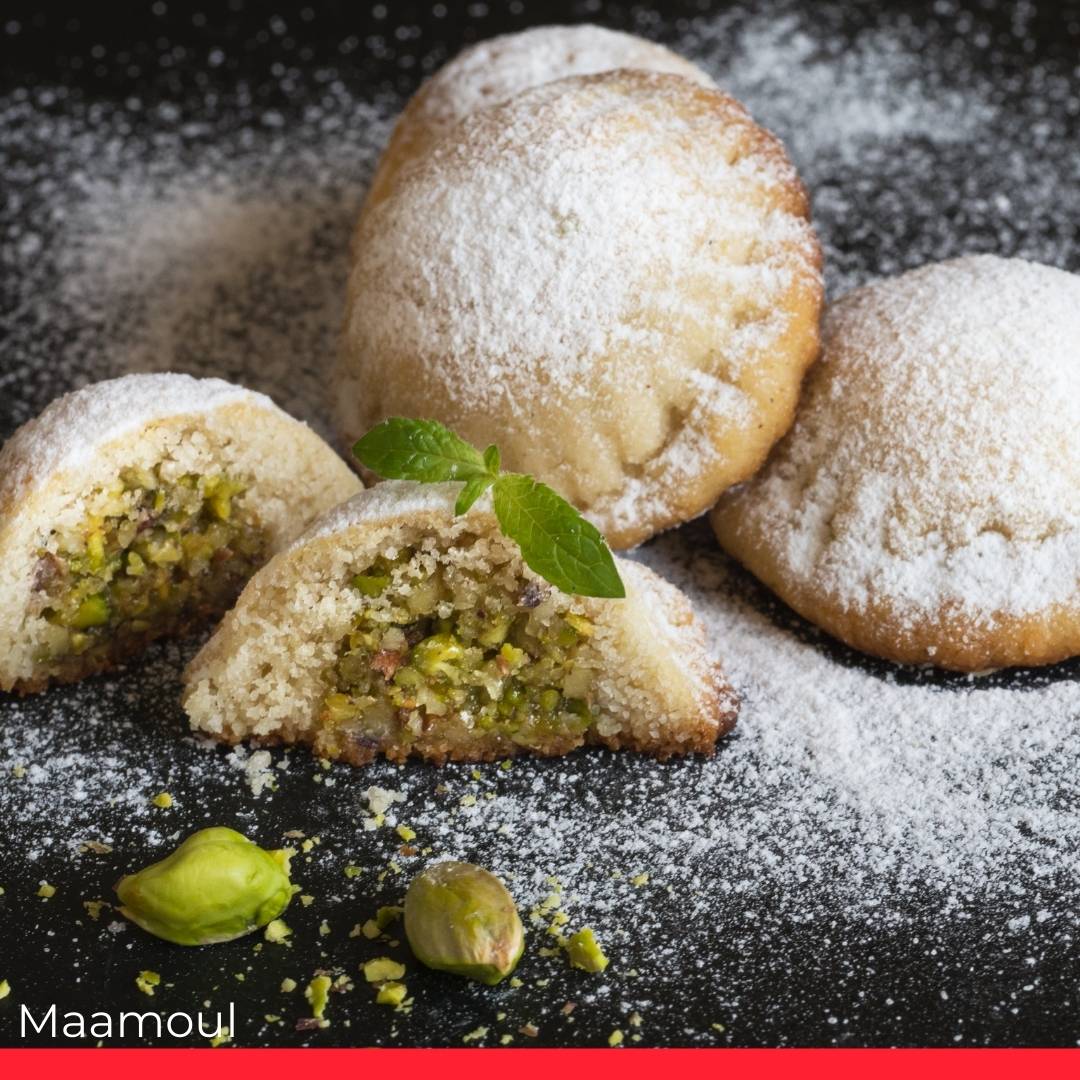 Maamoul, also known as Ajwa cakes or Eid cakes, is a sweet popular in Syria, Lebanon, and Jordan. It is prepared by stuffing a soft dough with either dates or nuts.
It is one of the most important aspects of the celebration and joy accompanying Eid Al-Fitr. It is usually prepared during the last days of the month of Ramadan. It is garnished with sugar powder or shredded coconut, which gives it a sweet and unique taste.
23. Znud Al-Sitt
This is a type of sweet known in Syria and Iraq. It consists of baklawa dough stuffed with vanilla cream or mohalabia. After frying in hot oil, it is placed directly in cold syrup and then decorated with shredded pistachios.
It was called by this name after one of the rulers of Tripoli held a party in which he served znud al-sitt sweets. When one of the attendees saw the shape, he suggested naming it znud al-sitt, which means ladies' plump fingers. It is very popular in the winter but can also be enjoyed in the summer with a side of ice cream.
---
Related: Most Popular Syrian Foods