The 25 Most Popular Honduran Foods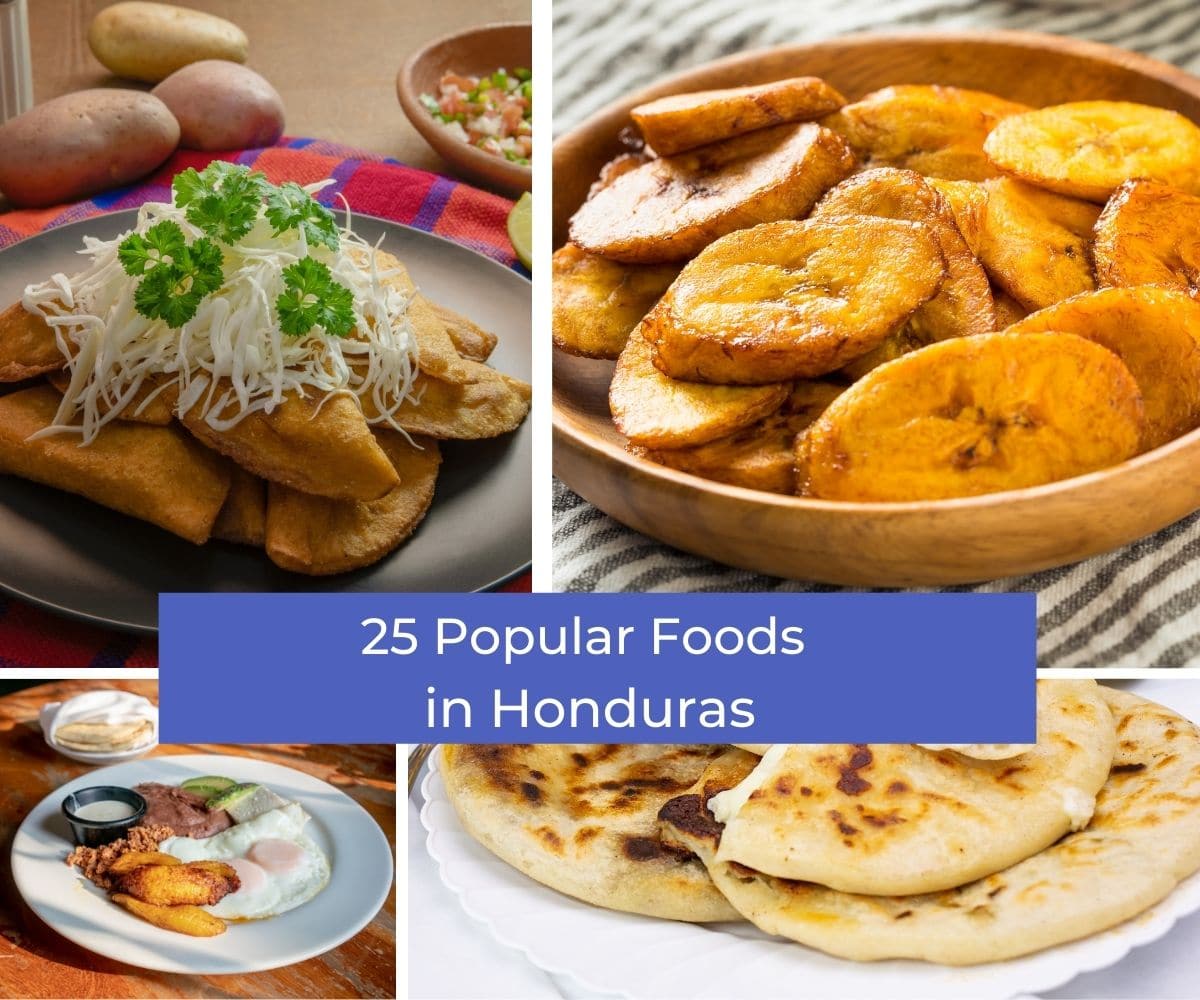 Honduran cuisine is characterized by the flavors of local ingredients that have been used to create delicious dishes from generation to generation. Bananas, corn, rice, and red and black beans are some of the most popular local grains and vegetables.
A peculiarity of Honduran food is that many of its dishes are usually fried in oil or lard, which is very good for the palate but not so good for health.
Although there is a great variety of Honduran dishes, each representative of its region, many of them are usually eaten on special occasions and holidays such as Easter and Christmas. The daily food of the Honduran, on the other hand, is a little simpler and humbler.
Now, we will take a look at the best 25 Honduran foods so that the next time you visit Honduras you will know exactly what to order.
Traditional Honduran Foods
1. Baleadas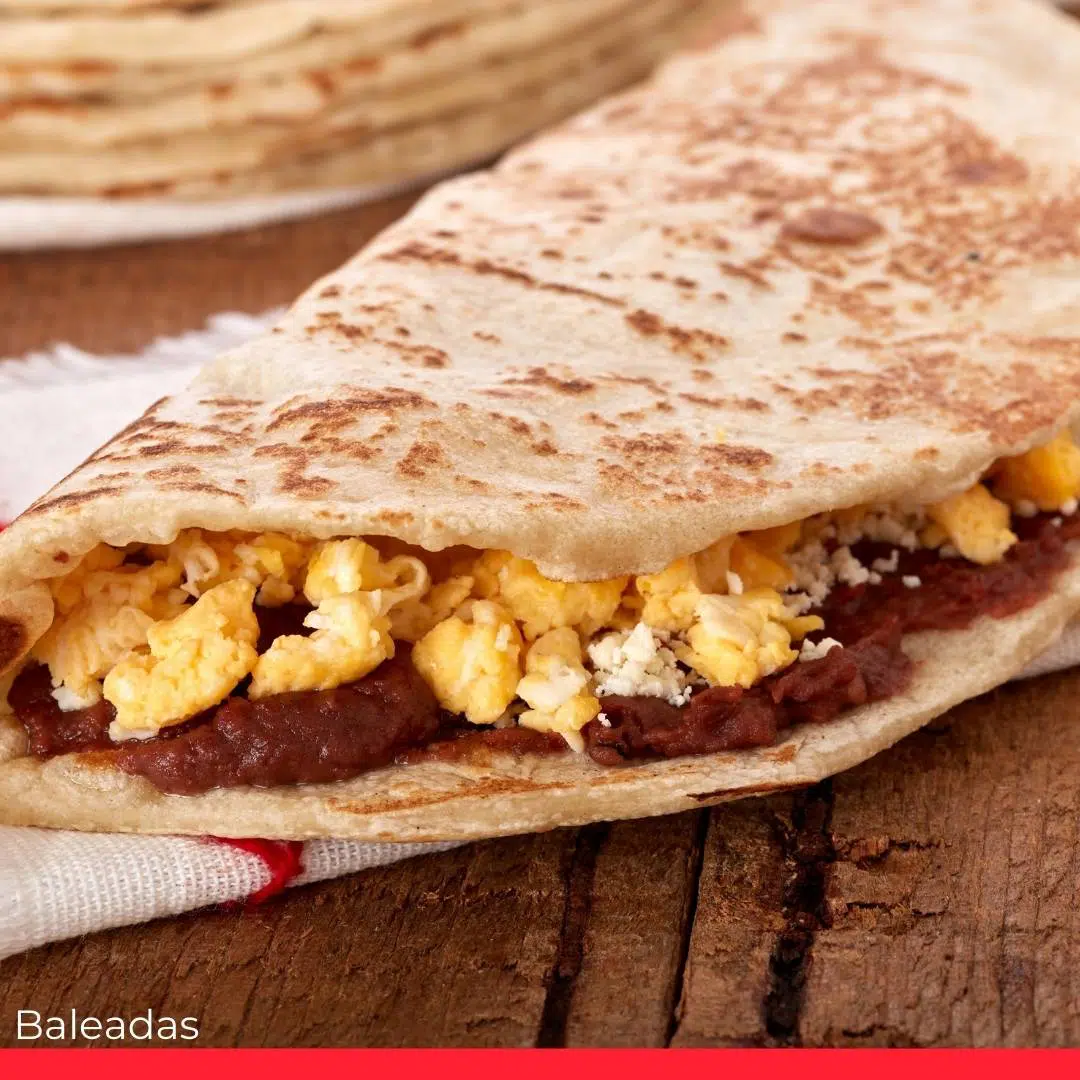 Baleadas is a dish originally from the North Coast, but it is one of the meals that never goes missing in the daily life of every Honduran. It consists of a wheat flour tortilla very similar to the Italian piadinas or the kebab wrap. It is served very hot and filled with various ingredients.
The simple baleada usually has fried beans, butter, and grated cheese. If you want something more hearty, ask for a special baleada. In addition to the ingredients mentioned above, it also includes fried bananas, avocado, or some kind of meat.
The baleada is eaten at breakfast, lunch, or dinner.
2. Traditional Honduran Breakfast
The Honduran traditional breakfast can be eaten either for breakfast or for dinner.
It consists of a plate of the most typical ingredients of the region: fried beans, fried plantains, corn tortillas, Latin cheese, creamy butter, and eggs.
It is undoubtedly a breakfast of champions that will give you energy for the rest of the morning, especially in a country where the sun rises very early, between 5:00 and 6:00 am, and people usually eat breakfast between 6:00 am and 8:00 am.
3. Catrachas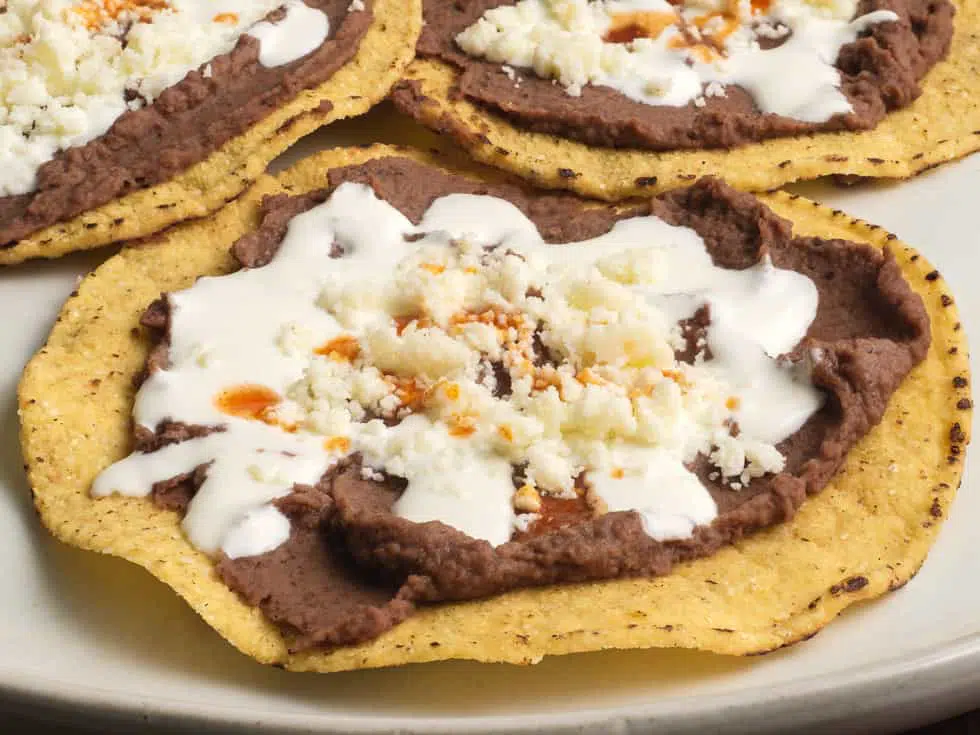 One of the most typical and easy to make, catrachas consists of a fried corn tortilla base, refried beans, and a topping of grated cheese.
4. Carne Asada
Every country has its own particular way of preparing barbacoa or carne asada, and Honduras is no exception.
This traditional meal that is shared with the family on weekends is characterized by its side dishes: rice, beans, corn tortillas, grilled plantain, and dry cheese.
It is usually eaten in the evenings with family, friends, and national cold beers such as Imperial or Salva Vidas. Burgers are not as popular as in the States as Hondurans prefer to grill a variety of creole and spicy sausages, chicken and pork.
5. Honduran Enchiladas
The name enchilada may sound a little familiar since there is a dish with the same name in Mexico, but be careful not to confuse them since their preparation and ingredients are completely different.
The Honduran enchilada is like a "tortilla tostada." The base is a fried corn tortilla with ground beef, and on top of it are several toppings to choose from: cabbage, homemade tomato sauce, cheese, hard boiled egg, and tomato.
It is usually eaten as a snack in high schools and universities or at gatherings of family and friends.
6. Honduran Pupusas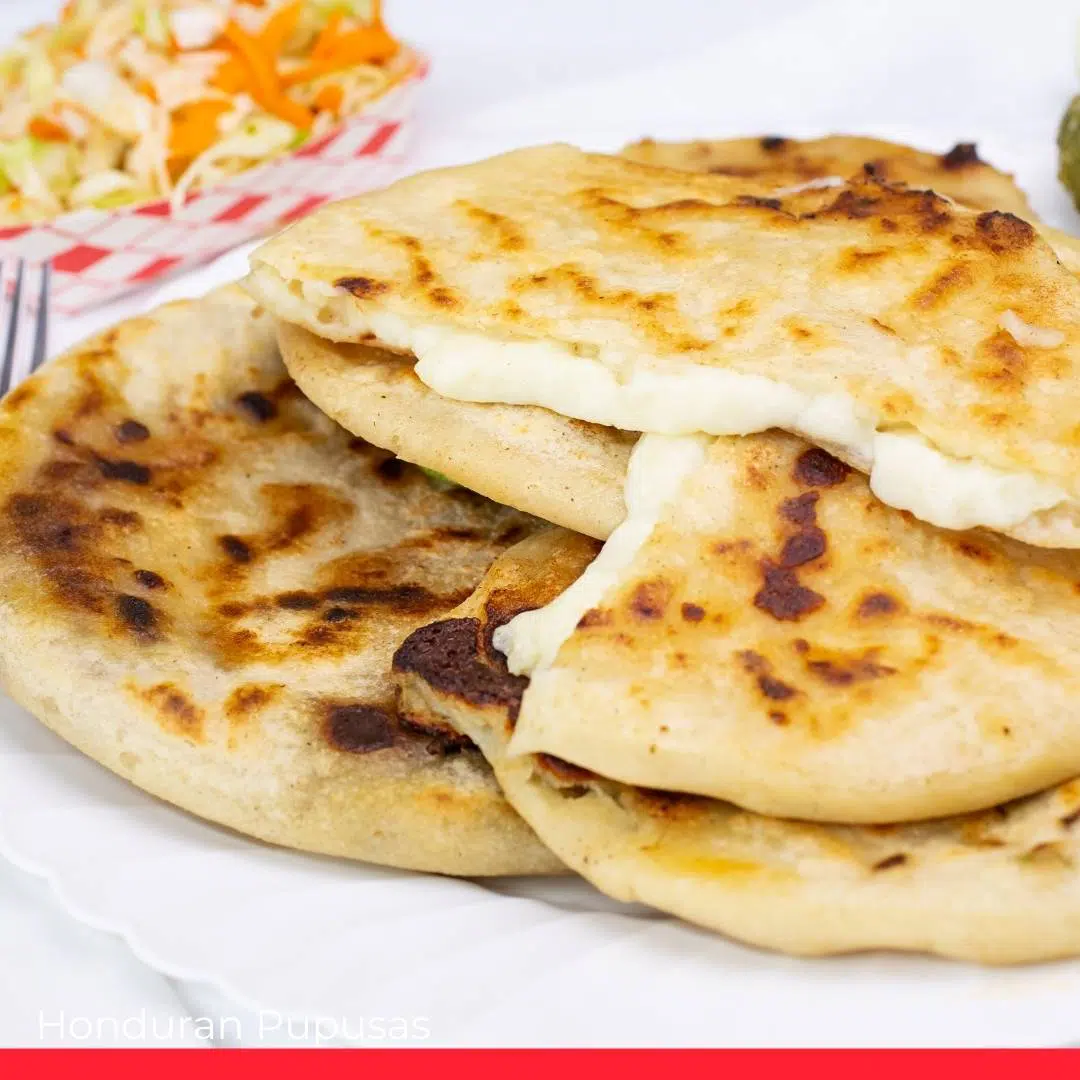 Of Salvadoran origin but with a very different flavor, Honduran pupusas are a favorite of foreigners and locals alike.
They are like arepas stuffed with cheese, but their preparation is different, since the cheese, chicharrón or bean filling is placed inside the raw corn dough, then flattened to give it a fatter tortilla shape.
It is placed on the griddle and is ready in no time. It is served hot with a topping of cabbage or pickled chili and onion.
7. Honduran Chinese Rice
Chinese rice? Yes!
As strange as it may seem, the Chinese rice that you find in Honduras has only the name Chinese. In essence, it is a bowl of fried rice with pieces of meat, chicken, and shrimp, but in fact, it is more than that.
It is rice with a particular flavor that you can only find in Honduras or in some Honduran restaurants in the United States or Spain.
Honduran soups
8. Snail soup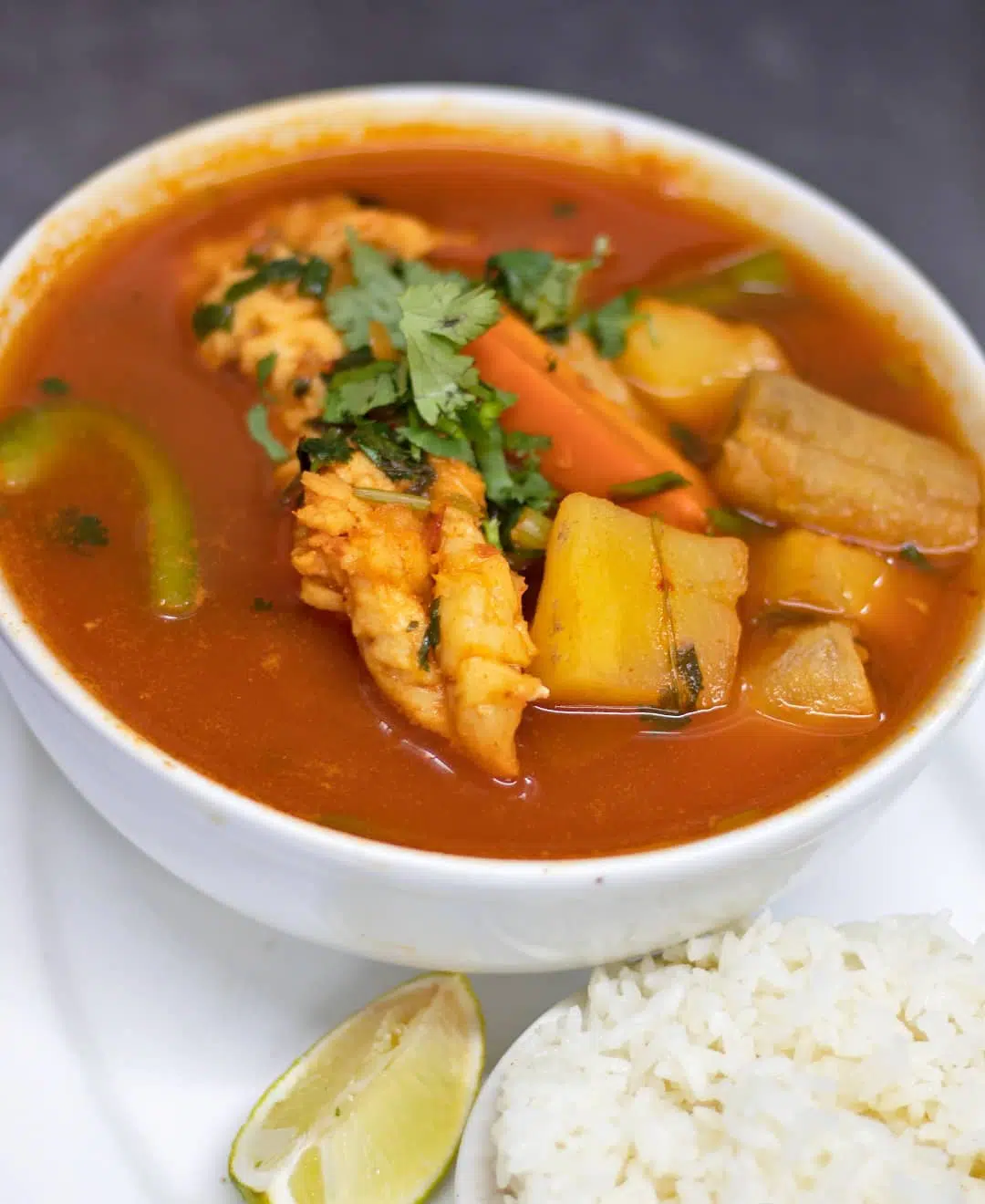 Snail soup is one of the must-try dishes if you visit the Honduran coast. Besides having a spectacular flavor, it also has its own song:
The broth of this magnificent soup is made with coconut milk and seafood broth, and inside is a variety of vegetables such as plantain and yucca. It is accompanied by rice and corn tortillas.
Although it is a hot soup, in Honduras it is a dish that is usually eaten on summer afternoons at the beach.
9. Bean Soup
It is already clear that Hondurans are obsessed with beans, so much so that they have their own soup.
It is a bean-based broth with hard boiled egg and vegetables, accompanied, like any soup, with white rice and corn tortillas.
10. Olancho Tapado Soup
This is the favorite soup to have on a Sunday while watching a soccer league game.
It is a meat soup containing pork, chorizo, and beef. The soup is also served with a variety of green plantains, ripe plantains, and yucca. It has the particular flavor of any Honduran stew, as it is always seasoned with cilantro, garlic, onion, and tomato.
11. Capirotadas Soup
Capirotadas is a kind of cheese dumpling, usually served in a beef broth accompanied by vegetables, such as carrots or potatoes.
Fried dishes: Honduran fast food
12. Pastelitos de Perro or Honduran pie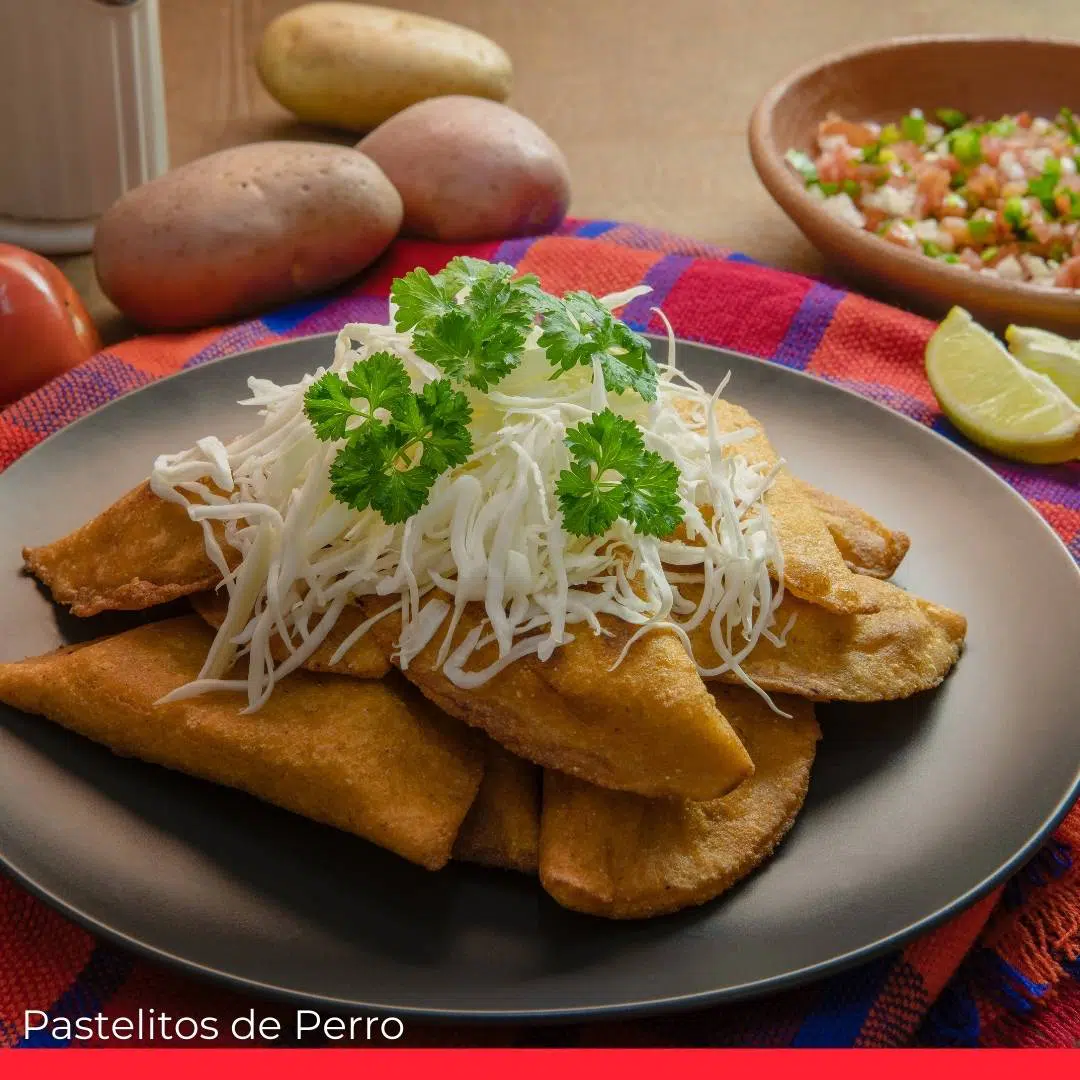 They are called pastelitos de perro, but they are really fried cornflour patties filled with a stew of meat, potatoes, and sometimes rice, seasoned with a sauce of tomato, onion, and peppers. They are a real delicacy that is usually eaten as a snack in high schools or universities, as well as a meal with friends.
It is a very elaborate dish that is not usually prepared at home, and it is a must-try if you visit Honduras.
13. Tajadas (Plantain chips)
Plantain chips are the ideal accompaniment to any meal. They are simply slices of plantain fried in butter or oil.
You can usually find them already packaged like potato chips, but they are a delicacy that is best enjoyed when they are homemade.
14. Yucca with Chicharrón
If yucca is not in soup then they are fried. Hondurans love fried yucca with a topping of cabbage, homemade tomato sauce, and grated cheese.
15. Chilaquiles
Chilaquiles is also known in Mexico, but cannot be missing in this list since its a Honduran favorite as well.
The preparation of Honduran chilaquiles is very similar to other fried dishes, with a topping of cabbage, sauce, and cheese. It is also usually served with pork rinds.
16. Fried Ripe Plantain/ Canoas de Platanos Maduras
The plantain is an essential part of the Honduran cuisine, and the fried plantain is one of the most typical dinners of Hondurans. It consists of a whole fried plantain divided in half and accompanied with a side dish of beans, butter, and grated cheese is placed.
Dishes from the coast: Don't miss it if you go to the beach.
17. Pollo Chuco
Pollo chuco is a typical dish from the city of San Pedro Sula in northern Honduras. It consists of a portion of fried chicken accompanied by plantain chips. What characterizes this food is the combination of sauces on top with a mixture of cheese and shredded cabbage salad.
18. Fried Fish
Fried fish is usually accompanied by fried plantain chips and fried bananas. It is usually eaten on the north coast of the country or around Lake Yojoa.
19. Chuleta con Tajadas (Pork Chop with Fried Plantain)
Like the pollo chuco or fish with fried banana, chuletas con tajadas is one of the typical meals of the north coast that is usually eaten when you go on vacation to the beach.
It consists of a fried pork chop accompanied by fried plantain chips and the usual toppings: tomato sauce, cabbage, grated cheese, and hot sauce.
20. Coconut Bread
Just as its name says, it is a bread made with coconut, and it is quite tasty and consistent. You can find it in the city of Tela where it is prepared by the indigenous women of the region who live from the sale of these traditional foods.
Festive seasonal dishes
21. Atol de Elote (Corn drink)
The atol de elote is an ancestral drink of Central American origin and consists of a cream made with the whole corn kernel. Each country prepares atole with different finishing touches, but in essence, the Guatemalan, Honduran, Salvadoran, and Mexican atol are the same.
22. Nacatamales
Love them or hate them, with nacatamales there is no in between. Their consistency and texture are very particular thanks to the method used to prepare them.
Basically, it is a mixture of spiced cornflour with different types of fillings inside. The Honduran nacatamal usually has pork, chickpeas, rice, potato, chickpeas, and olives. The dough with its filling is wrapped with banana tree leaves and cooked over low heat.
It's certainly a lot of work just to eat every day, right? Well, nacatamales are usually prepared by families only once or twice a years, and usually eaten at Christmas.
23. Torrejas
Torrejas are part of the Spanish heritage in Honduras. They are a typical dessert that is usually eaten for Christmas or Easter.
In Spain they are called torrijas and are very similar: a slice of bread soaked in milk and sweetener, coated with egg and fried. The difference is that in Honduras they use panela, an unrefined whole sugar cane, and they are seasoned with cloves and cinnamon powder.
24. Ronpope
A typical drink served at Christmas time, ronpope is made with egg and rum, with a touch of cinnamon and nutmeg.
It is served cold and enjoyed in the company of family and friends.
25. Stuffed Turkey
Stuffed turkey is the most important dish in the Honduran Christmas dinner.
Its preparation is a Christmas Day ritual. After marinating the turkey with seasonings during the afternoon, it is baked in a slow oven and served with other Christmas preparations, such as stuffed rice and Christmas salad.
It is certainly too much work to eat every day. That's why it is usually prepared in large quantities so you can eat it the next day as a "reheated" brunch with all the leftovers from the night before.
Conclusion
These are the 25 most traditional foods of Honduras, the heart of Central America. Now that you know them, which do you want to try the most?
Related: Most Popular Desserts in Honduras