Exploring Salvadoran Cuisine: El Salvador's Top 25 Foods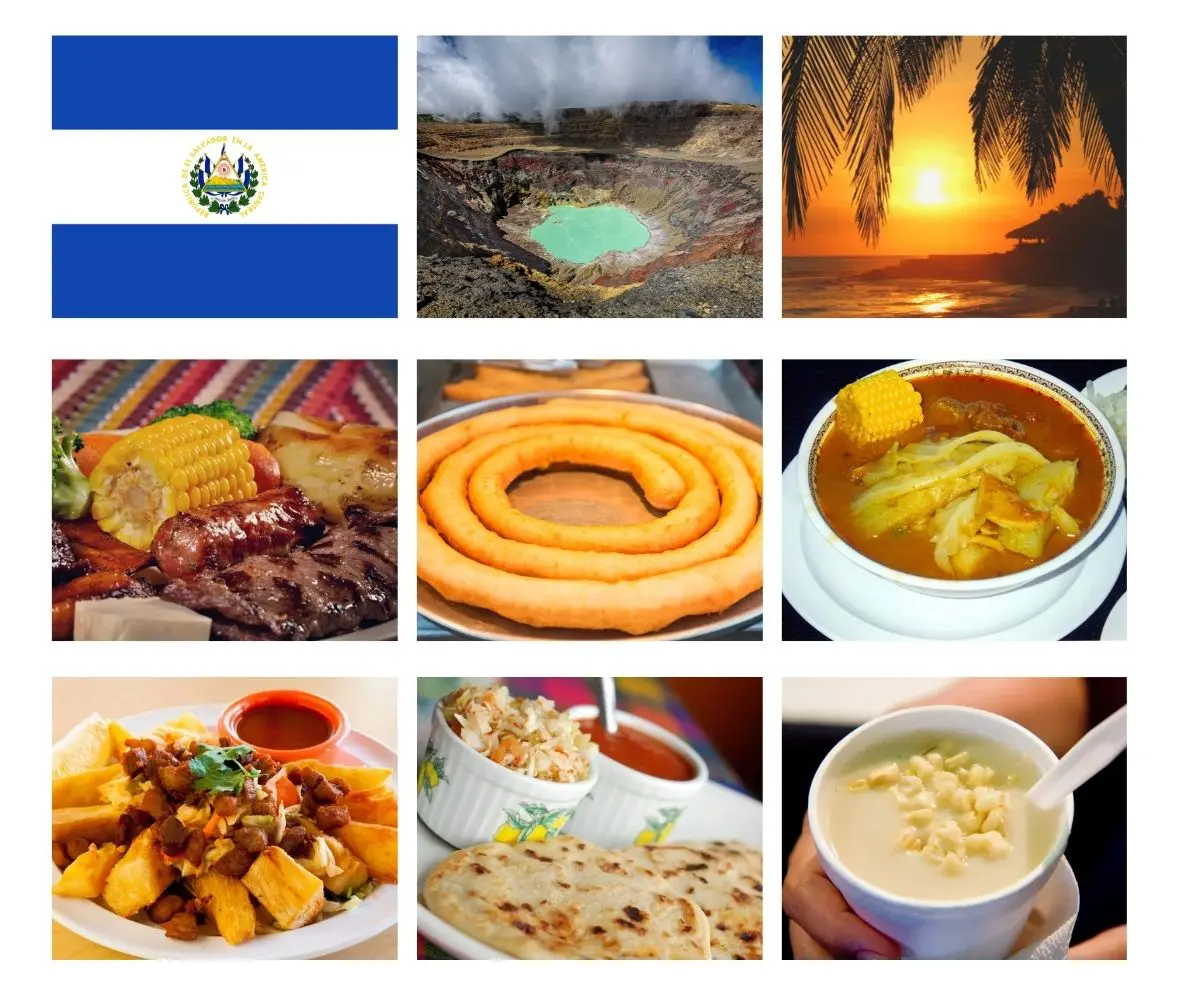 With a total area of 21,041 square kilometers, El Salvador is the tiniest country in Central America. It has access to the Pacific coast, where a tropical climate prevails. However, the highlands in the interior of the country enjoy much cooler weather.
The Pipil was the predominant tribe in the area before the Spanish conquest. They named their territory Cuscatlán, which means "Land of the Jewel". The blending of the Pipil with other tribes (mainly Lenca and Mayan) and European settlers is still reflected in modern day society, including Salvadoran cuisine. Although it includes ingredients introduced by the Europeans, such as cheese and onions, Salvadoran cuisine still relies heavily on indigenous food, such as beans and corn. These are used in a variety of meals and desserts, which Salvadorans enjoy every single day.
Taking advantage of its access to the Pacific coast, fresh seafood is also an important component of several typical Salvadoran meals. However, unlike corn-based meals, Salvadorans don't eat these every day.
In larger countries, there are typical foods that are specific to a single region, depending on the ingredients that can be found in the immediate vicinity. However, this is not the case in El Salvador. Since it is so small, all these popular foods are enjoyed all over the country, from the coast to the mountains.
There are many blogs and websites with descriptions of Salvadoran typical food, but they are usually written by foreigners who have enjoyed a short stay in this beautiful country. Here, a native Salvadoran will guide you through the wide array of delicious meals, desserts, and beverages that make Salvadoran cuisine truly unique.
Salvadoran National Dish
1. Pupusas (Stuffed Tortillas)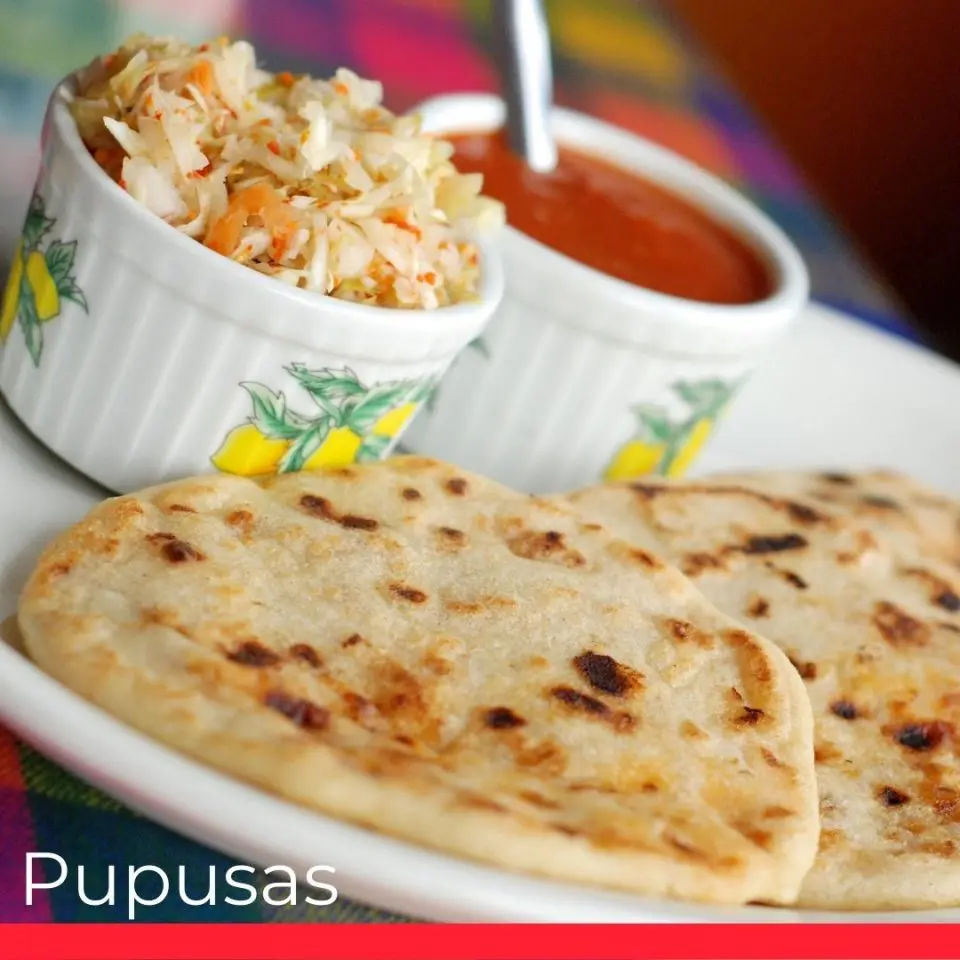 Pupusas are, by far, the most popular food in El Salvador. They are the country's national dish. If you visit El Salvador, you need to try this traditional and inexpensive meal. You can have them for breakfast, lunch, or dinner and they are basically stuffed tortillas.
The tortillas are made of either rice or corn flour, and they are then stuffed with a variety of fillings. The most popular ones are cheese, pork, fried beans, and loroco (a Central American edible flower). Loroco has a floral flavor and its taste is so unique that if it's in your food, you'll know it right away. Some people get more creative and stuff pupusas with ingredients like shrimp or chicken.
Pupusas are served with tomato sauce and curtido, which is a side dish made of fermented cabbage, carrots, cucumber, and other vegetables.
Salvadoran Soups
2. Sopa de Mondongo (Tripe Soup)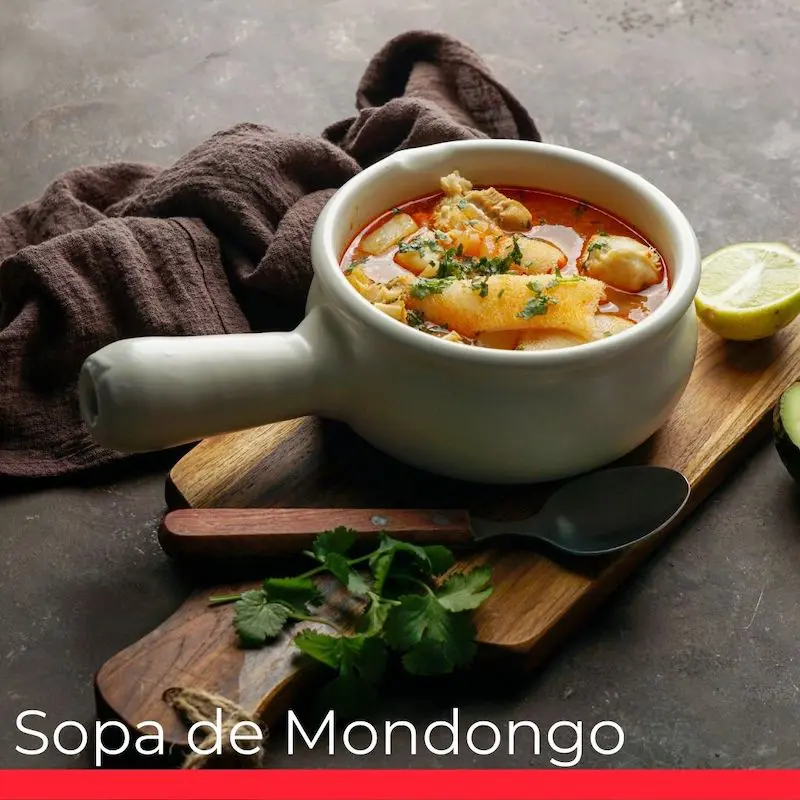 This unique soup contains cow's feet, tripe, and tendons. This is mixed with spices, corn, cassava, and vegetables, including cabbage and carrots. It is the perfect choice if you're trying to get rid of a hangover. This is why it is commonly sold at weekends. Although it may be unattractive to foreigners, it is a delicious and nutritious meal. The soup is commonly sold in local markets.
3. Sopa de Pata (Cow Foot Soup)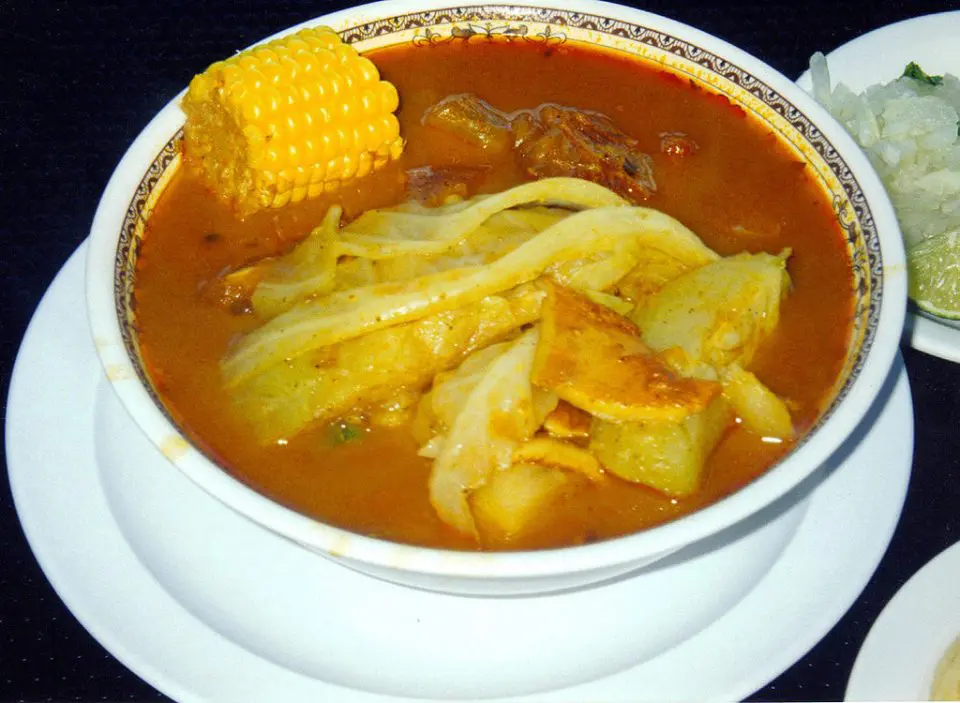 This soup is just like the Sopa de Mondongo (Tripe Soup), except that this one only has cow's feet. It doesn't include the tripe or tendons.
4. Sopa de Res (Beef Soup)
This is a typical Salvadoran lunch. Large chunks of beef are cooked with corn, cassava, plantain, and a variety of vegetables, such as carrots, cabbage, and chayotes, which have a cucumber-like taste. It is quite a nutritious meal and it can be found in local markets all around the country.
5. Gallo en Chicha (Rooster Soup)
This unique-tasting soup is made with rooster and chicha. Chicha is a fermented or non-fermented drink that is usually derived from corn. Other ingredients include white wine, prunes, pineapple vinegar, and a variety of vegetables.
6. Sopa de Gallina India (Wild Chicken Soup)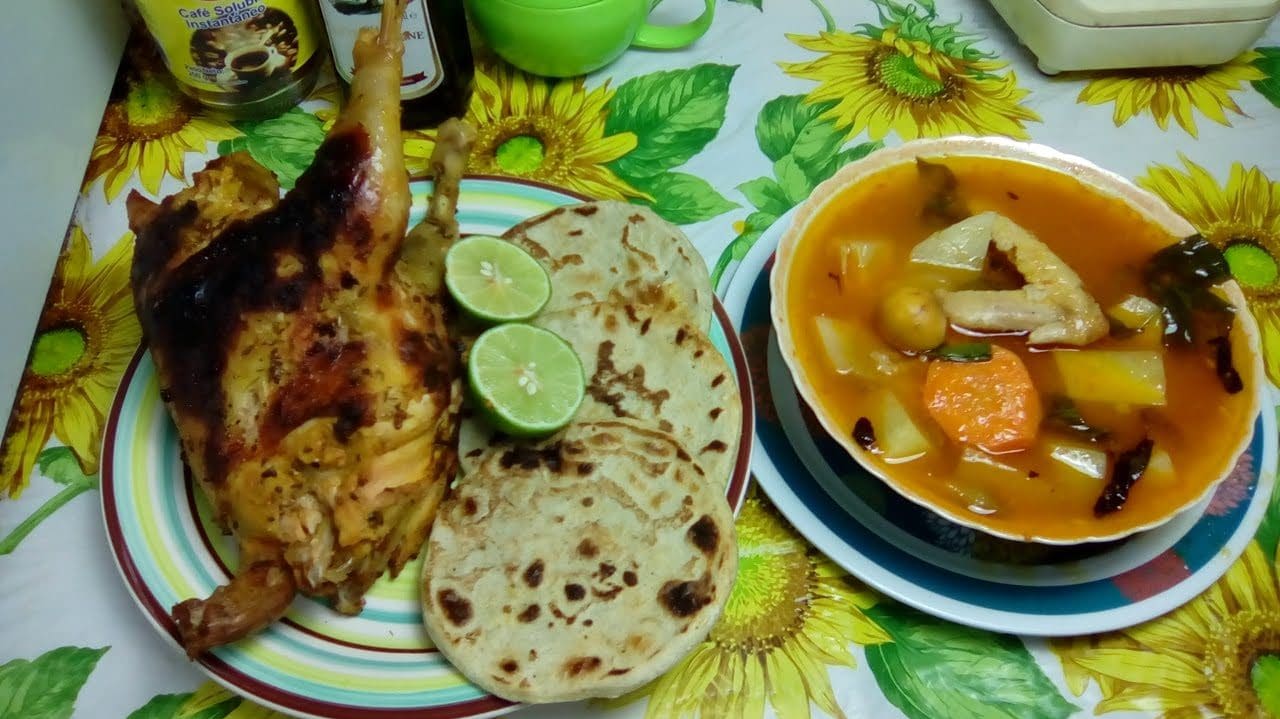 This popular soup is made using "indiginous" or "wild" chicken. It is then mixed with rice, potatoes, and other vegetables, including cauliflower, broccoli, and carrots. Salvadorans typically enjoy this soup for lunch and it is commonly found in local markets. However, most restaurants only serve it on special occasions or on Sundays.
7. Sopa de Pescado (Fish Soup)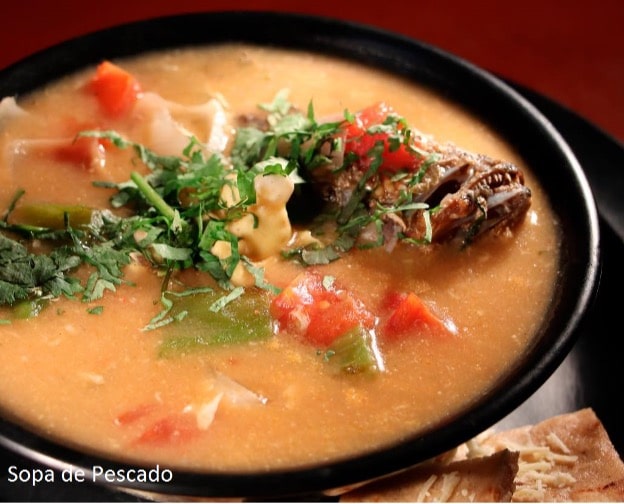 This fish soup is prepared with a variety of ingredients, including butter, tomatoes, onions, garlic, salt, and pepper. It can also be spiced with achiote. Achiote, or annatto, is a reddish condiment derived from the achiote tree, which is native to Latin America. Although you can find fish soup in many Latin American countries with access to the coast, the ingredients and spices used in this Salvadoran soup make it unique.
Seafood and Meat dishes
8. Mojarra Frita (Fried Fish)
This is a popular dish in El Salvador. The mojarra is a type of fish found in tropical regions. First it is cleaned and seasoned. It is then fried in hot oil until it becomes crispy. Despite the crispy exterior, the inside is quite juicy.
It is served with rice and a salad of lettuce, cucumber, tomatoes, and lemon. Many Salvadorans enjoy this dish with a cold beer.
9. Churrasco Típico (Grilled Meat Served with Fried Beans and Plantain)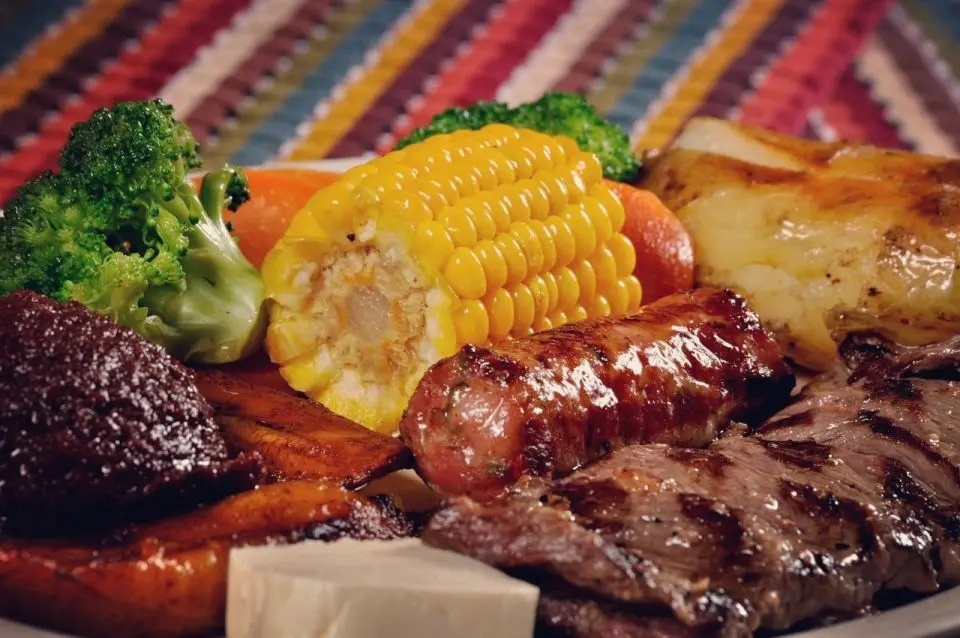 The meat is first marinated in orange juice, oil, sliced onions, and different seasonings. It is then grilled over an open fire. It is served with fried beans, fried plantain, fresh cheese, grilled vegetables, and chirimol. Chirimol is an acidic vegetable side dish. It is made of diced tomatoes, onions, and fresh coriander leaves and it can be seasoned with lemon juice, vinegar, salt, and even pepper.
10. Panes con Pavo (Turkey Sandwich)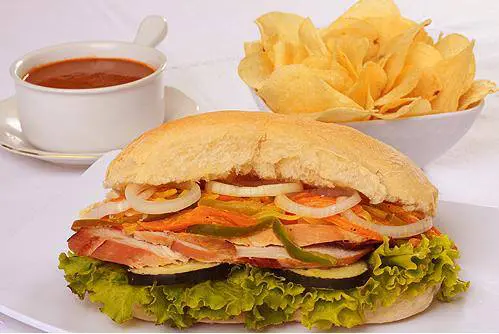 This is basically a turkey sandwich, prepared the Salvadoran way. Before it is roasted, the turkey is marinated with garlic, spices, and local seeds. It is then served between the bread and is topped with a tomato-based sauce and a variety of vegetables, including carrots, cucumber, radish, and tomatoes.
11. Enchiladas (Fried Tortillas with Meat and Toppings)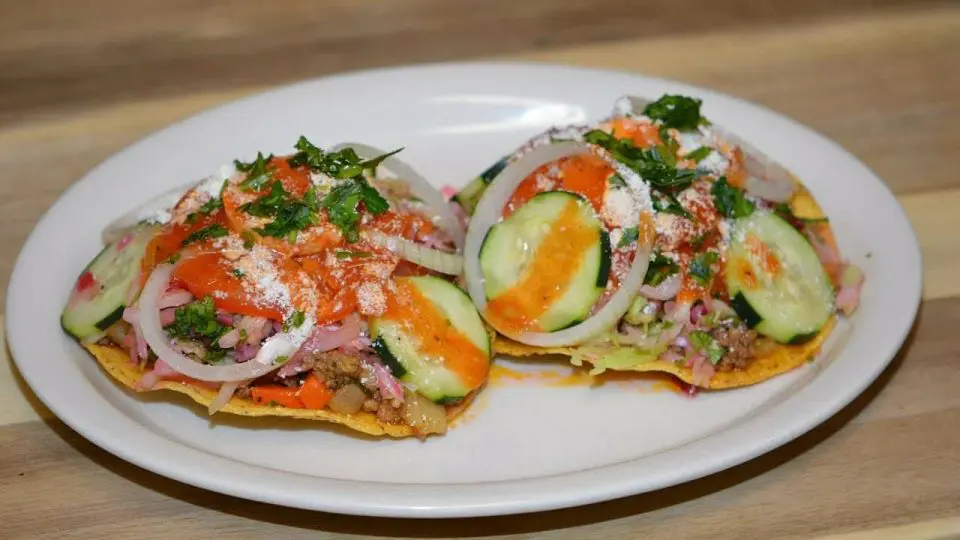 Salvadorans love this traditional dish and enjoy it for lunch or dinner. It basically consists of small, fried tortillas, which are topped with ground beef, hard-boiled eggs, grated cheese, avocado, vegetables, and tomato sauce.
Street Food
12. Yuca Frita (Fried Cassava)
This is a delicious dish of deep-fried cassava, or yucca root, which is slightly sweet and quite chewy. The cassava is cut into wedges and then fried. Some people prefer to boil it. It can be served with pepescas (a small type of fish, which is fried), or with chicharrón (deep-fried pork cracklings, which are actually fried in their own oil). It may also be served with tomato sauce and curtido (fermented cabbage salad).
13. Salvadoran Tamales
Tamales consist of a corn-based dough, or masa, which is wrapped in a banana leaf. This is then steamed for several hours. There are different types of tamales depending on how the dough is prepared and seasoned. For example, the traditional tamale is stuffed with tomato sauce, vegetables, and meat, such as chicken or pork. There are also tamales pisques, which are stuffed with fried beans.
Corn tamales are made out of fresh corn. The corn dough is mixed with butter, milk, sugar, and salt. However, in this case, they are wrapped in corn leaves and not in a banana leaf. To eat tamales, you can use the leaves as a plate, or you can throw them away prior to eating.
14. Pastelitos (Salvadoran Turnovers)
Salvadoran pastelitos are prepared with corn dough and achiote powder and spices. As already noted, achiote is a reddish condiment derived from the achiote tree, which is native to Latin America. These pastelitos are stuffed with a combination of meat and vegetables and then fried. They can be served with tomato sauce and curtido (fermented cabbage salad).
15. Elote Loco (Crazy Corn)
This is a traditional Salvadoran snack. It is a boiled or grilled corn on the cob, which is slathered in a quite unique sauce (hence its name: crazy corn). The sauce is quite creamy and includes tomato ketchup, mayonnaise, mustard, grated cheese, and Worcestershire sauce. It is commonly sold at parades.
Desserts and Sweets
16. Empanadas de Frijol o Leche (Plantain Pastry Stuffed with Fried Beans or Milk Custard)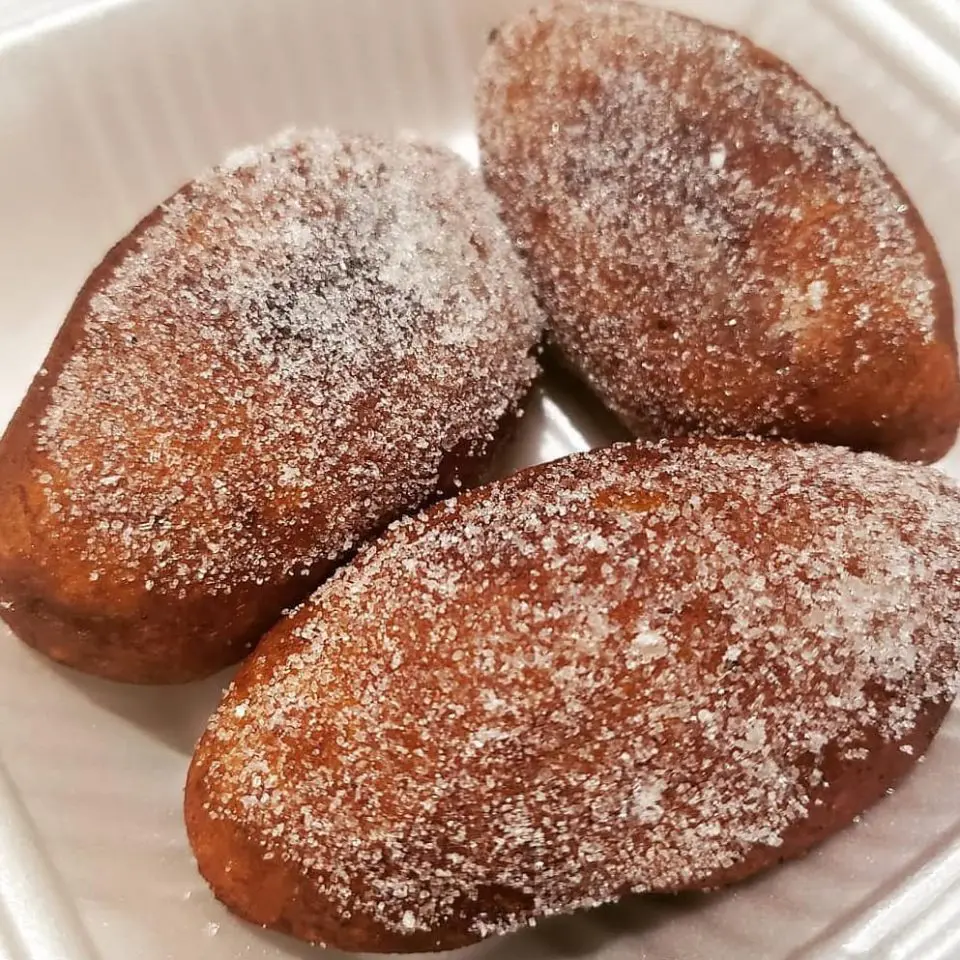 Empanadas are one of the most delicious Salvadoran desserts. With their smooth texture and sweet taste, they are perfect for breakfast or dinner. Empanadas are made from a fried plantain base, which is stuffed with fried beans or milk custard. Some Salvadorans like to coat the empanadas in sugar. The taste is truly heavenly.
17. Nuégados (Salvadoran Fritters)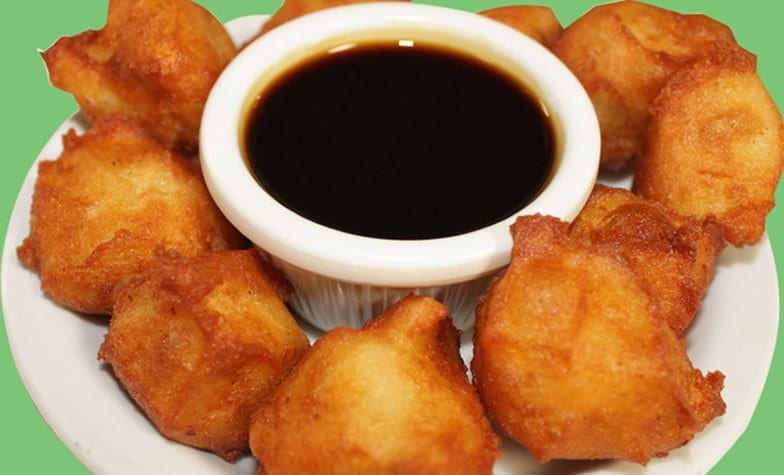 This is a delicious, traditional, sweet Salvadoran dish. You can also have them for dessert or as a side dish. There are three main types of fritters. Nuégados de yucca, or cassava fritters, are prepared with cassava root, salt and oil. There are also nuégados de masa, or corn-dough fritters. In this case, the corn dough is mixed with salt and oil. Finally, there are buñuelos de huevo, or egg fritters. The eggs are mixed with flour, baking powder, salt and water. The fritters are deep-fried and are served with honey, which is made with panela (unrefined whole cane sugar) and water.
18. Quesadilla (Salvadoran Sweet Cheese Cake)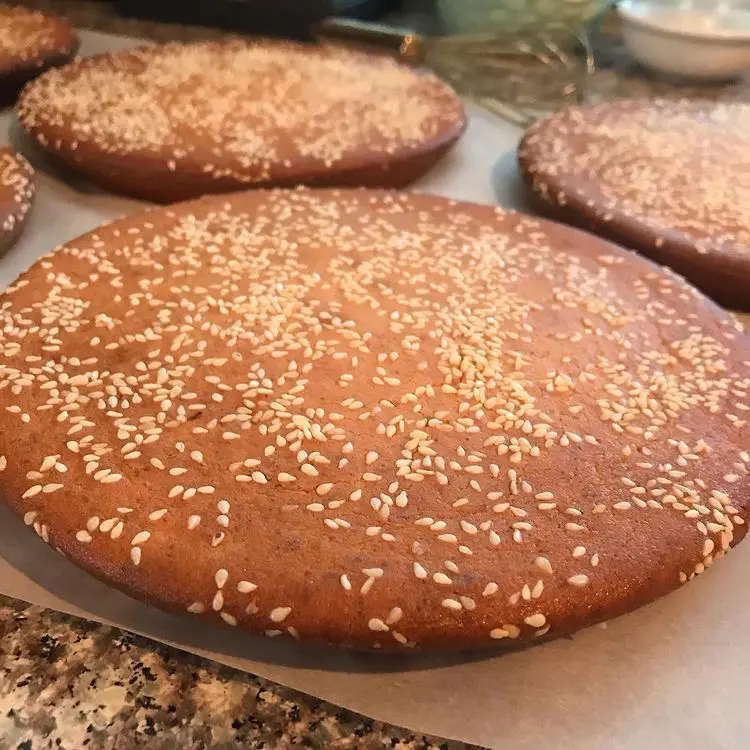 Quesadilla is a typical cheese-based dessert. The dough is made with cheese, eggs, milk, flour, and butter. It is topped with sesame seeds. It has a salty taste and a rich texture. You can enjoy this delicious dessert with a cup of chocolate or coffee.
19. Torrejas (French Toast with Sweet Sauce)
This delicious dessert is typically prepared during Holy Week. They are made with Torta de Yema, or yolk bread. The bread is cut into thick slices which are then soaked in a mixture of eggs, milk, cinnamon, sugar, salt, and oil. Each slice is then fried. Once all the slices are fried, they are left soaking in syrup made with Dulce de Panela, or unrefined whole cane sugar. Torrejas are sweet and have a rich texture.
20. Arroz con Leche (Rice with Milk)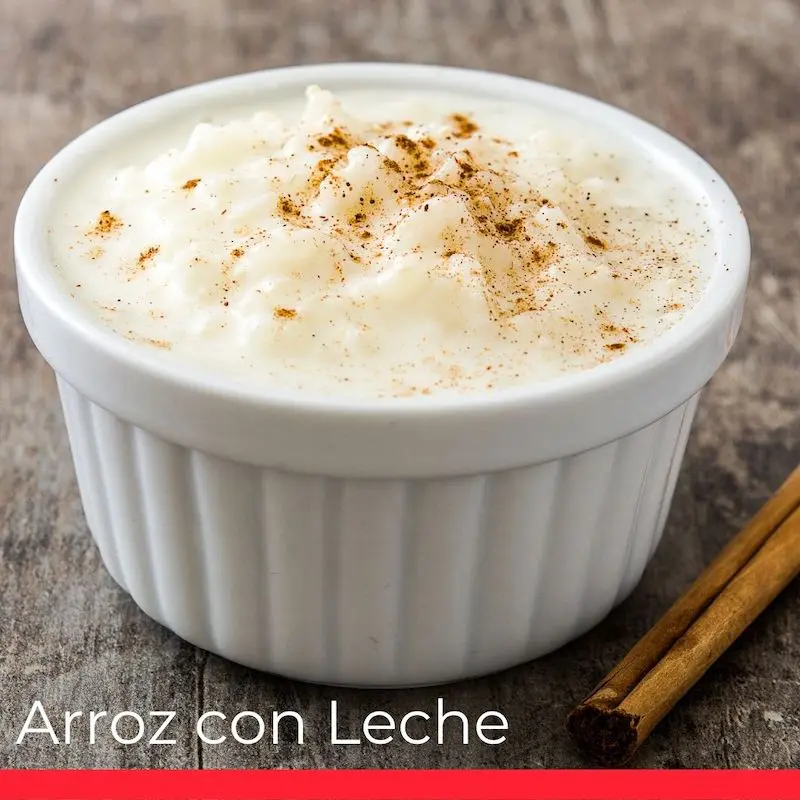 This is a very popular dessert in El Salvador. It has its origins in Spanish cuisine and it is quite simple to make. All you need to do is prepare a mixture of rice, sugar, cinnamon, and milk. Then you need to boil it until it is soft. You can eat it hot or you can let it sit and eat it cold.
21. Marquesote (Salvadoran Traditional Cake)
This traditional cake is made with flour, sugar, eggs, vanilla, and cinnamon. It is quite popular and it can be enjoyed with a hot cup of chocolate or coffee.
22. Tres Leches (Milk Cake)
Tres Leches literally means "three milks." It has this name because it uses three types of milk: natural, evaporated, and condensed milk. These are mixed with sugar, eggs, butter, cream, flour, baking powder, and vanilla. The cake is baked and left to sit. It is later refrigerated for several hours and served cold. It has a very sweet flavor and a very soft, spongy texture.
23. Atol de Elote (Corn Beverage)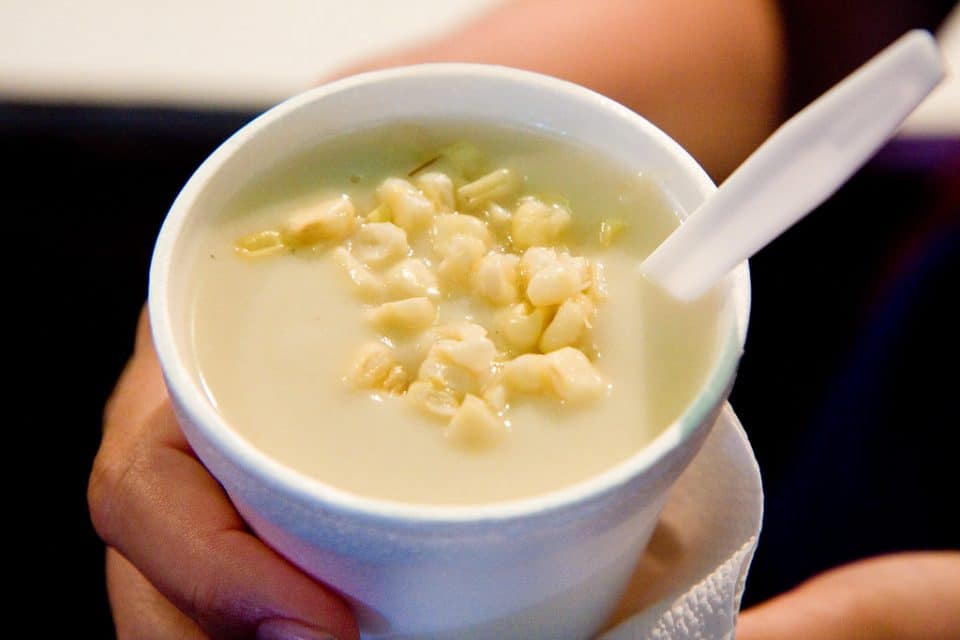 This delicious, rich beverage is served hot. It is made with fresh corn mixed with sugar, cinnamon, salt, milk, and water. It is sweet and has a thick consistency. This popular Salvadoran beverage originates from Mayan cuisine.
24. Ensalada (Fruit Drink)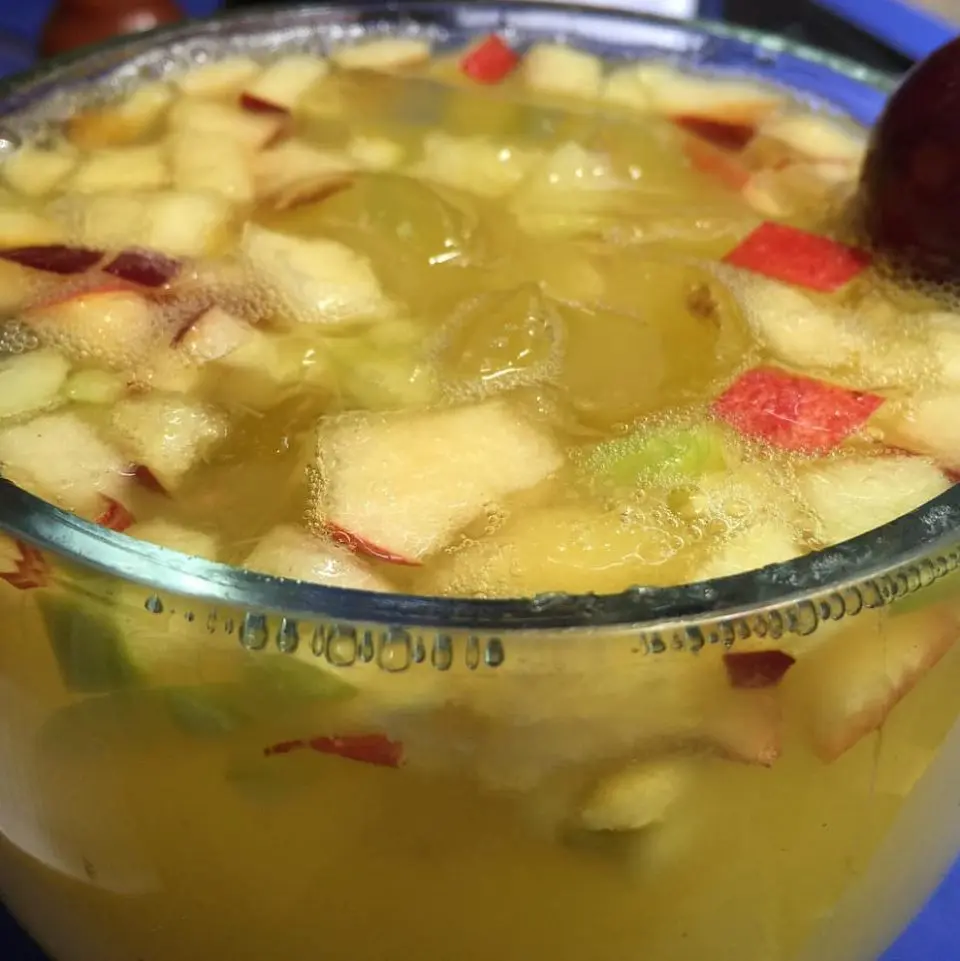 Ensalada is a very refreshing Salvadoran drink. It is mainly a mixture of fruits, including pineapples, apples, cashew fruit, and mamey, which is a tropical fruit with an apricot-like taste. Everything is chopped up into very small pieces and mixed with water, salt, and sugar.  
For more information on locally-grown fruits, check out our story on the most popular Salvadoran fruits.
25. Horchata (Rice and Seed Drink)
This is a thick, nutritional drink made with jicaro and sesame seeds, rice, peanuts, milk, cinnamon, and vanilla. It is sweet, creamy, and refreshing. You can find this delicious drink everywhere, from restaurants to local markets.
As you can be seen, Salvadoran cuisine is full of history and tradition. The indigenous influence is still heavily present in most of its meals, desserts, and beverages. However, many dishes portray the blend of indigenous tribes and European settlers. Be sure to enjoy most of these foods if you ever visit this beautiful Central American country.
---
Related: Most Popular Desserts in El Salvador
Related: Popular Christmas Foods in El Salvador