Most Popular 25 Dishes in Guatemala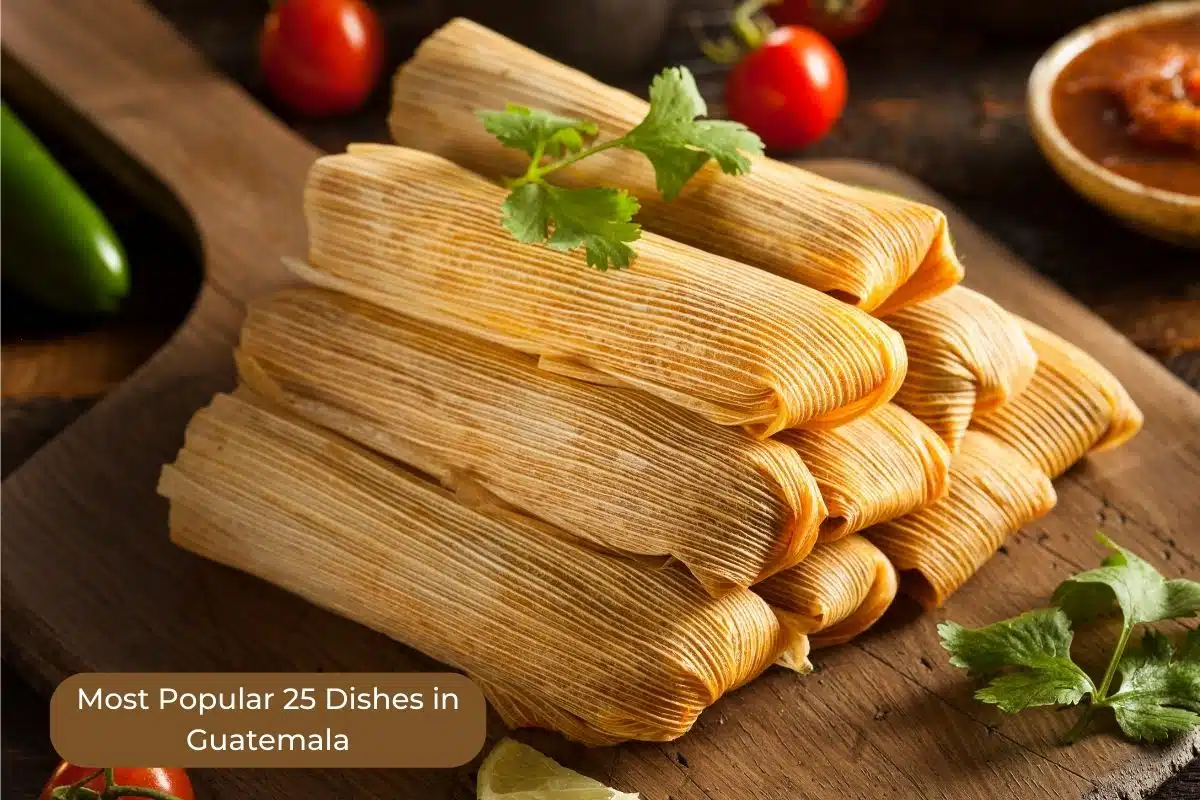 Curious about the finger-licking delights of Guatemala?
Guatemala is a vibrant and colorful tropical country with deep-rooted traditions and Mayan heritage. These traditions can be experienced not only in our customs but also in our delicious cuisine.
Our traditional Guatemalan dishes are made with key local ingredients like chilis, corn, and beans, which give them a unique taste. Each traditional recipe is passed down through generations, adding special touches that make every bite a delightful experience. So much so that every family proudly believes their cooking and recipes are the best.
In Guatemala, we have special dishes for specific occasions. For example, tamales are a must-have during Christmas, and Thursdays are reserved for enjoying Paches de Pollo. We also have a strong affinity for coffee and can't imagine a meal without tasty tortillas.
Prepare to experience the best dishes and foods of Guatemala that will leave you impatient to try them and eagerly share their deliciousness with everyone!
1. Beans
As simple as they sound, beans hold a special place in our hearts in Guatemala. Whether they are cooked, refried, and pureed, beans are an essential part of our meals. They are commonly served with fresh tortillas and sour cream.
In Guatemala, beans are a staple food and can be enjoyed at any time of the day. Each household adds its own unique twist, making the combinations endless.
2. Tortillas
The best of the best, tortillas are a delight no matter how you enjoy them. Whether paired with a main dish or simply sprinkled with salt, tortillas will leave you craving for more. In Guatemala, we have various types of corn with distinct colors that represent each region.
So, depending on where you visit in Guatemala, you will be offered the finest tortillas that are characteristic of that particular area.
3. Tamales
This tasty corn dish is a complete meal wrapped in corn leaves and cooked in special pots. It's a tradition passed down through generations to keep the delicious flavors alive. Whether it's true or not, this corn-based meal with pork filling and a special sauce made from tomatoes, roasted chilis, bell peppers, and spices is definitely something you should try.
Christmas is a time for special Tamales filled with olives, prunes, and the household's secret ingredients, making home the perfect place to savor these festive delights.
4. Chuchitos
This smaller version of a Tamales is made with different ingredients. It has less corn and uses chicken instead of pork, along with a different sauce. But don't worry, it's still incredibly delicious. It's served with tomato sauce and topped with cream or dry cheese.
If someone invites you to their house and offers you this as an afternoon snack, you're in for a real treat.
5. Pache de Pollo
Let's keep exploring different kinds of Tamales! There's a special version made with mashed potatoes instead of corn.
It's filled with tasty pork, sauce, and a special chili for a delicious combination. These tamales are steamed for hours until they're just right. Oh, and you can tell it's a "Pache" because it's wrapped in plantain leaves. They add a unique touch to the taste and look of this delightful treat.
As mentioned before, Guatemala is a country deeply rooted in tradition, and Paches are a special part of it. These delectable treats are traditionally enjoyed every Thursday.
The homes that prepare and sell them announce the arrival of a fresh batch by placing a red light at their door. It's a clear signal that it's Thursday and the Paches are ready to be savored.
6. Pepian
This tasty stew is made with simple ingredients that, when combined, create a flavorful and satisfying meal. It includes onions, tomatoes, sesame and pepitoria seeds, garlic, cinnamon, different chilis, and chicken.
But here's the secret: toasted and powdered plantain husk is used to thicken the stew. It adds a special taste and texture that you wouldn't expect.
You probably never imagined it, right?
7. Jocon
Guatemala is known for its amazing stews, and this one is no exception! You would definitely be amazed by its vibrant colors, thanks to cilantro, a blend of dried chilis, and tomatillo. But here's the fun part: it gets its thick and hearty texture from toasted bread crumbs. It's a favorite in every home, and you can find it in markets all around.
You won't want to miss out on this delightful stew!
8. Rellenitos
This undoubtedly tasty treat is made from plantain dough infused with vanilla and cinnamon. But here's the twist that makes it extra special: it's filled with refried beans, yes, you read that right, beans!
The combination of sweet and savory flavors is simply irresistible. To make it even more heavenly, it's fried to perfection and topped with a generous dollop of cream and a sprinkle of sugar.
9. Tostadas
Drum rolls, please… The irresistible flavors of Tostadas are ready to ignite a party on your taste buds! These crispy corn tortillas are fried to perfection, creating a satisfying crunch.
On top, you'll discover a delectable combination of creamy refried beans, tangy tomato sauce, or velvety guacamole. For an extra burst of flavor, we add savory onions, a sprinkle of special powdered cheese, and a fresh garnish of chopped parsley.
10. Champurradas
These sweet cookies are enjoyed as a daily breakfast treat. They are simple and plain, featuring flat round shapes and a sprinkling of sesame seeds on top. What makes them truly special is the Guatemalan tradition of dipping them in coffee, which enhances their deliciousness even further.
11. Kak 'ik
This highly acclaimed dish, known as Kak'ik in Mayan, is an appetizing red stew made with turkey. The rich color comes from a blend of chilis and tomato. The turkey is simmered for several hours, resulting in a tender and flavorful meat that is an absolute must-try.
12. Enchiladas
Have you ever had the pleasure of biting into a crispy tortilla topped with a fresh lettuce leaf?
Well, that's just the beginning. Picture this: a flavorful picadillo made with beet, savory ground beef, and a delicious tomato sauce. But wait, there's more! A slice of perfectly boiled egg, a sprinkle of fresh parsley, and a generous dusting of special powdered cheese (Parmesan / Cheddar Cheese Powder) complete this colorful masterpiece.
13. Fiambre
In Guatemala, during the Day of the Dead, families come together to enjoy a special dish called "Fiambre." It's a tasty mix of chicken, pork, sausages, cheeses, and veggies.
Legend says that long ago, families playfully threw their food at the cemetery, creating Fiambre by accident. Rather than fighting, they sat down and shared this delicious meal in harmony.
Food is like a magical remedy that not only quiets rumbling stomachs and brings wide smiles on our faces, but also enhances connections between people. When a snack is incredibly tasty, worries vanish, leaving behind moments of pure happiness.
14. Shucos
Get ready for a flavor explosion on the go! Indulge in the traditional Guatemalan street snack: a hot dog cooked on a tiny grill. Topped with guacamole, ketchup, mayonnaise, sausage, and cabbage, it's clearly a must-try.
Join the delicious hot dog revolution and treat yourself!
15. Coffee
Guatemala is famous for its exceptional coffee. If you've ever enjoyed a cup of Starbucks, you've likely experienced the remarkable taste of Guatemalan coffee.
Cultivated in Guatemala's distinct climate, the arabica beans offer a delightful blend of sweetness and nuanced flavors. It's no wonder this coffee has won numerous awards and even earned the title of "drink of the gods" by the Mayans.
16. Ponche
Diving into the world of special beverages, we encounter Ponche. It's a magical blend of dried apple, pineapple, plantain, papaya, raisins, prune, and cinnamon. These ingredients are dried and then boiled in water with sugar.
As it sits and is stored, the flavors intensify, making it even more delicious. Ponche is the perfect companion to enjoy alongside your Christmas Tamales.
17. Cocido
Cocido is a beloved comfort food that is prepared in every household at least once a week. It's so popular that you can even find pre-packaged "Cocido bags" in the markets, containing all the necessary ingredients to make it at home.
The key components include beef, carrots, potatoes, cilantro, chayote, squash, and corn. Served with steamed rice and a side of warm tortillas, this hearty meal can also be enjoyed in the busy marketplace.
18. Hilachas
This delicious beef stew, made with tomatoes, sweet chili, chile guaque, onions, carrots, potatoes, and garlic, is simply perfect. It's a staple in every household, prepared at least once a week.
Also, great news: you can also find it in the market, so make sure you don't miss out on this culinary delight!
19. Chirmol
Get ready for a smoky and delicious condiment that adds a special touch to any dish! Roasting tomatoes in the fireplace gives it that unique flavor.
This condiment is a must-have on the table, and you can drizzle it over eggs, meat, pork, tacos, or anything your heart desires. The secret lies in roasting the tomatoes with their skin intact and then mashing them up with cilantro, onion, and a squeeze of lemon.
20. Bunuelos
This incredibly tasty dessert is crafted with anise and a sweet sugar syrup, generously poured over deep-fried pastry balls. The combination of the tasty syrup, along with the irresistible crispiness and warmth of the dessert, will undoubtedly leave you craving for more.
21. Atol
This traditional beverage, made from corn, milk, and a generous amount of sugar, is a heartwarming treat that brings comfort to every Guatemalan, especially on cool streets. It is a popular hot drink often given to children before school or purchased from street vendors on the way to work.
22. Warm Chocolate
Drink
Chocolate anybody? It's the kind of treat you simply can't resist, and it has a magical way of keeping you longing for more, even when your tummy is happily satisfied.
In Guatemala, cacao beans have a fascinating history. They're not just for making candies, but also find their way into hearty stews. However, the star of the show is the traditional chocolate drink. With a delightful blend of cinnamon and cardamom, a warm cup of hot chocolate is a delightful treat you don't want to miss out on.
23. Mazapan
Mazapan is a beloved traditional candy made from almonds and lots of sugar. The almond paste is skillfully shaped and colored into a variety of figures, making it visually appealing.
The most popular forms resemble vibrant fruits, enticing every kid to want one.
24. Arroz en Leche
This drink is a must-try among the selection of hot beverages. It's prepared by boiling milk with sugar, vanilla, cinnamon, and rice, resulting in a deliciously warm beverage enjoyed throughout the country.
25. Escabeche
Finally, we have a traditional spicy sauce that accompanies every table. It's prepared with onions, carrots, vinegar, and a secret blend of fermented chilis, infusing the vegetables with a tingling heat and flavor. This versatile sauce is added to stews, Shukos, and practically anything you can find on a Guatemalan table.
---
Related: Most Popular Guatemalan Desserts