Galaretka z Kurczaka (Polish Aspic)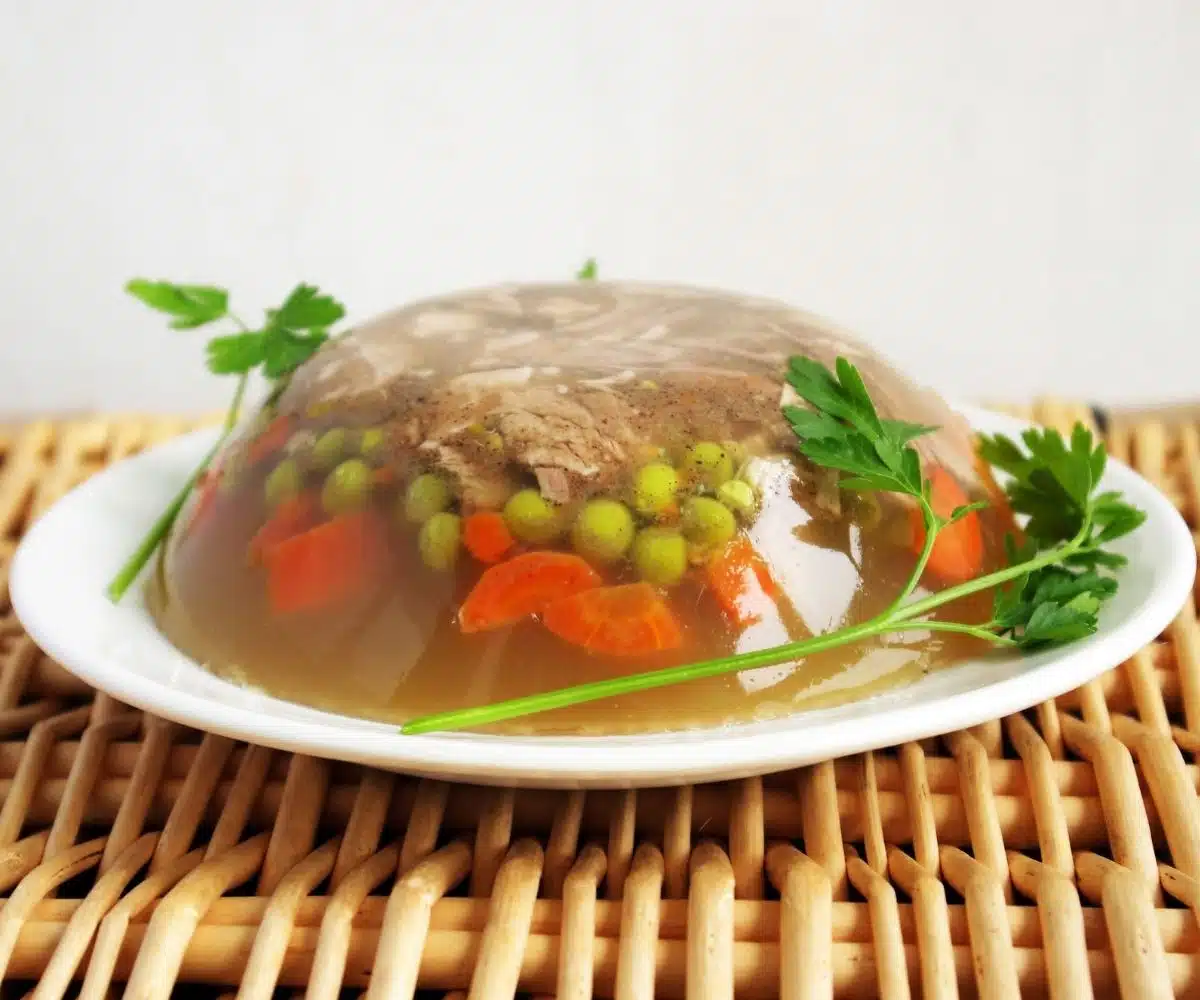 Galaretka z Kurczaka is a savory jelly made from chicken broth that has been meticulously prepared with tender chunks of chicken, aromatic vegetables, and a medley of seasonings. The result is a shimmering, translucent aspic that captivates the senses with its crystal-clear appearance and deep, comforting flavors.
A dish that requires some time to make, this jelly is usually reserved for Christmas and Easter. Galaretka is reminiscent of Ukrainian kholodets, but the latter is usually fatter. Simply put, this aspic is a gelatin soup with chicken, boiled and chopped carrots, and parsley inside. Alternatively, one can add boiled and sliced eggs.
Polish Aspic is served as an appetizer and accompanied with a traditional horseradish-and-beet relish, which beats wasabi in heat and piquancy. 
In Poland, they say you're not a homemaker if you cannot cook aspic. If proving you are one is a matter of honor, here is a step-by-step recipe to impress your guests.
Galaretka z Kurczaka
Galaretka z Kurczaka is a dish steeped in tradition and often served during special occasions and holidays in Poland. Its preparation requires time and attention, making it a labor of love for home cooks. It is a testament to the artistry of Polish cuisine, where simple ingredients are transformed into something extraordinary through patience and skill.
Ingredients
For the Chicken Broth:
2

large chicken legs

1

carrot

peeled and cut into chunks

1

onion

peeled and halved

1

small celery stalk

roughly chopped

5-10

black peppercorns

8

cups

water

salt to taste
For Assembling the Aspic:
12

sheets

of gelatin

or 4-5 tbsps of gelatin powder

1

cup

frozen sweet peas

2-3

cloves

of garlic

minced

4

hard-boiled egg

fresh parsley leaves

for garnish

cooked chicken pieces from the broth
Instructions
Preparing the Chicken Broth:
In a large stockpot, combine the chicken pieces, carrots, onions, celery and black peppercorns.

Add enough water to cover the ingredients completely. Season with salt to taste.

Bring the mixture to a boil over high heat. Once boiling, reduce the heat to low, cover the pot, and simmer gently for about 2-3 hours, or until the chicken is tender and cooked through.

Occasionally skim any foam or impurities that rise to the surface during simmering.

Once the broth is ready, strain it through a fine mesh sieve into a clean container. Discard the solids (carrots, onions, and celery). Allow the broth to cool, and then refrigerate it until the fat solidifies on the surface. Skim off and discard the fat layer.
Assembling the Aspic:
In a separate bowl, soak the gelatin sheets in cold water for about 5-10 minutes until they become soft and pliable. If you're using gelatin powder, follow the package instructions for rehydration.

Reheat a portion of the chicken broth on the stove, bringing it to a gentle simmer. Remove it from the heat.

Squeeze any excess water from the softened gelatin sheets and add them to the hot broth, stirring until completely dissolved. If using gelatin powder, simply sprinkle it evenly over the hot broth and whisk until dissolved.

Stir in the minced garlic into the broth.

Take a decorative mold or individual serving dishes (or glasses, coffee cups, or glass storage containers). Place one slice of hard-boiled egg on the bottom of each container, add a couple of slices of boiled carrot and 6-10 peas. Top with shredded chicken.

Carefully pour the gelatin-infused chicken broth over the chicken pieces. Ensure they are completely covered.

Refrigerate the molds or dishes for at least 3-4 hours or until the aspic sets and becomes firm.

To serve, dip the mold briefly in warm water to loosen the aspic. Invert it onto a serving platter or plate.

Garnish with fresh parsley leaves. When serving, generously drizzle with lemon juice (or white vinegar) and enjoy alongside some crusty bread. For an extra kick of flavor, consider adding a dollop of prepared horseradish as a delightful topping.
Notes