20 Famous Indian Chutneys, Sauces, and Dips
Chutneys are an integral part of Indian cuisine, being served and consumed for breakfast, lunch, and dinner. Chutneys are the highlight of most street food encounters in India. Many tourists have unwillingly fallen victim to red hot spicy chutneys while falling in love with their sweeter and tangier counterparts.
Each region has a very vivid and distinct collection of flora, vegetables, and spices which, when concocted together carefully, can form a symphony of flavors on your tongue.
Chutneys compliment many food items and elevate the overall dish to perfection, some help cut the heat using curd or jaggery, some add a fiery punch using a combination of dry red chilies and lentils, and some are just creamy and decadent made with freshly ground coconut and mild spices.
Chutneys and pickles find themselves on most Indian dining tables due to the fact that the majority of the population eats a veg-centric diet through the week. These preserves, pickles, and chutneys are an innovative way of adding more complex flavors to a simple healthy meal. Many traditional households still practice this wonderful art of fermentation and preservation even today.
Modern-day influences from global cuisine have also seen the rise of quite innovative recipes such as schezwan chutney and tandoori mayo become common household names relished by all.
1. Coconut Chutney
This super-simple chutney completes the classic meal of dosa and sambhar. One of the staples of Chennai cuisine, it is eaten with many different snacks and meals, including vada, idli, samosas, and more. It is also great alongside dal and rice.
It is usually made with grated fresh coconut, ground to a smooth pulp or pastes along with other ingredients such as coriander seeds, white lentils, mustard seeds, red chilies, and curry leaves.
According to The Routledge History of Food (2015), it is thought to have been developed by a British officer who had traveled in India. "The formula was eventually sold to Crosse and Blackwell, a major British food manufacturer, probably in the early 1800s."
But ancient Indian texts, such as the Vedas and Thirukural, have recordings of rudimentary recipes calling for spices and vegetables ground together to form edible condiments. Chutney is derived from the Hindi word "caṭnī" and the Northern Indian Urdu word "chaṭnī", meaning to lick.
The most common coconut chutneys include a white chutney flavored with asafoetida, a green chutney flavored with mint and coriander, and a red chutney including chilies and lentils.
Recipe: https://www.vegrecipesofindia.com/coconut-chutney-recipe-coconut-chutney/
2. Mint and Coriander Chutney
Fresh herby and zesty, this is a common dish served up north, usually paired with hot parathas straight off the griddle and accompanied with copious amounts of butter.
It has hints of ginger-lime and green chili, adding a spicy twist to this humble chutney.
This staple has also found its way into many street food combinations, the most famous being the Bombay sandwich, where butter is combined with the chutney and applied to a sandwich filled with mashed potatoes, cheese, capsicum, and onions.
If you find a vendor selling steaming hot bhajjis or veg fritters, you can be assured to find green mint and coriander chutney accompanying his fare.
Recipe: https://www.vegrecipesofindia.com/mint-coriander-chutney-recipe/
3. Tomato Chutney
Consumed widely in both North and South India, the main ingredient used is red tomatoes, while there are variants that call for green tomatoes. The tomatoes paired along with dry red chili usually give a hot and tangy condiment that should be relished with dosas or idlis, which are usually quite bland by themselves. Tamarind is also commonly added to this variety of chutney.
Other variations call for ginger, sugar, salt, aam papad (dry raw mango powder), raisins, dates, and spices, and additionally onion, garlic, and peanut or dal for the South Indian version.
Tomato chutney can be used to accompany myriad foods and dishes, such as kebabs, sandwiches, burgers, and meat dishes. A relatively new variety of dosa with tomato chutney inside and topped with a lentil and red chili powder mix.
Recipe: https://food.ndtv.com/recipe-tomato-chutney-105
4. Peanut Chutney
A finger-licking concoction made from roasted groundnuts or peanuts, this chutney is the perfect go-to accompaniment for a South Indian breakfast. It can be served with idli, dosa, vada, bonda, and pongal.
The humble groundnut is used widely in South India to make everything from gravies, chutneys, podis (flavored powdered chutneys), and even sweets. This version is most famous in the states of Andhra Pradesh and Tamil Nadu, which have an abundance of the crop.
The flavor is deeply earthy and seasoned with tamarind, red chilies, garlic, and roasted channa dal lentils (chickpeas), with a consistency similar to tahini. This is a favorite of children, who prefer it for its milder flavor.
Recipe: https://www.whiskaffair.com/peanut-chutney-recipe-andhra-style/
5. Shallot or Chinna Vengayam Chutney
Shallots are very delicate in flavor and have a hint of sweetness which gives them a unique flavor compare to a regular onion, which packs more sharpness and heat overall. This is a breakfast or lunch chutney that pairs with heartier dishes such as tatthe idlis (flat disc-shaped idlis), uthappams (rice-based pancakes with onions and carrots grated), and chapatis. This is usually a thicker chutney compared to the ones mentioned above and has the consistency of onion jam.
It is a labor of love as preparing the shallots is usually time-consuming. The main flavoring ingredients include dry red chili, tamarind, and garlic, supported by milder ingredients such as mustard seeds, lentils, and curry leaves.
Recipe:https://www.kannammacooks.com/chinna-vengayam-chutney-recipe/
6. Gooseberry or Amla Chutney
Amla is also known as Indian gooseberry. Amlas have high antiviral and antibacterial properties. Some people even like eating this sour fruit with salt and chili just as a small snack.
Amlas are commonly made into delicious chili pickles. This chutney is tangy and sour, making it the perfect match for spring rolls, samosas, and much more. Amlas has been known to boost your immune system and is considered a great source of vitamin c.
This simple chutney is made using ginger, garlic, chilies, and boiled amla or gooseberry. Asafoetida and cumin are also usually added to give the chutney a complete and well-rounded flavor.
Recipe: https://www.whiskaffair.com/dhaniya-aur-amle-ki-chutney/
7. Raw Mango Chutney
Raw mangoes are a treat found in Indian households just before the onset of the monsoon; during the summer heat most households either pickle, dry, or candy the fruit to make it last through the year.
The distinct flavor of dry mango powder is one of the quintessential flavors of North Indian cuisine. You can find it used extensively in chaats (snacks/finger food). The sourness of the mango paired with tangy lime and a hint of sweet tamarind pulp is a sweet memory of childhood for many young Indians growing up in the suburbs.
This chutney calls for ginger, lime, chili, jaggery, and black salt. It can be eaten with snacks or even paired with a chicken malai tikka to really elevate the dish!
Recipe: https://www.myweekendkitchen.in/coriander-raw-mango-chutney/
8. Tamarind and Date Chutney
A sweet and tangy concoction, you can find this chutney in 9 out of 10 places when you're out on a chat spree. Usually served along with green chili chutney, it helps cut the heat. It has a thick, luscious texture and is smooth and sticky.
This sweet chutney can be used for making chaat items such as pani puri, bhel puri, sev puri, aloo tikki, and even samosa or pakoras. It is a one-stop chutney recipe solution for all your chaat and fried savory snacks. The dates blend smoothly with tamarind pulp and the jaggery adds a sweet earthy note.
Recipe:https://www.archanaskitchen.com/date-and-tamarind-chutney-recipe-khajur-imli-chutney
9. Garlic and Chili Chutney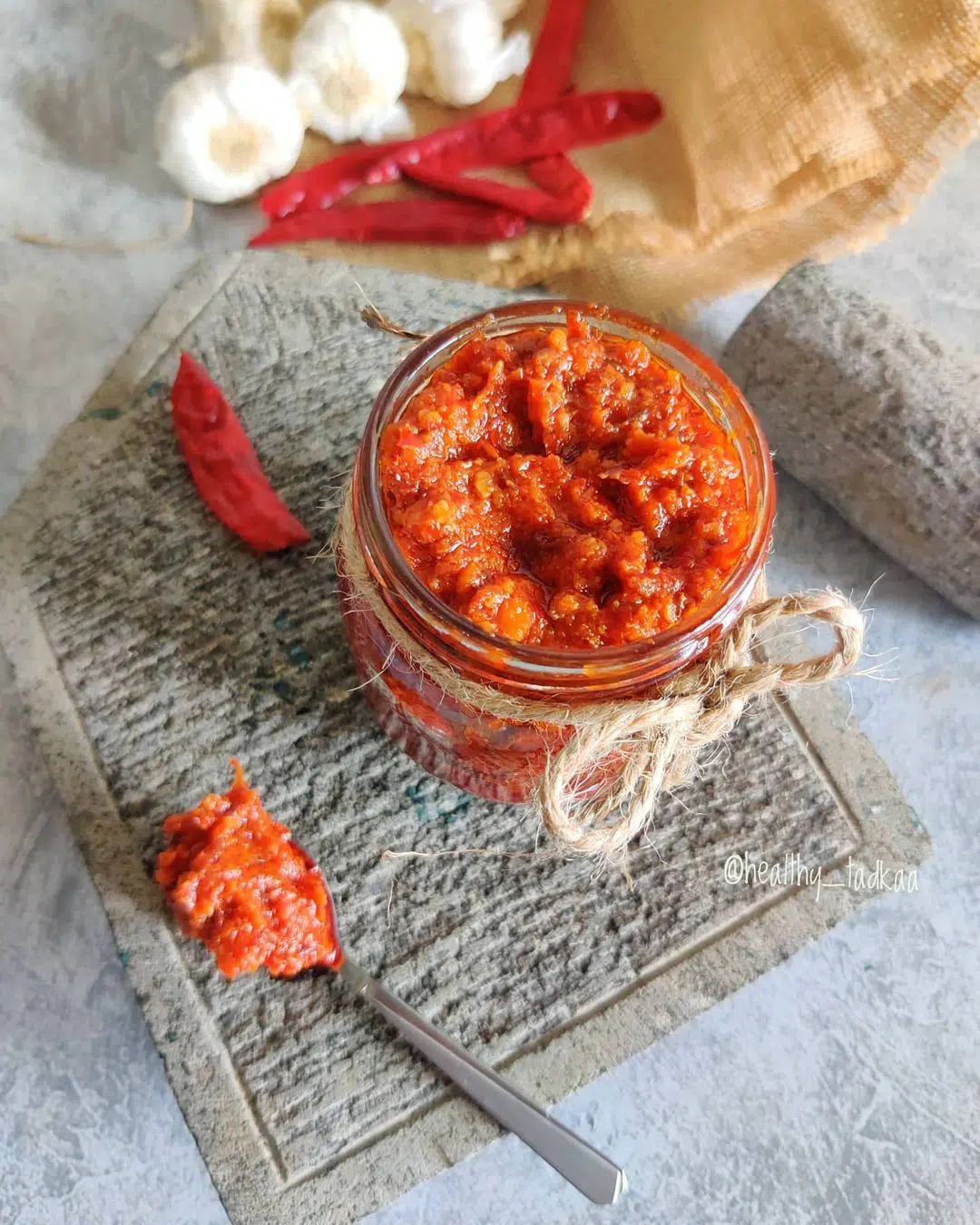 This lip-smacking combo of red chilies and garlic is packed with flavor and the heat is a treat. You can serve this chutney with snacks or even the main course of your choice. This fiery hot chutney can also be used as a spread for sandwiches and chaats.
A similar variant is used in the infamous masala dosa, which is stuffed with this wonderfully spicy chutney and potatoes. It has a long shelf life and can be saved for a couple of months when stored properly in an airtight jar.
Try experimenting with combinations of hot and mild chilies. I personally like a ratio of 30:70, Salem chilies paired with mild and colorful Kashmiri chilies.
Recipe: https://recipes.timesofindia.com/recipes/chilli-garlic-chutney/rs58458344.cms
10. Pineapple (Ananas) Chutney
Sweet, citric, and fresh! Three words to describe this tantalizing combination of pineapple, mint, and lime. This is an unconventional recipe usually found down south in India, where pineapples predominantly grow.
This chutney is best paired with seafood dishes and is a sweet alternative to the more conventional spicy ones. India is one of the largest producers of pineapples in the world and boasts a robust variety that is specific to the state of Kerala.
Add this chutney either to plain bread and top with flakes of freshly grilled fish. Or serve it as a dip with garlic prawns cooked in rich coconut oil.
Recipe: https://foodviva.com/pineapple-recipes/pineapple-chutney-recipe/
11. Roselle Chutney (Gongura)
Gongura, or the roselle leaf, is a variety of the hibiscus plant which grows widely in southeast Asia and parts of Fiji. This is a quintessential part of Andhra Cuisine. Andhra Pradesh is a state in southern India that lies on the east coast. It is a region widely known for its spicy food owing to a variety of pungent chilies cultivated there.
The roselle leaf is used for its tarty and spicy flavor. There are two varieties that are commonly consumed, the green-stemmed leaf and the red-stemmed, the latter being sourer. It is packed with antioxidants, iron, and folic acid. A pachadi or chutney made from these leaves is famous around the Indian Peninsular. It can be used to make a curry as well, pairing it with lentils, seafood, and meat is also common practice.
Recipe: https://www.archanaskitchen.com/andhra-gongura-pachadi-andhra-style-sorrel-leaves-chutn ey
12. Green Chili (Puli-Milagai) Thokku
A traditional recipe from the fabled kitchen of Chettinad, infamous for their fiery lamb and chicken preparation, comes this humble yet power-packed combination of spicy green chilies and sweet and tarty tamarind pulp. A condiment made in both the most humble households and the palace.
This dish can be enjoyed with a variety of bread and rice. It combines spicy green chilies with sesame or groundnut oil. Sautéing it adds richness to the overall dish, blending in fenugreek, jaggery (palm sugar), and tamarind to finish it off giving it a smooth and thick texture.
Recipe: https://traditionallymodernfood.com/puli-milagai-thokku-pachai-milagai-thokku-green-chilli-thokku/
13. Green Mango Chutney
Summer in South India means mangoes. But before the season starts, there is an abundance of ripe mangoes that can be used to prepare a myriad of lip-smacking delicacies. As at this time the sugars in the mangoes haven't fully developed, it is an opportunity to tap into the sour fruit essence of the raw green mango. A variety most commonly used for this dish would the parrot nose mango (kili mooku), also called the totapuri and known for its exceptional tarty flavor and sweet thin outer skin.
This chutney is made using mustard seeds, dry red chili powder, and raw green mangoes, either shredded or ground. It is served best with idli, dosa, and white rice.
Recipe: https://www.archanaskitchen.com/tamil-nadu-style-raw-mango-thokku-recipe
14. Cashew Nut Chutney
This condiment is a treat reserved for special occasions. A combination of roasted cashew nuts, roasted chickpeas, and coconut it is best served with dosa and ghee.
Cashew nuts are grown widely across the Indian subcontinent and are one of the country's major exports. This chutney takes 10 mins to make and is usually a go-to when you're trying to whip up breakfast in a hurry.
Recipe:https://www.easycookingwithmolly.com/2018/06/quick-cashew-coconut-chutney/
15. Dried Pomegranate Seed (Anardana) Chutney
Your day doesn't begin until you've had a piping hot cup of nun chai, pink salty, and creamy indigenous to the region with a fresh piece of bread from your local bakery. Girda or the local flatbread is a staple in most households and can be paired with sheep fat or ghee and eaten along with the tangy and spicy anardan chutney.
A dish hailing from the state of Kashmir from high up in the Himalayas, this is known for its tangy sweet and spicy combination. The main ingredient is dry pomegranate seeds. It is eaten with a variety of Kashmiri breads made in traditional bakeries called kandurs.
Lemon, cilantro, onions, and tomatoes are common ingredients used to make this chutney.
Recipe: https://www.archanaskitchen.com/anardan-chetin-recipe-pomegranate-seeds-chutney
16. Dry Prawn Chutney
Unlike the other dishes on this list, this is a dry powdered chutney usually made with grated coconut, shallots, dry red chili, and dry fish or shrimp/prawns. It is a dish found around the southern states of Tamil Nadu and Kerala and is known for its tangy yet spicy flavor. It is usually eaten with white rice, ghee, and dhal or steamed tapioca or cassava root and is usually served for lunch.
The tradition of drying fish is a common practice around the coastal regions, as it preserves the catch and ensures availability throughout the year. The fish or prawns are salt-cured and sun-dried, giving them a unique fishy umami flavor combined with the sea salt.
The flavors of this ingredient are released when allowed to simmer. In India, it is used in the cuisines of Odisha, Konkan, Malabar, Andhra, and Tamil Nadu.
Recipe: http://www.raniskitchenmagic.com/lunch/dried-shrimps-prawns-chutney-kerala-style- unnakka-onnakka-konju-chemmeen-chamanthi/
17. Nepali Momo Chutney
A simple yet deadly combination of fiery Dalle chilies and fresh tomatoes, this is the perfect chutney for an evening snack on a rainy day with hot pakodas or steamed momos (dumplings). It is a common find among dumpling vendors across the country and is a treat for the senses.
Northeast India is famous for its fiery chilies and this is no exception. This version is made with the small round dalle chilies. Pickled or fresh, they can both be used to make this chutney.
Recipe: https://www.shellyfoodspot.com/how-to-make-momos-chutneynepali-momo-chutney-recipe/
18. Cucumber and Lime Chutney (Dosakaya Pachadi)
A delicious fusion of cucumber, lime, coconut, and tamarind, this is a dish hailing from the Andra Pradesh region of South India. Simple and easy to prepare, this chutney is usually served for lunch along with white rice or chapatis. It is flavored with an aromatic tempering of dry red chilies, curry leaves, and mustard seeds.
The variety of cucumber used here is called dosakaya, unlike the conventional cucumber, which is yellow with green stripes running along the body and is usually used in sambar or lentil stew. It is called the Mangalore or madras cucumber colloquially.
Recipe: https://foodviva.com/chutney-raita-recipes/dosakaya-pachadi/
19. Banana Chutney
A contemporary recipe hailing from the coastal state of Kerala, this chutney uses ripe bananas and combines them with mint and green chilies to give you a refreshing punch. It is usually served for breakfast and eaten with puttu or steamed rice flour cakes.
This chutney can also be paired with string hoppers or appams. Sweet, tangy, and spicy, this is the ideal combination with relatively bland rice-based dishes and is perfect to start your day off on a healthy note. Combined with mustard seeds and fresh mint, the bananas are packed with antioxidants, potassium, and vitamins.
Add dry dates soaked in water to the mix and you have a delectable and tasty dip; combine with seasonal mangoes for a fruity punch.
Recipe: https://www.bawarchi.com/recipe/banana-chutney-rhnlaFadccggc.html
20. Yogurt Chutney (Raita)
The most common and famous of all the chutneys on this list is the traditional raita, which is made using dahi, or thick Indian curd, and is combined with fresh mint and coriander, grated cucumber, carrot, and onions, and tTopped with pomegranate pearls, a dash of cumin, and chat masala to elevate the flavor.
This is usually served as a side dish either with biriyanis or parathas and is consumed at all times of the day. Play around with the vegetables and herbs in the dish to come up with your own version – the sky is the limit. Similar to the Greek taziki, this is a very versatile dip that can be paired with a lot of dishes.
Recipe: https://www.spiceupthecurry.com/pomegranate-raita-recipe/
---
Related: 20 Most Popular Indian Curries