The 20 Most Famous Chefs in the World, According to Google
When you think about world-renowned chefs, what's the first name that comes to mind? Is it Gordon Ramsay? Jamie Oliver? Wolfgang Puck? Martha Stewart? With so many celebrity chefs constantly popping up in our news feeds and TV sets, it can be hard to keep track of what everybody's doing, and even harder to decide who's the cream of the crop – pun intended.
So, we stopped trying to figure it out on our own and went to Google for answers. We wanted to find out who are the 20 most popular chefs in the world, based on the number of search engine queries. As it turns out, Michelin stars, accolades, and an unlimited meme potential aren't as important as you might think.
You might even be surprised by some of the names missing from our list. Keep reading to find out which are the most googled chefs on the web in 2022, and learn more about how they earned a spot on the list.
1. Gordon Ramsay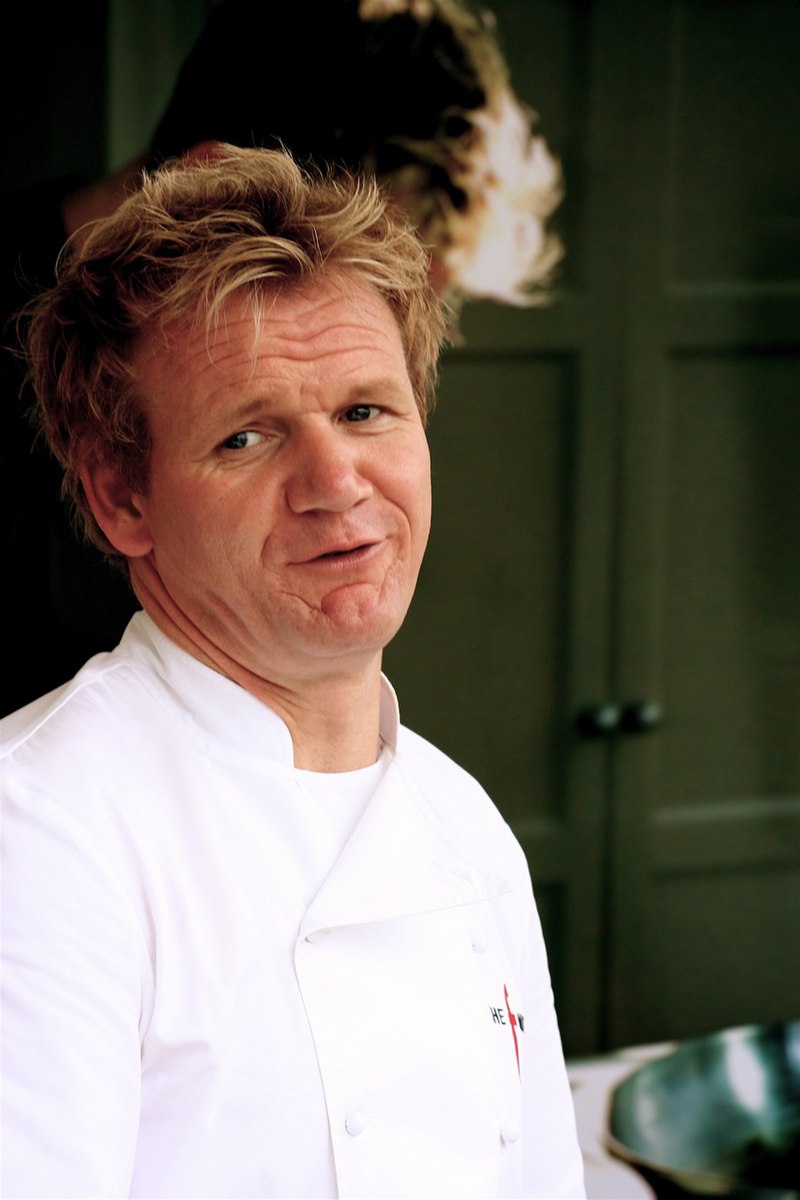 Surprise, surprise – to no one, Gordon Ramsay is the most popular chef in the world. The ultra-famous chef and TV personality is probably the most well-known celebrity chef ever. His career includes a total of 16 (!) Michelin stars, numerous awards, and a long list of popular TV shows, including Hell's Kitchen, MasterChef US, and Kitchen Nightmares, which have inspired endless memes.
Ramsay is well-known for his cooking talent, his on-screen charisma, and his fiery temper – there is a lot of beeping going on whenever he makes a TV appearance, that's all we're going to say.
He was appointed Officer of the Order of the British Empire in 2006, by Queen Elizabeth II, he has a black belt in karate, he loves cycling and fitness, and he's even competed in several Ironman events. It looks like Gordon Ramsay can pretty much do anything.
2. Guy Fieri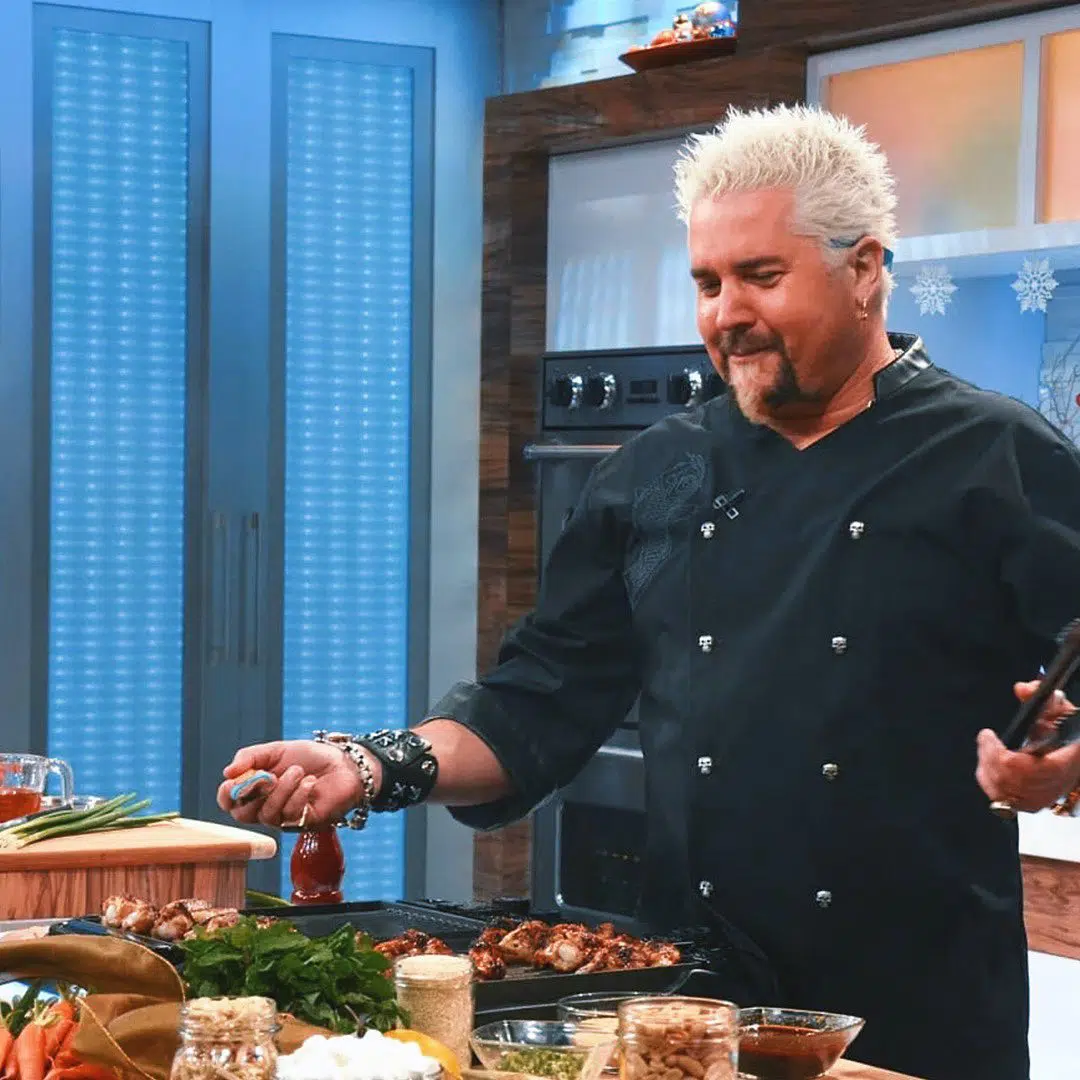 According to the number of searches on Google, Guy Fieri is the second most popular chef in the world in 2022.
The Emmy-award-winning American restaurateur is one of the most beloved TV personalities in the biz – and one of the most prolific. He's featured in various cooking programs on the Food Network, such as Guy's Big Bite, Diners, Drive-Ins and Dives, and Minute to Win It.
Besides his television work, Fieri has written several cookbooks and reportedly owns more than 70 restaurants and 14 brands. And while he does not have a Michelin star to his name, Fieri has other accolades to be proud of.
A new three-year, $80 million contract with the Food Network signed in 2021 makes him the highest-paid chef on cable television.
3. Michael Caines
The third most popular name on Google hails from Devon, England, and is one of the UK's most celebrated chefs.
In 2017, Michael Caines opened Lympstone Manor, a luxurious country house and hotel built around a historic 1760's estate in East Devon. Caines dedicated three years of his life to transforming the Georgian mansion into a world-class destination for food lovers.
His hard work paid off, and Lympstone Manor earned a Michelin star just six months after opening. Caine's resumé does not end there; he cooked for the British Prime Minister at 10 Downing Street and has made several appearances on MasterChef and other TV broadcasts. Impressively, he's done all of this one-handed, as he lost his right arm in an accident back in 1994.
Michael Caines is only one of the four Black chefs who've been awarded a Michelin Star.
4. Jamie Oliver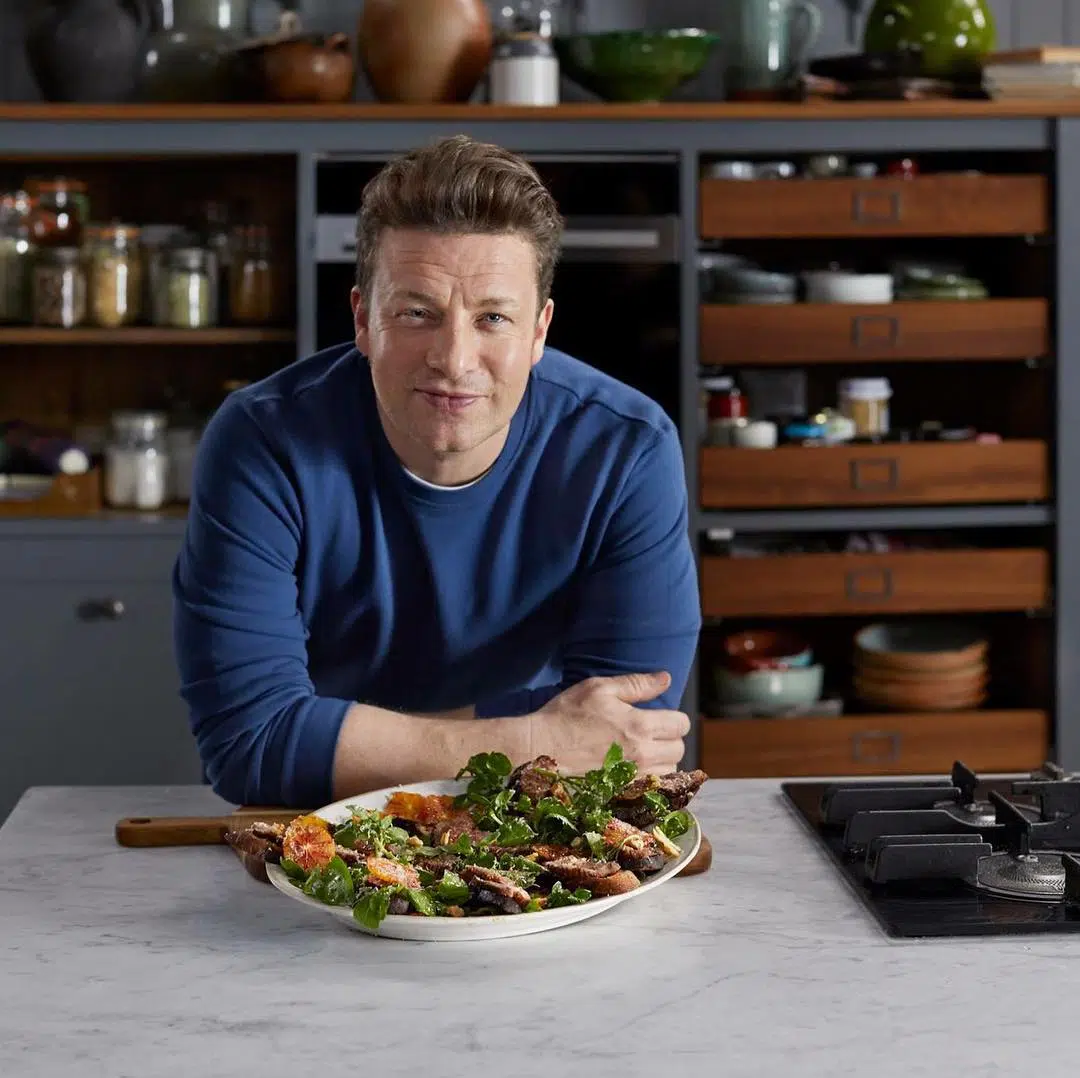 The fourth most popular chef in the world needs no introduction. British chef Jamie Oliver is one of the most beloved figures in the business, known for his casual and relaxed approach to modern cuisine. He has featured in more than 30 series, including the award-winning The Naked Chef, Jamie Oliver's Food Revolution, and Jamie's Kitchen.
Oliver is also the second best-selling author in the UK, surpassed only by Harry Potter author J. K. Rowling, and is also somewhat of a movie star, voicing the character of the health inspector in 2007's Ratatouille.
5. Bobby Flay
American chef Bobby Flay is another popular figure that's been making the rounds on our television sets for many years. He's featured on no less than 16 series on the Food Network and owns several restaurants in Las Vegas, New York City, and Atlantic City.
Flay has a degree in culinary arts and is a graduate of the French Culinary Institute in NYC, which was at that time one of the best culinary schools in America (the school is now permanently closed).
Fun fact: before getting his break in the industry, Flay worked the floor at the American Stock Exchange. However, the stock market wasn't for him, and he wasted no time in turning to the kitchen.
6. Giada De Laurentiis
Italian-American chef Giada De Laurentiis is the most popular female chef in the world, based on the number of Google searches.
Born in Rome, Italy, De Laurentiis grew up in Los Angeles and got her start in the cooking industry by studying at Le Cordon Bleu in Paris. One of her early gigs was working at Spago, Wolfgang Puck's first restaurant located in Beverly Hills.
Throughout her career, De Laurentiis has been featured on various Food Network shows, including Chefography, Behind the Bash, and Giada's Weekend Getaways. Her outstanding TV work earned her three Daytime Emmy awards.
She is the author of several cookbooks, including Everyday Italian Recipes, one of the best Italian cookbooks out there.
7. Rick Stein
Born in England in 1947, Rick Stein is one of Britain's top celebrity chefs. He runs 12 restaurants across the UK and two restaurants in Australia, where he lived in his youth. Stein's career as a chef started after graduating from Oxford University and running a small nightclub with a friend.
When the club was closed down by police, the pair decided to make good use of their restaurant license to avoid bankruptcy.
Besides his restaurant businesses, Stein has also been featured on various BBC cooking programs, including Rick Stein's Seafood Odyssey, Taste of the Sea, and Great Railway Journeys, and has published many acclaimed cookbooks. Check out his famous Greek chicken pie recipe.
8. Rachael Ray
If you use phrases like 'Oh my gravy!' or 'yum-o' while cooking, you should thank American chef Rachael Ray. One of her catchphrases, 'EVOO' (extra virgin olive oil), was even added to the Oxford American College Dictionary. It's a phrase that Ray has used heavily on the Rachael Ray and 30-Minute Meals series.
The shows earned her two Daytime Emmy wins and two nominations, and are two of the most-watched programs on television. Rachael Ray has been named one of Time's most influential people and earned a People's Choice Award for Favorite TV Cook.
9. Wolfgang Puck
Austrian chef Wolfgang Puck is one of the most renowned chefs in the world, and for good reason. Before moving to Los Angeles in his 20s, Puck trained with acclaimed chefs in Paris and Monaco and did a two-year stint in Indianapolis.
He kick-started his career in LA by working as a chef at Ma Maison on Melrose Avenue. The restaurant made Puck famous and was a hotspot for Hollywood celebrities until its closure in 1985.
However, Puck became even more popular after opening his very first restaurant, Spago, on the Sunset Strip, which earned two Michelin stars. Zagat even named Spago the most iconic restaurant in Los Angeles in 2013.
Puck has earned a star on the Hollywood Walk of Fame, has written several cookbooks and has made appearances on dozens of TV shows, including Keeping Up with the Kardashians, Frasier, The Simpsons, and MasterChef.
10. Art Smith
Florida native Art Smith is the 10th most popular chef on the internet, based on our research. An expert in Southern Cuisine, Smith is probably best known for being Oprah Winfrey's chef from 1997 to 2007.
He's also cooked for various political figures and heads of state, including former Florida governors Jeb Bush and Bob Graham, former US President Barack Obama, and the King of Sweden.
Smith offers his cooking advice on Oprah.com and O Magazine every month and is the author of three award-winning books. Since 2011, Smith has served as head chef at Italian restaurant Joanne Trattoria in NYC, a venue owned by Lady Gaga's parents.
11. Matty Matheson
Growing up, Canadian chef Matty Matheson spent his summers at his grandfather's restaurant in DeSable, The Blue Goose. That's where he first discovered his talent for handling meat and got his first taste of a culinary career.
He got started by working at Le Select Bistro, and then at La Palette, and in 2010, he became executive chef at the Parts & Labour restaurant in Toronto.
Matheson's skill as a chef and his outgoing and vivacious personality got him noticed by Vice Media and he featured in their online show Munchies. Viceland series It's Suppertime and Dead Set on Life soon followed, as well as an appearance on Jimmy Kimmel Live! Since the start of the Covid-19 pandemic, Matheson has opened three pop-up restaurants in Toronto and Fort Erie.
12. Amaury Guichon
Although pastry chef Amaury Guichon is just 31 years old, he has already made a name for himself in the industry and is currently one of the most googled chefs on the internet. Born in Cannes and raised in Geneva, Switzerland, Guichon started his culinary training at just 13, and soon after that, he was working in bakeries in Geneva and Paris.
In 2010, when he was just 19 years old, Guichon earned the national 'Meilleur Apprenti de France' (the Best Apprentice in France) award, a highly distinguished title. Guichon's skills have gained him more than 5 million Instagram followers, where he shares his unique pastry designs and ultra-realistic chocolate sculptures.
13. David Chang
Next on our list is David Chang, an American author, TV personality, and founder of the Momofuku restaurant group, which operates various locations in NYC, Sydney, Australia, Las Vegas, Los Angeles, and Toronto.
Momofuku Ko in New York City earned Chang two coveted Michelin stars, which the restaurant has retained ever since.
Besides his restaurant operations, Chang is also a creator on Netflix, starring in and producing two shows so far, Ugly Delicious and Breakfast, Lunch, and Dinner. He is also host of his own podcast on the Ringer network, dubbed The Dave Chang Show, and published his bestselling memoir, Eat a Peach, in September 2020.
14. Alex Guarnaschelli
World-renowned chef Alex Giarnaschelli grew up with a love for cooking and food, and she was inspired by her mother, cookbook editor Maria Guarnaschelli, to follow in her footsteps. Her experience working in some of the leading restaurants in the world, including the world-famous, three-Michelin-starred Guy Savoy restaurant in Paris earned Guarnaschelli an unrivaled reputation in the business.
She currently serves as executive chef at the Butter restaurant in NYC and is a popular television personality. Guarnaschelli has appeared on shows like The Kitchen, Iron Chef America, All-Star Family Cook-off, and The Best Thing I Ever Ate.
She currently hosts two shows on the Food Network, Supermarket Stakeout, and Alex vs. America.
15. Vikas Khanna
Indian chef Vikas Khanna moved to the United States in 2000 on a mission to popularize Indian food in America. His love for cooking was instilled in him by his grandmother, as he grew up watching her prepare delicious dishes in his hometown of Amritsar.
After arriving in the US, Chef Khanna trained at the Culinary Institute of America and landed a job as chef at the Indian restaurant Junoon, which held a Michelin star for six years.
Since 2011, Khanna has served as the host of MasterChef India, and has appeared on Kitchen Nightmares, Hell's Kitchen, Throwdown! With Bobby Flay, and The Martha Stewart Show. When he's not preparing Michelin-star-worthy dishes, Khanna dabbles in the cinematic arts as a producer and director.
His directorial debut, The Last Color, was screened at the Cannes Film Festival and made the final list of eligible Best Film contenders at the 2020 Academy Awards.
16. Antonia Lofaso
Los Angeles-born chef Antonia Lofaso got her start in the industry by training at the esteemed French Culinary Institute in New York City, and by running Sean 'P. Diddy' Combs' restaurant, Justin. She also worked at Wolfgang Puck's popular Spago restaurant and was a contestant on Bravo's cooking show, Top Chef.
Lofaso is the co-owner and executive chef of three Los Angeles restaurants: DAMA, Black Market Liquor Bar, and Scopa Italian Roots. A good friend to Guy Fieri, Lofaso made an appearance in January 2022 as the lead judge on Fieri's show Guy's Chance of a Lifetime.
17. Duff Goldman
Jeffrey Adam 'Duff' Goldman is a Baltimore-based American pastry chef, author, and TV personality. His pastry shop, Charm City Cakes in Baltimore, was featured on the Food Network's Ace of Cakes series, and over the years, Goldman has appeared on Iron Chef America, Man v. Food, The Tonight Show with Jay Leno, and Oprah.
He famously made the cakes for former US President Barack Obama's second inaugural ball in 2013, and has prepared desserts for the cast of Lost, 30 Rock, and Tom Clancy.
18. Monica Galetti
New Zealand chef Monica Galetti is best known for being a judge on BBC's MasterChef: The Professionals since 2009. She used to work as a senior sous-chef at the renowned Le Gavroche restaurant in London, and is currently the proprietor of Mere, an upscale French cuisine restaurant in the heart of the British capital city.
In early 2002, she was announced as a judge on The Platinum Pudding Competition, a nationwide baking contest that aims to find a new pudding dedicated to the Queen's Platinum Jubilee.
19. Robert Irvine
British celebrity chef and fitness buff Robert Irvine is a popular figure on television, having appeared on numerous shows, including Dinner: Impossible, Restaurant: Impossible, Worst Cooks in America, Operation Restaurant, Restaurant Express, and Guy's Grocery Games.
When he's not filming for his various Food Network appearances, Irvine owns and operates two restaurants: Robert Irvine's Public House at the Tropicana Las Vegas, and the Fresh Kitchen by Robert Irvine, which is located within The Pentagon in Arlington.
Irvine served in the British Royal Navy and worked as a chef on the Queens' former royal yacht, Britannia. Fun fact: Men's Fitness named Irvine one of the '25 Fittest Guys in America' in 2007.
20. John Torode
Australian-British chef and restaurateur John Torode moved from Melbourne to London in the early 1990s. He began his UK career by working as a sous chef for the Conran Group under the legendary Sir Terence Conran.
During his time at Conran's iconic restaurant Quaglino's, he became good friends with MasterChef presenter Gregg Wallace, and the pair even wrote a cookbook together.
Torode and Wallace have been hosting BBC's revamped MasterChef TV show since 2005. In 2019, Torode married Celebrity MasterChef winner Lisa Faulkner; the pair host their own weekend cooking show, John and Lisa's Kitchen, broadcast on ITV.
21. Anne Burrell
Celebrity chef Anne Burrell has quite an impressive resumé to her name. A graduate of The Culinary Institute of America, New York native Burrell is the host of the Food Network's show Secrets of a Restaurant Chef, and co-host of Worst Cooks in America.
A former Iron Chef, Burrell also starred as Mario Batali's sous chef on Iron Chef America and has made several other appearances on various popular cooking shows. Throughout her career, Burrell has worked alongside other renowned chefs, including Lidia Bastianich, her son Joseph Bastianich, and Mario Batali.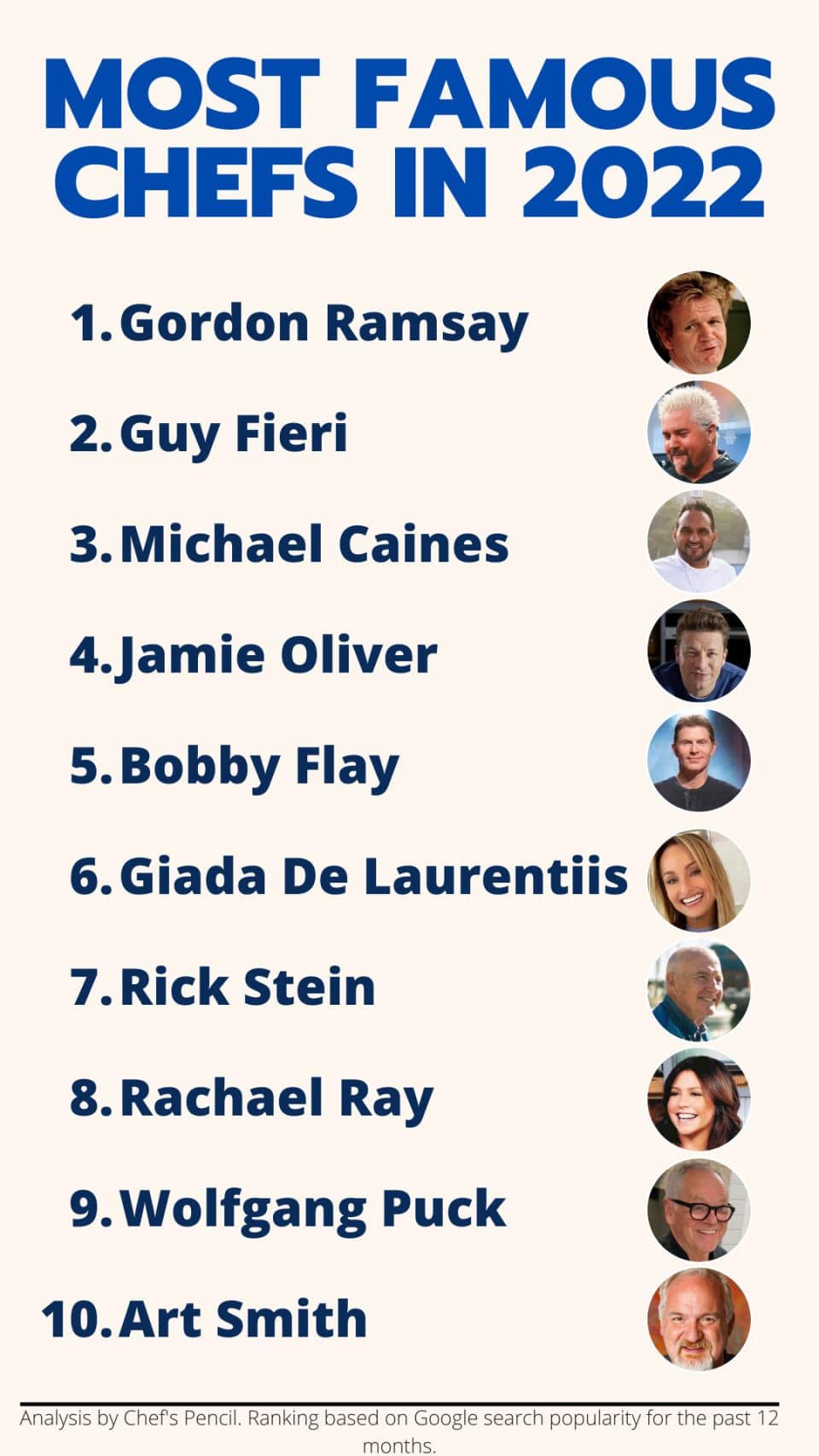 Methodology
We turned to Google Adwords to determine the world's most popular chefs and ranked them based on the number of name searches for the past 12 months (Feb-2021 through January-2022).