These Are the 9 Most Iconic New York Foods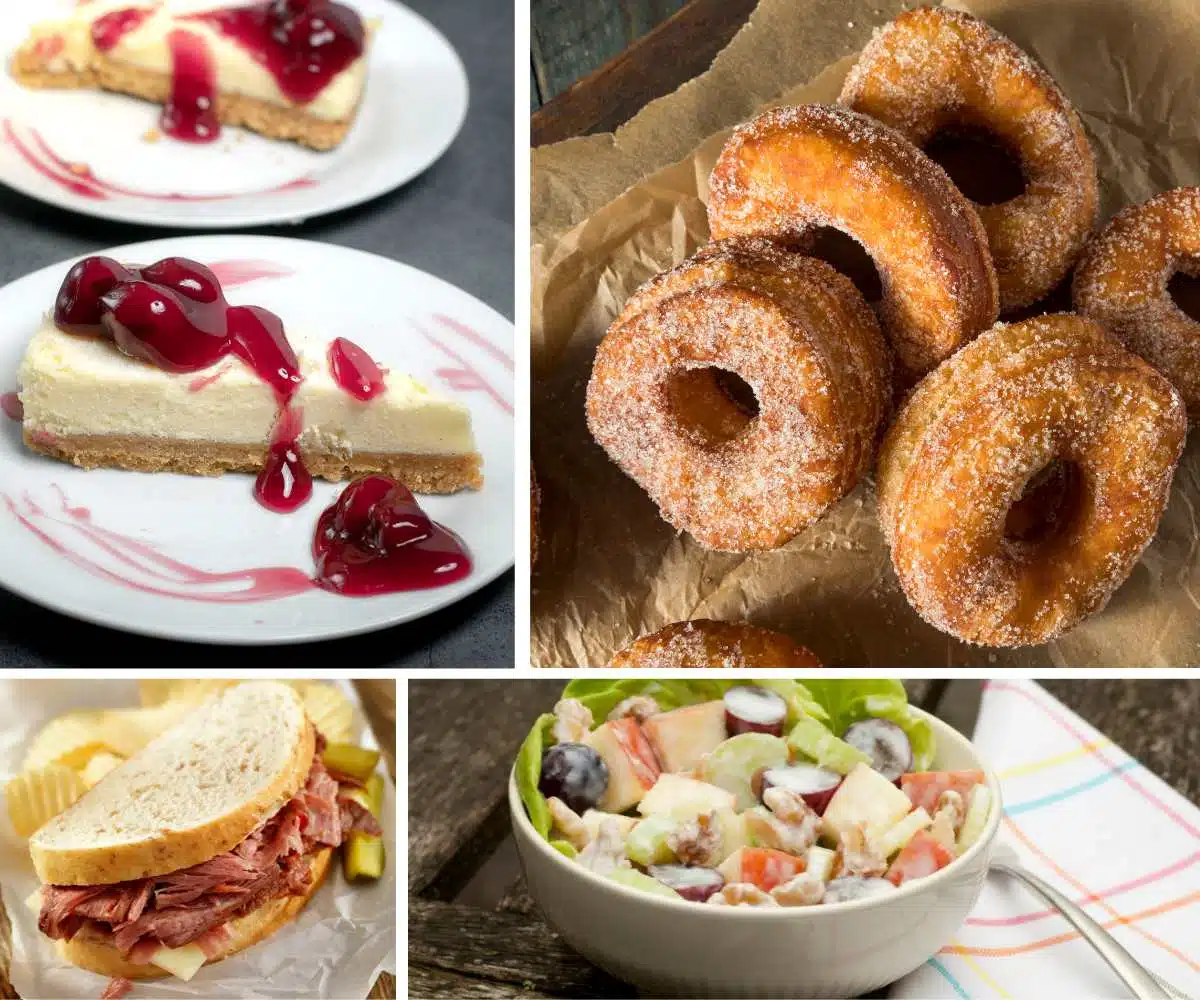 Most people know that New York is famous for pizza, but what about all the other incredible foods that originated in this great state?
New York has quite a few iconic dishes and many have a rich history. Let's take a look at all the foods that make New York a culinary destination. Just be warned that you will be pretty hungry by the end of this article. 
9 Famous New York Foods
1. Pizza
New York claims to be the birthplace of modern pizza. While this fact may be up for debate, the state is definitely known for its delicious pizza.
New York-style pizza has a very thin crust topped with lots of sauce and cheese. NY pizza is cooked in very hot deck-style ovens. Most pizzerias in New York will sell pizza by the slice or as a whole pie. The ability to just grab one slice and go is part of the reason why NY pizza is so popular- it is easy and good!
There are many theories as to why NY pizza is better than pizza in other parts of the country. Some say that New York water helps make the pizza dough taste better. The fluoride added to the water may make a difference in the flavor of the pizza.
Another theory is that the ancient pizza ovens in NYC have absorbed decades of cheese and sauce vapors that are then imparted onto any cooking pizzas. Or maybe it is just that New Yorkers know how to make a great pizza using high-quality ingredients and cooking techniques.
Whether you love New York pizza sauce, the shredded mozzarella, or that delicious thin crust, there is no doubt that pizza is an iconic New York food.
2. Buffalo Wings
Buffalo wings, a quintessential American dish, were first created in Buffalo, New York. They quickly became very popular and are still a staple on almost every bar menu.
Buffalo wings are essentially chicken wings that have been baked, fried, or even grilled. But the most important part of buffalo wings is the buffalo sauce. The sauce is buttery and rich. It is made with cayenne peppers and can be made spicy or mild. Buffalo sauce is a bright orange which makes the wings a distinctive color.
Buffalo wings are often served with ranch dressing or blue cheese dressing to help dull the spice. If you visit New York, ordering a plate of buffalo wings is essential.
3. Pastrami Sandwich
The pastrami on rye bread sandwich is one of the most popular sandwiches ever. It was first created on the lower east side of Manhattan.
Two immigrant friends exchanged pastrami for the use of an icebox inside a butcher shop. When one of the friends decided to open a delicatessen, he served the pastrami on rye bread and it was an instant hit.
It's still debated whether the original pastrami recipe is of Turkish or Romanian origin. One of the most popular Turkish cured meats is called pastırma, which is dry-salted beef, air-dried and coated with çemen, a mixture of ground fenugreek, cayenne, garlic, salt, and water.
It's similar in taste and texture to pastrami. However, some claim that the pastrami recipe was brought over from Romania, where you can find a very similar cured meat called pastrama.
Regardless of the pastrami recipe origin, the pastrami on rye is considered to be New York's signature sandwich. It is a staple in almost every deli in the city, especially in predominantly Jewish neighborhoods.
The sandwich is usually topped with spicy, brown mustard and often served with a pickle on the side. It is packed with flavor and is still made the same way it was when it was first created in 1888. 
4. Cronut
The cronut is one of the newer trendy New York foods on our list but it definitely deserves to be recognized. The sweet treat was created by famous pastry chef Dominique Ansel who developed the dessert in 2013.
The cronut is a combination of a donut and a croissant. It is light and fluffy like a donut with a sugary glaze topping but it has rich, buttery layers of pastry just like a croissant. 
The cronut became extremely popular the minute it stepped onto the New York food scene. Hundreds of people still line up outside Dominique Ansel Bakery every morning to grab a freshly baked cronut. The bakery limits production to 350 a day but many other New York bakeries no create their own version of the cronut.
A food this popular is definitely something that you need to try next time you visit New York so you can see for yourself why it is so great! 
5. New York Cheesecake
The New York cheesecake is an iconic American dessert that is quite different than other types of cheesecake.
The New York cheesecake was accidentally invented in 1872 when a dairy farmer in Chester, NY created cream cheese. He was trying to make a type of French cheese called Neufhatel, but he made a thick, spreadable cheese instead. Once people discovered how delicious cream cheese was, It started to be used to thicken cakes and add a creamy taste to desserts. 
The actual recipe for cheesecake has evolved over the years, with almost every state making its own version of the sweet treat. However, the New York-style cheesecake still reigns supreme. So what makes it so different? One main ingredient: sour cream. 
New York cheesecake is made with sour cream which gives the cheesecake a tangy taste that compliments the sugary taste of the cake. New york cheesecake is super thick and dense with very little air whipped into the batter. Thick fruit toppings are also common in New York-style cheesecakes.
Try a cherry-topped New York cheesecake or maybe a blueberry slice. Of course, it is delicious served plain! 
6. Manhattan Clam Chowder
Manhattan clam chowder is far different than creamy, thick New England clam chowder. It is definitely a staple of New York City and one that will stick around for decades.
Manhattan clam chowder is tomato based rather than milk-based. Tomato-based chowders first became popular in the 1800s. The large population of Italians immigrating to Manhattan caused the spike in tomato popularity. Tomatoes ended up in everything! This, combined with the large population of Portuguese fishermen, led to the creation of Manhattan clam chowder.
Manhattan chowder is packed with vegetables like carrots, onions, celery, and tomatoes. The chowder is still on hundreds of restaurant menus and is a signature dish of the city.
7. General Tso's Chicken
You may not think of New York when you order your Chinese take out General Tso's chicken dish. However, the popular Asian meal was first created in New York.
A chef in New York City first made General Tso's chicken in the 1950's. He wanted to make a sweeter version of a traditional Hunanese style chicken to appeal to Americans. The chef named the dish after a respected military leader from the Qing dynasty.
General Tso's chicken now gracces almost every Chinese takeout menu and is one of the most popular take out dishes across the country. Yet, New York can still claim the beloved dish as it's own!
8. The Manhattan
The exact origin of the Manhattan cocktail is tough to pinpoint but it is an iconic New York drink none the less. The drink goes all the way back to the late 19th century. It is a super strong mix of bourbon whiskey, vermouth and bitters.
The ingredients are added to a cocktail shaker of ice, shacked for a few seconds and then strained into a martini glass. A single maraschino cherry is the classic garnish for the Manhattan, adding a pop of color to the tan drink. 
The Manhattan has been the drink of choice for celebrities, presidential candidates and royalty. However, anyone can enjoy a Manhattan when visiting New York- every bartender in the state will know exactly how to make this New York classic! One sip and you will be able to taste the essence of the city- its strong and tough to swallow but also sweet and beautiful at the same time. 
9. Waldorf Salad
The Waldorf Astoria hotel in the heart of New York City first created the waldorf salad around 1890. The salad is made with crisp apples, grapes, walnuts, celery and a sweet mayonnaise dressing. The mix sits on top of a bed of lettuce, making it an amazing appetizer or a perfect light meal. 
The Waldorf hotel became known for this interesting, fruity take on a salad and soon other chefs began to copy the dish. Now, almost everyone knows what a waldorf salad tastes like! Try a waldrof salad when visiting the city so you can experience the original, iconic New York salad.
Classic New York Foods
There are so many incredible foods that are part of New York's culture. Give all of these famous New York foods a try next time you are in New York. While these foods may be classics, they are still relevant in todays ever changing food world. Let us know which you try and which New York foods are your favorites. Enjoy! 
---
Related: Most Affordable & Expensive Michelin Restaurants in New York