These Are the Only Four Black Chefs Who've Been Awarded a Michelin Star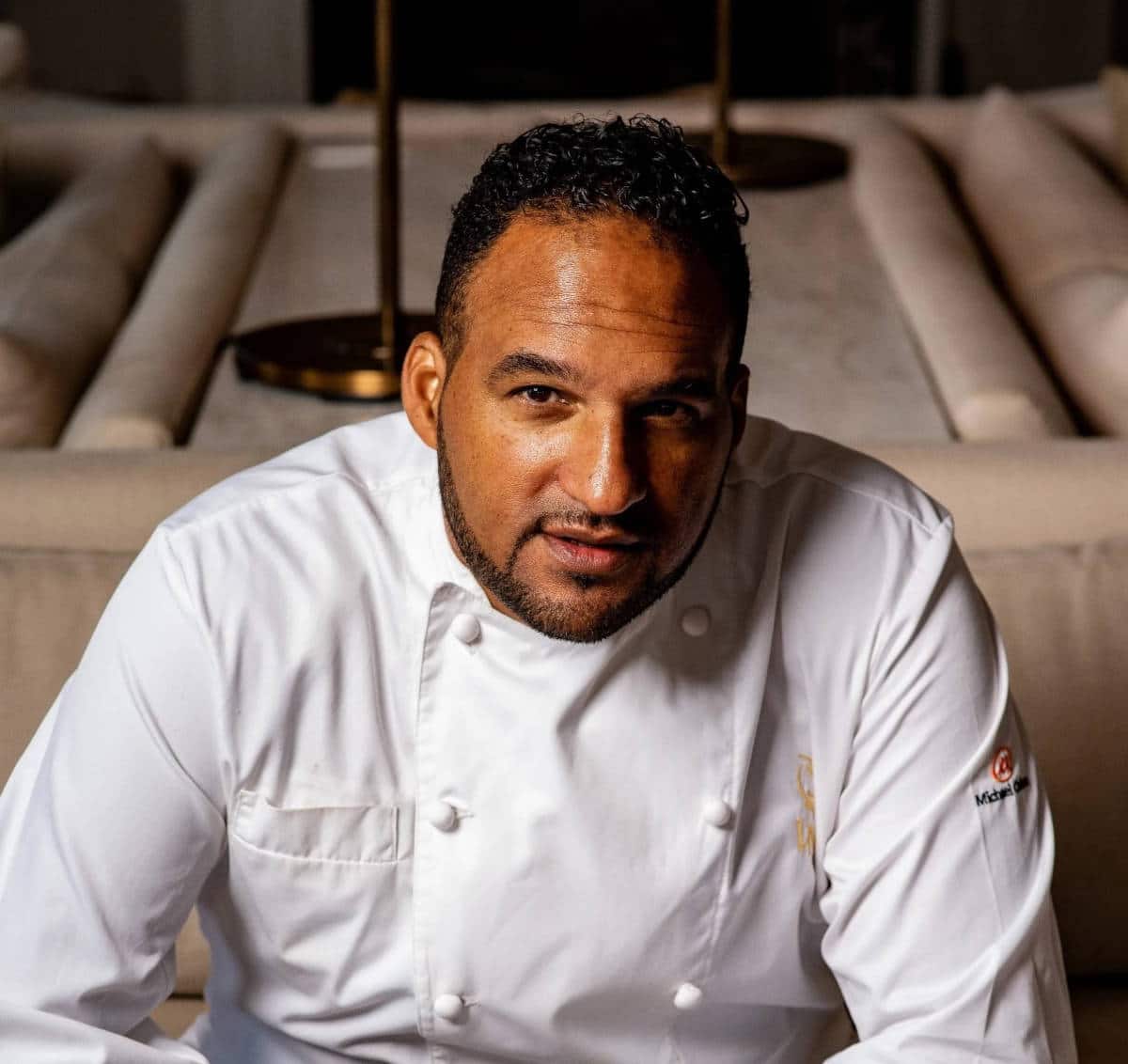 With so many Black chefs making their mark on the contemporary restaurant scene, it may seem strange that only four have been recognized with a Michelin star. This article looks at their stories to see what made them outstanding.
Black Chefs Severely Underrepresented at the Top
Chef's Pencil has analyzed the racial distribution among executive chefs for America's Michelin-starred restaurants and found that Blacks are the most underrepresented racial group. There is only one Black Executive Chef at the helm of a Michelin-starred restaurant in the US in 2023. And ever since the Michelin Guide was launched in the United States in 2005, only 3 Black chefs have ever won the coveted Michelin star.
While the Michelin Guide geographical coverage is limited in the United States to a few large metro areas, when it comes to fine dining and executive chef positions, Black chefs are underrepresented at the national level.
Unfortunately, this story is not unique to America. Black chefs are also severely underrepresented at the top of the culinary industry in the United Kingdom, France and Brazil – all three countries having sizable Black communities.
For example, in the United Kingdom, Michael Caines is the only Head Chef with a Black heritage. Michael was born in Exeter in 1969 to a white English mother and a Black Dominican father.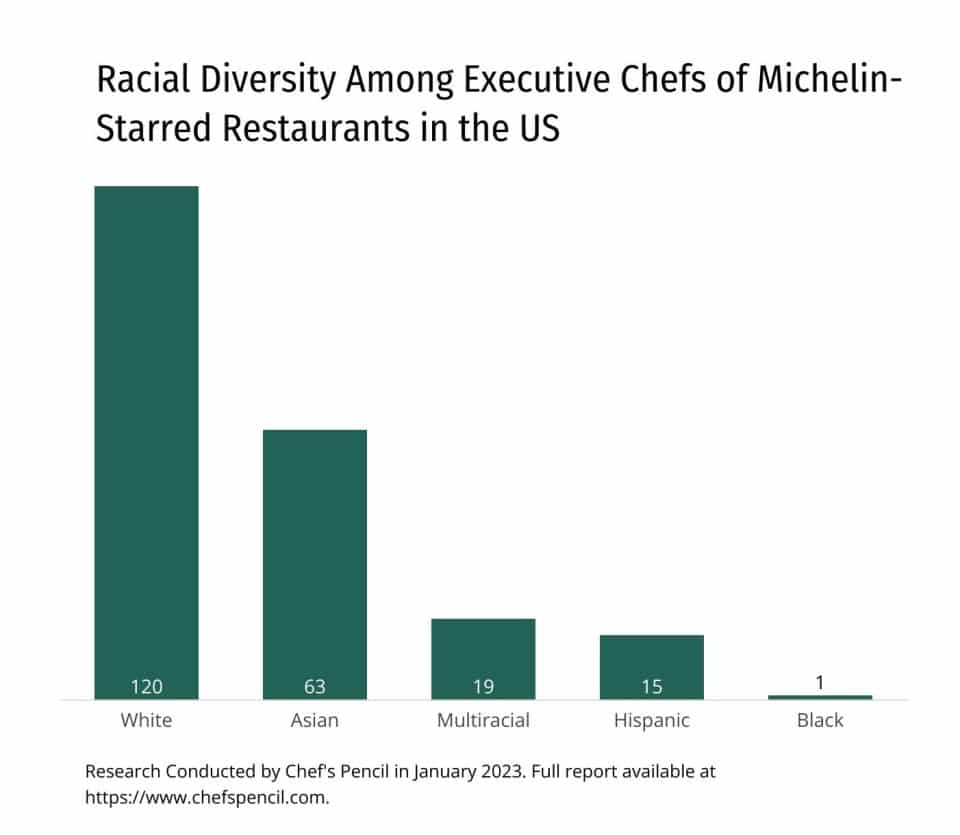 Race might be not the only barrier to making it in the restaurant industry. A study conducted by Chef's Pencil in 2022 showed that female-led Michelin-starred restaurants account for only 6% worldwide.
There's no doubt that they're an inspiration for the next generation of Black chefs, who'll no doubt be vying to earn the title of the first Black chef to win two stars!
Charlie Mitchell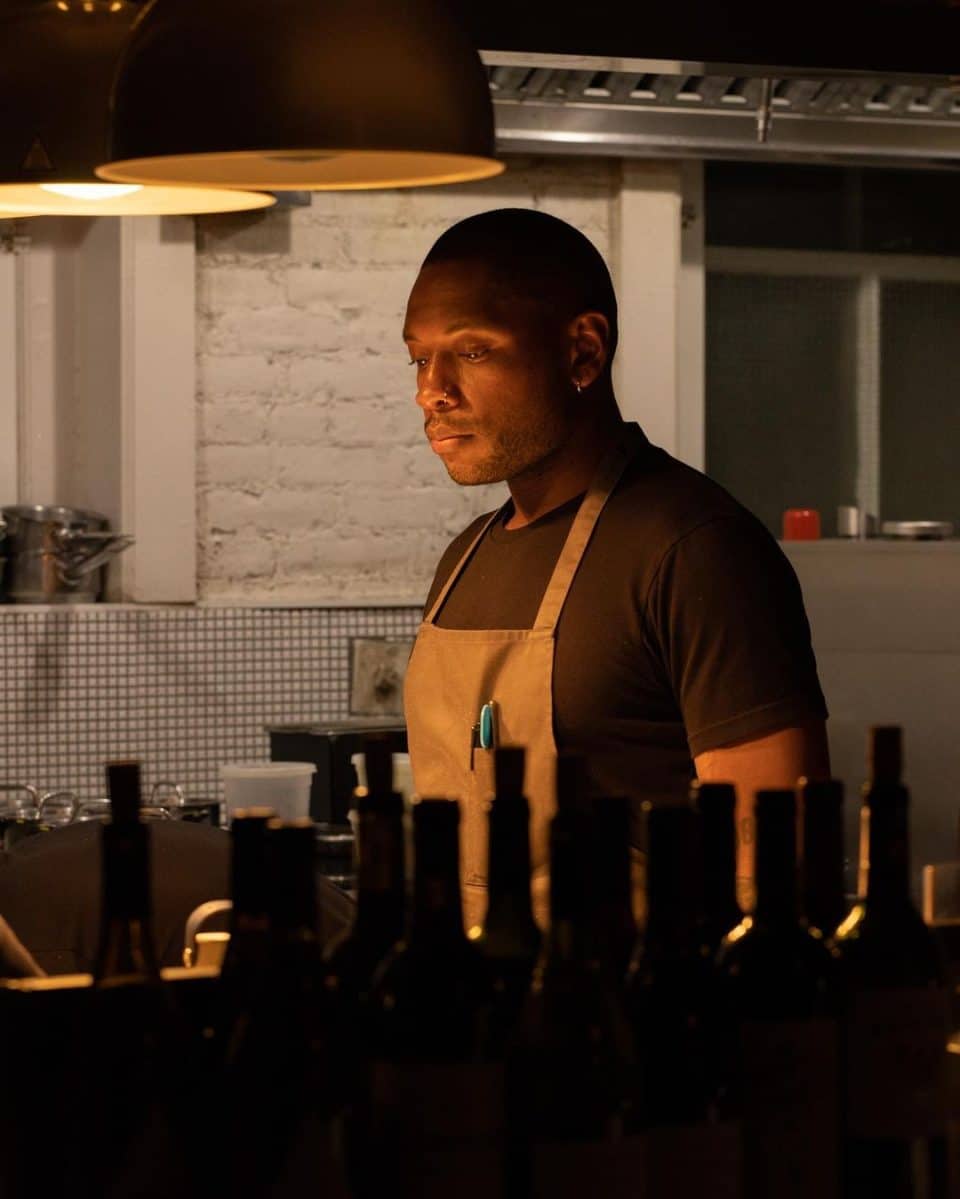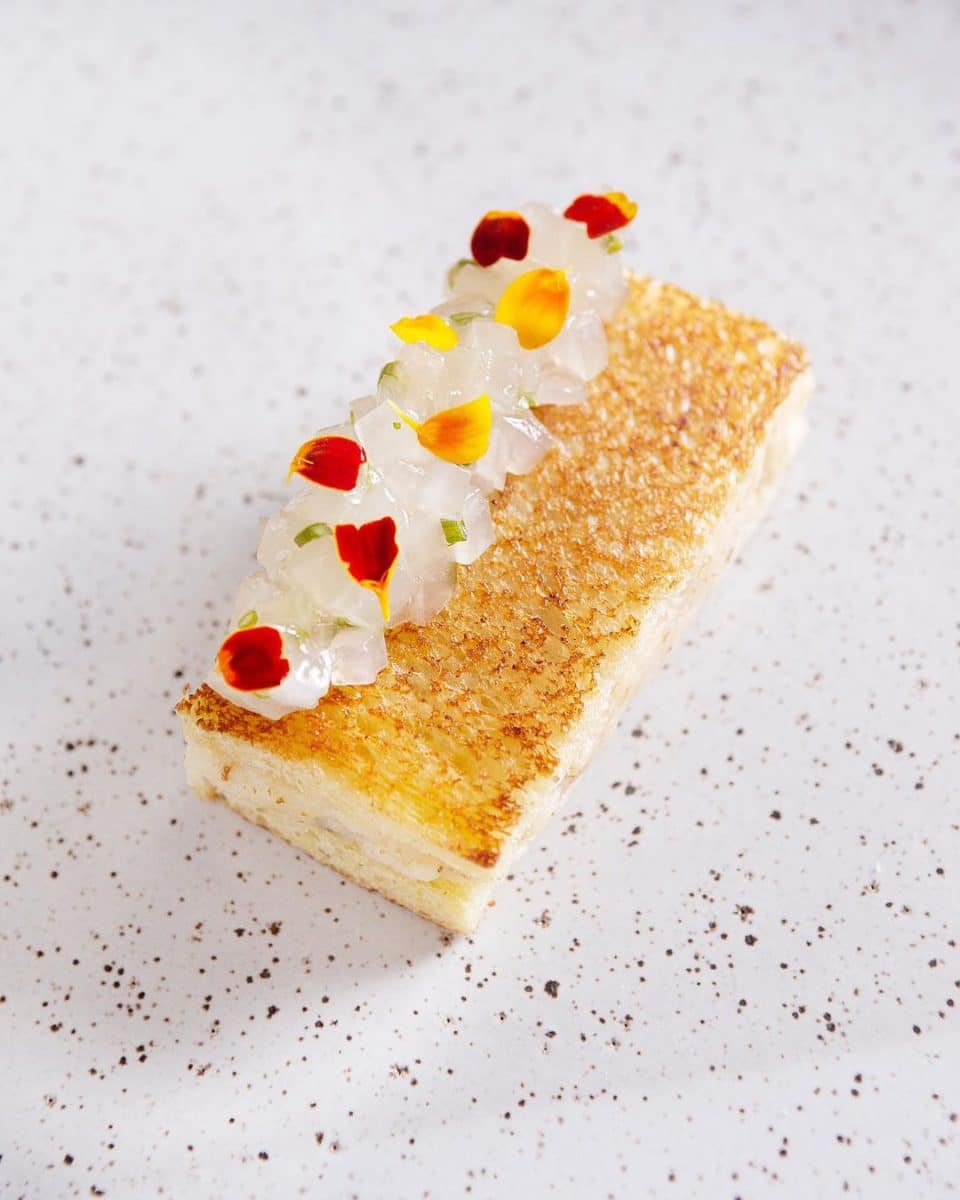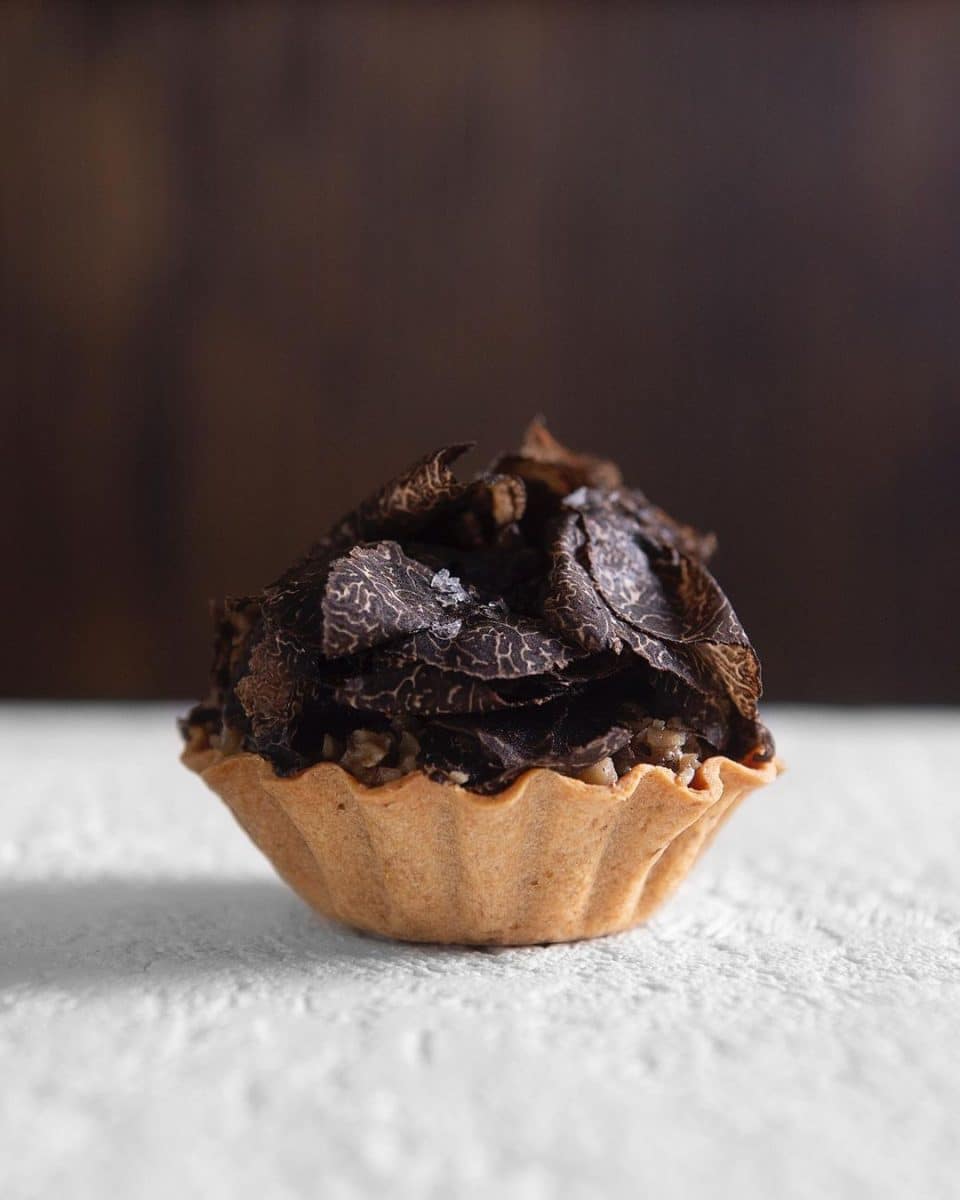 2022 Michelin Guide New York Young Chef Award winner Charlie Mitchell is executive chef/co-owner of one Michelin-starred Clover Hill in Brooklyn Heights. The restaurant opened in 2019, but the pandemic ensured a rocky period before it found the success and recognition it deserved.
Mitchell, who joined the team in 2021 for the reopening, modestly attributes the award of his Michelin star to his PR team, a flattering New York Times article, and their policy of openness, even when business was slow.
But on their own, none of these factors are enough to earn a star – the food has to be outstanding. His mantra is "cook what the Earth is telling us is in season."
When creating each dish, Mitchell starts with the local vegetables in peak season and painstakingly builds the dish from there. Paired with fabulous sauces to create delicious combinations, the Michelin guide describes Clover Hill as offering light, unfussy, vibrant, seasonal fine dining.
As one of only three Black chefs in the USA recognized by the Michelin guide, Mitchell is a role model for other young chefs of color. His inspiring story illustrates the value of patience and technique development in building a stellar reputation.
Gerald Sombright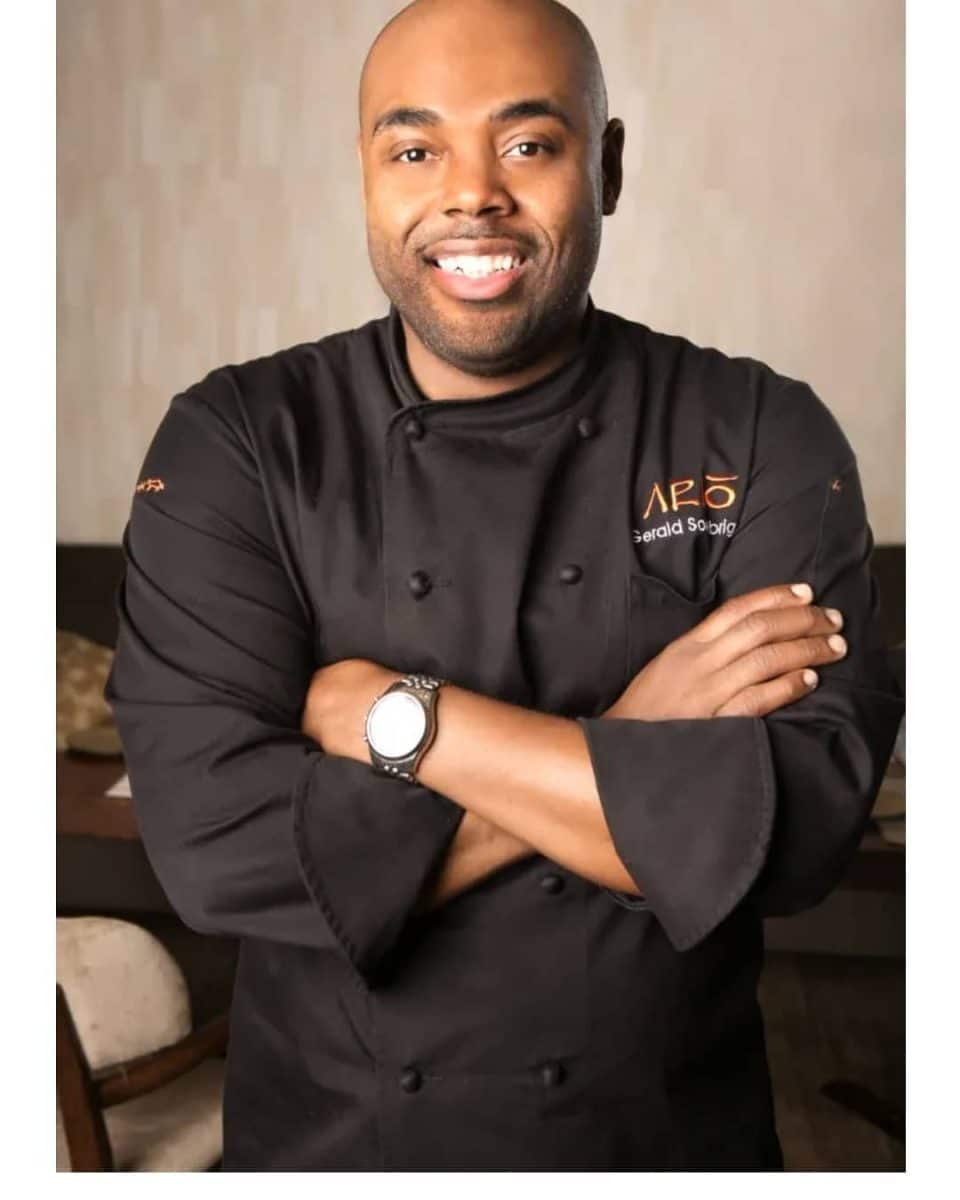 Having started his culinary career washing dishes and prepping for 'real' chefs in St Louis, Missouri, Sombright earned his reputation the hard way: he learned on the job, making sacrifices and taking the knocks.
The first Black chef in the USA to be recognized with a Michelin star was inspired by the great chefs of the past. However, he was all too aware that none of them looked like him or had grown up in Black America.
His ambition led him to hone his technique and knowledge of the culinary arts in such famous venues as Wit and Wisdom in Baltimore and the 4 Seasons Resort in Orlando, Florida.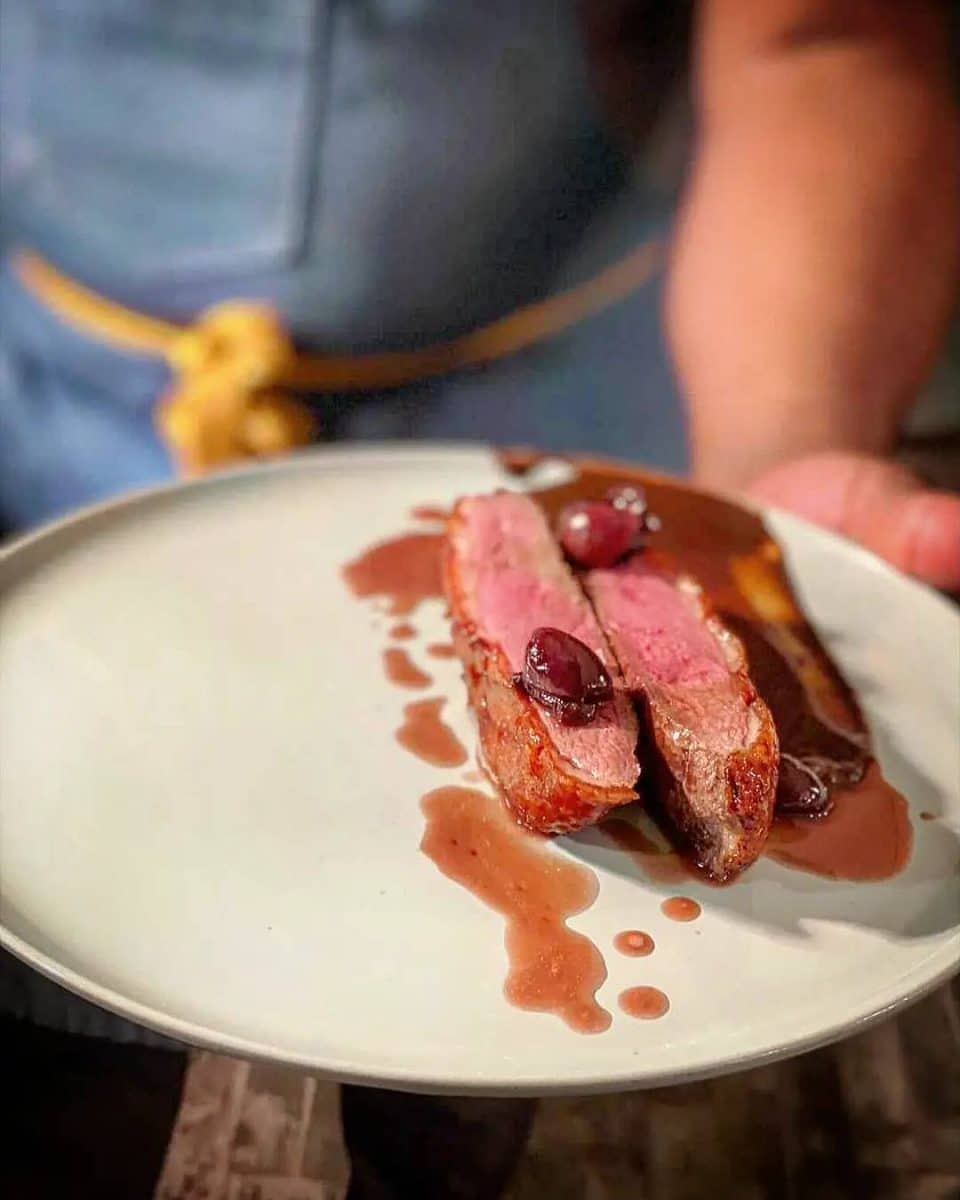 In 2022, Sombright and colleague John Tesar opened Knife & Spoon, the steak and seafood restaurant at The Ritz-Carlton, Orlando. Only a few months later, the restaurant achieved a Michelin star.
In addition to being a popular TV personality, he has recently taken a new challenge at The Club at the Dunes of Naples, Florida.
Mariya Russell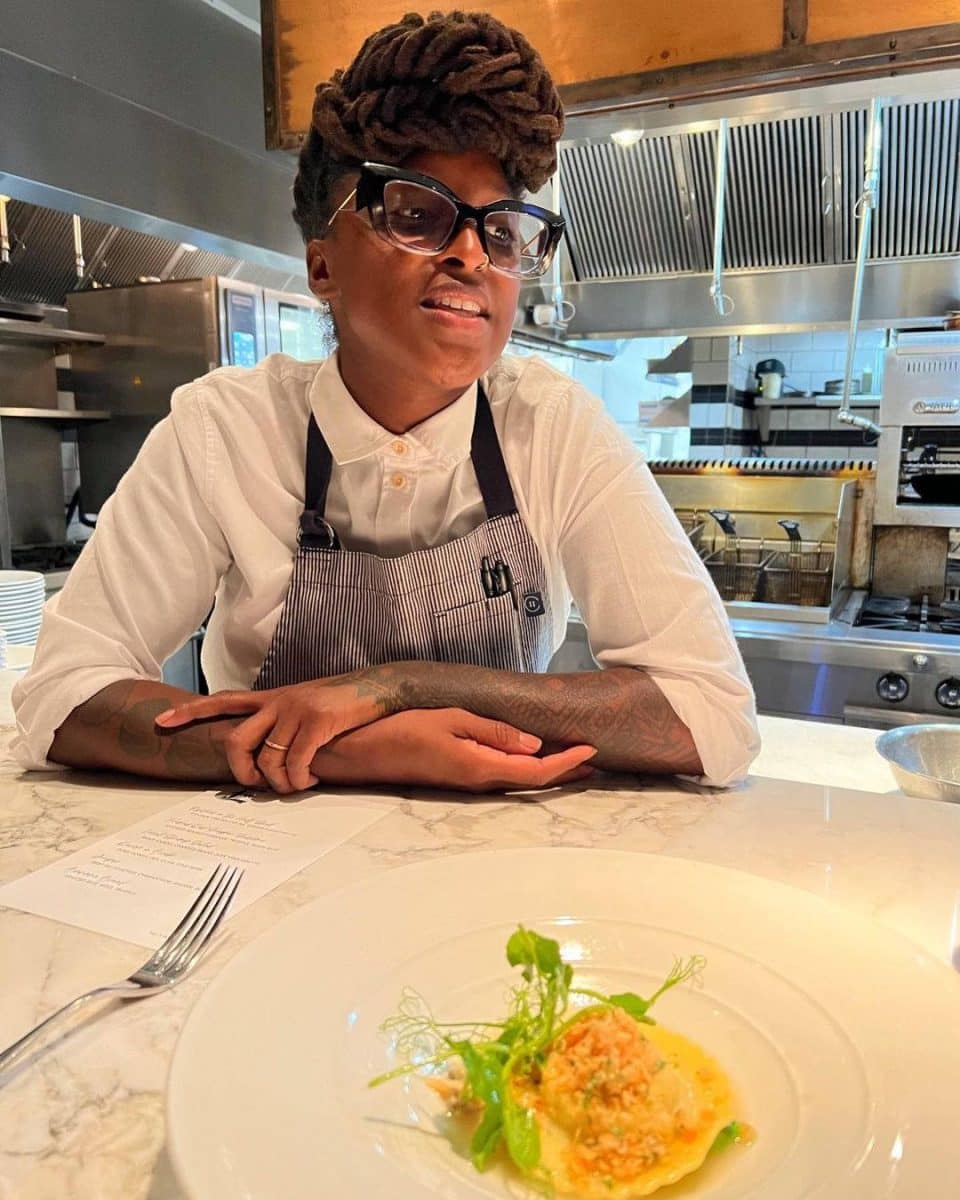 In 2020 Mariya Russell earned her place in history as the first-ever Black woman to be recognized with a coveted Michelin star for her Japanese-inspired tasting menu at Kikko, Chicago.
However, just as her star was rising – Beyonce had praised her during Black History Month and she'd been invited to speak in South Africa – Covid-19 arrived. And while many chefs would have waited for life to return to normal, Russell and her husband decided it was time to take a leap and make a fundamental change. Turning away from the fast-paced competitive world of fine dining, they took a road trip to California before heading to Honolulu, where they settled.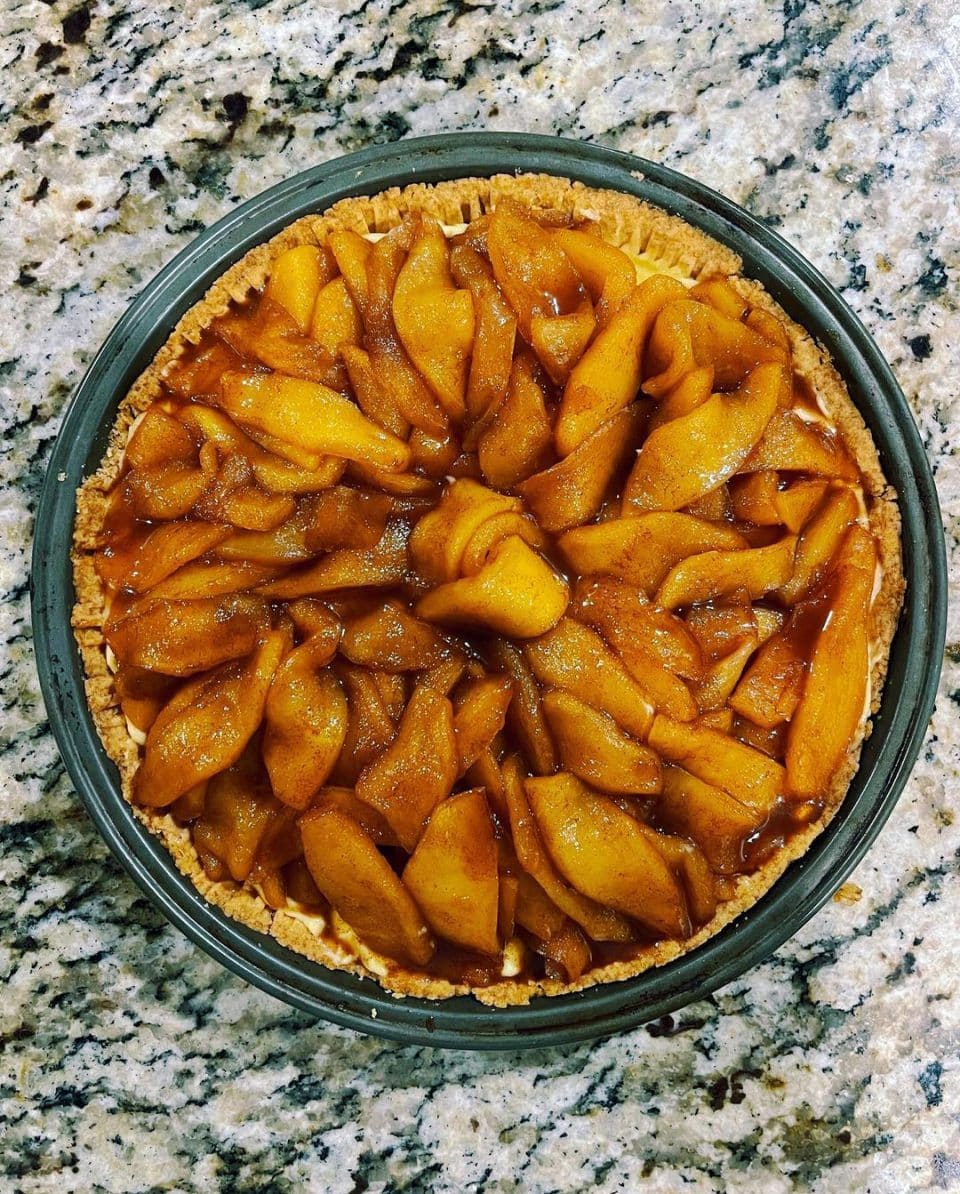 Their new, balanced lifestyle has helped her refocus, and she's now busy with new projects. She's launched a series of instructional social media videos, consults on menu development, and caters to private chef events.
Michael Caines
Michael Caines is the only Black chef outside the USA who's been recognized with a Michelin star.
In 2017, after three years of planning and renovation, Michael transformed Georgian Lympstone Manor, close to the UK's spectacular Jurassic Coast, into a stunning country house hotel with three dining rooms and even its own vineyard. Michael and his team were awarded their first Michelin star within six months.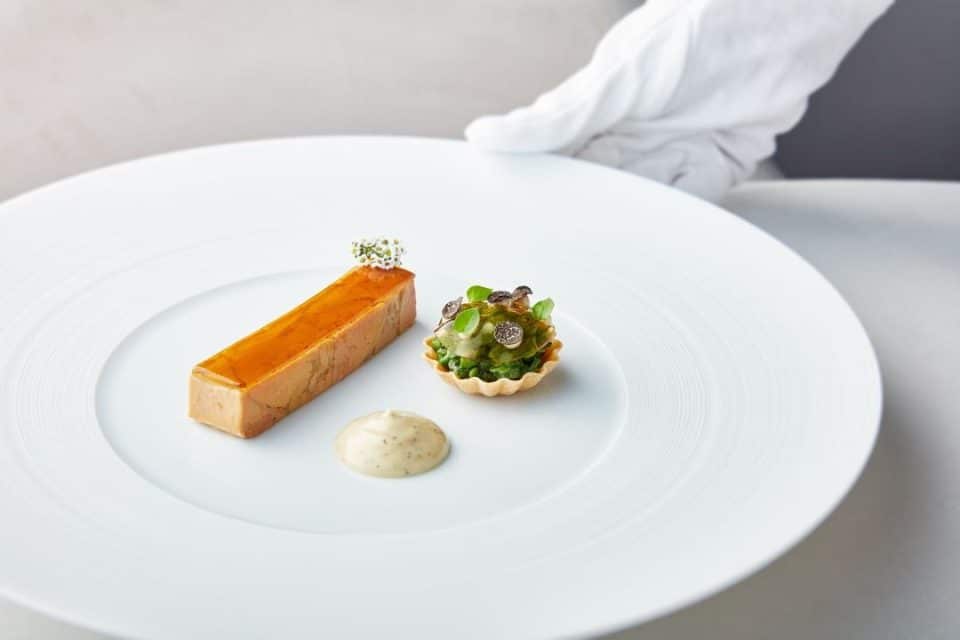 However, Michael had already built a stellar reputation before starting this personal passion project. Despite having lost his right arm due to a car accident in 1994, only months after starting as Head Chef at Gidleigh Park, he was back in the kitchen working full-time within four weeks. While there, Caines gained and maintained two Michelin stars for 18 consecutive years, making him a legend among his rivals.
Amongst his many achievements, he's cooked for the Prime Minister in 10 Downing Street and received an honor from the Queen for his services to the hospitality industry. In 2014 he published his first book: Michael Caines At Home.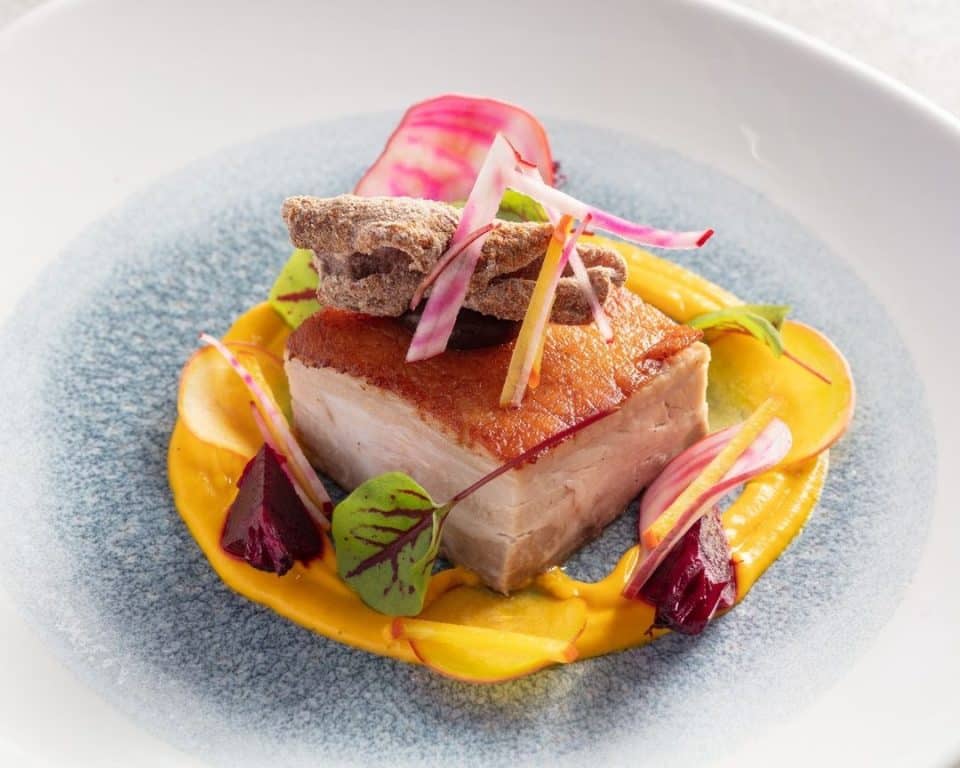 Featured image of Michael Caines courtesy of Lympstone Manor.
---
Related: 25 Most Famous Black Chefs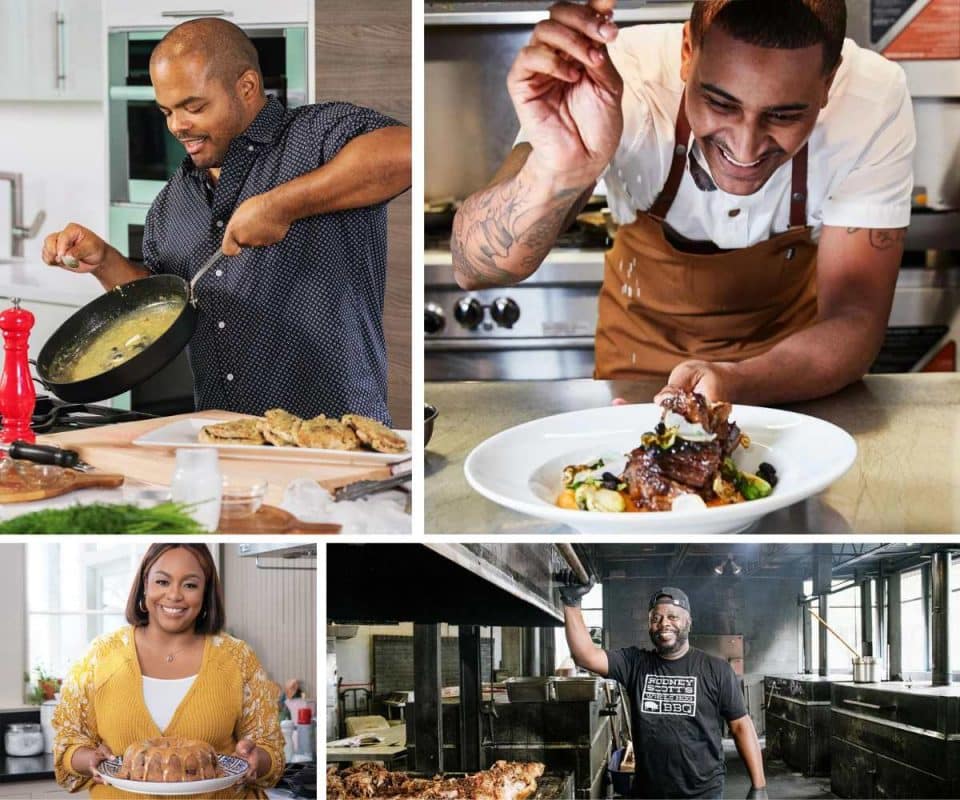 Related: Most Famous Chefs in the World