Top 20 Israeli Desserts and Sweets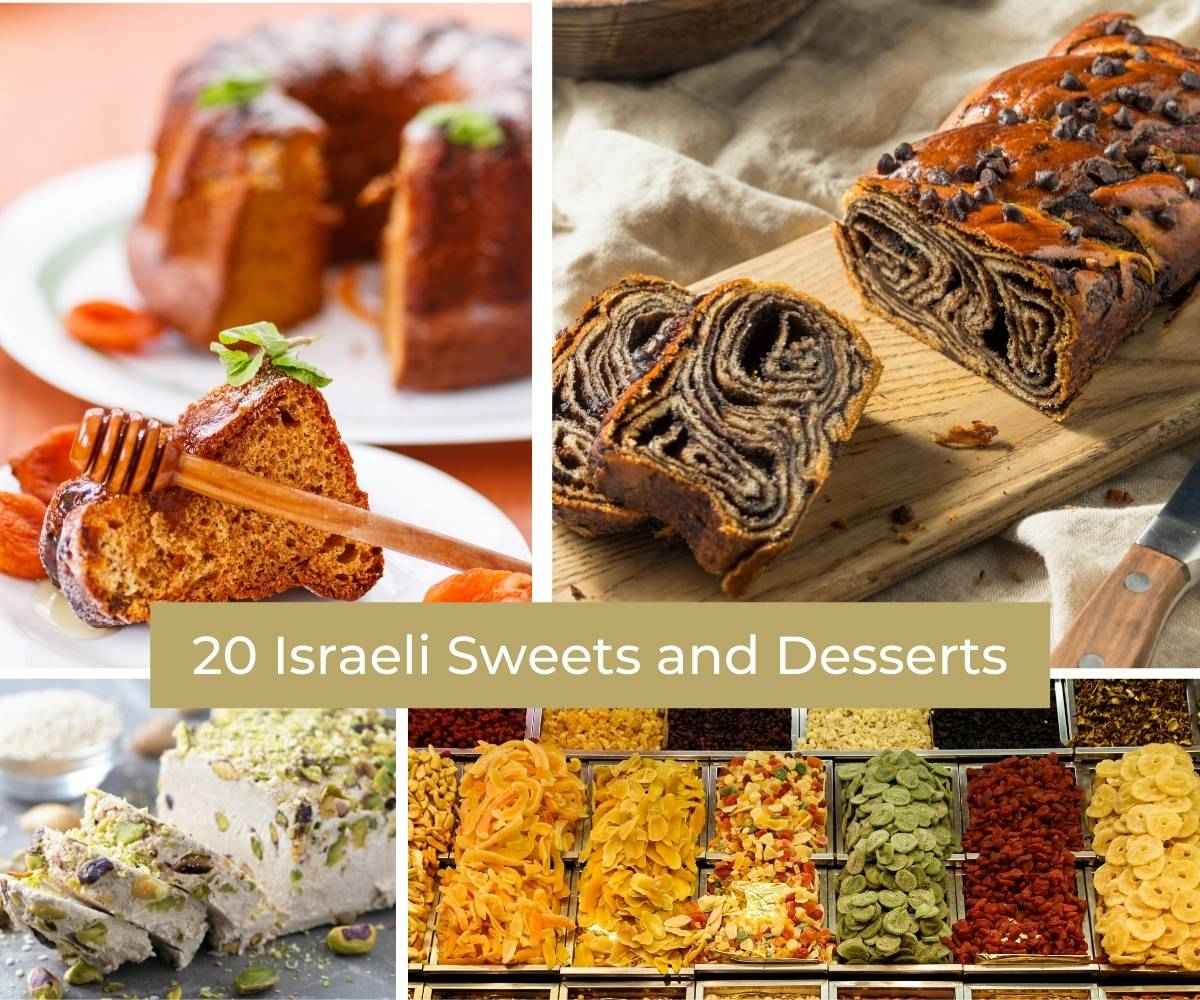 Israel is famed across the world for its rich, diverse, multi-ethnic cuisine that draws inspiration from many different cultures to form a lush culinary tapestry. Situated alongside the Mediterranean coast, Israel boasts the perfect climate for growing ingredients that are as fresh as they are delicious.
And while sun-soaked fruits and veggies make for delicious salads, starters, and mains—there's always room left for dessert in Israel!
Much like the rest of Israeli food, the range of sweet treats is broad in scope and includes many must-trys for any visitor with a sweet tooth. If you're visiting Israel and are looking for a sweet snack or dessert to enjoy as you explore the rich culture and history of the Holy Land—here are the top 20 choices to look out for!
1. Chocolate Balls
Chocolate balls are a delicious sweet treat that will take any Israeli straight back to childhood birthday parties. They're made from crushing up butter biscuits and mixing the crumbs with melted chocolate.
Once the mixture is incorporated, simply roll the delicious dough up into balls and top with coconut flakes, cocoa powder, or sprinkles! With such a simple recipe, and the fun of rolling up the balls, these easy treats are a favorite for kids to both make and devour.
2. Cheesecake
Taking inspiration from the popular New York-style cheesecake, Israeli cheesecake differs in that it is lighter, airier, and fluffier than the heavy, dense American-style cheesecake. Served cold, the Israeli spin on the classic cheesecake is the perfect refreshingly sweet dessert to follow up any meal.
3. Krembo
Krembo is the name of a popular winter treat in Israel, consisting of a light and fluffy marshmallow filling atop a buttery biscuit base, coated in a delicious milk chocolate compound coating.
Originating in Europe as a traditional winter treat, immigrants to Israel brought the concept of Krembo to the country in the early 20th century, and the unique shape and colorful aluminum wrappers have since become truly iconic.
Editor's Note: In Germany, krembos are known as Schokoküsse or Dickman, after the company who made, and they are on of the most popular local sweets.
4. Parra Chocolate
Parra Chocolate is the gold standard for milk chocolate in Israel. Born all the way back in 1934, Parra, which literally means "cow" in Hebrew, has since expanded its range of flavors to include white chocolate, hazelnut, nougat, puffed rice, strawberry cream, popping candy, and more!
Each Parra bar contains 20 blocks of chocolate and one extra big block—giving you something to argue about when you decide to share one!
5. Biscuit Cake
Biscuit cake is a quick and easy no-bake solution that Israelis put together when stuck in the desert.
Biscuit cake is made with common ingredients, such as whipped cream, cream cheese, and vanilla essence. This delicious creamy filling is then sandwiched between layers of crunchy butter biscuits for a satisfying sweet treat that has topped many an Israeli dinner table.
6. Malabi
If it came to deciding the national dessert of Israel, malabi is perhaps the strongest contender of the lot. Made from a light, creamy, and delicious milk pudding topped with rose water jelly, malabi is much more than a dessert.
Around Israel, little stalls and kiosks serve malabi as the perfect antidote to the hot Middle Eastern climate. Popular toppings that go atop malabi include crushed pistachios, coconut flakes, and crushed cookies.
7. Kunafeh
Kunafeh (or Knafeh) is a staple dessert in many cuisines across the Middle East, and Israel is no exception. Made from an irresistibly creamy cheese base topped with crunchy flakes known as "kadayif" and a deliciously sweet syrup, kunafeh is an absolute must-try for any visitor to Israel.
Kunafeh is a particular specialty of the Arab community in Israel, so if you happen to be eating in an Arab restaurant, make sure to leave room for dessert!
8. Sahlab
Another Middle Eastern staple, not too dissimilar from malabi, is sahlab milk pudding! Deliciously creamy and sweet, this warm little pudding is sure to bring you comfort on cold winter days.
A silky smooth rice drink infused with cinnamon, sahlab is most often served topped with crushed pistachios for added flavor.
9. Baklava
Speaking of staple desserts, baklava is one of the most iconic dishes belonging to many cuisines across the Balkans, Levant, North Africa, and the greater Middle East, including Israel.
This dessert can be traced far back, as baklava was one of the most popular desserts within the Ottoman Empire, which reigned over the region from the 14th century all the way up until the early 20th century.
Baklava is made from tonnes of layers of deliciously flaky filo pastry stuffed with crushed nuts and a sweet, sticky syrup. Enjoy with a cup of tea or black coffee for the ultimate after-dinner treat!
10. Gliliot
Gliliot is a classic Israeli treat that you'll find in just about every kitchen cupboard and on every afternoon brunch table, served with a cup of tea or coffee. Gliliot consists of a light, crunchy wafer wrapped around a filling of smooth, rich hazelnut chocolate creme. Be warned, one is never enough!
11. Klik
Klik is a must-have Israeli snack food that every child goes nuts for. There is a whole range of different flavored Klik products, but the most common variations are chocolate-coated balls, chocolate-coated cornflakes, and chocolate-flavored wafer pillows stuffed with even more chocolate.
By now, you should get why children love them so much—chocolate, chocolate, chocolate!
12. Halva
Found across the Levant, North Africa, and the Middle East, halva is a delicious dessert treat that is thought to have originated from Persia (modern day Iran), and is a popular sweet treat in today's Israel.
It is made by cooking sweetened semolina infused with flavors such as vanilla, chocolate, pistachio, or the most basic sesame flavor. Halva can be found in just about every Israeli supermarket, as well as in bakeries and confectioneries.
13. Mekupelet
Since the 1930s, Israelis have enjoyed the unique flaky texture of the iconic Mekuplet bar. Made of a stick of flaky thin chocolate strands all wrapped together, the Mekupelet bar has a reputation for being as crumbly as it is delicious. If wearing white, proceed with caution!
14. Sesame Candy
Sesame seeds are an important ingredient for a variety of Israeli dishes, including starters, sides, and mains. Dessert is no exception, as Israelis love tucking into a delicious serving of sesame seed candy bars.
These bars are made of sesame seeds toasted together and hardened in honey, and can sometimes include types of crushed nuts for added flavor. In addition to being delicious, these candy bars are packed with a surprising amount of protein!
15. Babka
Babka is a sweet and comforting cake that came to Israel with immigrants from Central and Eastern Europe. Consisting of a soft cake filled with layers of pastry and chocolate filling, babka makes the perfect accompaniment to a warm cup of tea, coffee, or hot chocolate.
16. Bamba Nougat
The original Bamba serves as what could reasonably be called the most iconic snack food that Israel has to offer. A favorite of children and adults alike, Bamba is the most well-known brand of peanut-flavored puffs that can be picked up at any kiosk or supermarket.
The nougat-stuffed variation puts a sweet spin on the classic peanut-y puffs.
17. Red Bamba
Nougat is not the only alternative flavor that Bamba has introduced to its loyal Israeli customers. The brand also offers "Red Bamba," which is supposed to taste like strawberry.
Known for being very sweet, opinions on Red Bamba are usually a matter of love or hate. Try for yourself to see where you stand!
18. Honey Cake
Sometimes the simplest things in life are the best. Such is the case with the delicious honey cake that lucky Israelis will have served to them after a family dinner or special occasion. A no-nonsense traditional cake made with love and drizzled with honey, this is home baking at its best.
19. Candied Fruit
Take a stroll through any market in Israel and you'll find yourself mesmerized by the dazzling display of colors adorning the stalls of candied fruit sellers.
From kiwi to mango, and everything in between, Israeli markets are jam-packed with delicious, naturally sweet dried fruits that make for a great snack to take with you on your adventures.
20. Rugelach
Rugelach are stuffed pastry treats that originated within the cuisine of Ashkenazi Jews in Poland. Since immigrating to Israel, they have brought the iconic treat to the Holy Land, where it has since become a staple of just about every bakery and café in the country. Similar to a croissant stuffed with chocolate, cinnamon, raisins or nuts, they make a perfect accompaniment to a warm drink or glass of fresh juice.
The sweets and treats of Israel are yet another one of the country's rich offerings to explore, so if you're visiting any time soon, remember to sample as many of the offerings on this list as you can—your sweet tooth won't regret it!
---
Related: Most Popular Israeli Foods
Related: Most Popular Foods in the Middle East