Greek Octopus Wrap (Octopus Souvlaki)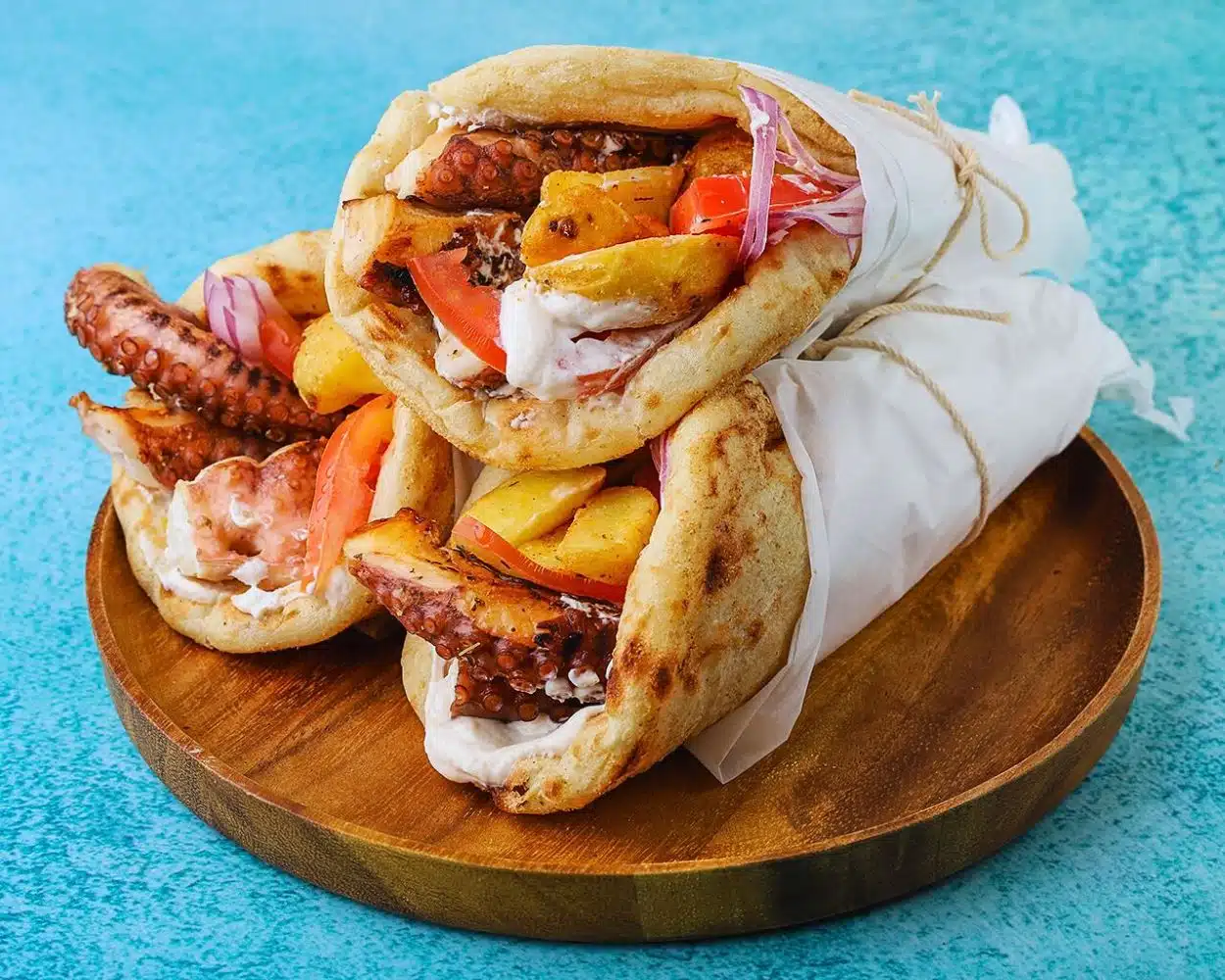 Have you ever experienced the incredible combination of tender octopus in a flavorful Mediterranean wrap? Introducing this delicious Greek octopus souvlaki wrap.
Serve your wrap alongside a side of crispy French fries, for an added satisfying crunch to each bite.
Indulge in the delightful fusion of flavors as you savor every mouthful of this dish! It's an extraordinary culinary experience that will transport you to the sun-kissed shores of Greece.
Please find the octopus souvlaki wrap recipe below.
Greek Octopus Wrap (Octopus Souvlaki)
A summer appetizer that you will love.
Ingredients
For the octopus:
1.5

kg

octopus

1

medium onion

sliced

1

fennel

sliced

1

celery stick

finely chopped

1

Florina pepper

cut into cubes

1

carrot

cut into thin slices

½

tbsp

peppercorns
For the souvlaki:
4

souvlaki wraps

1

tomato

cut into thin vertical slices

½

onion

cut into thin vertical slices

100

g

fish roe dip (taramosalata)

(mayonnaise works also great)
Instructions
For the octopus:
In a deep pot, add a little olive oil, the onion, sliced fennel, celery, carrot slices, Florina pepper, bay leaves and pepper.

Arrange the octopus evenly over the vegetables, ensuring that the tentacles and head are separated.

Turn the heat to medium-low and cover with the lid and boil for about 1 hour, until the octopus is soft.

Check with the knife to see if it is ready after 1 hour (it must be soft). When ready, remove from heat and allow to cool.
Souvlaki wrap:
Place a pan over medium heat and toast the wraps. As soon as they are ready, set them aside.

Skewer the tentacles and grill them for 1 to 2 minutes to maintain their shape.
To serve:
Place the octopus, tomato, French fries and fish roe dip in the wraps, fold and serve. Enjoy!
Notes
Related: Greek Grilled Octopus with Lemon Sauce
Related: Greek Octopus Wrap (Octopus Souvlaki)
Related: Greek Sweet Peas with Octopus (Arakas Laderos)
Related: Grilled Octopus with Roasted Potatoes
Related: Ground Beef Lettuce Wraps