Top 15 Foods of Tajikistan
Tajikistan is a small and beautiful country located in the center of Central Asia. Although it does not encompass a lot of land, in terms of elevation it surpasses all its neighbors. Almost 93% of its entire territory is occupied by glorious high mountains. We have one of the highest peaks in the world—the Ismoil Somoni Peak, which reaches 7,495 meters in height. Fascinating, right?
The mountainous nature of the country also affects its climate. In the valleys, the temperature is typical for the continental climate: in summer about 27°C-30°C, and in winter, from -1°C to -5°C. However, in the highlands, while the summers are warm, 20°C-25°C, in winter the temperature can drop to -46°C. This changeable climate has had a huge impact on the way people live, as well as on their food.
Tadjikistan climate has had a huge impact on the way people live, as well as on their food.
Mountainous Tajikistan has few plains for growing agricultural products. Inhabitants mainly cultivated wheat, rice, potatoes, onions, carrots, tomatoes, cucumbers, and other vegetables, which became the basis of its cuisine. However, despite this limitation, a number of Tajik dishes have become well known in the region and beyond. Palow, qurutob, mantu, shirchoy are particularly popular with tourists.
Another thing that shaped Tajik cuisine is its history. Tajikistan has been part of great empires, including the great Achaemenids and the Samanid Empire. The culinary art of the Tajik people, therefore, has been formed over many centuries under the influence of its rich history.
Now, let's get into it, drum rolls please for the top 15 foods of Tajik cuisine!
1. Osh/Oshi Palow (Rice with Meat and Vegetables)
Osh, or oshi palov, is a festive dish of the people of Central Asia. Each country in this region has its own recipe for cooking osh and they differ by aroma, recipe, and even color. An oshpaz is an osh chef, who is usually very strict because their reputation can very much depend on quality of their osh. So the oshpaz allows no one anywhere near the deg, a large frying pan, while it fries over a fire, the main source of cooking heat for Tajiks.
The main ingredients are rice, meat (beef or lamb), carrots, onion, greens, and salt. The rice is sometimes soaked in warm salted water for 1-2 hours, which speeds up the cooking.
What also makes the Tajik osh stand out is the recent addition of new flavors. Chickpeas, for example, are a favorite in Tajikistan (pre-soaked for 10-12 hours), quince (skinned and cut into slices or cubed), as well as whole garlic, all added as a ratio of 250 grams per kilogram of rice. Osh is usually eaten with a salad of mountain rhubarb, which is peeled, cut into pieces, and slightly salted.
There is a Tajik proverb: "Badi osh yak dam bosh," or "After osh, have some rest." So come to Tajikistan, enjoy osh, and enjoy yourself.
2. Mantu (Dumplings)
Mantu is one of the most popular dishes in Tajikistan. These are dumplings stuffed with meat that are usually eaten with sour cream. While people love mantu because it is delicious and easy to eat, making it is not so easy for the chef. It is a long and tedious process. First, the dough is made and then rolled out until very thin. Then, it is cut into small rectangles, which are individually stuffed with a mixture of seasoned beef, lamb or chicken.
Each one is then folded into a design that resembles a rose. They are all put into the mantupaz, the mantu-maker, which is a large saucepan placed on top of a smaller pan filled with water, in which the mantu are steamed. The whole process takes a lot of time and effort so it can take at least two chefs. However, everyone loves this dish so it's worth taking the time for mantu.
3. Shurbo / Khom-Shurbo (Soup)
Shurbo is a relatively light soup served with bread and herbs. There are many different types of shurbo, but the most popular among Tajiks is khom-shurbo. This translates as raw-shurbo, but that's just its name. Khom-shurbo is cooked for about two hours in a deg. While just a soup, it is quite nourishing and one portion can fill you up for the whole day.
The main ingredients are butter, onions, carrots, potatoes, and sometimes chunks of bell peppers, tomatoes, lamb or beef, and salt. All the ingredients are put in in that order and the soup is left to simmer over a low heat until well cooked. When ready, it is sprinkled with herbs. Sometimes the meat and potatoes are served on a separate plate, while the soup is served in traditional bowls called piyola.
4. Shirchoy (Salted Milk-tea)
The climate in the east of Tajikistan is rather harsh. In winter, temperatures can drop to -50°C. In response, the local people, who have lived there for centuries, developed dishes to keep them warm and healthy. Shirchoy is a tea that has been warming locals for years. It is a simple recipe, but only a true Pamiri can make the original shirchoy. So, what is it? And, how can a simple tea protect against the cold weather?
Shirchoy is a salted milk-tea that is usually served with butter and bread. Bread, in fact, is part and parcel of the shirchoy tradition. First, water is boiled and black tea is added. After, salt and then milk are added to the boiling water. Some people add nuts as well.
The tea boils for some time, until it becomes thicker than a normal tea. Shirchoy is served in a piyola with a piece of butter and non, the local bread. Some people even cut the bread into small pieces, put it all in the tea, and scoop it up with a spoon.
5. Sambusa (Puff Pastry)
Sambusa is another popular dish. This puff pastry dish, with meat, herbs or pumpkin, shaped into a triangle, has become a favorite dish in any dastarkhan, the place where food is served, in every Tajik family. The locals say, "while eating one sambusa, the hand involuntarily reaches for the second".
The most important thing for a successful sambusa is the dough. Each chef has their own method, but most agree that the dough should be flaky so the baked result is crispy and airy. Lamb sambusa is made by grinding a pack of butter or ghee with flour, adding water, salt, and eggs. It is kneaded until the dough ıs very tough and placed in the refrigerator for an hour. Meanwhile, mince is cooked with a couple of large chopped onions, then pepper, salt, and cumin are added.
The chilled dough is rolled to a millimeter thick, oiled, and cut into circles. Then the minced meat is placed onto each circle. The edges are molded into a triangle or crescent shape and they are placed in the oven at 160 degrees. And… the sambusa is ready.
6. Qurutob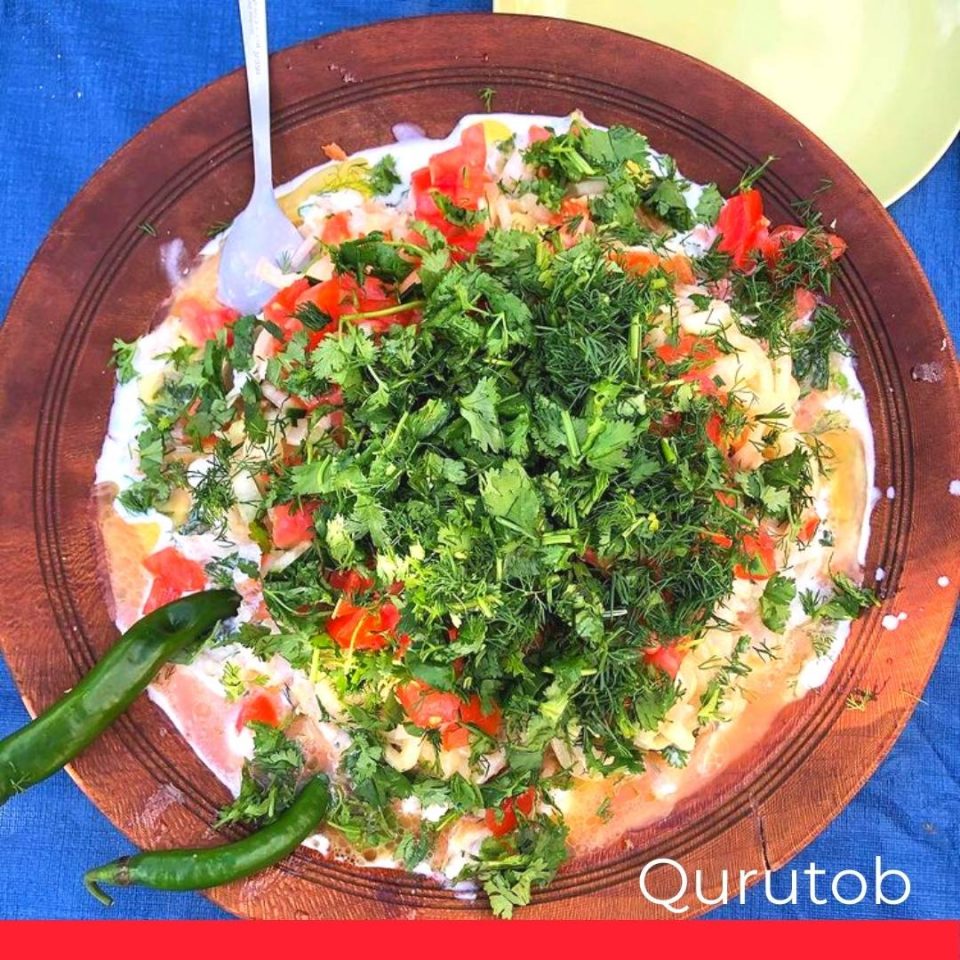 This bright, sunny, vitamin-rich dish is another popular food in Tajikistan. The dish is traditionally served with fried meat as a side. It is very simple and cheap to prepare and does not require much time. You can cook it all year round, although the default time is, of course, summer.
An important feature of qurutob is the plate it is served in. It is called a tabaq, a big round plate made of walnut (a sunny yellow plate) or plane trees (which is reddish). It is believed that you can read messages from the chef who cut the tabaq in the patterns in the pastry.
Another very important part of qurutob is the fatir, the pastry. The process is long, kneading the dough with vegetable oil and water, leaving it to stand, then rolling it out until it is thin and almost transparent. It is then greased with vegetable oil and baked until it becomes golden brown. Everything needs to be done precisely.
Once the fatir is ready, an aromatic mixture of kefir, sour cream, cottage cheese, onion, tomato, cucumber, dill, parsley, green onions, butter, and salt is added. Chaotic as it may seem, it is made with precision and with love.
7. Shakarob
Shakarob means sweet water. However, it doesn't live up to its name as it is not sweet in taste. Shakarob is very similar to qurutob; they are both served in a tabaq and they share some common ingredients: onions, tomato, fatir, greens, pepper, sour cream, vegetable oil, and salt. While meat, cottage cheese, and a few other ingredients don't go into shakarob, people often confuse the two dishes.
An important feature of shakarob that it is very light and can be eaten at any time. Even the process of making shakarob is relatively easy: fatir is baked and placed on a tabaq, then a mixture of ingredients is added, and that's basically it. Anyone who doesn't want a heavy dınner will opt for shakarob. It can be made quickly and you will sleep well after it.
8. Lagman (Spicy Soup)
Lagman is a spicy, tasty soup that is popular in the cuisines of Central Asian countries. The Tajik version of lagman, however, is prepared in a special way. First, a tough dough is made from flour, water, and salt and left for 30-40 minutes in a cool place. Then it is rolled into a sheet and cut into long, thick noodles placed in salted water. Then the sauce is prepared.
Beef is cut into cubes, potatoes, carrots, bell peppers, fresh cabbage, onions, and fresh tomatoes are diced. This is all then mixed with chopped garlic and herbs and sautéd in hot fat. Once softened, a little water, salt, and pepper is poured over the fried vegetables, which simmer on a low heat for 30-40 minutes. For serving, the sauce is poured over the boiled noodles and they are sprinkled with herbs and some sour milk.
9. Damlama (Stew)
Here's another great dish from Tajikistan. This is called Damlama. It is a soup-type dish that can also be served on a plate. Interesting, right? So many ingredients are used to make damlama that it's more of a stew than a soup. It is quite complicated making damlama and requires patience.
First the meat (usually beef) and vegetables are laid in a deg (a thick-walled dish). Eggplant, zucchini, and whole garlic cloves can also be added. The whole mixture is completely covered with large cabbage leaves, although a clean cloth or foil can work too.
The deg is then tightly covered with a heavy lid, and placed on the fire to simmer in its own juices—no water is added—over a low heat. Your damlama is ready in two hours, although many local chefs say it is even testier if it is simmered over very low heat for about 5-7 hours. The finished damlama is served in a dish with its juices poured over the top.
10. Noshkhukhpa (Sweet Apricot Soup)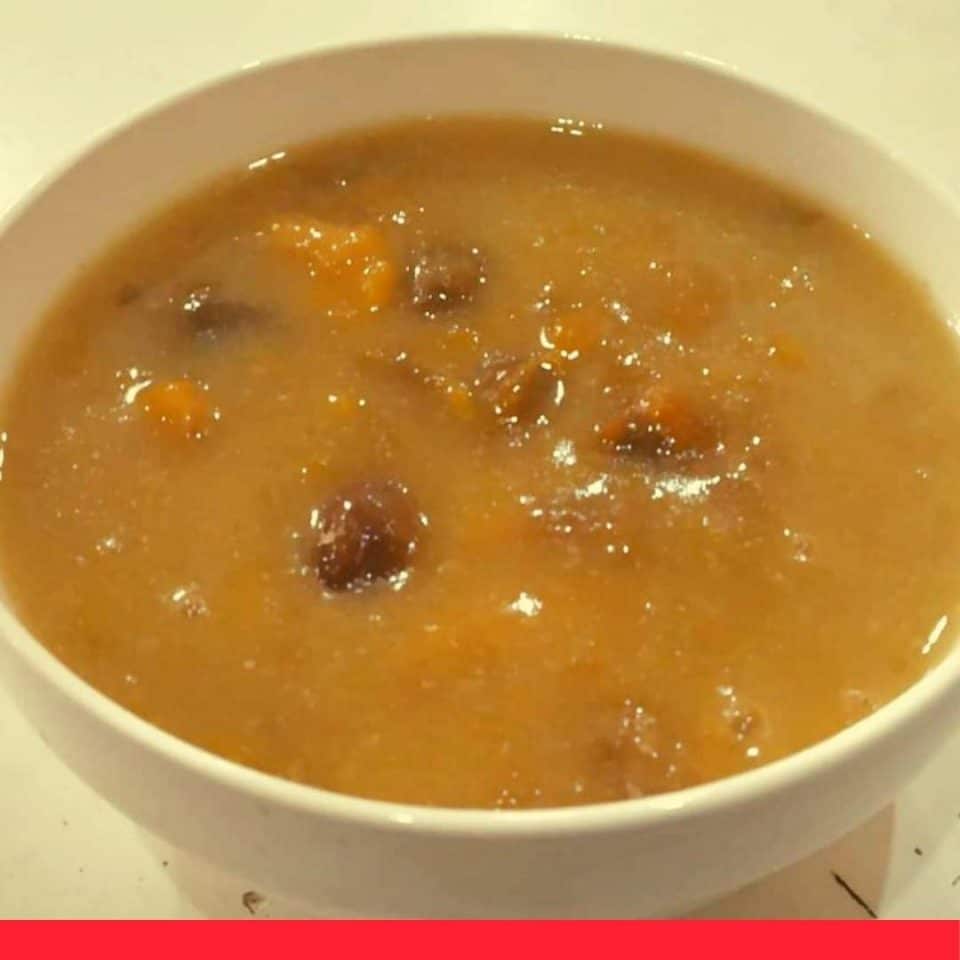 Let's return to the Pamir mountains, the home of shirchoy, where the weather is quite cold. The cuisine in this region was shaped by what was available and one of the most popular is noshkhukhpa. Yes, it is very difficult to pronounce. But, trust me, it is very tasty. This dish, or rather sweet soup, is made from dried apricots.
Pamiris believe that noshkhukhpa helps prevent colds, especially in winter. This soup is a relatively simple task: dried apricots are thrown into water and brought to a boil. Then flour is added and it continues to cook until it becomes thick and the dried apricots almost dissolve. The result is a sweet and sour tasting soup.
Children love it so much, they will even pretend to have the flu to get their mothers to prepare noshkhukhpa.
11. Siyoh-alaf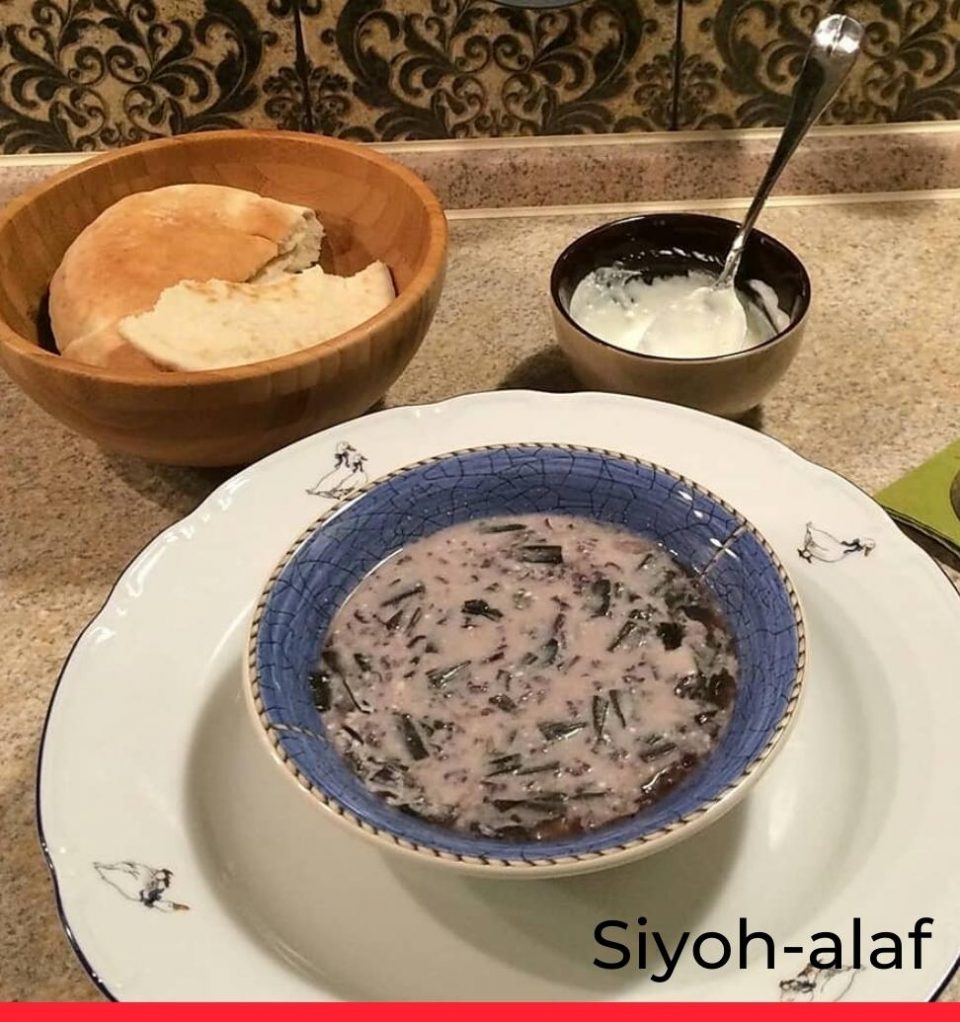 Siyoh-alaf is a light dish, usually prepared in spring, made from a miraculously healthy herb called siyokhalaf, which means black herb. Tajiks believe that this green mountain soup helps to maintain health, vitality, and the body's immunity throughout the year. With a high iodine content, the siyoh-alaf gives the soup an unusual pinkish-purple color when cooking. But the plant also contains a lot of vitamins and nutrients and is rich in mineral salts, essential oils, starch, and sugar.
Making siyoh-alaf is quite quick. Rice is cooked in boiling salted water. Then, finely chopped siyohalaf is added and within 10-15 minutes everyone can be called to the table. It is also very important to serve siyoh-alaf with chakka or jurghot, thick curdled milk.
Unfortunately, siyohalaf does not grow in all regions of the country, so there are many regions where it is not part of the local cuisine. But in the northern and eastern regions, Tajikis absolutely love siyoh-alaf.
12. Fatir-maska (Local Bread)
Fatir-maska is a type of bread made from wheat flour. As you may have noticed already, Tajiks love wheat-based products, especially bread, meaning there are many types in Tajik cuisine. Fatir-maska is a type of bread made from pieces of fatir, puff pastry, and butter. It is mainly cooked in the southern and central regions. In some areas people call it changoli.
Since fatir-maska is a high-calorie bread, it is mainly prepared in summer. The chef puts hot fatir in a tabaq, cuts it into pieces and mixes it with ghee, making dents using a wooden spoon. Then pieces of melon or peeled grapes are placed on top. This makes the fatir-maska even better.
Since Tajikistan is a developing country and still has a relatively weak economy, people here are mainly on low incomes, especially those living in rural areas. This makes dishes like fatir-maska particularly popular as they are so affordable. But it is also a particularly healthy bread, and it is believed grapes, melon, and other ingredients used to make fatir-maska can prevent intestinal problems. It has a special place in the Tajik cuisine.
13. Lubiyova (Beans Soup)
Lubiyova, lubiyo—beans and ob—water, is a very special bean soup. It is mainly prepared in the mountainous rural areas. While it is made in other Central Asian countries too, the Tajik version involves grinding the beans in a mortar with wheat. It also includes meat (on the bone) and sugar beet, which gives the dish a sweetish taste.
The process of making lubiyova has been passed down from generation to generation. The soup is usually prepared in the evening and then buried in ash a small deg and left until morning. Lubiyova needs a long time to steam, and only then is it seasoned with parsley and celery. Lubiyova is served on a tabaq in the dastarkhan.
14. Kabob Pamir (Venison or Yak Meat Skewers)
Kabob is a delicacy. If you are served kabob at someone's house, know that you are being treated as a very important guest. Kabob is meat stewed in a special style that gives it a fabulous taste, particularly in the Pamirs, where it is usually made from venison or yak meat. Other ingredients include onions, ghee or vegetable oil, various species, such as pepper, cumin, ground cilantro seeds, salt, and herbs, green onions, dill, etc.
Pamiris say that the best kabob is prepared outdoors, usually somewhere high in the mountains, where people go for a picnic with family or friends. The chef chops the meat into pieces along with the bones. It is then sprinkled with ground pepper and salt and fried in a deg in fat or oil until golden brown. Onion cut into rounds is added and fried for about 7-10 minutes, occasionally stirring. Finally, water is added and the deg is covered tightly and left to simmer over a low heat until the meat is tender.
Once the kabob is ready, it is served on a large plate. The meat juices are poured over it and it is sprinkled with ground black pepper and chopped herbs. A vegetable salad and fresh bread are served along side to compliment the wonderful Pamir kabob.
15. Mastobai gelakdor (Rice Soup with Meatballs)
The final dish on our list is mastobai gelakdor. This rice soup with meatballs is loved by locals as well as foreign guests. It is very healthy and nourishing and is one of the most popular soups in local restaurants. The main ingredients are meat, carrots, rice, onions, herbs, species, salt, eggs, and pepper.
Making mastobai gelakdor is relatively easy and quick. First, carrots and onions are cut into cubes or strips. Greens are rinsed and chopped and the rice is sorted and rinsed. To make the meatballs, the meat, lamb or beef, is cut into pieces and put in a deg, then water is added and it is brought to a boil, removing the foam as it forms. When the meat is cooked, onions and carrots are added and it is all left to simmer.
While cooking, the meat for the meatballs is put through a grinder along with onion. Salt, pepper, and eggs are added. Local chefs suggest adding the meatballs for 15-20 minutes until tender. Then spices are added to the soup to taste. The finished soup is poured into bowls, seasoned with sour milk, sprinkled with chopped herbs and…served!