25 Naturally Brown Foods (With Pictures!)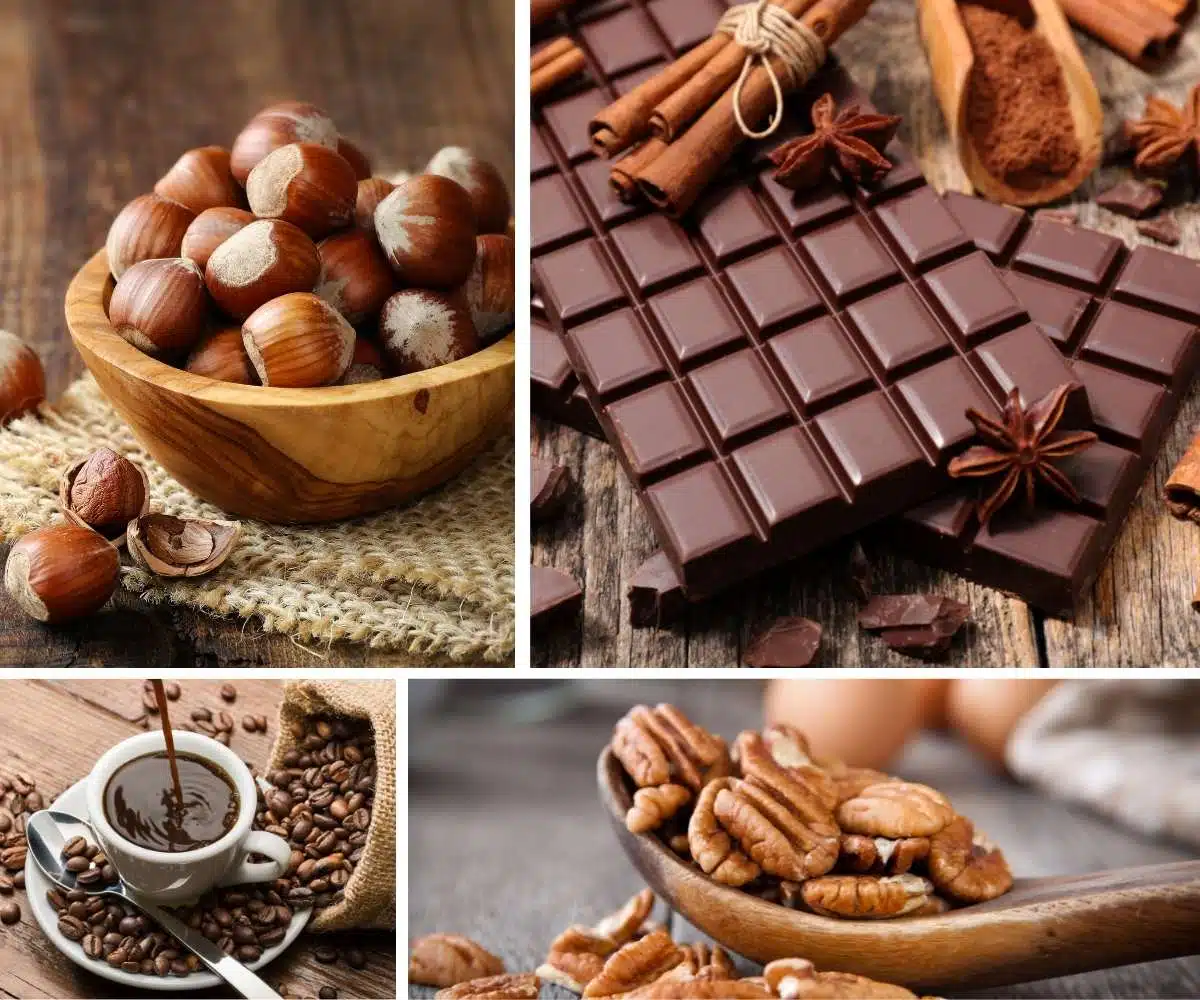 While not as eye-catching as some more brightly colored food groups, brown foods are not to be overlooked.
In this article, we list 25 of the tastiest and most versatile brown foods – some you'll already be familiar with while others may be something new to try!
1. Kala Chana
Let's start with something pretty new in the US. Kala Chana are dark brown chickpeas widely used in Indian cuisine.
They're rich in natural fiber, packed with protein, and taste delicious. You may also see them called 'desi' chana – desi means 'native'. They can be used the same way as light-skinned chickpeas to make interesting dips and soups.
2. Caramel
Caramel, made by boiling white sugar and water, is one of the most mouth-watering ways to add a delicious additional sweetness to desserts and treats. Caramel is endlessly versatile in candies, sauces, coffee flavorings, cookies or perhaps salted and drizzled through vanilla ice cream.
If you're making caramel at home, a pinch of salt helps to counteract the bitterness that sometimes develops. To make butterscotch or toffee, use brown sugar or molasses.
3. Peanut Butter
Mass-produced peanut butter, delicious though it is, often contains an array of unwanted additives to preserve its shelf life.
It's simple to make peanut butter at home. First, dry roast some peanuts, then whizz them in a food processor, turning them into crumbs. Keep going, and they'll gradually turn into a thick creamy paste. If you prefer it crunchy, throw in some finely chopped peanuts.
Related: Glazed Peanut Butter Cake Recipe
If you prefer a little sweeter peanut butter, add a few drops of honey. For a chocolate-flavored twist, use a little cocoa powder and sprinkle in some powdered sugar. Get creative and leave the synthetic stuff on the supermarket shelf!
4. Brown Bread
Brown bread can be made in two ways. When part of the wheat bran is left in the flour, it's called wheat germ or wheat grain bread. Sometimes, brown dye is added to white flour to make it look more healthy and justify the more expensive price tag. Check the label to ensure you're buying bread with the goodness you expect.
If you're looking for brown-colored bread that's healthy and filling, opt for rye bread or pumpernickel. Both of these are packed with fiber and valuable nutrients.
5. Brown Mushrooms
Baby bellas, portabellos, and portabellinis, all brown mushrooms, are considered tastier than their white button cousins.
Their chewy texture adds a welcome burst of umami-richness to all kinds of dishes, from steamed vegetables to rich meaty stews. They also have a longer shelf life than white mushrooms.
6. Brown Rice
As a whole grain, brown rice contains the nutrient-rich germ and the fibrous bran coat that is removed from white rice. It has a pleasant nutty taste and a chewy texture. Brown rice takes longer to cook than white rice but holds its shape well.
7. Brown Sugar
Brown sugar, produced by adding a small quantity of molasses to white sugar, is a versatile sweetener used in cakes, cookies, brownies, and cereal bars.
Its caramel flavor gives a sweet twist to sauces and glazes on savory dishes, and golden-brown sugar grains can be sprinkled over ice cream or yogurt as a finishing touch.
8. Chestnuts
Although there are many varieties of chestnut, the Castanea sativa, also known as Spanish chestnut or sweet chestnut, is most typically the one we eat, particularly in the fall and as a holiday treat.
Chestnuts can be eaten raw, but they're often roasted over an open fire, boiled, steamed, or stir-fried. When cooked, they're soft, with a subtle sweet buttery flavor. Add them to stews the same way as potatoes, or even serve them boiled, mashed, and topped with melted butter.
9. Chickpeas
Chickpeas are a genuine superfood. They're high in protein, full of fiber, low in calories, and even gluten-free! They're a versatile and economical ingredient used in soups, curries, stews, rice dishes, and the world's most popular dip – hummus.
Other names for chickpeas include gram, Bengal gram, garbanzos, garbanzo beans, and Egyptian peas.
10. Chocolate
No list of brown foods could omit this ultimate sweet treat – chocolate. Colors range from creamy white (which contains almost no cocoa), through a mid-brown right to the deepest brown-black shades of brands containing 100% cocoa solids.
For the millions of chocophiles worldwide, it's no surprise that the name of the cocoa bean tree can be translated as 'food of the gods'
Chocolate cakes, chocolate brownies, chocolate sauce, chocolate mousse – there's no end to the creative ways this worldwide favorite can be enjoyed.
11. Cinnamon
Cinnamon is fascinating because although it's not sweet itself, it amplifies the sweetness of other ingredients.
Its wonderful aroma adds delicious spiciness to baked goods, chai lattes, curries, and more. Research has shown that even a whiff of cinnamon boosts brain activity, so sprinkling a little on your breakfast muffin or into yogurt will get your day off to a flying start!
12. Dates
Rich brown dates are the world's oldest cultivated fruit. Their use can be traced back 8,000 years or more.
A staple of North African and Middle Eastern cuisine, these naturally brown fruits are packed with nutritious minerals. They can be enjoyed whole or pitted, perhaps dipped in thick fresh yogurt for breakfast. They're intensely sweet, so they are even used as a substitute for sugar in date bars and cakes.
13. Flax Seed
Tiny flax seeds provide a subtle nutty flavor and crunchy texture that can enhance almost any recipe. They can be mixed into smoothies, added to pancake batters, and combined with oats to make flapjacks and cereal bars. They can also be included in savory dishes such as homemade meat or veggie burgers.
Packed with fiber and nutrients, flaxseeds are most highly valued as a vegetable source of health-giving omega-3 fatty acids, which are lacking in many modern diets.
14. Ginger
If you're a fan of ginger's unique warming flavor, have you considered growing your own? It's surprisingly easy to start new plants with a rhizome which you'll find in stores everywhere in a bit of soil.
Ginger is used to spice everything from soups and stews to cookies and ice cream. Just a sprinkling of powdered ginger can liven up the blandest ingredients.
This versatile spice is also renowned for its health-giving qualities. And, of course, delicious ginger and lemon tea is a reliable cold remedy.
15. Hazelnuts
Hazelnuts can be enjoyed as a healthy, sugar-free snack or an ingredient in sweet and savory dishes. And, of course, Nutella is a world-famous industrial spread made of hazelnuts.
Hazelnuts are a valuable source of monounsaturated fats, dietary fiber, vitamins A, E, folic acid (B9), and minerals including manganese, magnesium, phosphorus, and iron.
Hazelnut oil makes an exciting alternative to olive and other more common vegetable oils, imbuing salads with a pleasant nutty flavor that complements the other ingredients but won't overwhelm them.
16. Brown Lentils
Brown lentils are not only high in fiber, they're also packed with protein and complex carbohydrates. At the same time, they're low in calories and naturally gluten-free. So what's not to like?
There's no end to how lentils can be used in soups, stews, salads, and dips. And because they're so economical, they can be a staple ingredient in every kitchen.
17. Walnuts
These tasty brown nuts are often eaten as a nutritious snack but also work well in salads, pasta dishes, granolas, and baked goods (think: coffee and walnut cake and cookies).
Walnut oil, although pricey, makes a change from olive oil and adds a subtle nutty flavor to salads
Walnuts are rich in beneficial fats such as omega-3 that are thought to improve brain health and prevent a range of serious diseases
18. Almonds
Botanically, almonds belong to the rose family and are also related to peaches and apricots. The fiber-rich brown-skinned nuts can be enjoyed as a raw or roasted salted snack. You can also enjoy them in salads and add them to baked goods.
One advantage of almonds is their extended shelf life due to their high level of vitamin E. This makes it economical to buy in bulk to store in a sealed container in your fridge or any cool, dark place.
19. Brown Beans
More commonly known as pinto beans, they're beige with reddish-brown flecks when raw but turn brown when cooked. With their earthy, slightly nutty flavor, you can use them in all the same ways as other beans. And like other beans, they're highly nutritious, rich in fiber, and high in protein.
20. Raisins
Brown raisins, aka sultanas, are dried green grapes. You can even make your own by sun-drying fresh grapes – Thomson's Seedless is the most widely used variety.
Brown raisins are packed with sweetness, and you can use them in many ways: in salads, cakes and muffins, added to porridge and muesli, and as an ingredient in many other delicious treats.
21. Coffee
Espressos of the deepest brown, creamy cappuccinos, caramel-hued lattes – regardless of how you prefer your coffee, the color is always part of the delicious sensory experience.
Coffee is also found everywhere to add a delightful flavor to treats such as ice creams, cakes, and cocktails.
22. Tea
The dark brown tea leaves transform into a rich golden brown brew that never fails to please. Take it iced with mint and lemon, with hot milk as a spicy latte, or serve it from a teapot of delicate china as part of a sophisticated afternoon tea ritual!
23. Maple syrup
This gorgeous rich brown syrup is made from the sap of the maple tree. Although it's typically used on breakfast foods such as pancakes and syrups, try adding it to baked goods and ice creams.
Maple syrup also makes excellent glazes, sauces, adding sweetness to savory dishes and meats such as bacon.
24.Molasses
Molasses is the dark brown, syrupy byproduct of the process of sugar extraction. With its smoky, rich flavor and viscous consistency, molasses is perfect for old-fashioned recipes such as gingerbread.
It's a staple of southern-US recipes that can benefit from its characteristic dense sweetness.
25. Pecans
Pecans contain 19 vitamins and minerals, including vitamins A, and E, several B vitamins, folic acid, calcium, magnesium, phosphorus, potassium, and zinc. They're the ultimate healthy snack.
Pecans also make great salad toppings and are the perfect addition to muffins and danishes. They also complement light meats such as fish, chicken, and pork. Pecans are also the main ingredient for the famous pecan pie.
---
Related: 25 Naturally Blue Foods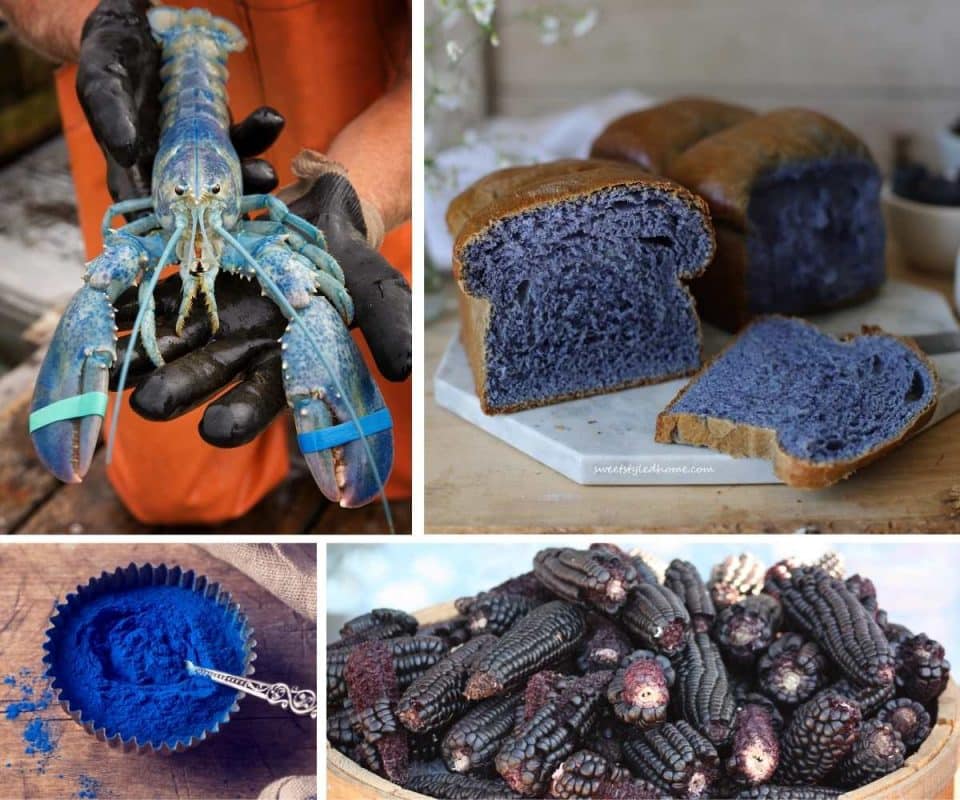 Related: 25 Naturally Red Foods
Related: 25 Naturally Pink Foods